There's no better way for a trip to make a lasting impression on you than by having great food in the places you visit. If you're visiting Venice, Italy, then there's plenty of it! Every street is packed with different spots serving up Italian classics, from bakeries with their little pastries and coffee to multi-course restaurants where you can try dishes from across the boot!
The city has even developed its own cuisine over the centuries, leaning heavily on seafood available from the nearby Venice Lagoon. Don't be surprised to see pasta with mussels or squid ink on menus all across town. Speaking of pasta, there are tons of restaurants specializing in just that!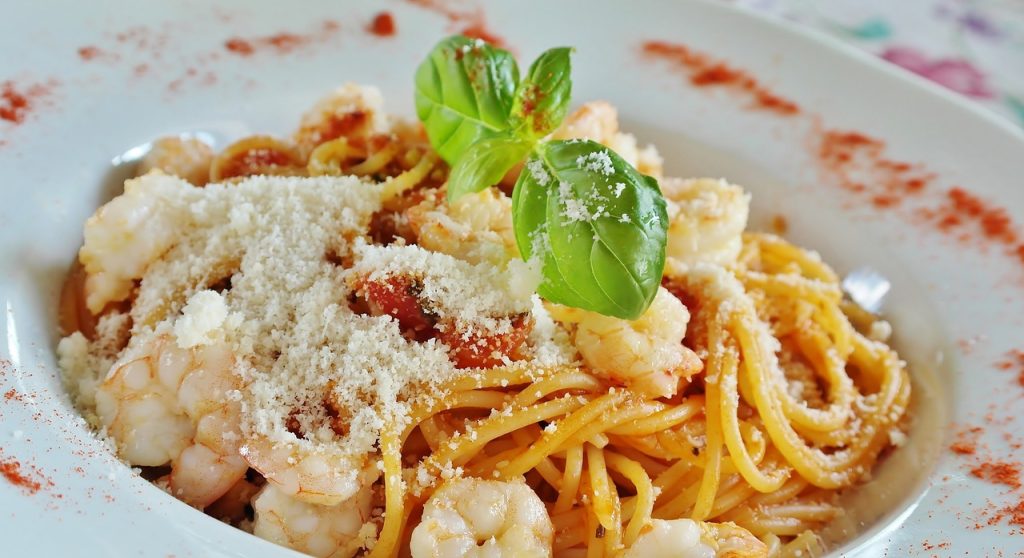 Just like some restaurants specialize in pizza or arancini, you can get your pasta meal at several places in the city. These range from to-go pasta in boxes to sit-down restaurants, but they all have two things in common: great taste and authenticity! There's something for everyone at these restaurants. Read our guide to learn more about the best pasta restaurants in Venice!
(This article contains 5 pasta restaurants in Venice, which are best in our subjective opinion. The order of the restaurants is not related to the quality they offer. Every restaurant has its pros and cons, so choose the one based on your personal preferences.)
Baci & Pasta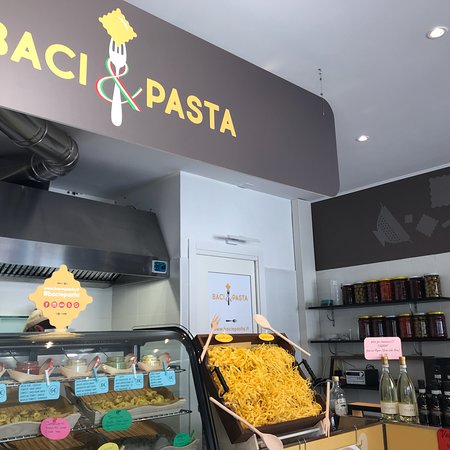 This small, unassuming spot in Campo Santa Marina has been serving up little bowls of pasta for just a few years but has quickly become known city-wide! You might accidentally pass by this little pasta stand, as they only have a few barstools for dine-in guests. They serve their food on paper plates, so most people either walk with their pasta or sit on the curb outside and eat. But both are socially acceptable here.
Don't let the paper utensils fool you. This pasta is no joke. Everything is made from scratch, including the many sauces. They have a menu of classic pasta dishes to choose from, such as pasta Bolognese.
However, they also offer a build-your-own bowl, allowing you to choose any combination of pasta, sauce, and toppings your heart desires! They keep a small but delicious selection of sauces, some of which include basil & tomato, pesto, and smoked cheese.
In addition to typical pasta, they proudly serve their homemade gnocchi. For those who don't know, this is somewhere between pasta and a dumpling, and it's made from the usual pasta ingredients like flour, eggs, and water. However, potatoes are added to the mix for a different consistency. If you're trying the dish for the first time, Baci & Pasta's pumpkin or spinach gnocchi are sure to impress.
The service will impress, too! Through thousands of online reviews, customers sing praises of not only the food but the friendly staff. They take a genuine interest in their clientele and provide stellar service. Not sure what to order? They seem to have a 6th sense for helping you find out what you want. Stop by any day of the week from 12:15 PM (12:15 hours) and 8:00 PM (20:00 hours) for some of the best pasta and friendliest people in Venice.
Distance: 600 meters (0.3 miles) from St. Mark's Square
Phone: +39 041 564 7400
Dal Moro's Fresh Pasta to go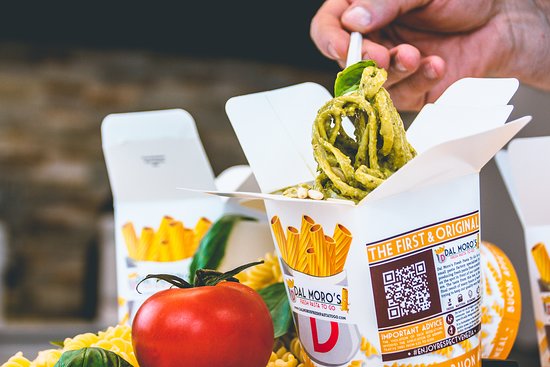 This pasta shop serves tasty food to people on the go in Venice's busy Castello district. Founded here in 2012 by Venetian chef Gabriele Dal Moro, their success and popularity have already led them to open other locations, providing tasty, fresh pasta to the people of Barcelona, Toronto, and more!
Don't let the low prices, takeout boxes, and quick service fool you. This is not a fast food chain.
Everything is prepared fresh and doesn't sit under a heat lamp, waiting for customers. In just a decade, they have made a name for themselves as the number one takeaway pasta company in the world. Even as the franchises grew abroad, they haven't sacrificed their quality and still make their sauces fresh. People visiting the restaurant will get to try the original location!
At Dal Moro's, you are the chef. You get to choose from a variety of pasta, sauces, and extra toppings to create your signature pasta dish. Try typical Italian pasta types like bigoli, gnocchi, rigatoni, and more! Then, top it with your choice of sauce. They can be typical Italian flavors like Bolognese or pesto. But since you are in Venice, why not spice it up with some local tastes?
Try their pescatora full of rich tomato sauce and shellfish, or even the Veneziana with squid ink! Check the menu for both vegetarian and vegan options. They always have some available. Keep in mind that, because they make everything from scratch and serve such a high volume of people, you won't see the full menu from the internet in the store every day.
Some types of pasta and sauces run out, and they take them off the menu while they produce more. Dal Moro's Fresh pasta to go is open daily from 12:00 PM (12:00 hours) to 8:00 PM (20:00 hours). Stop by for a quick, cheap bite when in Venice!
Location: Calle de la Casseleria 5324
Website: DalMoros.it
Distance: 300 meters (0.2 miles) from St. Mark's Square
Phone: +39 041 476 2876
Fried Land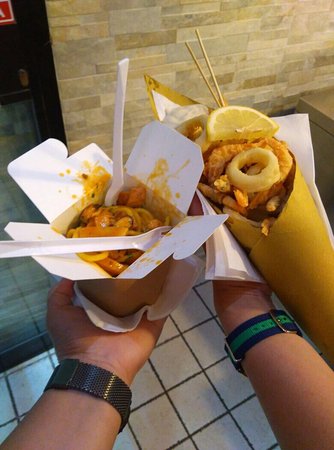 If you get hungry walking around Cannaregio, there are few better places to get a bite than at Fried Land! This place can satisfy most cravings with its impressive street food selection.
Living up to its name, this spot sells plenty of tasty fried snacks such as local delicacy calamari, and even french fries and chicken wings! You can balance out the fried foods with one of their many salads, including Greek and Mediterranean.
Most guests come in for the fried seafood and walk away with more than they expected! The selection of pasta boxes is too enticing, and many people order both.
They make over a dozen delicious combinations of pasta, meat, and sauces. What's more, is box packed full of pasta only costs between 7 and 9 euros! They don't have the option to build your own pasta bowl as in other places, but they have something for everyone.
Try a variety of classic pasta dishes like carbonara or al arrabbiata and you won't be disappointed. A portion of their menu is also dedicated specifically to seafood pasta, so you can indulge in some Venetian favorites like bigoli in salsa, or spaghetti with seafood. They have options to satisfy all pasta cravings.
Fried Land is open every day except Tuesday from 11:00 AM (11:00 hours) to 9:00 PM (21:00 hours). There is only a small seating area for 2-3 guests, so be prepared to walk and eat if necessary!
Distance: 1.3 kilometers (0.8 miles) from St. Mark's Square
Phone: +39 041 309 9067
Spaghetteria 6342 a Le Tole Pizzeria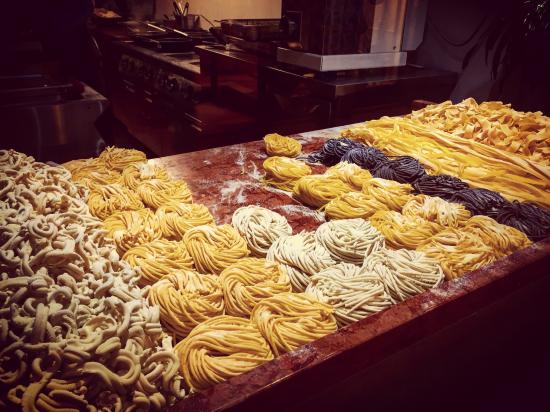 The first non-takeaway option on our list– come sit a while and enjoy some of the freshest Italian cuisines at this elegant-yet-casual Venice eatery. They specialize in two cornerstone dishes that make Italian famous worldwide: pasta and pizza.
The 6342 restaurant family operates two eateries. The ristorante offers upscale, modern Italian fare. Though a great choice for a night out, we'll focus on a le Tole.
They may serve the hits, but this is no run-of-the-mill restaurant. They only use the freshest ingredients and never cut corners. To prove this, they have an open kitchen, so guests can see every step of the process that goes into their food.
You won't find basic pasta dishes on their menu. They go all out with signature flavors such as spaghetti with calamari, eggplant, and mint! Instead of spaghetti Bolognese, get their seabass ravioli with artichoke sauce! No matter what pasta you order, you will get an experimental twist on an old favorite.
Don't forget to save room for pizza, too! While they do offer some classic flavors like Margherita or Funghi, step it up a bit with some of their signature pizzas like San Marco (with speck, brie, and arugula on top)!
The restaurant is closed on Tuesdays, but on any other day of the week, you can come for lunch from 12:00 PM (12:00 hours) to 3:30 PM (15:30 hours) or for dinner from 7:00 PM (19:00 hours) to 10:30 PM (22:30 hours). Book your table on their website to make sure you get a table!
Distance: 750 meters (0.4 miles) from St. Mark's Square
Phone: +39 041 476 8410
Pasta & Pasta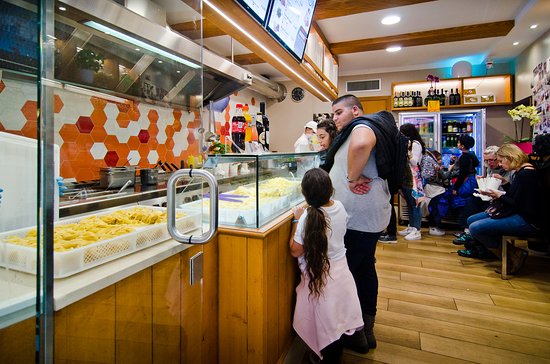 Another great takeaway place with a central location, Pasta & Pasta is the place for you if you are a hungry tourist and find yourself in Piazza San Marco. The pasta lover's haven is just four minutes away from the square, and you will barely wait more than five minutes for your food once you are there!
Despite the madness of this tourist district, the staff is known for their patience and friendly service. They are happy to assist you in creating the perfect pasta bowl.
Another great takeaway place with a central location, Pasta & Pasta is the place for you if you're a hungry tourist and find yourself in Piazza San Marco. The pasta lover's haven is just four minutes away from the square, and you'll barely wait more than five minutes for your food once you're there!
The restaurant boasts one of the biggest pasta menus imaginable. You can choose from over a dozen classic recipes featuring different varieties of pasta, sauces, and toppings, all of which are made fresh! You also have the option to build your own bowl with the pasta and sauces available that day.
Keep it simple with spaghetti with tomato and basil sauce, or go all out with squid ink pasta or green rigatoni with every topping under the sun! The choice is yours. They don't cheat here. In the open kitchen, you can see a machine pulling and cutting fresh pasta. You can try it freshly made in one of their dishes, but you can also take home dried pasta and make your own creation!
Unlike most fast options, the restaurant's kitchen is only open from 11:00 AM (11:00 hours) to 3:00 PM (15:00 hours) and then from 6:00 PM (18:00 hours) to 9:00 PM (21:00 hours). The break is to recoup and produce more fresh pasta for the evening rush, so it's worth it to wait!
Location: Calle de le Bande 5374
Website: none
Distance: 350 meters (0.2 miles) from St. Mark's Square
Phone: +39 041 523 8889
Where to find the best pasta restaurants in Venice?
Pasta dishes are classic and the most common meal, which can be found in almost every restaurant in Venice. However, most of them offer pasta dishes along with other specialties. Therefore you can be sure that you will get high-quality pasta only in a classy fine-dining restaurant with high prices. If you are a pasta lover, better options are restaurants with takeaway pasta or those which only serve pasta dishes. Not only will you get excellent, often homemade, and authentic pasta, but you will also pay less and save some money for souvenirs.
Check out more articles about Venice:
Hey there! Some links on this page are affiliate links which means that, if you choose to make a purchase, we may earn a small commission at no extra cost to you. We greatly appreciate your support!