Amalfi Coast is one of the most beautiful coastlines in Europe, so it is no wonder it is very popular, especially during the summer months. This fantastic coastline is known for vertical rocky cliffs above the Tyrrhenian sea, lovely coastal towns, breathtaking views, luxury hotels and restaurants, unique nature, and a warm sea.
Amalfi Coast was actually a place full of fishing towns and villages because it got recognition for its beauty by mass tourism. Therefore, these towns are not built for the hundreds of thousands of tourists coming to this coast every day.
The main problem besides crowds is definitely parking. Parking on Amalfi Coast is usually very exhausting and stressful because there are not enough parking spaces for all. You can actually reach all of the coastal towns with public transport, which is more convenient than coming in your own car. Also, public transportation is much cheaper and less stressful.
The most popular public transportation on Amalfi Coast is local SITA buses that connect all towns on the coast with bigger cities in surroundings like Naples, for example. Another public transportation that is a little bit more expensive is the ferry service. Ferries also connect almost all towns on the Amalfi Coast, and they are awesome if you want to enjoy a stunning panoramic view while traveling to your destination.
Traffic on Amalfi Coast
The tourist season on Amalfi Coast starts from mid-April and lasts until the beginning of October. During this period, the streets are full of tourist buses, cars, Vespas, and bicycles which makes driving very difficult. However, visiting the Amalfi Coast by car can be pleasant and cheap only if you are coming out of season. Keep in mind that the streets are curvy and very narrow, so there are often traffic jams in summer, and driving is usually difficult and slow.
A similar situation is with parking spots. They are also pretty narrow, so arriving with a wide car can sometimes be a problem. But, here are some encouraging facts. Even though the streets outside the towns are hilly and with frequent turns, they are much wider, so it is advisable to park there.
You will notice that many rental cars are full of scratches, mostly because of the narrow streets and parking lots. Therefore, if you are coming by car to Amalfi Coast, be very careful and patient.
Parking on Amalfi Coast
The parking spaces on Amalfi Coast are often not clearly marked. However, some are marked with white, yellow, or blue lines. Free parking spaces are marked with white lines, but they are very hard to find. There is a small number of free parking spaces on the Amalfi Coast, and they are usually taken.
Worth mentioning is that many public parking spaces are reserved for local residents. Therefore, if you see available white parking space, you should check if there is a sign at the beginning of parking to avoid getting a ticket.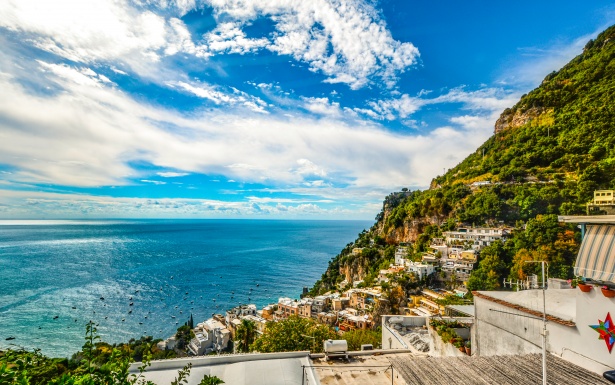 Parking spaces marked with blue lines are paid per hour, and in some towns, you will get a discount if you stay longer in the parking space. Parking prices depend on the season when you visit the coast, varying from approximately 2 to 8 euros per hour. Remember that parking spaces are more expensive the closer they are to the center and the beaches.
Furthermore, some towns have public parking garages where you can leave your car. They are a good option if you want to cover and protect your car, or leave it there and explore the coast by scooter or bus. Yellow parking spaces are reserved for local residents or people with disabilities.
Where to park on Amalfi Coast?
As mentioned above, parking on Amalfi Coast is very problematic, so you have a higher probability of finding parking spaces if you start looking very early in the morning. Summers on the Amalfi Coast are full of tourists, and the streets are often chaotic, so the chance of finding a parking space on the street is minimal.
Please note that holidays, Saturdays, and Sundays are the busiest during the summer months. There are some hotels that offer free or cheaper indoor or outdoor parking for their guests, so you should consider booking them for your stay. But, hotels like this are very desirable, so you should book in advance.
As parking on Amalfi Coast is such a big problem, even some restaurants offer discounts or free parking for their guests. Along the coast, there are small parking bays where you can stop if you want to take an amazing photo from your trip or take a break from driving. Of course, it is hard to find a free spot, so you have to be a little lucky!
As you probably concluded, exploring the Amalfi Coast by motorbike or scooter is much better, because you can find parking much easier. There are numerous parking lots marked with white diagonal lines where you can park your vehicle. Also, scooters are domestic transportation on Amalfi Coast, so you will feel like you are driving through Italian streets just like a local, which is an experience in itself.
Hey there! Some links on this page are affiliate links which means that, if you choose to make a purchase, we may earn a small commission at no extra cost to you. We greatly appreciate your support!
Check out more articles about Amalfi Coast: