Is it possible to find high-quality restaurants in a town of only around 800 people? Leave it to Italian towns to impress and surprise you! Atrani is precisely one such example. Even though small and unusual, it is a few minutes away from the more popular and crowded Amalfi town. Atrani is the perfect destination for tourists looking to step away from the crowds and immerse in the culture of a local Italian town.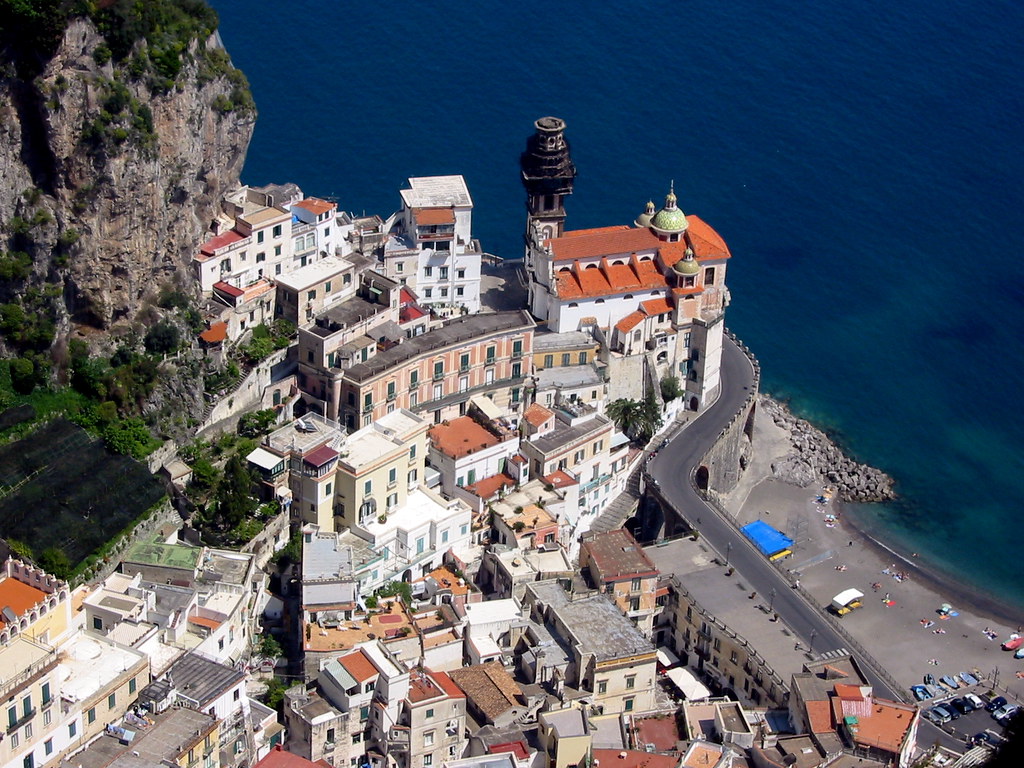 You will be pleasantly rewarded for navigating the narrow streets of this lovely town as you discover hidden gems in world-class restaurants and sights. Whether you are craving a plate of pasta and seafood, or a sample of the best Italian wines, Atrani has it all. As a bonus, many restaurants offer gorgeous views, reminding you once in a while that you are on the Amalfi Coast, one of Italy's most beautiful tourist destinations. Here are the best restaurants in Atrani:
(This article contains 3 restaurants in Atrani, which are best in our subjective opinion. The order of the restaurants is not related to the quality they offer. Every restaurant has its pros and cons, so choose the one based on your personal preferences.)
Ristorante Savo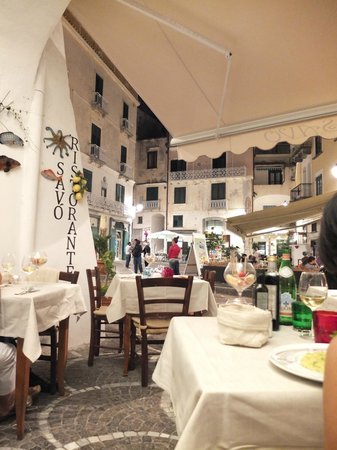 Ask anyone about the must-try restaurants in Atrani, and Ristorante Savo is one of those names that will come up on everyone's list. It is one of the oldest restaurants in Atrani, which has been passed on from several family generations. This love for the food business has been recognized by the locals who often visit the restaurant.
The family has dedicated themselves to making delicious food that reflects the local cuisine of the Italian town. If you are coming to the Atrani by car, you can park in the nearby Luna Rossa parking lot, and then the restaurant is only a five-minute walk from there.
The people behind Ristorante Savo work hard to ensure their food's quality and deliver the best customer service. Every guest is treated not as a customer but as a friend, so you will really have a wonderful time there. They know guests by name, especially among those who are regular visitors. The atmosphere at Ristorante Savo is very cozy and welcoming. They offer various seating options since guests can eat inside or outside in the courtyard.
Regarding their food, the owners and their chefs are focused on preserving local culinary traditions, so they serve traditional dishes with a creative twist. The ingredients are always top-quality, such as meats, cheeses from local production, and homemade bread. They also use only freshly caught seafood and garden products for maximum quality. Furthermore, there are homemade wines that are a must-try and the perfect pairing with your meal.
If you plan to visit Ristorante Savo, you should take advantage of the seafood and pasta dishes. Make sure you taste their homemade sweets, too, which are pretty delicious! Since this restaurant is one of the most popular restaurants in Atrani, a reservation is advisable. It is open every day from 12:30 PM (12:30 hours) to 3:00 PM (15:00 hours) and from 6:00 PM (18:00 hours) until 11:00 PM (23:00 hours).
Distance: Right in the center of Atrani
Phone: +39 089 872 712
Mistral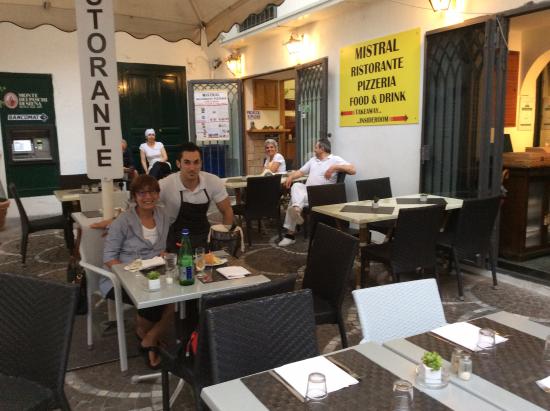 Mistral is an Italian restaurant located in the main Atrani square. It is known as one of the best restaurants for pizza and pasta lovers. Its location makes it the perfect stop for anyone sightseeing and wanting a delicious and satisfying meal after the walk. Worth mentioning is that many locals dine here, which is one of the best signs that you are in the right place.
Besides Italian dishes, Mistral also offers delicious Mediterranean cuisine. The restaurant uses only fresh ingredients and a local twist to ensure consistency with their dishes. Everything is also homemade because the chefs want to ensure guests can sample Atrani's best flavors. Food quality is also top-notch, so you can be sure that every meal is worth your money.
But one thing that is really special about this restaurant is the fast and efficient service. While the food is served in a short amount of time, they never sacrifice food quality in the process. The ambiance at Mistral is family-friendly and casual. It's the ideal place to dine with a group of friends or with your loved ones.
They have outdoor seating in the summer, so you can enjoy the views of the square while enjoying your meal. Dining at this lovely restaurant is truly a must if you are looking for the most authentic Italian dining experience in Atrani. Mistral is open daily from 12:00 PM (12:00 hours) to 12:00 AM (00:00 hours).
Distance: Right in the center of Atrani
Phone: +39 089 872 827
Le Palme Ristorante Pizzeria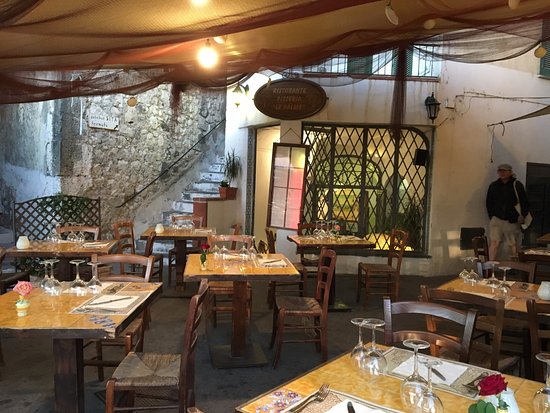 Open for lunch, dinner, and late-night drinks, Le Palme Ristorante Pizzeria is another go-to destination in Atrani for anyone who likes Italian and Mediterranean dishes. It attracts many tourists because of its unique atmosphere. You can find this little gem located on a refurbished old archway that is covered with a boatyard. The restaurant sits at a quiet corner of the town, so you won't have problems with crowds.
Furthermore, Le Palme Ristorante Pizzeria is only a few minutes away from the beach and the center of Atrani. The moment you walk into the restaurant, you will be greeted by a picture-worthy entrance. There are indoor and outdoor seating options, but we recommend choosing an outdoor area because of the breathtaking coastal views.
Two brothers are behind Le Palme Ristorante Pizzeria. Armando is the chef, while Salvatore is the hall master. These two work seamlessly together to deliver the best possible food to your table. The restaurant has been around since the 1990s and continues to win over guests with its exceptional dishes. Since Atrani is close to the sea, many seafood dishes are available.
They also have a collection of authentic local wines to complement their dishes. However, their coffee is also something worth ordering. The restaurant offers gluten-free and vegan options for those with diet restrictions. Keep in mind that this place can be pretty busy, especially during dinner service, so it is advisable to reserve your table. Le Palme Ristorante Pizzeria is open every day from 12:00 PM (12:00 hours) to 3:00 PM (15:00 hours) and from 7:00 PM (19:00 hours) to 12:00 AM (00:00 hours).
Distance: Right in the center of Atrani
Phone: +39 089 871 700
Where to find the best restaurants in Atrani?
Atrani is a very small town, so you will find most restaurants in or around the little center. Even though there is no big selection of restaurants, you won't stay hungry. These restaurants offer typical Italian and Mediterranean food, which means that you can choose between seafood, pasta, and pizza. They all have authentic atmospheres and delicious food. Therefore, whichever restaurant you choose, you can't make a mistake.
Check out more articles about Atrani:
Hey there! Some links on this page are affiliate links which means that, if you choose to make a purchase, we may earn a small commission at no extra cost to you. We greatly appreciate your support!