When Italian poet Gabrielle D'Annunzio wrote, "Certain memories are enough to perfume a soul forever," he could have been referring to the breathtaking Gardone Riviera, a resort area located on the western side of Lake Garda in Lombardy, the largest lake in Italy. Known as one of the "Most Beautiful Small Towns in Italy," this naturally blissful location is a combination of art and poetry. Gardone Riviera has the spectacular, one-of-a-kind Andre Heller Botanic Garden, with plants and trees from around the world serving to create a metaphorical Garden of Eden.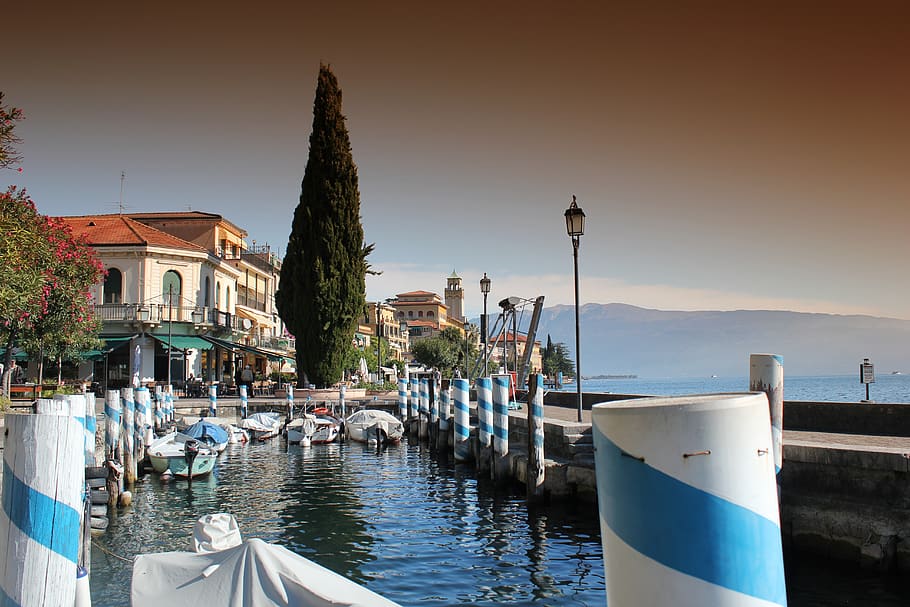 In addition to the flora, there are sculptures, ponds with lily pads, and plenty of benches to relax and soak up the atmosphere. Visitors will also discover an amazing collection of 200 Baby Jesus statues within its Divine Infant Museum. The enchanting lakefront offers a plethora of rare elegant dining, which can be followed by a lakefront stroll. Gabrielle D'Annunzio adored this place and created a magical paradise, complete with buildings, gardens, water streams, a mausoleum to himself, and an amphitheater where international stars may occasionally overshadow the natural beauty of the place.
However, nature rules over every inch here. To totally absorb the magical atmosphere of Gardone Riviera, there are several luxurious waterfront hotels. Or many visitors revel in a stay at a wellness center by the lake, with an emphasis on health, massages, and weekly programs for rejuvenation. Of course, while at Gardone Riviera, visitors want to experience the great eateries too. Here are the best restaurants in Gardone Riviera:
(This article contains 4 restaurants in Gardone Riviera, which are best in our subjective opinion. The order of the restaurants is not related to the quality they offer. Every restaurant has its pros and cons, so choose the one based on your personal preferences.)
Osteria Antico Brolo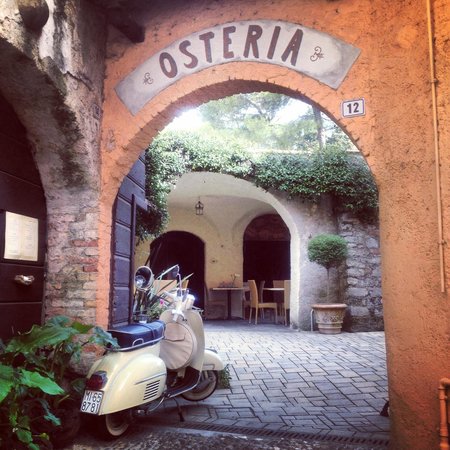 Located in the middle of Gardone Riviera's magical garden, this 18th-century residence has been transformed into a small B&B and restaurant – or a restaurant with cozy rooms. This is a Michelin-rated restaurant without the usual Michelin prices. Its meals are surprisingly reasonable, and it is considered one of the best eateries in Gardone Riviera. They have served regional dishes with an emphasis on delicious country-style cooking since 2010.
Still, guests can expect a bit of unexpected sophistication with offerings such as beef tartar with truffles. The ideal wine can be paired with each dish for an enticing and memorable dining experience. Antico Brolo also offers a six-course tasting menu with wine pairing. There is much from which to choose, which is half the fun. The outdoor deck adds a warm ambiance on a summer night.
The rooms are small but very comfortable and worth mentioning. Dining on the balcony with its enchanting view of the lake or Gardone Riviera is a memorable Instagram experience. For anyone wishing to indulge in 19th-century pleasures, the Asiarita Suite is filled with an antique bed and wardrobe, taking guests back in time.
The staff in this lovely Osteria is very attentive, kind, and helpful. Furthermore, this restaurant is quite peaceful, so it is a perfect place for a romantic dinner or relaxing lunch. Osteria Antico Brolo is open every day except Monday from 12:15 PM (12:15 hours) to 2:00 PM (14:00 hours) for lunch and from 7:30 PM (19:30 hours) to 10:00 PM (22:00 hours) for dinner. Keep in mind that the restaurant is open only for dinner on Tuesday.
Distance: 800 meters (0.5 miles) from Piazza Marconi in Gardone Riviera
Phone: +39 036 521 421
Ristorante Pizzeria Sans Souci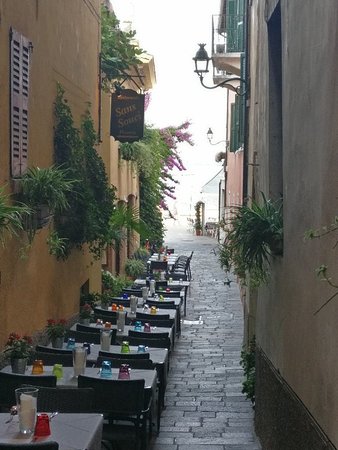 Another restaurant in Gardone Riviera, Pizzeria Sans Souci, is a hidden gem with indoor and outdoor seating for lunch and dinner. It is located in a beautiful alley with candle-lit tables. Inside, you can dine in a beautiful and comfortable room with arched ceilings and good attention to detail.
Although tucked away in an alley by Lake Garda, there can be a wait for a table. It is very popular, and booking in advance is definitely recommended. The pizzeria is usually quite busy, although most guests think it is worth the wait.
They may serve an incredible pizza, but their other dishes, such as the ravioli with fresh truffles, are also highly recommended. The fish here is always fresh, and the desserts are very delicious. So, the menu has so much to offer, and the atmosphere is relaxed and romantic. Therefore, this restaurant is a fantastic option for bringing your loved ones for a delicious meal.
There is also a good selection of various drinks, among which are wines the most popular ones. The prices are medium-high, but fair for the quality you get and still average for a touristic place such as Gardone Riviera. Worth mentioning is that the staff is super friendly and always smiles. Ristorante Pizzeria Sans Souci is open every day from 6:30 PM (18:30 hours) to 11:00 PM (23:00 hours).
Distance: 200 meters (0.1 miles) from Piazza Marconi in Gardone Riviera
Phone: +39 036 522 035
Locanda Trattoria Agli Angeli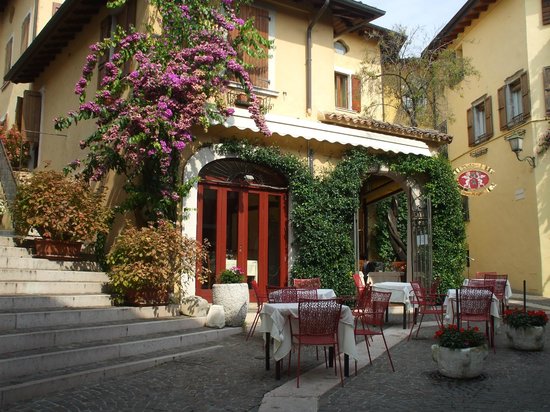 The trattoria is steps from the Vittoriale degli Italiani, a large complex within the Gardone Riviera by Lake Garda that consists of an open-air theater, buildings, and special streets that are visited by 180,000 tourists each year. A fun and interesting part of the Vittoriale degli Italian is the Secret d'Annunzio Museum which hosts some of the poet's noteworthy personal possessions or items used by his guests, such as dresses made of lace with crepe petticoats and silken nightgowns.
In the 19th century, Locanda Trattoria Agli was a lovely eight-room lake house built to exist in harmony with the great natural environment that surrounded it, complete with a charming courtyard and a swimming pool. The house has since been converted into a trattoria with eight rooms. The trattoria is vegetarian-friendly, with vegan and gluten-free options for its Italian and Mediterranean dishes.
Other diners can just dig into the incredible Fonduta di Robiola with truffles. There are many memorable options, and the prices are reasonable. The thoughtful staff serves its homemade bread in a bag to keep it deliciously warm. It is a good idea to book a table in advance instead of being turned away during their busy times. The chef at Locanda Trattoria Agli mainly offers Brescian cuisine, which is a tasty variation of the usual beloved Italian cooking. It embraces the Slow Food Movement, which relies on regional foods and production methods.
Cheese is a huge part of Brescian cuisine. There are hundreds of different types, and each adds its own subtle flavor. However, the most widely used Brescian cheese is Grana Padano, made from raw cow's milk. Many dishes at the trattoria include fish as an ingredient, including carpione, a fish that exists nowhere else but in Lake Garda.
Furthermore, Locanda Trattoria Agli Angeli is well-known for its stuffed pasta, a Brescia specialty. This pasta is handmade and filled with herbed meat and breadcrumbs before rolling it into a smaller shape. It is heavenly served with sage butter sauce. Of course, everything served at this lovely restaurant will be plated for an eye-catching presentation. The restaurant is open from Monday to Friday only for dinner from 6:30 PM (18:30 hours) to 9:30 PM (21:30 hours). At the weekend, it also works for dinner at the same time and for lunch from 12:00 PM (12:00 hours) to 2:00 PM (14:00 hours).
Distance: 1.1 kilometers (0.7 miles) from Piazza Marconi in Gardone Riviera
Phone: +39 036 520 991
Il Fiore di Zucca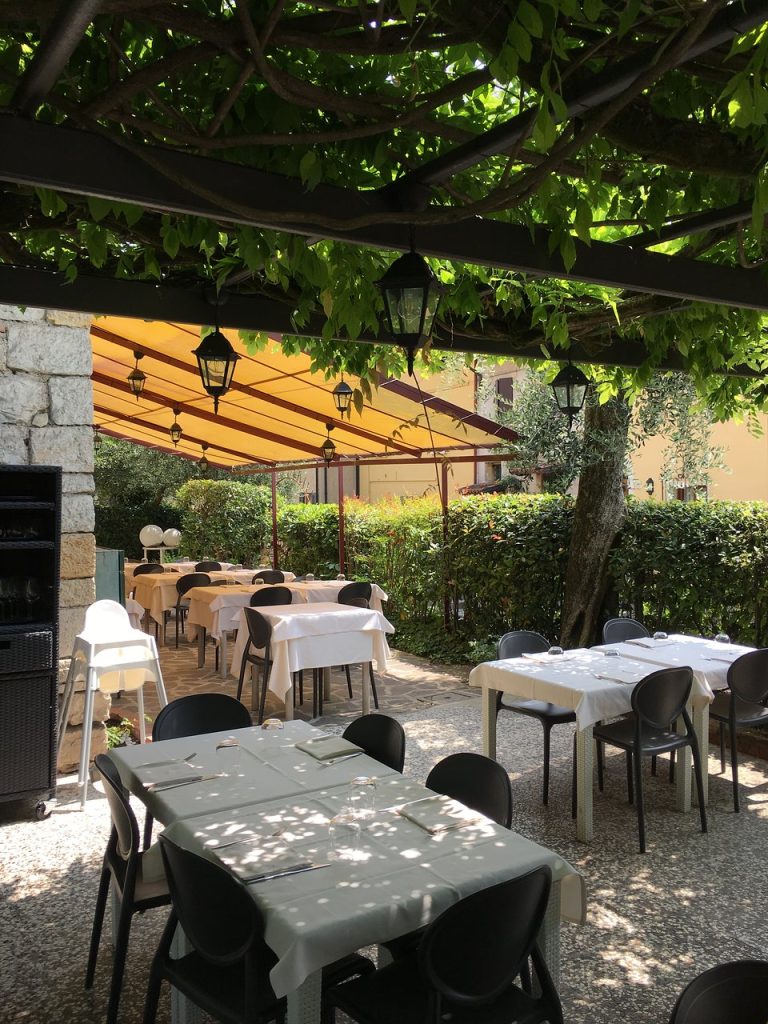 This restaurant is located in the midst of the Gardone Riviera garden and is special indeed. Both indoor and outdoor seating is available. Il Fiore di Zucca won the 2022 Travellers' Choice Award. While it leans heavily toward vegetarian dishes, it also serves fish and promises to prepare any dish on its menu gluten-free, including its delicious pasta. This makes Il Fiore di Zucca one of the best plant-based, allergen-free restaurants in Gardone Riviera. It is a bit removed from the hotels surrounding the lake and is not merely geared toward tourists but is a favorite among the locals, as well.
The name, Fiore di Zucca, refers to a fried zucchini blossom, which is one of their sought-after specialties. This is a tasty, very delicate blossom (a flower) filled with anchovies or cheese and carefully fried in a light batter made of flour and water. An unusual dish that keeps the customers returning. Their menu also includes a variety of Mediterranean options, such as octopus, fish, shrimp, and mussels with olives and capers presented with warm Italian bread.
For the adventurous and daring guests, there are stewed wild boar cheeks. Desserts lean heavily toward sweet chocolates. Il Fiore di Zucca is open every day except Tuesday from 12:00 PM (12:00 hours) to 2:00 PM (14:00 hours) for lunch and from 7:00 PM (19:00 hours) to 9:30 PM (21:30 hours) for dinner.
Distance: 850 meters (0.5 miles) from Piazza Marconi in Gardone Riviera
Phone: +39 338 286 8788
Where to find the best restaurants in Gardone Riviera?
Even though Gardone Riviera is a very popular touristic place, it doesn't have many restaurants to choose from. However, the good news is that those restaurants are pretty good, so you don't have to be pretty picky. Most restaurants are a little bit away from Piazza Marconi, Gardone's main square, so prepare for a walk.
Check out more articles about Gardone Riviera:
Hey there! Some links on this page are affiliate links which means that, if you choose to make a purchase, we may earn a small commission at no extra cost to you. We greatly appreciate your support!