The lovely Lake Garda is one of the best reasons to visit Northern Italy. Every year, millions of tourists hit this area to see the magnificent blue water in all its glory. A lot of them make short visits on the way to other destinations in the region, like Verona or Bergamo, while some stay in the area longer in lakeside towns like Peschiera del Garda.
It's no secret, however, that some towns along the lake have turned into tourist traps. It can be challenging to find places that give you the authentic, local experience you probably came for. Restaurants in tourist areas can be particularly problematic. Expensive, cut-rate food and poor service can ruin your experience in this scenic paradise.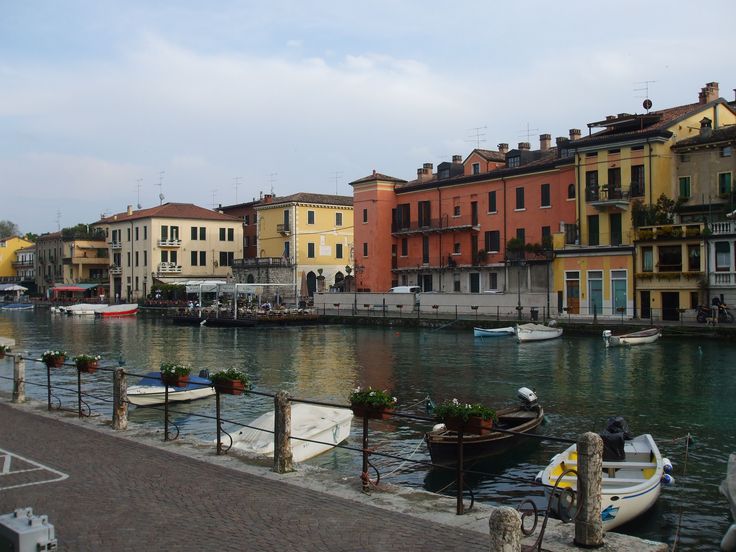 There are, however, some good places to grab a bite in the town. Many Italians are passionate about their national cuisine, so these places serve delicious Italian meals made with love and care. Service is professional, and they approach every guest with kindness and patience. Read our guide to the best restaurants in Peschiera del Garda!
(This article contains 5 restaurants in Peschiera del Garda, which are best in our subjective opinion. The order of the restaurants is not related to the quality they offer. Every restaurant has its pros and cons, so choose the one based on your personal preferences.)
Marco e Daniela Time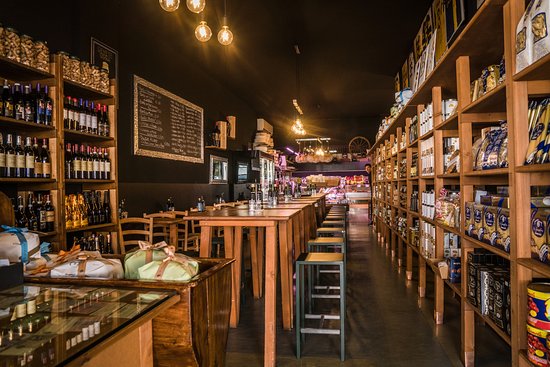 This special spot near the waterfront is not your typical restaurant. It's a specialty premium meat market that prepares a handful of quick bites that you can eat onsite in their quaint dining room or take to your hotel or a waterfront picnic.
The delicatessen, a local favorite, opened first as just a store in 1984. In 2014, they transitioned to the current hybrid model that sells home goods while preparing tasty dishes for dine-in.
Before we get into the details of the many meaty treats they serve, it's worth mentioning that their menu features special, vegan-friendly options! They insist that, though they specialize in cured meats and cheeses, they don't skimp on taste or quality when preparing meatless options. Their menu is subject to change based on seasonal availability, but know that there are always a couple of sandwiches and platters for vegans and vegetarians in your group.
For the carnivores, their menu is fairly straightforward– it's divided into sandwiches and charcuterie boards. Sandwiches aren't a joke to Marco and Daniela. They carefully select each ingredient included in their recipes. They are especially proud of their bread's quality and the fact that they don't use any products with preservatives, milk derivatives, or gluten sources. They always keep a dozen sandwich recipes on their menu at any time.
Try their signature "Marco," durum wheat bread loaded with raw ham, parmesan cheese, and balsamic vinegar cream. Their specialty boards offer unique combinations of freshly sliced meats and cheeses, plus tasty veggies prepared daily. You can pick and choose your own assortment or order one of theirs. They also sell hefty pieces of Lasagne Bolognese as their one hot dish on offer.
Whatever you decide to order, wash it down with a regional craft beer or wine or with juice freshly prepared onsite. They don't accept reservations, but there's always space for everyone at Marco e Daniela Time. Their hours are a bit sporadic, but catch them during opening hours, and you won't regret it! From Sunday through Wednesday, they are only open from 12:00 PM (12:00 hours) to 2:30 PM (14:30 hours). On Friday and Saturday, they are open from 12:00 AM (12:00 hours) to 2:30 PM (14:30 hours) and from 6:30 PM (18:30 hours) to 9:30 PM (21:30 hours). Keep in mind that the restaurant is closed on Thursdays.
Distance: 450 meters (0.2 miles) from Porta Brescia in Peschiera del Garda
Phone: +39 045 755 3582
Iona Seafood Pub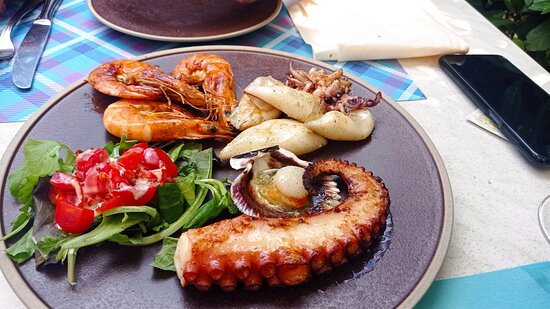 This spot is located just outside the city center and specializes in everything seafood– from regional delicacies to international flavors. While their menu leans heavily on shellfish, there's a selection of fish dishes too.
This isn't your typical Italian restaurant. While there are many ingredients commonly found in Italian cuisine, their dishes are a fusion of many flavors.
The passionate, young chef, Jason, strives to bring the most interesting, exotic seafood flavors to the area. In addition to his colorful plates, he brings in a huge variety of craft beers and organic wines to accompany your meal. Order a variety of fried, steamed, or grilled seafood plates. These typically include octopus, shrimp, prawns, scallops, and oysters.
Dishes usually include a combination of at least three or four of these plus copious amounts of side salads and french fries. Want to switch it up a bit? Get their seafood tacos! They put huge portions of shrimp and tuna on crunchy tortilla shells and load them up with spicy sauces and veggies.
Perhaps you would like some Asian flavors instead. Well, they have got that too! Try their poke bowl, a hefty portion of sushi rice loaded with tuna and shrimp with fresh vegetables, herbs, and sauces. Their izakaya octopus is another popular choice. The Japanese dish is a simple creation– grilled octopus that's bursting with flavor.
Since it's a popular spot in town, tables tend to fill up on weekends and during the summer. Therefore, it is advisable to book your table in advance! The restaurant is closed on Mondays, but every other day you can catch them from 12:00 PM (12:00 hours) to 2:00 PM (14:00 hours) and from 6:30 PM (18:30 hours) to 10:00 PM (22:00 hours), except Tuesdays when they are only open for the evening hours.
Distance: 1.5 kilometers (0.9 miles) from Porta Brescia in Peschiera del Garda
Phone: +39 346 993 8789
Osteria Rivelin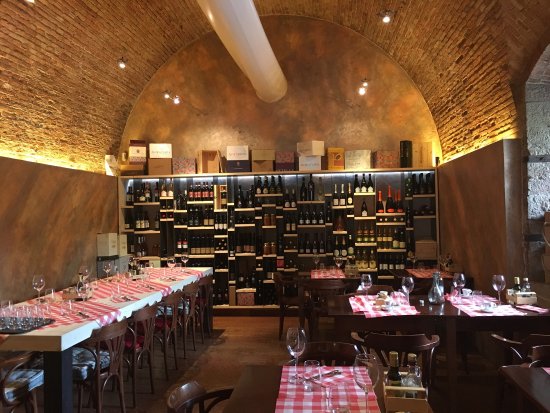 This little restaurant may be near the shores of Lake Garda, but they bring the flavors of Veronese cuisine to the area. Their philosophy is to recreate the feeling of eating in your grandmother's kitchen– that is, your Northern Italian grandmother.
They make high-end versions of classic dishes served in homes across the Italian countryside. And the location can't be beaten. The Osteria is situated inside the old rivelin, the old city gates that controlled access to the area.
They meticulously select regionally-sourced ingredients and avoid GMOs and preservatives in their food to deliver the best quality possible. Their wine list is mostly regional, too. You won't find many of the Italian dishes that made their cuisine known worldwide here.
Though you will find similar components like pasta with sauce, it will have flavors unknown to foreigners, as they lean towards peasant fare. Try tagliatelle pasta with horse meat sauce for starters. The name may put you off if you are not used to eating it, but you won't regret it once you've had a bite! Not feeling adventurous? There are other "safer" options for your first plate, like gnocchi in tomato sauce.
The second plate menu has a variety of regional meat dishes. Try rabbit, tripe, or horse stew, each served on top of a hefty portion of polenta! They also have beef steak and beef tartare for those seeking more familiar flavors. Osteria Rivelin is open Wednesday through Monday from 12:00 PM (12:00 hours) to 2:00 PM (14:00 hours) and from 7:00 PM (19:00 hours) to 10:00 PM (22:00 hours). Their unique menu offer makes them a popular choice, so you should reserve a table.
Distance: 130 meters (0.1 miles) from Porta Brescia in Peschiera del Garda
Phone: +39 045 252 6048
InChiostro Restaurant and Lounge Bar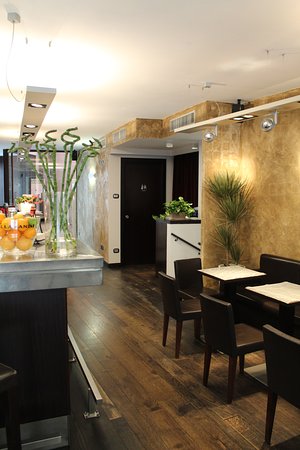 This restaurant and lounge bar sits right in the center of the historic downtown district and serves plenty of fancy seafood plates and drinks. If you are not too hungry, have a seat in their lounge bar and enjoy a cocktail and small plates.
Choose from one of their many delicious first plates, such as truffle risotto with stracciatella, lime, and scampi. Some seafood dishes come straight from Lake Garda, like their whitefish and asparagus-stuffed ravioli.
Their second courses are also mostly seafood-based, such as squid with potatoes or their signature fish stew. For the non-seafood fans, they make an incredible baked lamb with potatoes and pecorino.
The restaurant is open daily from 12:00 PM (12:00 hours) to 2:30 PM (14:30 hours) and from 7:00 PM (19:00 hours) to 10:30 PM (22:30 hours), except on Mondays when they are only open during the evening hours. To guarantee a table, you should reserve it.
Distance: 100 meters (0.06 miles) from Porta Brescia in Peschiera del Garda
Phone: +39 045 832 5270
Osteria Bakare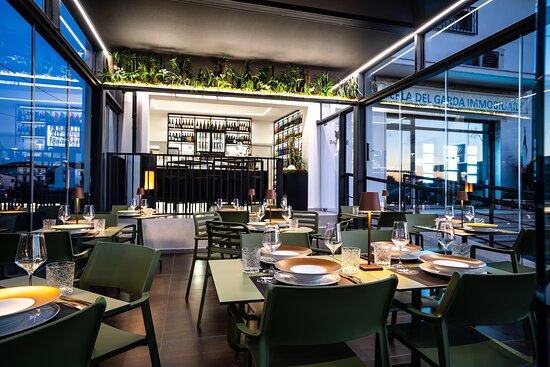 Looking for a great place to enjoy some great, local food away from the touristy area? Look no further! Osteria Bakare has just that– amazing dishes made with care in a part of town not frequented by tourists.
The restaurant has some of the best ambiances in the area. Their dining room is a modern, inviting space that welcomes diners celebrating important dates or just having a night out.
In most of their online reviews, guests point out the incredibly kind and personal service as enhancing the overall experience. And that's not to mention the food! Like many choices from this list, Osteria Bakare is not a typical Italian restaurant. However, they do showcase local flavors by sourcing many of their ingredients from the Garda region.
Each dish appears in front of you like a work of art. The presentation is equally important to them as the process of preparing the food itself. Try one of their seafood dishes, like a colorful seafood risotto topped with prawns! They push the limit with their flavors, concocting some of the most unique choices in town, like scampi in a porcini mushroom cream sauce.
Their menu reflects seasonal availability, but you can always count on delicious food made by some of Italy's most inventive chefs. Osteria Bakare is open every Tuesday, Wednesday, and Thursday only for dinner, from 7:00 PM (19:00 hours) to 11:00 PM (23:00 hours). However, you can eat lunch every Friday, Saturday and Sunday from 12:00 PM (12:00 hours) to 3:00 PM (15:00 hours), and dinner from 7:00 PM (19:00 hours) until 11:00 PM (23:00 hours). On Monday, Osteria Bakare is closed.
Distance: 1 kilometer (0.6 miles) from Porta Brescia in Peschiera del Garda
Phone: +39 045 611 4830
Where to find the best restaurants in Peschiera del Garda?
Peschiera del Garda is oriented toward tourism, just like other Lake Garda towns. Therefore, there are many restaurants in the town, so you won't have problems finding one for yourself. Also, it is worth mentioning that restaurants in Peschiera are overall pretty good compared to some other touristic places like Venice or Rome, where you can easily fall into a tourist trap.
Check out more articles about Peschiera del Garda:
Hey there! Some links on this page are affiliate links which means that, if you choose to make a purchase, we may earn a small commission at no extra cost to you. We greatly appreciate your support!