Not only is Lake Garda the largest lake in all of Italy, it is also the most beautiful. Famous for its breathtaking blue waters and surrounding mountainscapes, Lake Garda is a popular holiday destination for anyone looking to experience the authenticity and beauty of Italy. Located in Northern Italy between Milan and Venice, Lake Garda is easy to find and easy to get to. With more than twenty towns and villages situated along the banks of Lake Garda, each with its own unique flavor, there is no shortage of fun activities and great food to be enjoyed during a trip to the lake.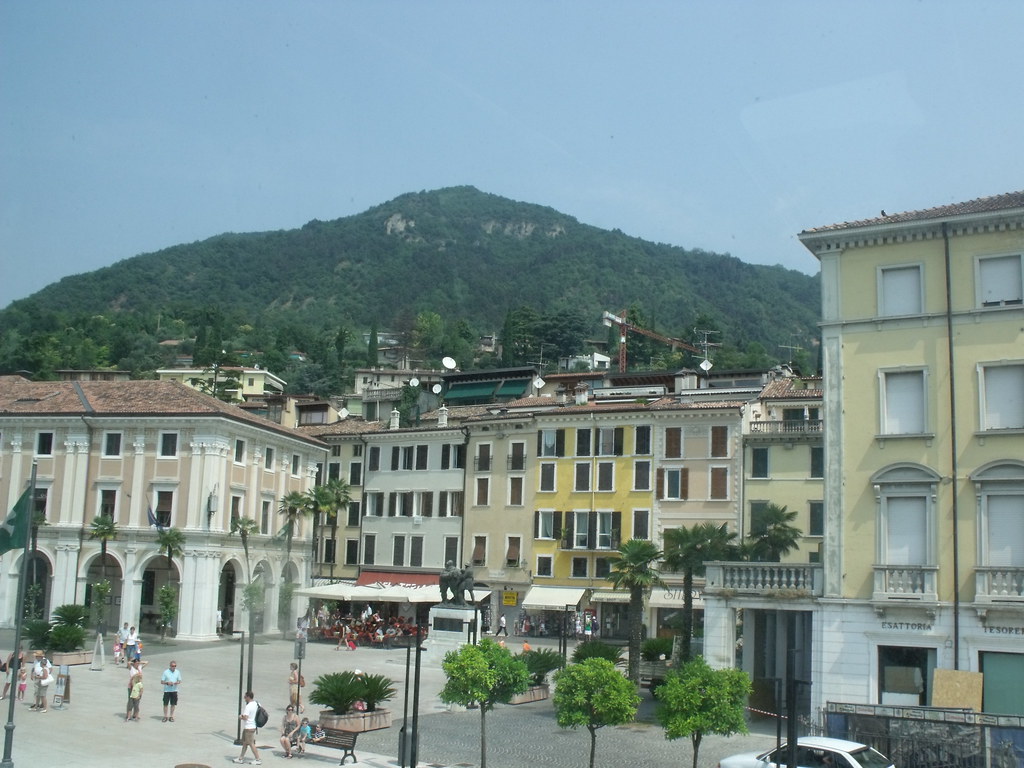 One such town, known for its abundance of rich history, culture, and cuisine, is the town of Salo. Located on the western part of the lake, just 40 minutes from the city of Brescia, Salo is one of the lake's best-kept secrets. Unlike many of the other towns in the area, Salo has been largely unspoiled by tourism and is the perfect destination for travelers looking for a more "genuine" Italian holiday experience. As well as having many alluring attractions, boutiques, cafes, and the longest lakefront promenade in Garda, Salo is also known to have some of the most unforgettable restaurants. Here are the best restaurants in Salo on Lake Garda:
(This article contains 5 restaurants in Salo, which are best in our subjective opinion. The order of the restaurants is not related to the quality they offer. Every restaurant has its pros and cons, so choose the one based on your personal preferences.)
Civico 7 Salo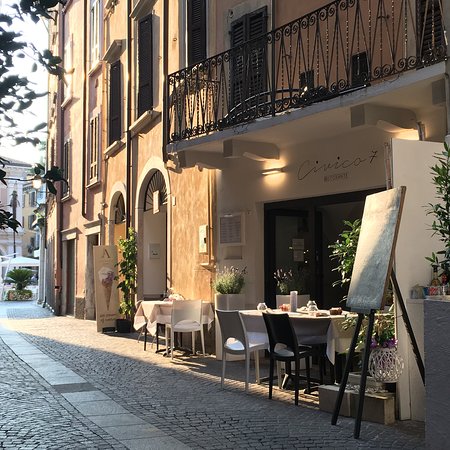 If you are looking for a restaurant that has fine wine, finer dining, an intimate atmosphere, handmade desserts, and a near-perfect 5-star rating across multiple review websites, then look no further than Civico 7 Salo. If all that wasn't enough, when it comes to the distinct flavors and presentation of many of Civico's dishes, it is a culinary experience hard to find anywhere else in Italy. Civico 7 Salo has been featured on TripAdvisor's 2022 Travelers Choice list and specializes in locally inspired cuisine.
Like all top Italian restaurants, Civico 7 Salo offers tasting menus, so if you are looking to try a few of the restaurant's unique dishes all at once, you can. This restaurant has so many fantastic signature courses that they are best left unsaid for you to discover for yourself. One thing is certain though, whatever you choose, you won't be disappointed as your taste buds are taken on a tantalizing culinary journey and topped off with some top-quality local wine.
Civico 7 Salo is open from 12:00 PM (12:00 hours) to 2:00 PM (14:00 hours) for lunch service on Saturdays and Sundays and then reopens for dinner from 7:00 PM (19:00 hours) to 9:30 PM (21:30 hours). On weekdays, the restaurant is only open for dinner service except on Wednesdays when it is closed. You can find Civico 7 Salo less than two minutes away from the Duomo Di Santa Maria Annunziata cathedral.
Distance: 100 meters (0.1 miles) from the center of Salo
Phone: +39 329 778 5105
Luta's Sapore Divino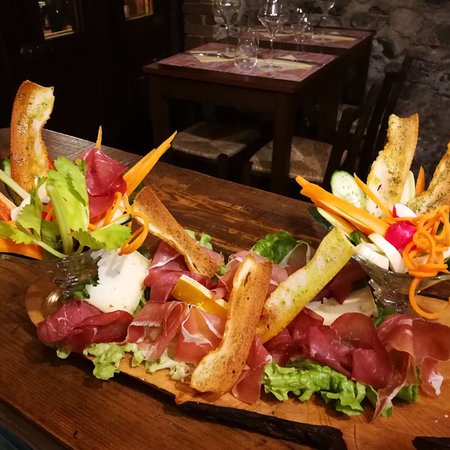 Luta's Sapore Divino Bistrot & Tasting Wine is both a top-of-the-line eating establishment and a world-class winery. Whether you are simply looking to grab some light lunch and a glass of wine or to sit down for a full evening consisting of several courses accompanied by a bottle or two of the finest wine in all of Italy, Luta's Sapore Divino has you covered. From its rustic and charming appearance to the quality of its meats, cheeses, and bread, it is easy to see why Luta's has appeared on TripAdvisor's Travelers Choice Award list for several years running.
According to food reviewers online, not only is the food incredibly delicious and imaginatively presented, but it is also reasonably priced, and the portion sizes are generous. However, as it specializes mostly in wine and dried meats, if you are looking for an assortment of pasta or spaghetti dishes, then Luta's might not be the place for you.
This beloved restaurant is open for lunch from 12:00 PM (12:00 hours) to 2:30 PM (14:00 hours) and then again for dinner from 6:00 PM (18:00 hours) to 10 PM (22:00 hours). Luta's Sapore Divino is open every day except for Tuesdays when it is closed. Like Civico 7 Salo, it can be found just a few minutes away from the Duomo and just around the corner from the Palazzo Fantoni.  
Distance: 150 meters (0.1 miles) from the center of Salo
Phone: +39 351 087 4894
Floriana Ristorante
The modern Italian cuisine of today can trace its roots back many centuries, and this is exactly what you will find at Floriana Ristorante. From the 16th-century historic pillars and arches of the building itself to its charmingly vintage décor, the ambient lights of Floriana Ristorante are sure to enhance your eating experience. More than simply its appearance, the roots of the food at Floriana Ristorante also go back generations into history.
Floriana Ristorante is proud of its Lombard roots, and this is reflected in the restaurant's menu. Where Lombardy food differs from other parts of Italy is the region's reliance on rice over pasta. With that said, it is also known for its "stuffed" pasta, which can be filled with cheese, veg, and meat. Like some of the other restaurants mentioned on this list, Floriana Ristorante has many uniquely presented dishes, and whichever one you choose is sure to be a pleasurable and memorable experience.
Floriana Ristorante opens its doors for both lunch and dinner services. Opening hours for lunch are from 12:00 PM (12:00 hours) to 2:00 PM (14:00 hours) and for dinner from 7:00 PM (19:00 hours) to 9:00 PM (21:00 hours). The restaurant is closed on Tuesdays but is open every other day. It can be found just behind the City Hall and the Palazzo Della Magnifica Patria.
Distance: 100 meters (0.1 miles) from the center of Salo
Phone: +39 0365 20233
Osteria Di Mezzo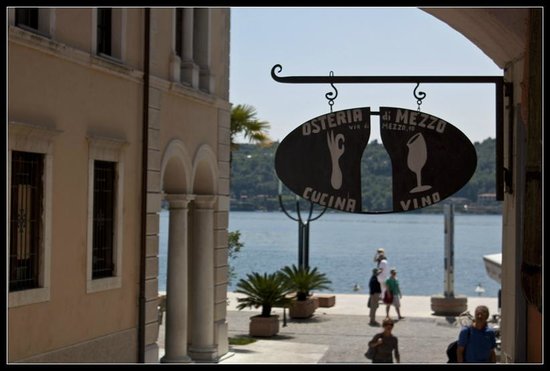 The Osteria Di Mezzo restaurant provides a modern spin on the recipes of classical Lombardy cuisine, which makes for dishes and desserts that you are sure to take a selfie of before you start eating. There aren't too many restaurants that are as well-known and as well-respected for their desserts just as much as the main courses, but Osteria Di Mezzo is definitely one of them.
The dishes at Osteria Di Mezzo are just as much works of art as they are plates of food. Before getting into this further, though, something should be said about the restaurant itself. The building has been beautifully refurbished and renovated from an old warehouse and is one of the oldest and most characteristic in all of Salo. This fusion of old meets new really shines through in both the building's décor and the restaurant's creative menu.
Each dish at Osteria Di Mezzo has been carefully crafted and enthusiastically presented. This level of care and attention to detail results in a sensory overload of color, texture, and flavor. To the delight of its guests, Osteria Di Mezzo is open for both dinner and lunch. Lunch hours range from 12:00 PM (12:00 hours) to 2:30 PM (14:30 hours), while dinner service starts at 7:00 PM (19:00 hours) and ends at 9:30 PM (21:30 hours). The restaurant is closed on Tuesday, which seems to be a common thing for many restaurants in Salo. You can find it right across the street from Floriana Ristorante.
Distance: 100 meters (0.1 miles) from the center of Salo
Phone: +39 0365 290 966
Locanda Del Benaco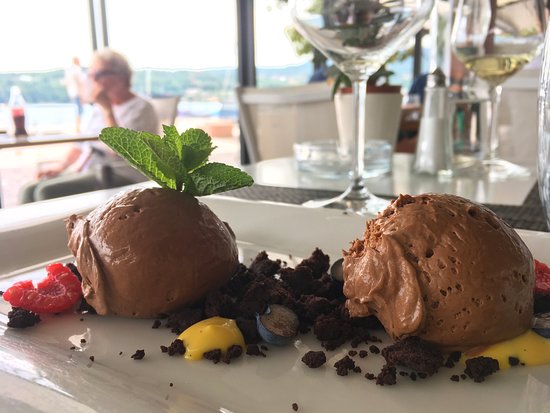 This unique 3-star hotel and restaurant can boast of having the best view out of any restaurant on this list and one of the best views found anywhere on the lake. On top of this great lakeside view and 60-seat outdoor patio area facing the lakefront, Locanda Del Benaco also has a beautiful interior with an incredibly contemporary décor, 30 stylish tables, and an abundance of other fancy furnishings and trimmings you would expect to see from a modern Italian restaurant.
The menu at Locanda Del Benaco also matches the look and feel of the restaurant's aesthetic and caters to a variety of cuisines and palettes. As well as serving many traditional pasta and seafood dishes, the menu at Locanda Del Benaco also provides some more Mediterranean and European-based cuisine and the dessert menu here is as good as they come.
Like many modernly-minded restaurants, the food at Locanda Del Benaco focuses on the style of its presentation and creating something new and memorable. This style of dining might not be for everyone, but it is certainly worth a try. Although some people might see the layout of the food as somewhat pretentious, nevertheless, they are also backed up with undeniably great flavors that have been finely tuned to ensure customers have an original experience.
Just like many other restaurants in the area, Locanda Del Benaco is open 6 days a week, with the restaurant being closed on Tuesdays. The opening hours are from 12:00 PM (12:00 hours) to 2:30 PM (14:30 hours) for lunch and from 7:30 PM (19:30 hours) to 12:00 AM (00:00 hours) for dinner, so there is no better place to grab a late-night drink and enjoy the view. As the restaurant is also a hotel, it is often full, and therefore, booking a table ahead of time is advisable.
Distance: 100 meters (0.1 miles) from the center of Salo
Phone: +39 036 520 308
Where to find the best restaurants in Salo?
Like most towns on Lake Garda, Salo also has an amazing gastronomic offer. Luckily for all those who don't like to walk far, all great restaurants are just a stone's throw from the center of the town. Restaurants here usually offer traditional Italian cuisine, which includes pasta dishes, pizza, and a variety of meat dishes. However, we advise ordering lake fish, too. That way, you will try something truly authentic and memorable. Whichever restaurant you choose, we guarantee that you will have a better dining experience than in the rest of Italy.
Check out more articles about Salo:
Hey there! Some links on this page are affiliate links which means that, if you choose to make a purchase, we may earn a small commission at no extra cost to you. We greatly appreciate your support!