Are you a food lover looking for the best dining experiences in Garda town? Look no further! In this blog post, we have compiled a list of the best restaurants that offer delicious Italian cuisine and breathtaking views of Lake Garda. With its rich history, stunning architecture, and vibrant food culture, it's no surprise that Garda town is a foodie's paradise. It also doesn't hurt that the cuisine of Garda town features a mix of Italian and Mediterranean flavors, with a focus on fresh, local ingredients.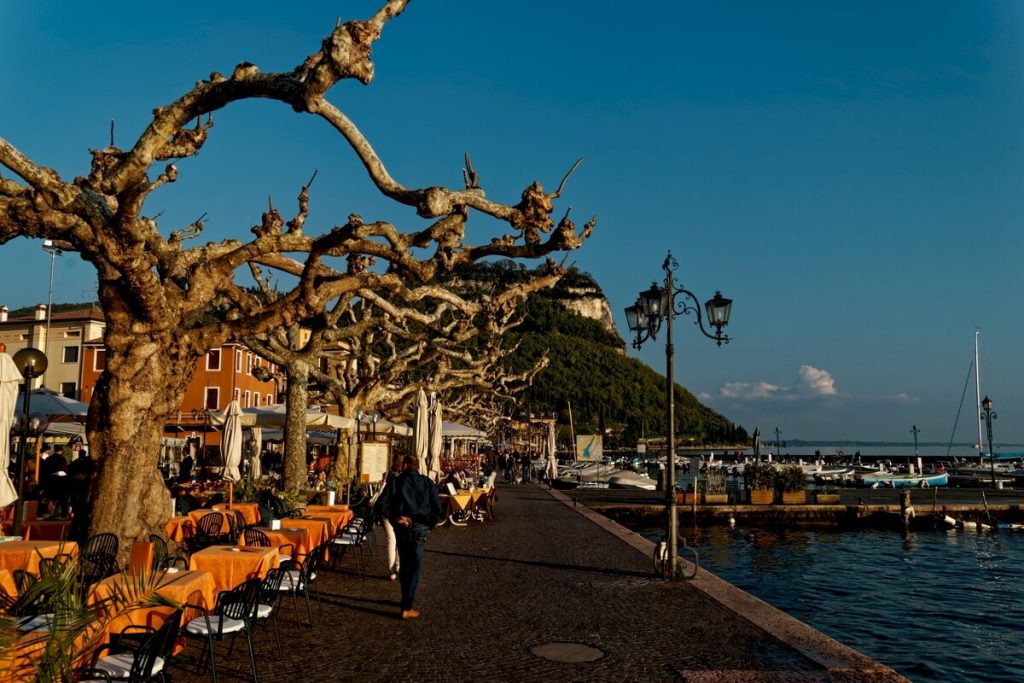 From traditional trattorias to modern cafes, there is something for everyone in Garda Town. Whether you are in the mood for pizza, pasta, seafood, or a fine dining experience, our list has got you covered. Join us as we take you on a culinary journey through the best restaurants in Garda Town, Italy, and discover why this picturesque town is a must-visit destination for food lovers. Here are our top picks:
(This article contains 5 restaurants in Garda town, which are best in our subjective opinion. The order of the restaurants is not related to the quality they offer. Every restaurant has its pros and cons, so choose the one based on your personal preferences.)
La Bussola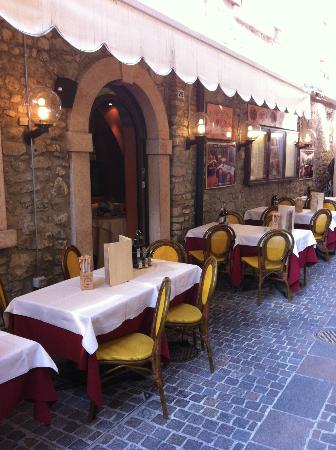 If you are a nature-lover who prefers to enjoy their meal in a soothing and blissful climate, look no further than La Bussola. Located in Via Spagna, right in the middle of Garda town, this place provides a mesmerizing taste in traditional seafood dishes. You get free pizza bread upon arrival; from there, the extensive menu keeps you going.
The many options include lasagna, mushroom risotto, truffle linguine, tomato soup, and much more. La Bussola is known for its unique cheese and truffle pasta. But all in all, every item on the menu is served so generously that you won't have to bother ordering seconds.
At the end of your meal, they will offer you some limoncello on the house as a refreshing token of appreciation. To top it off, you can even try free samples of their outstanding desserts. All that, combined with a welcoming staff that keeps you comfy, you will be revisiting this diner in no time.
However, what sets this restaurant apart is the location. Its closeness to the lake makes it the perfect morning spot to enjoy a delicious breakfast in the open air. Imagine sharing your next pizza with your friends in a windy courtyard where you can enjoy the glimmering sky and blazing view of the town.
La Bussola is open every day from 12:00 PM (12:00 hours) to 10:30 PM (22:30 hours), so you will get the prime hours for the sunniest visit. Even when dining indoors, you will feel welcomed in the homely environment. The ideal location and commendable service make this a unique restaurant and an unforgettable tourist spot.
Distance: 100 meters (0.1 miles) from Garda's historical center
Phone: +39 045 725 6475
Osteria Caffe Amaro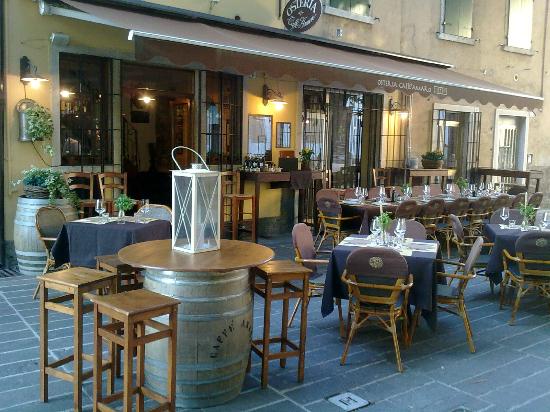 Some restaurants embrace tradition with classic cultural dishes. Others like to keep it simple yet unique with homecooked meals. What if there was a diner that excelled at both? Well, you have got it. Osteria Caffe Amaro offers a breathtaking diversity of Italian dishes. This is a favorite for the locals of Garda, and it's not hard to see why.
Look at the short yet promising menu, with some unique cuisines and wines that are hard to find anywhere else. The friendly, personalized staff and the shimmering interior decorations make the perfect backdrop for generous servings of local delicacies. These include pasta, smoked hams, carne salad, mountain cheese, bigoli, horsemeat tartare, lugana wine, and more.
The surprisingly affordable prices are made even better by the authentic quality of the food and wine. You can tell that the owners and cooks have an in-depth understanding of Italian cooking with all their vegetarian-friendly and gluten-free options. No wonder it's so hard to book a reservation here.
The popularity of this exclusive diner speaks for itself, but if you are still not convinced, you can try it yourself during lunch hours, from 12:00 PM (12:00 hours) to 2:00 PM (14:00 hours) or dinner hours, from 7:00 PM (19:00 hours) to 10:00 PM (22:00 hours). You will be left speechless on the first bite. Just head over to the Piazzale Roma on the main port of Gadra and find this small yet lovely restaurant ready to show you the true meaning of delicacy.
Distance: 550 meters (0.3 miles) from Garda's historical center
Phone: +39 346 633 2296
Osteria al Porto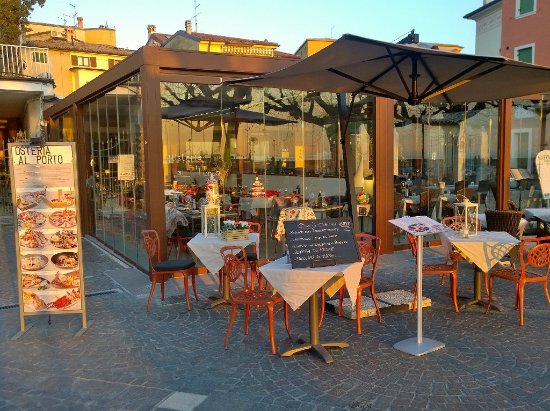 Planning a beach party in Garda? Well, you will probably want an outdoor restaurant, right? Say no more. Osteria al Porto has got you covered. Located in the Lungolago Regina Adelaide, this might be the coziest diner in all of Garda. Here, you and your friends get to sit across the windy coast and enjoy a peaceful view of the sunset while getting to choose from a wide range of Italian, European, and Mediterranean dishes.
As you can imagine, this restaurant is vibrantly rich in seafood as you can expect to be served with squid, octopus, tuna, capers, mussels, clams, and much more, all served in significant portions. Popular choices from the menu include the classic bruschetta, beef tortellini, grilled salmon, sesame tuna, onion pizza, lobster pasta, fish stew, rose wine, and much more.
Osteria al Porto isn't only famous for the fresh quality of its seafood and artistic efforts, as all your seafood looks like something straight out of a commercial. This restaurant is well worth your wait and wallet. It's probably a good idea to book a table here in advance since it's intensely busy most of the day.
You can book a table between 12:00 PM (12:00 hours) to 3:00 PM (15:00 hours) if you are in for the view. But if you are settling for a fancy dinner, you will be welcome between 6:00 PM (18:00 hours) to 10:30 PM (22:30 hours). Even if you prefer to cut your steak indoors, you can grab a seat in the elegant dining room. Either way, if you are crazy about seafood or scenic views, this place is heaven for you as you will be longing to return.
Distance: 130 meters (0.1 miles) from Garda's historical center
Phone: +39 045 725 5560
Pegaso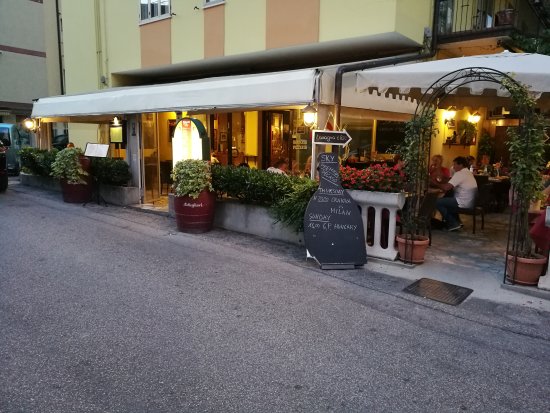 If you are coming to Garda with kids, you wouldn't want to miss out on Pegaso. This seemingly small restaurant sets itself apart with a service you won't forget. The staff here is known for their genuinely wholesome and enthusiastic personalities. The waiters and waitresses will keep you pleased and engaged with their humorous twists and friendly gestures.
But that doesn't mean Pegaso jokes around with its menu. Its colorful staff is accompanied by all your favorite traditional foods and drinks. Feast on the classic bruschetta, roasted beef, cream tortellini, limoncello, Bardolino wine, and other savory delicacies. And who can forget their superb variety of pizza, including calzone, Margherita, and much more? If you are unsure what to pick, ask for a recommendation, and you will be served with an exceptional experience you won't forget.
The upbeat atmosphere in Pegaso is something to be admired as the staff makes you as comfortable as possible as if you are from the neighborhood. No matter how crowded the place gets, each customer is personally treated with unbeatable hospitality. Pegaso is open daily from 7:00 AM (7:00 hours) to 12:00 AM (00:00 hours). You can find this lovely diner at Via Michele Abrile, a short walk away from Garda's harbor.
Location: Via Michele Abrile 20
Distance: 450 meters (0.2 miles) from Garda's historical center
Phone: +39 349 578 8596
Ristorante Piccolo Hotel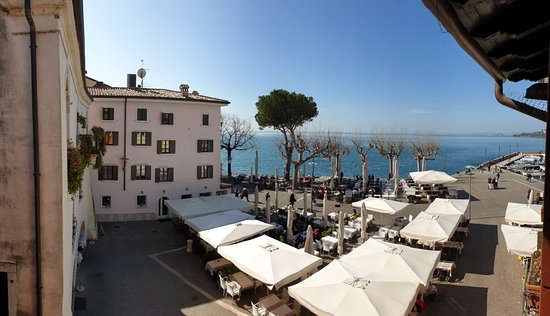 A five-minute walk from Garda's historical center will take you to Ristorante Piccolo Hotel, a luxurious inn known for its top-notch services and breathtaking interior structure. Situated at the lakefront, this ancient building might seem relatively small with nine rooms only, but the facilities that come with those rooms are something you can't turn your backs on.
Glowing lights, spacious windows, floral décor, and a cozy indoor and outdoor atmosphere – Ristorante Piccolo Hotel designs the ideal environment for your stay, whether for a family-friendly trip or a romantic vacation. But there is more to digest here than just the view. Here you will find some of the most spectacular seafood dishes, including steak, pasta, and sea bass.
Prepare for a scrumptious meal as you will be asked to choose from 3 first-course dishes, 2-second course dishes, and two desserts. The Dorella family is fully stocked with a wide range of grilled meats and fresh fish directly from the lake to give you the most delightfully traditional dining experience in all of Italy. As for the beverages, you can expect to choose from Passito wine, Valpolicella wine, rose wine, white wine, and much more.
If you book a room during the summers, you can dine in with your friends on the beautiful terrace on a sunny day while music plays in the background. You can enjoy this magical experience during open hours, from 11:30 AM (11:30 hours) to 3:30 PM (15:30 hours) and from 5:30 PM (17:30 hours) to 10:00 PM (22:00 hours). All in all, you will love this place for its traditionally cooked meals and a bevy of fresh wines and beverages. And it's all perfectly affordable. If this can't make you fall in love with Ristorante Piccolo Hotel, nothing can.
Distance: Right at Garda's historical center
Phone: +39 045 725 5256
Where to find the best restaurants in Garda town?
If you ever stop by Garda Town, you can count on the fact that you will find many good restaurants with the finest dining experiences for you and your family. Most of these restaurants are located near the center which is very convenient. Furthermore, Garda town is a popular tourist destination, so food standards are very high.
Therefore, prepare to cut your fresh grilled fish and slurp a spoonful of creamy pasta, as restaurants in Garda town uplift your taste buds with Italian cuisines like you have never had before. Book a table in advance and spice up your experience with seafood, pizzas, and more as you enjoy the warm, tranquil breezes of Lake Garda.
Check out more articles about Garda town:
Hey there! Some links on this page are affiliate links which means that, if you choose to make a purchase, we may earn a small commission at no extra cost to you. We greatly appreciate your support!