If you are wandering around in Verona, why not visit a little historic town named Lazise? The town is located on the east coast of wonderful Lake Garda, only half an hour away by car from Verona. Lazise provides its visitors with charming landscapes and historical values, but also relaxation on the lake.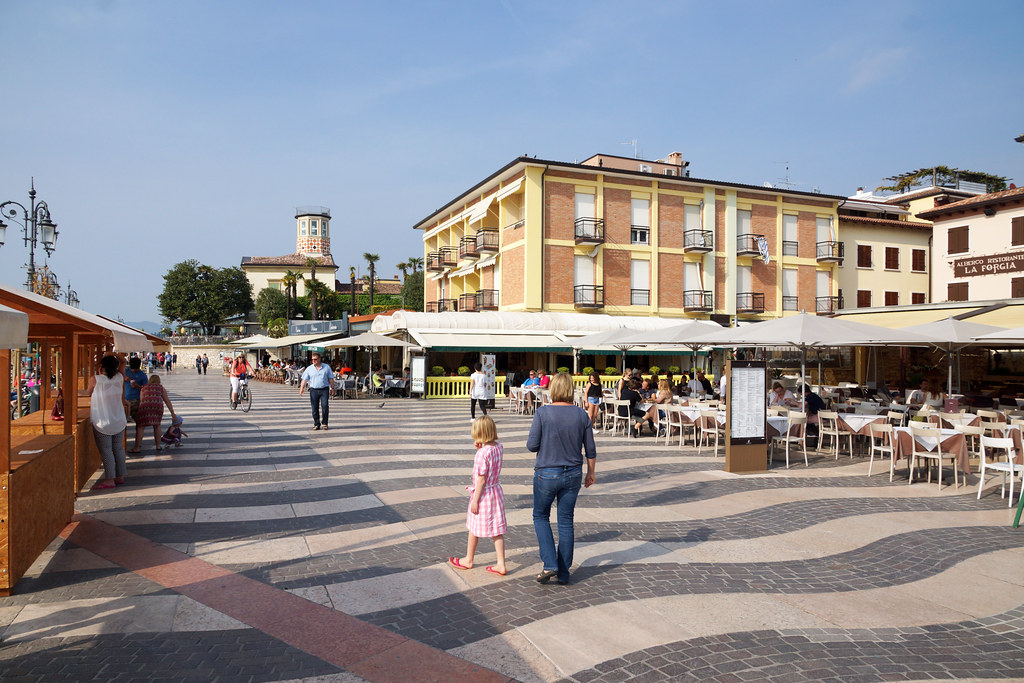 Thanks to the proximity of Lake Garda, Lazise cuisine is full of fresh fish. Aside from lake fish, there are many other options that are offered, and they include seafood, traditional dishes, pasta, different kinds of meat, etc. Here are the best restaurants in Lazise:
(This article contains 5 restaurants in Lazise, which are best in our subjective opinion. The order of the restaurants is not related to the quality they offer. Every restaurant has its pros and cons, so choose the one based on your personal preferences.)
Pergolo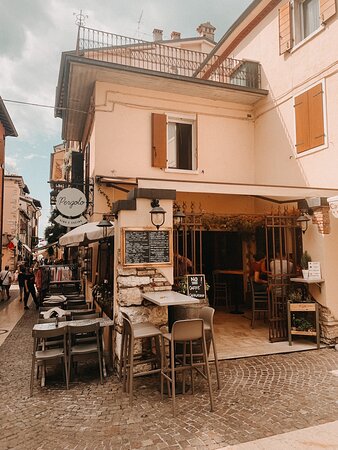 Hiding in a small street, this restaurant has everything from a cozy environment and polite staff to amazing dishes and wines. If you are looking for something modern and different, this little restaurant will be a perfect choice. Having won the Travelers Choice 2022 award from TripAdvisor, Pergolo stands out with its offer, and that is confirmed by numerous good customer reviews.
Pergolo restaurant offers a variety of Mediterranean and Italian meals like Italian tapas, pasta, fish, and sweet desserts. The menu can be found in Italian, but you can scan the QR code for one in English.
Owners have ensured that meals are prepared with high-quality ingredients so that flavors can't disappoint you. Unlike other restaurants, the choice includes meals that are thoughtfully created and served. Portions may be smaller, but they emphasize that, so guests wouldn't be surprised. With dishes like Tartare, midollo and senape and desserts like Caramelized pear with ricotta and chocolate, you can find something for everyone. If confused, the staff is happy to explain the dishes and the concept.
Except for great dishes, with each meal, you get a wine recommendation that goes perfectly with it. The list of wines consists of various wines from different countries, such as Vermentino sardo (Sardinian Vermentino), Coteaux-Champenois, Fento Wines, etc. For a first-hand professional recommendation, just ask the sommelier.
With double working hours from 12:00 PM (12:00 hours) to 2:00 PM (14:00 hours) for lunch and from 6:00 PM (18:00 hours) to 9:30 PM (21:30 hours) except Thursday and Friday when the restaurant is working in the evening only, Pergolo is very busy so it would be best to secure your place with a reservation in advance.
Distance: 100 meters (0.1 miles) from the port of Lazise
Phone: +39 340 714 8024
Cozzeria Alle Mura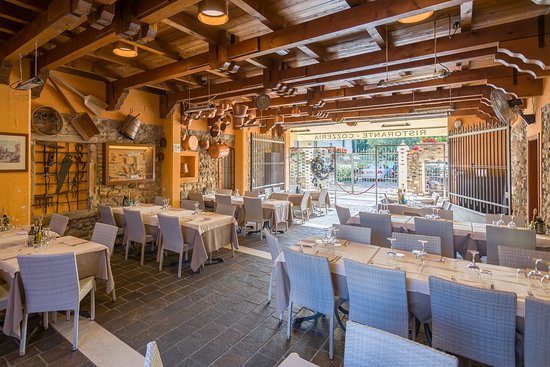 If you are craving mussels, Cozzeria Alle Mura is a restaurant whose menu is all about them. Located close to the entrance of the old town, it offers fast waiters, good hosts, a great atmosphere, and delicious food. As they say themselves, Cozzeria Alle Mura has a cuisine that is fresh, simple, and full of taste.
The restaurant's menu is primarily focused on mussels dishes, like spaghetti carbonara with mussels, fried mussels, and mussels in wine. Therefore, this restaurant is perfect for those who want to try something different and unusual. However, on the menu, there are still other classic Italian dishes like pizza, steaks, homemade lasagna, and seafood for those who don't prefer mussels.
The staff is very welcoming and fast, and they serve delicious homemade bread with meals. Furthermore, this restaurant is family-friendly and, therefore, an excellent option for groups. The list of drinks is also pretty big. There is a variety of them, but the most popular are wine options. Due to its great reviews and recommendations, Cozzeria Alle Mura is busy most of the time.
To ensure your table, you should call them or book your table in advance. Cozzeria Alle Mura is open every day from 12:00 PM (12:00 hours) to 2:00 PM (14:00 hours) and from 6:30 PM (18:30 hours) until 10:30 PM (22:30 hours). They also offer the option of take-out food, so if you don't have the possibility to sit and enjoy yourself there, you can bring some delicious meals with you.
Distance: 250 meters (0.1 miles) from the port of Lazise
Phone: +39 045 647 0644
Porta Lion Ristorante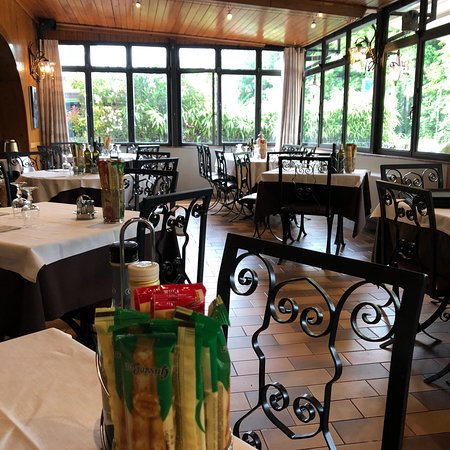 Close to the Lazise promenade, you can find Porta Lion Ristorante, founded by a young enthusiastic team who wishes to convey their passions into a culinary project. It's located in front of the Porta San Marco, in the historic center of the town.
Although opened for only three years, the restaurant managed to earn the Travelers' Choice 2022 award from TripAdvisor. The first thing that catches your eye when you enter is the beautiful interior, always brightened with natural light because of the big windows.
Furthermore, there are amazing views that you can experience when you enjoy your meal. Their first-floor terrace provides a beautiful view of the castle walls, so choose this restaurant if you are planning a romantic dinner or want to surprise your eating buddy. Porta Lion Ristorante offers Italian and Mediterranean food, but also some dishes for vegetarians and vegans.
Their style is described as "traditional cuisine influenced by techniques and ingredients from all over the world, combining tradition and innovation." You can taste many dishes such as lake and sea fish, meat, and some popular specialties like Tagliolino with red tuna tartare, Puffed pork belly with potatoes, and Roasted pigeon with cauliflower. To complete such fine dishes, there is also a wine list that consists of wines made by local and national producers.
To be sure that the wine will match your dish, ask their young sommelier for advice. If you are a pet lover, you will love this restaurant because it is also pet-friendly. Working hours aren't the same for Monday and other days of the week. Monday is a day when some restaurants are closed in Italy, but Porta Lion Ristorante is open from 9:00 AM (9:00 hours) to 3:00 PM (15:00 hours) for breakfast and lunch and from 7:00 PM (19:00 hours) to 10:30 PM (22:30 hours) for dinner. As for the rest of the week, it is open from 12:00 PM (12:00 hours) to 2:30 PM (14:30 hours) and later from 7:00 PM (19:00 hours) to 10:30 PM (22:30 hours).
Distance: 200 meters (0.1 miles) from the port of Lazise
Phone: +39 045 758 1194
Vecchia Dogana Restaurant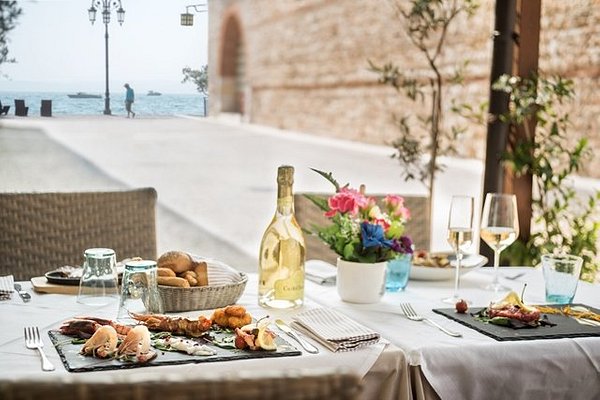 Vecchia Dogana is another amazing restaurant located in an old part of Lazise. This fine-dining place offers a charming atmosphere, a cozy dining room, and a terrace that has a gorgeous view of Lake Garda. The restaurant is one of the most elegant in Lazise, so you can expect a wide selection of beautifully presented dishes.
Whether you are up for Mediterranean, European, seafood, or classical Italian cuisine, you can find all of that in this lovely restaurant. Food is described as "Classical Italian but with a twist." Their recommended dishes include Octopus tentacles on a timbale of potatoes, Monkfish in bacon and artichoke salad​, and Tortelloni filled with crab, spicy clams' sauce, and parsley sauce. Furthermore, there are also some vegetarian and gluten-free options for those who prefer this kind of cuisine.
When you read the menu, you will see how dishes sound good, even on paper. However, you will be positively shocked when your meal comes to your table. All dishes look like real art on the plate, so don't hesitate to take a photo or two. Wine lovers will also enjoy Vecchia Dogana because of its incredible selection of high-quality local wines.
You should expect a little bit higher prices, but they justify the quality of food and the whole experience. Thanks to their big and open space, they have the possibility to host bigger events, such as weddings, graduation, and birthday parties or some other private events. Worth mentioning is that dogs are also welcome.
Just like most of the restaurants in Italy, Vecchia Dogana Restaurant also has double working hours. They work just in time for lunch, from 12:00 PM (12:00 hours) to 2:30 PM (14:30 hours), and dinner, from 7:00 PM (19:00 hours) to 10:00 PM (22:00 hours). You can book or make a reservation via phone or through their website.
Distance: 100 meters (0.1 miles) from the port of Lazise
Phone: +39 045 242 9314
La Kambusa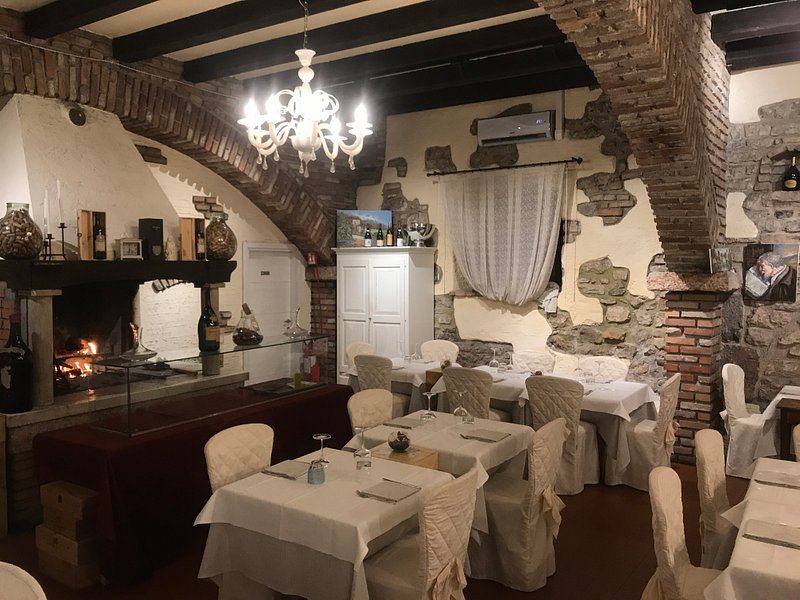 Restaurant La Kambusa is a cozy rustical restaurant located close to Lake Garda. As part of a building dating from the 12th century, this restaurant welcomes its customers with nice service and a great ambiance. It is especially known for its delicious grilled fish, which is prepared on the inside grill. Therefore, the whole restaurant has a perfect smoked grill smell, and the dishes are rich in taste.
Furthermore, La Kambusa has an open kitchen, so you can watch grilling and your food preparation. With their top-quality ingredients, you can be sure that the dish that arrives in front of you will not disappoint you. The selection of fish is large, and it includes prawns, different types of oysters, scallops, tuna, sea bass, octopus, squids, and crabs.
You should also save a little room for the dessert, as they are also tempting and very delicious. The staff will always be at your disposal to advise you, so don't be shy to ask anything about the menu. The grill master can give you advice about the fish caught that morning in the lake. Those who are on a gluten-free diet, don't have to worry because there are many options for them.
Worth mentioning is that the restaurant will offer you a more private location if you come with a big group of people. La Kambusa has double working hours, too. From Monday to Saturday, they work from 12:00 PM (12:00 hours) to 3:00 PM (15:00 hours) and from 6:30 PM (18:30 hours) to 10:30 PM (22:30 hours). Sunday working hours are slightly different because you can only visit this place during lunchtime.
Distance: 150 meters (0.1 miles) from the port of Lazise
Phone: +39 045 923 3096
Where to find the best restaurants in Lazise?
Lazise is one of only a few towns on Lake Garda that has many excellent restaurants located near the center. Usually, if you want to eat in a place with high-quality food, you have to walk a bit or even take a taxi. However, this is not the case with Lazise. In this town, you are spared long walks to get your delicious food.
All excellent restaurants are located within a few minutes walking distance from one another. This is a huge advantage because you can check them all to see if there are crowds or if the setting is just as you wish. Whichever restaurant you choose from our list, we guarantee that it will be worth your money and time.
Check out more articles about Lazise:
Hey there! Some links on this page are affiliate links which means that, if you choose to make a purchase, we may earn a small commission at no extra cost to you. We greatly appreciate your support!