Of all the charming tourist locations scattered around Lake Garda, the town named Lazise is one the most popular and beloved. It is visited by millions of travelers each year, so it is no wonder that this town regularly ranks amongst the top vacation destinations in Lake Garda. Located in the province of Verona, just 20 kilometers northwest of the city of Verona itself, Lazise is famous for its captivating scenery, longstanding history, and romantic architecture.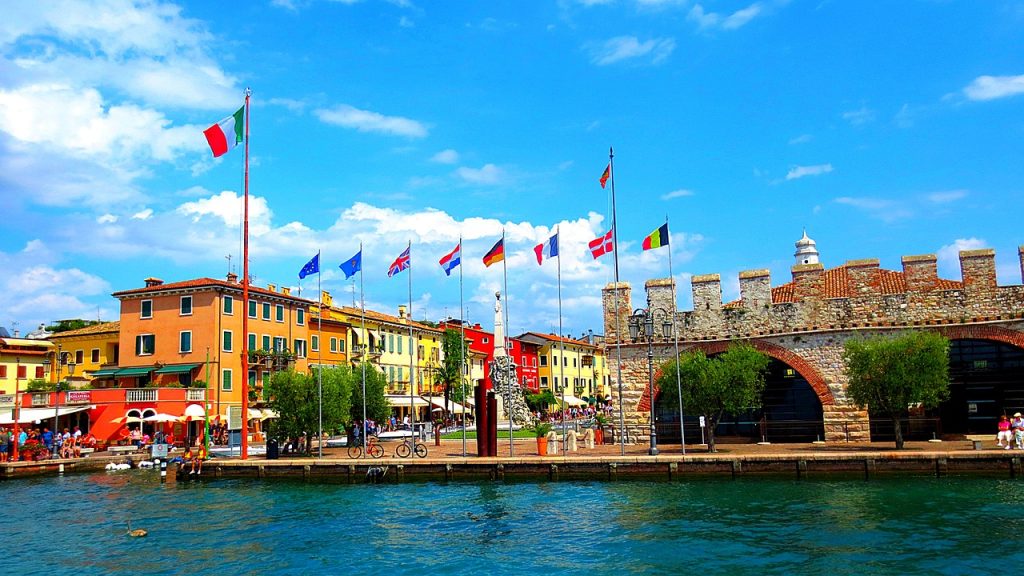 More importantly, though, this lakeside retreat is the perfect spot to spend a relaxing vacation, seeing the sights, soaking in the sun, and enjoying the local atmosphere. The town itself is also the largest of all those situated by the lake and has the most to do there as a result. This abundance of activities and attractions is one of the main reasons why Lazise is such a highly-sought after holiday destination, on top of the great weather and scenery.
With so many great options to choose from as far as what to do, what to see, and where to eat is concerned, being informed about the area and having some sort of structured plan for your trip is not only a great idea but a must if you want to get the most out of the experience. These are the things to do in Lazise everyone heading there should know.
Explore the historic center of Lazise
The main attraction of Lazise is the town itself and the lake it surrounds. The stunning setting of its streets and boardwalks is the picture-perfect backdrop for everything one would expect a good vacation resort to look like. Its crystal waters, charming terraces, and rolling hills produce the type of photographs that will make all your friends jealous back home.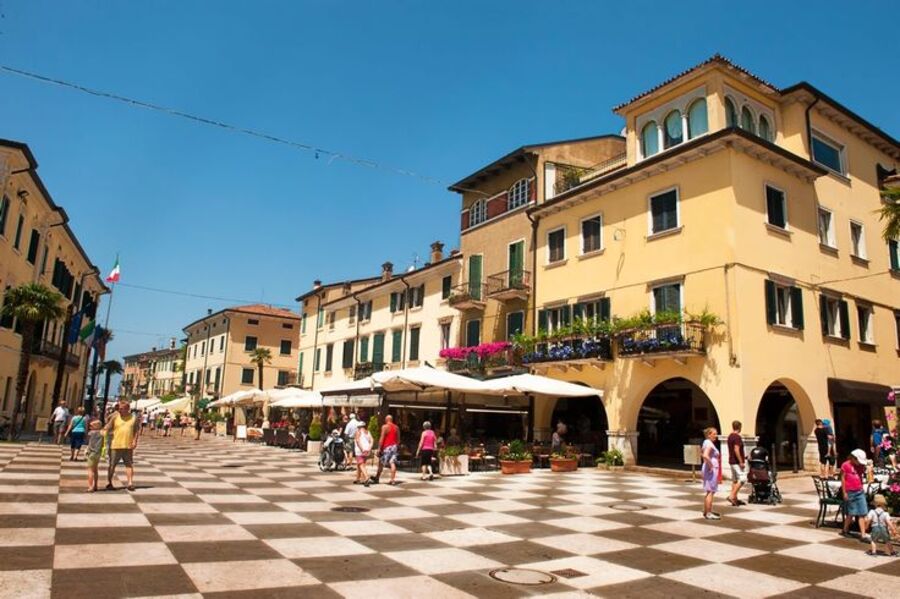 On the streets, you will find a variety of amazing cafés, classic bistros, and refined restaurants, with a little slice of Italian culture around every corner. Along the waterfront, the plaza is where you will find the bulk of the best places to eat, although there are also some great places to be found outside the confines of the town too.
Where to eat in Lazise?
There are too many to mention but a few spots regularly rated as top are La Forgia, La Taverna del Borgo, and La Taverna da Oreste. If you have pizza in mind, Veneto is the home of 'world champion pizza' and this is the standard found throughout town. Maybe you are looking to try some desserts, and I mean, you are on holiday so why wouldn't you want to? There are tons of stands and stores serving fried foods and desserts. Like Crepes OUI and others, that are so sweet and satisfying, you will definitely be coming back for more.
Overall, restaurants in Lazise offer excellent food for their guests. You will mainly find seafood and classic Italian dishes on the menu, like pasta and pizza. If you like seafood, you should definitely try freshly caught fish from the lake, such as trout, perch, or whitefish. These are often prepared in a variety of ways, including grilled, baked, or served in delicious risottos or pasta dishes. With your meal, you can order high-quality popular wines from the region such as Bardolino, Lugana, and Valpolicella.
Shopping in Lazise
Shopping in Lazise is also another selling point of the lakeside and is packed with many delightfully quirky shops where you will find countless bargains and treasures. The most popular place for shopping is obviously Piazza Vittorio Emanuele II. There you will find a great mix of boutique stores, souvenir shops, clothing boutiques, and local artwork shops.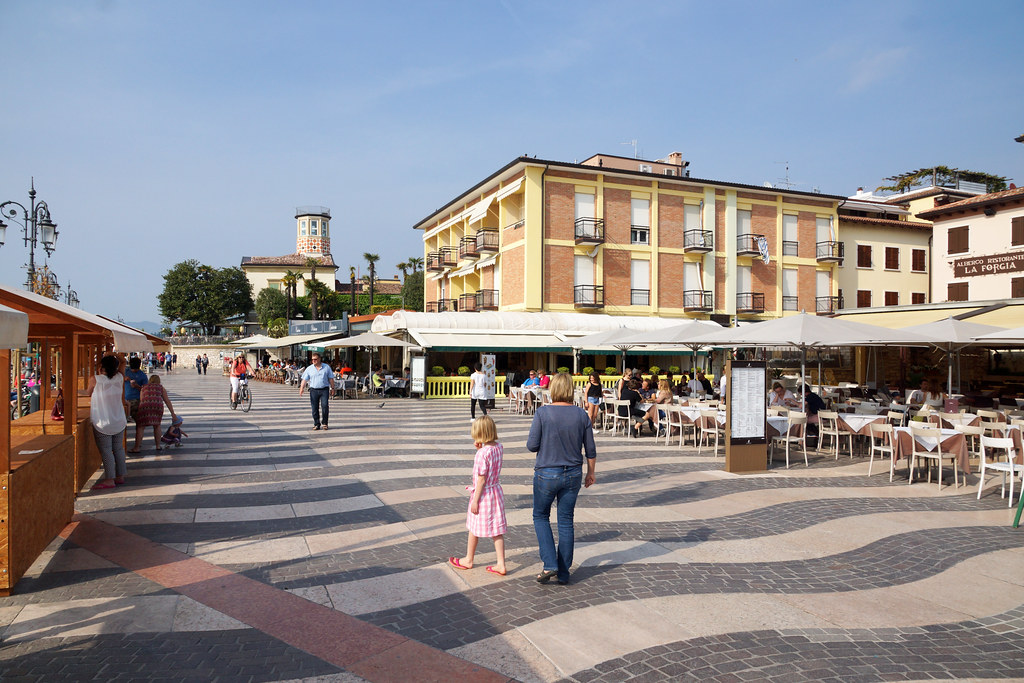 Furthermore, you can even buy some cool things at a weekly market. It is located near the lakefront and you can find some fresh local products, clothing, accessories, and household items. And with buying something on that open-air market on Wednesdays, you might just need a second suitcase to bring back all the goodies you find on your travels in Lazise.
Rent a bike, a moped, or a boat in Lazise
If you get tired of shopping or your stomach is too full from all that great food, why not rent yourself some wheels to cruise through the land or sea in style? Bikes, Vespa mopeds, and even boats are all easily rentable and fairly affordable. Even though much of the old town is off limits to motor vehicles, this is still the best way to get around and see everything inside and Lazise and beyond.
Visit entertainment and adventure parks near Lazise
Another reason why Lazise comes so well recommended as one of Europe's premier holiday destinations is the sheer amount of entertainment available and the adventures to do there. For a relatively small region, Lazise has a lot going on.
Gardaland and Movieland
For starters, Gardaland Amusement Park and Movieland Studios are just a few minutes outside of town and are a great experience for the whole family. Gardaland Resort boasts the bold claim of being Italy's no. 1 amusement park, and they might be right. With an incredible array of rides and attractions such as the Oblivion: Black Hole ride, Blue Tornado, the Mammut, and the new Jumanji Labyrinth, to name just a few, you will get more than your money's worth a Gardaland, tickets prices starting from around 50 euros.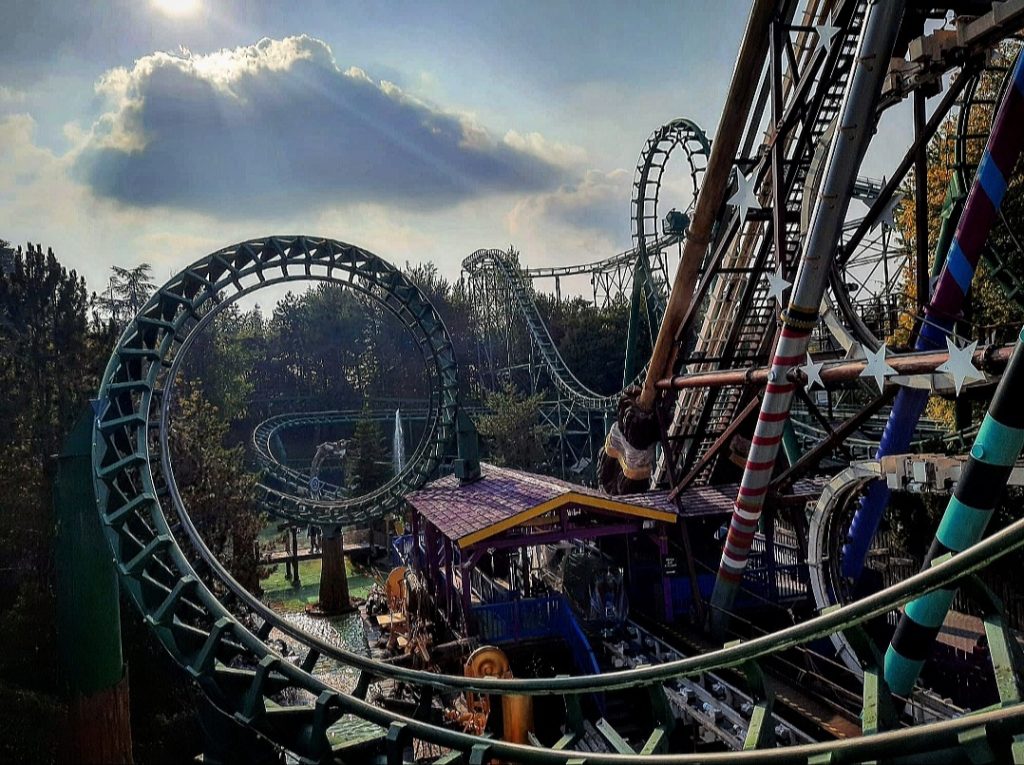 Movieland Studios, the Hollywood-themed park, is another family-friendly amusement park located a few minutes south of Lazise, between Fossalta and Pacengo. The park is filled with many movie-themed rides, attractions, and other entertainment. With rides like the Hollywood Action Tower and the Diabolik Invertigo, as well as live-action entertainment such as the Horror House and Rambo show to mention just two, Movieland Studios has something for everyone.
Parco Natura Viva
Some other popular tourist attractions to be found in the area are the Parco Natura Viva and Parco Termale del Garda. The Parco Natura Viva is located just 10 minutes southeast of Lazise and is an incredible animal park that features many endangered species and other attractions. The park has two main sections, the Safari Park and the Fauna Park.
The Safari Park is an open space where visitors can drive through large enclosures and observe animals like lions, giraffes, and zebras in a natural habitat setting. On the other hand, at Fauna Park, you can continue your exploration on foot and discover many animal species, such as various monkeys, big cats, reptiles, and birds.
Caneva Aquapark
Caneva Aquapark is a large 'Caribbean' themed waterpark in Fossalta that is located on the same site as Movieland Studios. It is perfect for those who love adrenaline, want to cool off, and have fun during the summer months. Inside there are over 10,000 square meters of rides, slides, and pools to enjoy, with the wave pool and Crazy River family ride being among the best and most popular with online reviewers.
You can try high-speed body slides, race against your friends on the Stukas Boom, or enjoy a family ride on the Family Adventure. Even though some slides are ultra-fast, this park has a safe and enjoyable environment with attentive lifeguards and strict safety measures.
Parco Termale del Garda
The Parco Termale del Garda is a beautiful thermal park also located less than 10 minutes from Lazise that includes a unique natural spa, whirlpools, and swimming pools to immerse yourself in and relax. The thermal pools are fed by underground hot springs, known for their therapeutic purposes.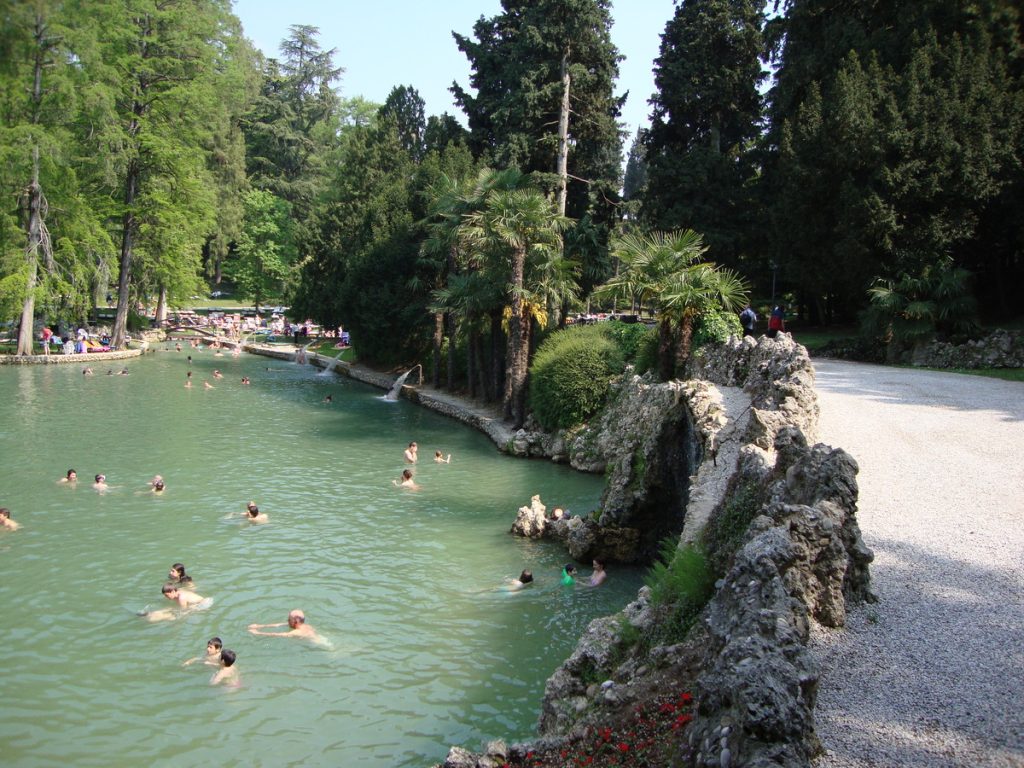 These natural thermal waters are rich in minerals, such as sulfur and calcium, which are believed to have numerous health benefits. Therefore, you can relax in warm, healing waters while enjoying panoramic views of Lake Garda and the surrounding scenery.
Check out Chiesa San Zenone e Martino
The Chiesa San Zenone e Martino is a parish church located in the center of Lazise. It was built in neoclassical style, designed by the architect Trezza and built on a pre-existing Romanesque building. Inside, you can see six chapels, four of which date back to the early twentieth century and frescoes dating back to 1700 – 1800. The entrance is free, so it is worth at least taking a look inside this lovely church.
Relax on beaches in Lazise
You can't talk about Lazise without talking about water! The water of Lake Garda is some of the most famous in all of Italy, and believe it or not, it has some wonderful beaches. There are several beaches within a reasonable distance of each other, so if you find one too busy, you can move on to the next one with no problem. Lazise Beach is perhaps the best beach sandy beach in the area, but it can be a little more crowded compared to others as parts are also a campsite.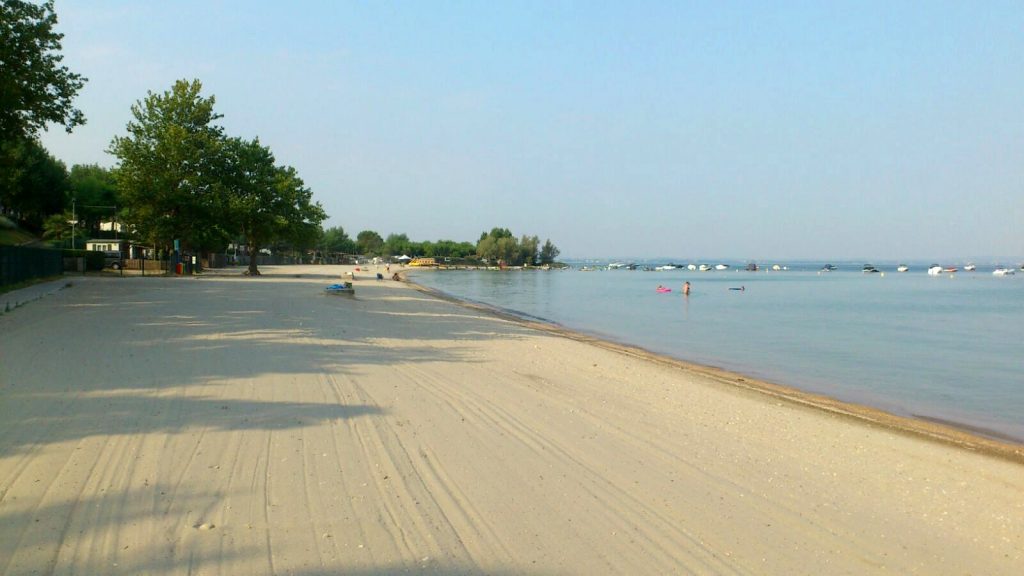 Marra Beach is located just outside of the historic center of Lazise and is perfect for pedal boat and kayak rentals. There are also the La Guglia and La Bosta beaches just down the road in Pacengo, as well as much more scattered up and down the nearby coastline. Keep in mind that some beaches on Lake Garda are made of rocks and pebbles, so it is advisable to bring water shoes. Therefore, if you prefer sand over pebbles, choose Lazise Beach.
Try watersports in Lazise
If you want to spend your time in Lazise being active, you can try watersports like canoeing, paddle boarding, wind sailing, kite surfing, diving, boating, and fishing all just a stone's throw away and at your disposal for reasonable prices. It doesn't matter if you don't have experience in these sports, because there are schools with courses for beginners. You will no doubt make a big splash during your time in Lazise and have a great time doing so.
Walk the walls of the Scaliger 
Another attraction adored by locals and tourists is the Mura di Lazise, more plainly known as Scaliger Castle. Believed to be dating back to the 10th century, the Scaliger Castle is the jewel of Lazise and its enigmatic symbol of beauty and history. For less than 5 euros you can walk around this beautiful little slice of history or spend a little bit more and get a more intimate tour of the grounds and the town's history. This Medieval castle also consists of a museum store and is accompanied by some of the nicest lakeview views you will ever see.
The larger expanse of Lake Garda features many other medieval castles, churches, and ruins to explore. If history is your thing, why not rent some Vespa and spend the day taking a trip through history, stopping at a diversity of hauntingly beautiful locations, some of which have been around for hundreds if not thousands of years.
Other things to do in Lazise and tips for travelers
If you are traveling late in the season looking to save money and avoid herds of tourists, Lazise does have some good events during this time too, including the wine and grape festivals of September, and the honey festival of early October. Be warned though, if you do travel as late as October, some of the main 'tourist-based' attractions may be closed by then.
With Lazise having so much fun stuff to do, planning your trip accordingly and prioritizing what you want to experience the most during your time there is not only a good idea but a must if you want to get the most out of the trip and make it as memorable as possible. Being informed on things like the economics of the area and the busiest times of day/year, for example, is invaluable information to know beforehand to ensure that you don't overspend or run into massive crowds.
Check out other articles about Lazise:
Hey there! Some links on this page are affiliate links which means that, if you choose to make a purchase, we may earn a small commission at no extra cost to you. We greatly appreciate your support!