Minori is a beautiful town on Italy's Amalfi Coast known for its breathtaking beach views, rich history, ancient ruins, lemon groves, and mouthwatering cuisine. The town is home to some of the top restaurants in the region, giving guests the opportunity to experience authentic Italian flavors while admiring the picturesque beauty of the Mediterranean. Minori has something for everyone, whether you are craving fresh fish, handcrafted pasta, or delicious pizza.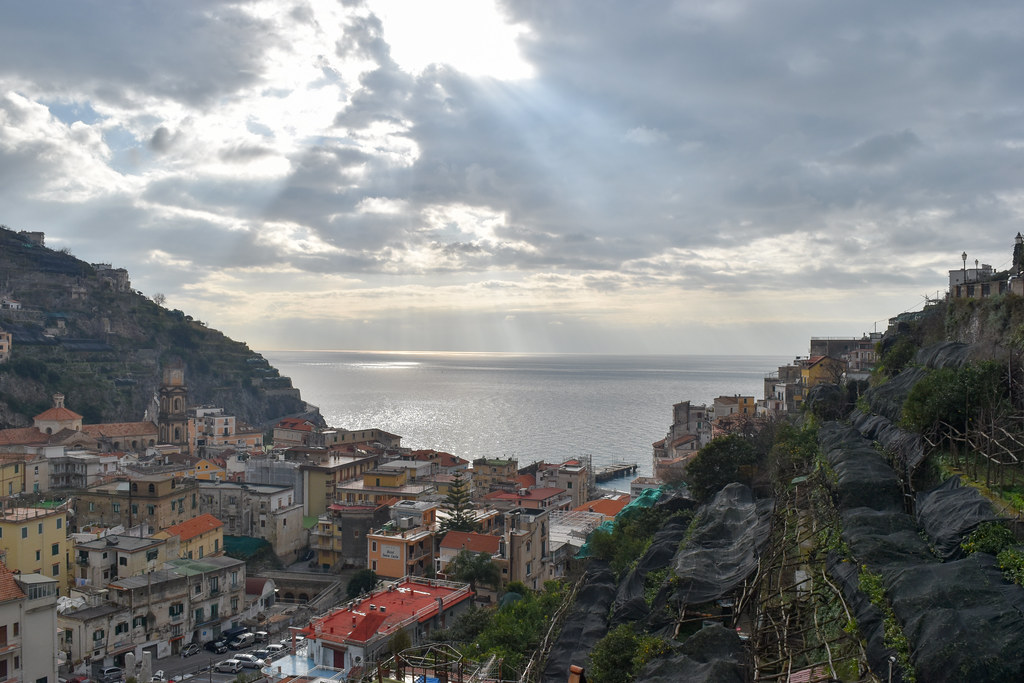 From authentic trattorias to Michelin-starred restaurants, the town's culinary scene is likely to impress even the most demanding foodie. In this blog post, we will show you some of the best restaurants in Minori and discuss what makes each one unique. Prepare to savor the flavors of Italy and discover the best restaurants in Minori!
(This article contains 3 restaurants in Minori, which are best in our subjective opinion. The order of the restaurants is not related to the quality they offer. Every restaurant has its pros and cons, so choose the one based on your personal preferences.)
Restaurant Garum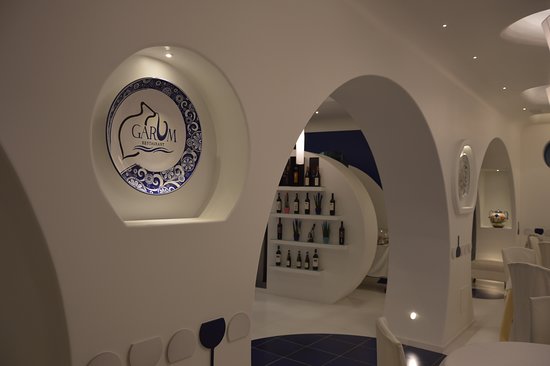 Restaurant Garum is a must-visit dining destination in Minori, known for its high-quality cuisine and stunning views. The restaurant is situated in a renovated 18th-century building that was once used as a pasta factory. It is actually located in the heart of town, just a few steps away from the beach, so it offers breathtaking panoramic views of the Mediterranean Sea.
The restaurant's name, Garum, refers to an old Roman condiment produced from a fermented fish sauce that was a mainstay of the local diet. Garum's menu is inspired by regional flavors and traditions, with an emphasis on fresh, locally sourced foods. Its décor is elegant and refined, with a mix of antique furnishings and modern design elements. As you enter, you'll notice the high ceilings and spacious dining area filled with artwork and vintage photographs.
The walls are painted in warm earthy tones, and the floors are polished wood, lending a classic and timeless air to the area. The seating area is furnished with high-quality tables and chairs that are very comfortable to sit in, while the lighting is soft and warm, producing a welcoming and friendly ambiance.
If you visit Garum, you should definitely try its homemade pasta. It is prepared fresh every day and offered with a choice of sauces, making it one of the highlights of this restaurant. Another favorite dish is grilled fish, cooked to perfection and served with roasted veggies on the side.
Garum's wine list is also very interesting, with a wide selection of local and international wines that suit the dish nicely. Furthermore, the restaurant has a terrace that provides gorgeous views of the sea, creating the perfect ambiance for a romantic date or a relaxed dining experience with friends. Restaurant Garum is open daily from 7:30 AM (7:30 hours) to 10:00 AM (10:00 hours), from 1:00 PM (13:00 hours) to 2:30 PM (14:30 hours), and from 7:00 PM (19:00 hours) until 9:30 PM (21:30 hours).
Distance: 150 meters (0.1 miles) from Minori's center
Phone: +39 089 877 142
Taberna 33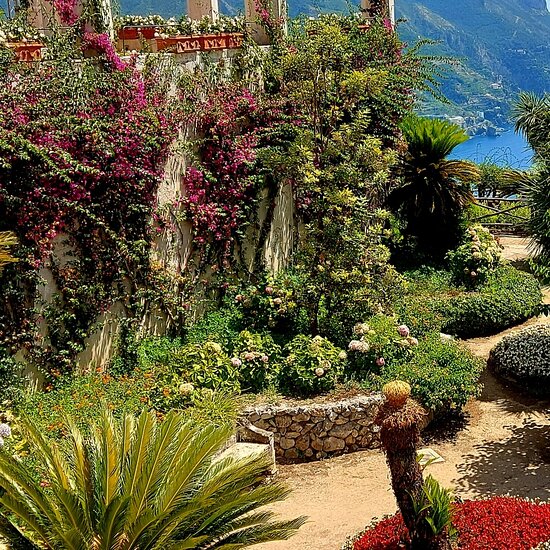 Taberna 33 is a very popular restaurant in Minori, both among tourists and locals. With a focus on classic Italian cuisine and fresh, locally produced ingredients, this family-owned restaurant features a warm and personal ambiance. The restaurant's name, Taberna 33, refers to the 33 steps that go up to the restaurant's entrance. It's a homage to Minori's steep terrain, which adds to the town's charm and uniqueness.
The menu includes a variety of typical Italian meals such as homemade pasta, fresh fish, and mouthwatering meat dishes. The spaghetti alle vongole, cooked with fresh clams in a garlic and white wine sauce, is one of the recommended dishes. The decor is simple but attractive, with white-washed walls and wooden furnishings providing a rustic and pleasant feel.
The restaurant is small, with only a few tables, so you can expect an intimate and pleasant environment for your dinner. It also offers cooking classes where you can learn how to produce traditional Italian meals under the supervision of the restaurant's expert chefs. This is an excellent opportunity to learn about local ingredients and cooking techniques while bringing home new skills and recipes.
The restaurant has a beautiful outdoor terrace with views of Minori, the sea, and surrounding nature. It's a terrific place to enjoy dinner or a bottle of wine while admiring the scenery. Taberna 33 is well worth a visit, whether you are a foodie looking to experience the best of Italian cuisine or simply looking for a special dinner in a pleasant and welcoming atmosphere. As of the time of writing, it is open every day from 12:30 PM (12:30 hours) to 3:00 PM (15:00 hours) and from 7:00 PM (19:00 hours) to 11:00 PM (23:00 hours). However, opening time often changes, so check out their official website.
Location: Piazza Ettore e Gaetano Cantilena 33
Website: Facebook page
Distance: 150 meters (0.1 miles) from Minori's center
Phone: +39 333 929 9543
Midnight Sun Bar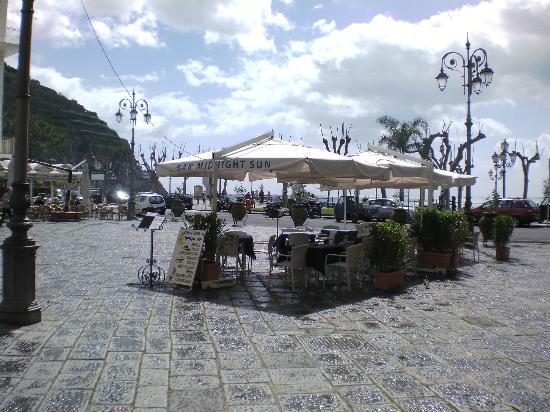 Midnight Sun Bar is strategically located near the seafront in the middle of Minori, making it accessible by foot or car. It offers a wonderful view of the Mediterranean Sea and the lovely town of Minori, so don't be surprised if you find this restaurant full of people. This stylish and sophisticated location provides a one-of-a-kind dining experience with a diverse menu that combines Italian, Asian, and Middle Eastern food.
Midnight Sun Bar is known for its outstanding cuisine, which includes expertly crafted sushi made from the freshest and best quality ingredients. The bar's menu also includes a diverse selection of creatively crafted cocktails, including original drink inventions that include locally sourced herbs and fruits and new spins on classic drinks. The bartenders are talented and enthusiastic about their work, ensuring that each cocktail is properly made and precisely balanced. 
The décor is chic and modern, with sleek furnishings and attractive lighting providing a trendy and sophisticated feel. Midnight Sun Bar, in addition to its great food and drink choices, hosts live music events and other entertainment, making it a lively and energetic venue in Minori.
This restaurant and bar in one is an ideal spot for an unforgettable and delightful eating experience, whether you are looking for a romantic evening or a fun night out with friends. It is open every day from 12:00 PM (12:00 hours) to 10:30 PM (22:30 hours).
Location: Piazza Umberto I 3
Website: no website
Distance: Right in the center of Minori
Phone: +39 328 335 2896
Where to find the best restaurants in Minori?
Overall, Minori is a great place for food lovers that offers an abundance of culinary pleasures. Its restaurants are known for their high-quality ingredients, skillful preparation, and exquisite flavors, ranging from classic Italian cuisine to fusion meals and inventive drinks. Luckily for those who don't like to walk, many restaurants are located right in or nearby the center.
Whether you are in Minori for a romantic weekend or a fun-filled holiday with friends, exploring the local restaurants is a must-do activity. It will definitely leave a lasting impression on your taste buds and generate memories that will last a lifetime.
Check out more articles about Minori:
Hey there! Some links on this page are affiliate links which means that, if you choose to make a purchase, we may earn a small commission at no extra cost to you. We greatly appreciate your support!