Looking for mouth-watering cuisine with equally as enticing low prices? We have found it in Moniga del Garda. Perched on the edge of the world-famous Lake Garda, in this delightful town, you will find an incredible hub of culinary delights that have pleased locals and tourists for decades. Whether you want a romantic night with stunning views of the lake or an opportunity to sample locally-sourced ingredients a bit further inland with friends – there is a restaurant here for all occasions and groups.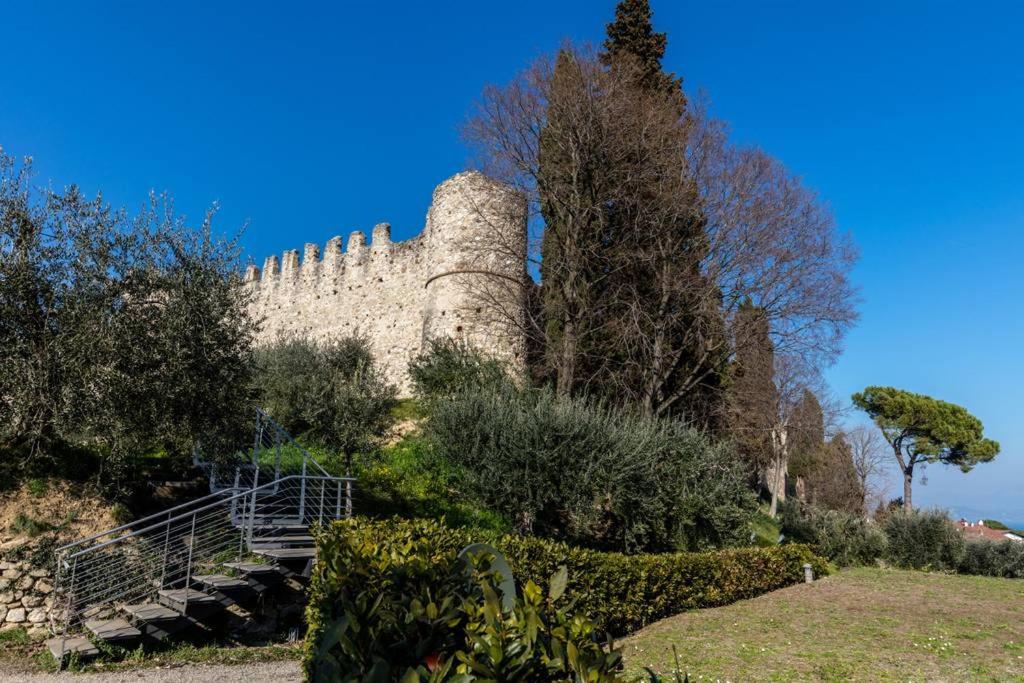 Will there be pizza and pasta available? Of course! But also expect to find mouthwatering seafood dishes with octopus and mussels, grilled beef plates, and big servings of tasty salads. In this handy guide, we will let you know about the best restaurants in this special town. They will leave you rubbing your tummy and saying the quirky Italian phrase "sono pieno come un uovo" ("I'm as full as an egg"). Here are the best restaurants in Moniga del Garda:
(This article contains 3 restaurants in Moniga del Garda, which are best in our subjective opinion. The order of the restaurants is not related to the quality they offer. Every restaurant has its pros and cons, so choose the one based on your personal preferences.)
L'Osteria H20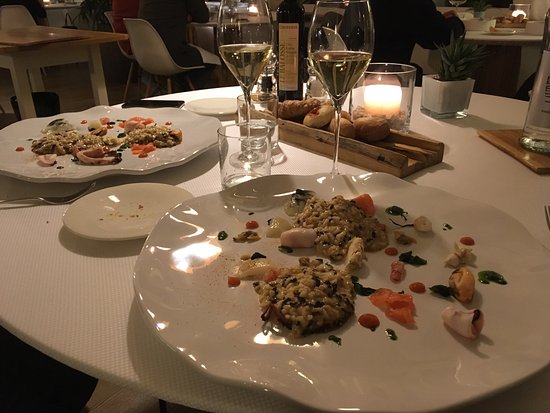 If you want to spend the evening enjoying the moonlit views of Lake Garda, look no further than L'Osteria H20. This well-located and elegant restaurant promises a romantic evening in one of the world's most beautiful locations. From the restaurant's terrace, you will see a landscape of vivid blues and greens and quickly realize why everyone's been making such a fuss about Lake Garda for so long.
While the indoor dining experience includes big windows overlooking the lake, terrace seating is more limited, so we recommend booking ahead. The good news is that every single table here has a remarkable view of Lake Garda, so there is no risk of you and your party missing out. At L'Osteria H20, you are guaranteed to find high-quality Italian produce made from fresh ingredients and served with a love for native cuisine.
The flavors you will taste here are perfectly matched and brought to your table by passionate waiters and chefs. Our main food recommendation at L'Osteria H20 is the pink sea bream with cauliflower, almond creme fraiche, roe, and parsley oil. We also love the chestnut dumplings with quail and red wine reduction, and the tagliatelle served with pistachio, pike, and cinnamon.
For dessert, we think you will adore the scrumptious shortbread tart or meringue. Wine lovers will thoroughly enjoy the variety on offer here. You will struggle to find a more diverse range of tasty wines anywhere in Italy. Champagnes, Italian reds, foreign whites, and dessert wines – they are all here for you to try.
If you are feeling adventurous, this eatery offers a tasting menu of four to six dishes with a twist. It all happens in the dark, so you can really savor the flavors and textures. It's a truly unique experience executed to perfection by the staff at this one-of-a-kind eatery.
Guests at L'Osteria H20 describe it as a remarkable visual and taste experience you simply won't find elsewhere. L'Osteria H2O is open every day except Monday for lunch from 12:00 PM (12:00 hours) to 2:00 PM (14:00 hours) and for dinner from 7:00 PM (19:00 hours) to 10:00 PM (22:00 hours). Keep in mind that the restaurant is only open for lunch on Sunday.
Distance: 950 meters (0.6 miles) from Castello di Moniga
Phone: +39 036 550 3225
Ristorante Pizzeria Sagittarius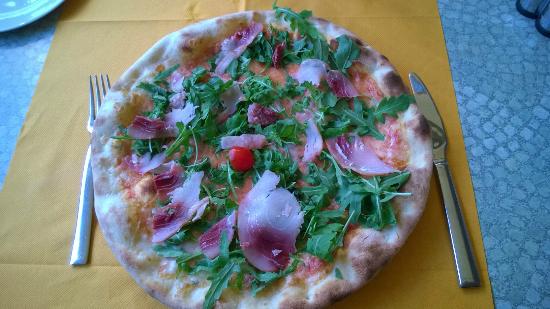 This quaint eatery on Via Magenta is quintessentially Italian in every respect. Tiled flooring, outdoor seating, delicious pasta dishes, European wines, local seafood, and fabulous pizzas – it can all be found at Ristorante Pizzeria Sagittarius.
You will enjoy high-end food at this restaurant without the expensive price tag – making it a delightful find along the edge of Lake Garda. While you aren't close enough to the lake to enjoy the majestic scenery, the food and drink here do all the talking. If you are still missing those all-important Lake Garda views, you can take a stroll along the lake after a satisfying and filling meal.
We love the service at Restorante Pizzeria Sagittarius. You can always expect to be served by cheerful waiting staff who are experts about their menus and local amenities in the area. Don't be shy – ask them any questions about things to do nearby, and they will be able to point you in the direction of your next adventure. Even during busier periods like Saturday nights, the bartenders and waiters here have a friendly and positive can-do attitude.
Our food recommendations are, frankly, any of the pizzas or pasta dishes on sale. They are all delicious and are made with fresh Italian ingredients. Plus, those looking to reduce the air miles of their food can't go wrong with the locally sourced wines that are on offer. You know you are dining in an authentic restaurant when it's enjoyed by locals too.
Italian people love tasty food and drink and wouldn't settle for anything less than the best when picking a restaurant. The fact you will find so many of them dining here is the best review that this restaurant could hope for. Ristorante Pizzeria Sagittarius is open every day except Tuesday from 6:30 PM (18:30 hours) to 10:30 PM (22:30 hours).
Distance: 700 meters (0.4 miles) from Castello di Moniga
Phone: +39 036 550 3706
Pizzeria Ristorante Oasi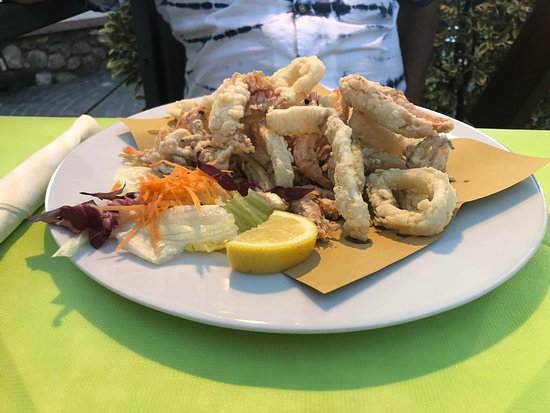 Situated within the main piazza of Moniga del Garda, you'll find Pizzeria Ristorante Oasi – a cute eatery with a fifteen-page menu of delicious food and tasty alcoholic beverages. Picture this: ample portions, outdoor seating, traditional Italian decor, polite staff, European beers, and scrumptious pizza toppings. You will find all this and more at this much-loved restaurant.
The menu here is centered around rich meats and local fish, creating amazing dishes, including lasagna, grilled sirloin steak, and veal chops. You can get spaghetti with octopus, clams, or seafood sauce – presenting a great variety of well-thought-out options. Our favorite non-meat option at Pizzeria Risrotrante Oasi is the pennette alla casereccia – pasta with aubergines, peppers, olives, capers, fresh tomato, basil, and salted ricotta.
Being a pizzeria, this eatery also offers an incredible 38 pizzas with prices starting from as little as 5 euros and never exceeding 9 euros. This is exceptionally good value for money, especially given that these pizzas are cooked in a wood-fired oven and topped with local, fresh ingredients.
Great news for pet owners – Pizzeria Ristorante Oasi welcomes four-legged friends, and staff is on hand to provide bowls of water to keep them hydrated in the Italian sunshine. The menu here also caters to young children, with two great options for them to try – pasta quills with tomato or meat sauce. The restaurant is open every day except Monday. During the week, you can visit it from 5:30 PM (17:30 hours) to 12:00 AM (00:00 hours). On the weekend, besides working for dinner, Pizzeria Ristorante Oasi is also open for lunch from 12:00 PM (12:00 hours) to 2:30 PM (14:30 hours).
Distance: 550 meters (0.3 miles) from Castello di Moniga
Phone: +39 036 550 3220
Where to find the best restaurants in Moniga del Garda?
Moniga del Garda is a small but beautiful town on the western shore of Lake Garda. Therefore, you can't expect that you will find many restaurants there. However, there are some good restaurants serving mainly pizza, pasta, and seafood cuisine. Most of them are located near Castello di Monga which is actually the center of the town. These restaurants don't have lake views, so they focus on the food. On the other hand, there are also some restaurants located on the shore with magnificent views, but they are usually more expensive.
Check out more articles about Moniga del Garda:
Hey there! Some links on this page are affiliate links which means that, if you choose to make a purchase, we may earn a small commission at no extra cost to you. We greatly appreciate your support!