Torri del Benaco is a small town located on the eastern shores of Lake Garda. It is a popular tourist destination that attracts travelers seeking a delightful culinary experience and relaxing vacation. The food scene here is great if you know where to look. From family-owned trattorias serving traditional Italian dishes to elegant lakeside restaurants offering a fusion of flavors, Torri del Benaco has everything for all kinds of travelers.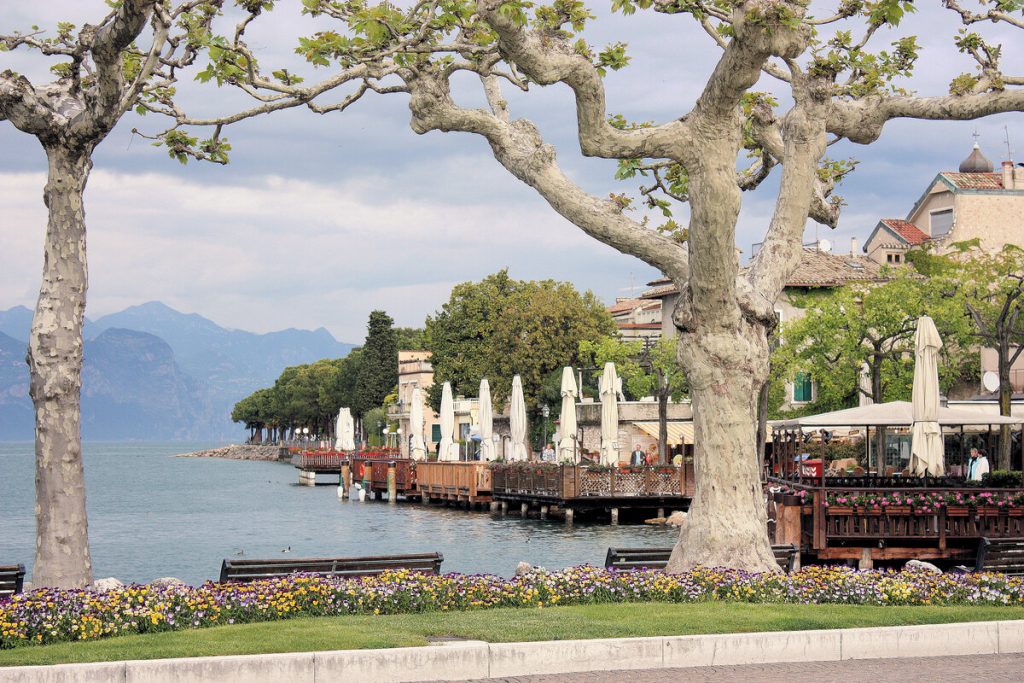 Restaurants usually offer dishes like pizza, lake fish, seafood, pasta, and some meat dishes. However, which of them offers a great atmosphere, good service, and quality food? Well, we found them for you. So, join us as we discover the hidden culinary gems that make this town a haven for food lovers. Here are the best restaurants in Torri del Benaco:
(This article contains 5 restaurants in Torri del Benaco, which are best in our subjective opinion. The order of the restaurants is not related to the quality they offer. Every restaurant has its pros and cons, so choose the one based on your personal preferences.)
Ristorante Gardesana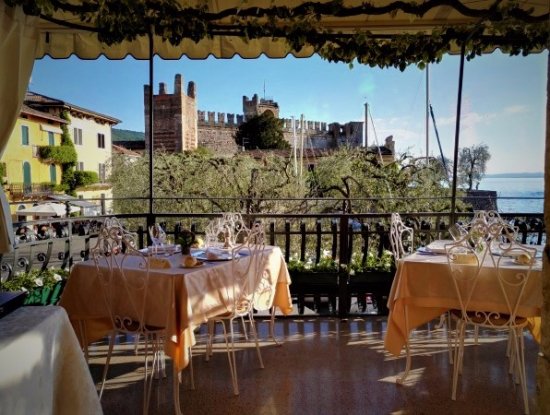 First on our list is a culinary gem called Ristorante Gardesana. This wonderful restaurant is known for its warm atmosphere, breathtaking views, and great food which represents Lake Garda at its best. The restaurant is located inside a historic building right in front of the lake, so dining there is much more than an ordinary eating experience. When you enter the main door, the receptionist will accompany you to the restaurant's sitting area.
If you are lucky enough, or you made your booking in advance, there is a chance to sit outside a balcony. From there, you will have a fairytale view of Lake Garda, a harbor, and a castle. The menu has amazing Italian dishes that are very authentic and created by skilled chefs using high-quality local ingredients. You can start your culinary adventure with tantalizing antipasti, such as the creamy burrata drizzled with local olive oil or the delicate carpaccio di manzo adorned with freshly grated Parmigiano-Reggiano.
For the main course, we advise getting lamb chops with rosemary and black garlic, aubergine with burrata, and beef tartare. There is also seafood, vegetarian and vegan options, so everyone will find something for themselves. The dessert menu presents a tempting array of delights, including the luscious tiramisu, the torta caprese, and the panna cotta infused with seasonal fruit flavors. Also, there are many tasty high-quality wines that are mostly coming from the regions around Lake Garda.
The service is always very warm, professional, and really fast. The staff is good with English and German, so they can help you with anything if needed. All in all, this is a high-class restaurant with a more formal setting, but perfect for romantic nights. Prices are a little higher, but they justify the quality of food and the whole ambient. The restaurant is open every day only for dinner, from 7:00 PM (19:00 hours) to 10:30 PM (22:30 hours). To secure your place, you can call in or check their website for a reservation.
Distance: Right in the center of Torri del Benaco
Phone: +39 045 722 5411
Miralago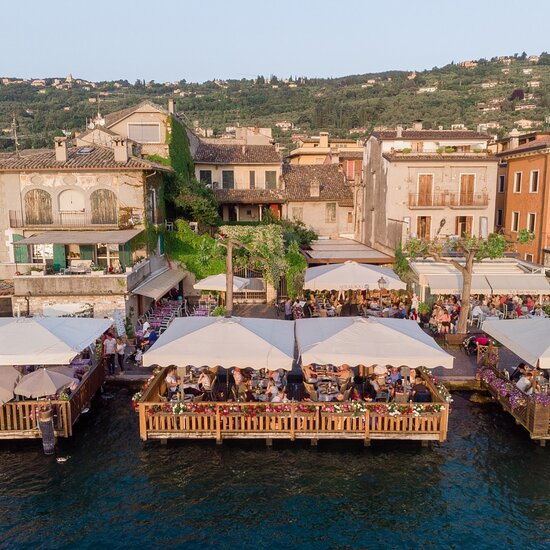 In a beautiful location, right on the shore of Lake Garda, lies a restaurant called Miralago. It is perfectly nestled in a picturesque spot overlooking the waters of Lake Garda, so it is perfect for those who want to be completely relaxed while eating a delicious meal. The Interior of the restaurant combines elements of traditional Italian design and some modern touches. However, there are panoramic windows that ensure every table can offer a beautiful view of the lake. The outside area is definitely more preferred by tourists, especially in summer.
Let's get on food. For a starter, you can order an antipasti made of fresh seasonal ingredients and freshly baked bread. For the main course, you can choose from handmade pasta dishes to meat/seafood creations. For those who love pizzas, there are also some good pizza options. We recommend trying homemade ravioli filled with truffle-infused ricotta or savoring the tenderness of a cooked filet mignon accompanied by roasted potatoes and seasonal vegetables.
The menu also has some vegetarian and gluten-free cuisine. Furthermore, there is a wine list featuring a great selection of Italian wines of different kinds. If you don't know what to get, there is a sommelier who can help you out. Make sure you also leave some room for dessert, as you can order tiramisu, fruit tarts, panna cotta, and much more. The restaurant also has its own gelateria, which offers exceptional handmade gelato made by the owner.
Another strong advantage of this place is the fact that the food arrives quickly at your table. If you don't want to eat in this place, but you don't find an available table, don't worry. You can also order takeout and get delicious food to your apartment or hotel. And if you have your dog with you, feel free to visit Miralago because it is also dog friendly. Miralago restaurant is open every day from 12:00 PM (12:00 hours) to 3:00 PM (15:00 hours) for lunch and from 5:30 PM (17:30 hours) to 11:00 PM (23:00 hours).
Distance: 150 meters (0.1 miles) from the center of Torri del Benaco
Phone: +39 045 252 5512
Osteria del 4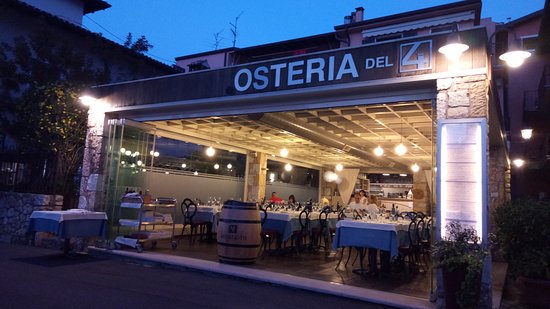 Osteria del 4 is a beloved restaurant for locals but also tourists seeking a nice dinner in a warm atmosphere away from the busy center of Torri del Benaco. It is located right on the lakefront, so many choose this place after a long walk by the lake. Here you can try some "home-style cooking with fresh seasonal products of the Lake Garda area".
The restaurant's interior is pretty unique with its wooden beams and traditional decor. It gives rustic vibes and creates a lovely atmosphere, especially in the evening. In warmer months, there is an outdoor terrace where you can also enjoy your food. The restaurant's menu changes every season, so they guarantee that you will have seasonal dishes here.
Antipasti like sardines in soar or pike will be a good choice to start the meal. There are some dishes for the main course that stands out from their offer like homemade spaghetti with local sausages and rosemary, gnocchi with parmesan cheese, grilled meat, and grilled lake fish. The offer also includes some salads and different kinds of lasagna.
There is a pretty good wine list with a selection of local labels from large and small wineries. If craving something sweet, you can order delicious homemade desserts that are always fresh and full of flavors. Service is prompt, friendly, and helpful. Prices are not too high, so we can say that this restaurant is for daily visits.
Osteria del 4 is open every day for lunch and dinner except on Tuesday when they only work for dinner. Their working hours are from 12:00 PM (12:00 hours) to 2:00 PM (14:00 hours) and from 7:00 PM (19:00 hours) to 10:00 PM (22:00 hours). It can be quite busy here so it would be best to reserve your table in advance.
Distance: 350 meters (0.2 miles) from the center of Torri del Benaco
Phone: +39 045 629 6432
Pizzeria Ristorante Alla Grotta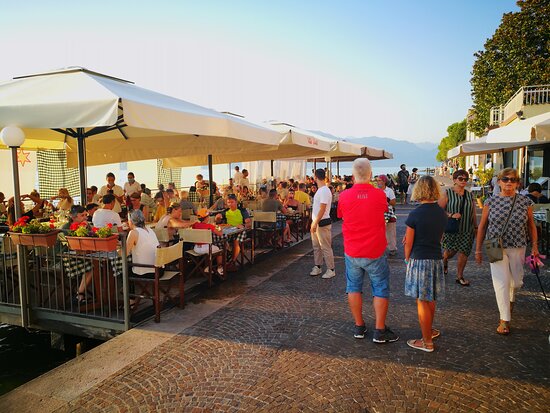 Pizzeria Ristorante Alla Grotta is another amazing restaurant located right on the lakefront. It is the perfect place for those who are craving delicious authentic pizza. Besides, tourists love this place because of the charming atmosphere, superb food, and gorgeous view. What is better than enjoying your meal while watching small birds and little fish in the lake?
The first thing that will probably draw you to this restaurant is its terrace. Just imagine sitting there when the sun is setting. Besides pizza, you can also order seafood, lake fish, salads, or pasta. But pizza is the main thing why people come here. It is made in the Neapolitan way, with thick dough, yummy crust, and full of fresh, locally sourced ingredients. And they make their own fresh, natural yeast!
Definitely worth trying are Maccheroncini with lake fish, spaghetti alle vongole, and mixed seafood plate. After these, you can get some desserts if there is still any room in your belly for that. As for drinks, the staff can mix you up some cocktails like Aperol Spritz or Hugo. Prices are pretty fair depending on quality, large portions, the view, and the great atmosphere.
The staff is friendly and happy to set tables for big groups, so you can bring your friends with you. If you want a table by the lake, the staff will let you wait until it becomes available. However, you can order your food takeaway if you are in a hurry. The restaurant will leave you wanting more, and luckily, it is open every day from 11:30 AM (11:30 hours) until 10:30 PM (22:30 hours).
Distance: 150 meters (0.1 miles) from the center of Torri del Benaco
Phone: +39 347 760 6000
Osteria La Barchessa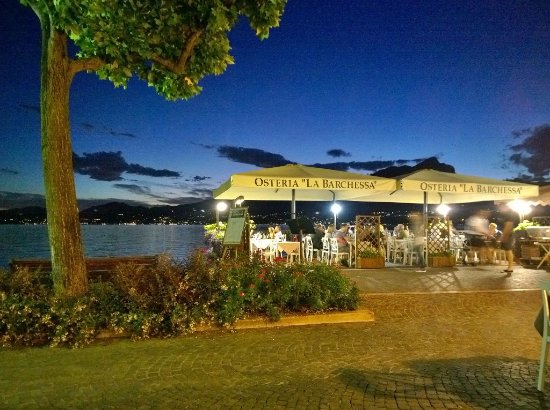 Osteria La Barchessa is another great restaurant located on the lakefront. Like Alla Grotta, it offers breathtaking views of Lake Garda and mountains in the background, so it is no wonder that it is a popular dining place. This restaurant is known for its good lake fish that is freshly caught from the lake. Therefore, don't miss out on the opportunity to eat authentic food in Torri del Benaco.
The menu doesn't have that many options, but that doesn't mean that you won't find something amazing for yourself. Besides lake fish, there is delicious seafood, fresh pasta, and pizza that will leave anyone satisfied. Some of the dishes that are worth trying are Spaghetti allo scoglio, Tortelloni stuffed with whitefish, and Boiled meat with pear and green sauce.
One more thing that this restaurant can brag about is its homemade desserts. You can order tiramisu, panna cotta, and apple cake. The restaurant also has house wines, so make sure you try some. The staff here is very attentive, friendly and fast. They will answer all your questions and help you with what you need. You can expect pretty reasonable prices for the quality of food, location, good service, and freshness of products.
Osteria La Barchessa is almost always full during the summer, so booking in advance is a must if you don't want to wait for your table. It has double working hours, which means you can come from 12:00 PM (12:00 hours) to 2:30 PM (14:30) for lunch and from 6:30 PM (18:30 hours) to 10:00 PM (22:00 hours) for dinner.
Distance: 100 meters (0.1 miles) from the center of Torri del Benaco
Phone: +39 045 629 6464
Where to find the best restaurants in Torri del Benaco?
Even though Torri del Benco is a small town, it is a popular tourist destination, so there are many restaurants to choose from. Most restaurants are located near the center and along the lakefront, so you won't have to walk far. Restaurants here really have good food, so it is not usual to get into a tourist trap. Prices mostly depend on the location and the setting, so you can expect a little higher prices in restaurants with a lake view.
Check out more articles about Torri del Benaco:
Hey there! Some links on this page are affiliate links which means that, if you choose to make a purchase, we may earn a small commission at no extra cost to you. We greatly appreciate your support!