Located in Northern Italy lies the popular Lake Garda, known for its crystal-clear water and popularity with tourists looking for a relaxed getaway. It is situated between Brescia and Milan to the west, and Verona and Venice to the east, and it's Italy's largest lake. Visitors to the Lake Garda area can expect to enjoy abundant natural beauty, delicious food and drink, and lots of interesting historical spots.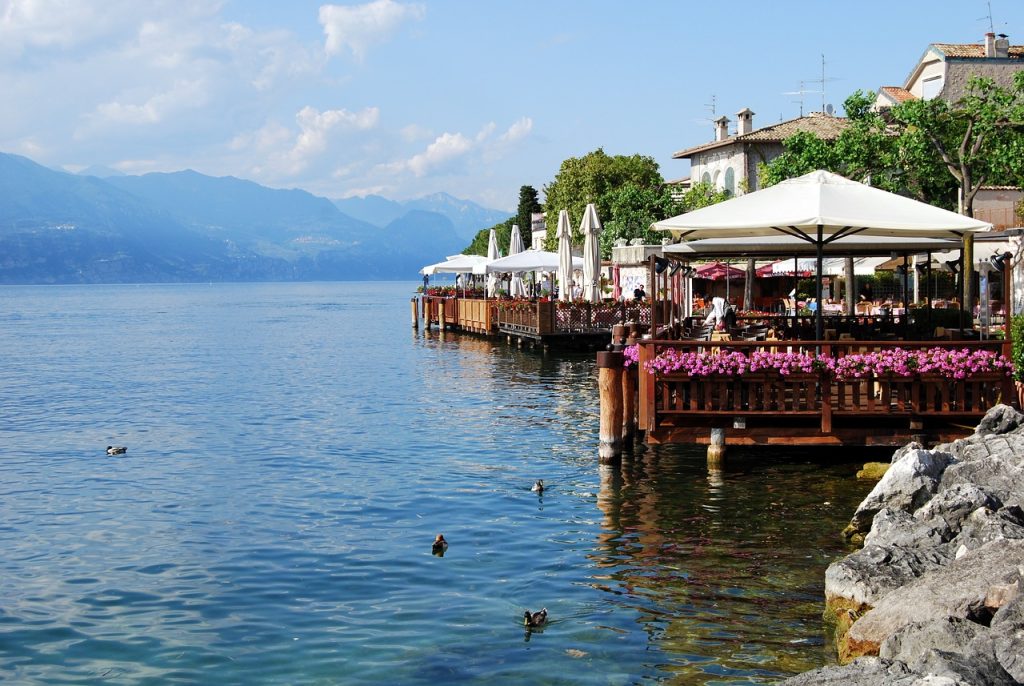 Torri del Benaco is a picturesque village located on the eastern shore of Lake Garda in Italy's Veneto region. Located approximately 40 kilometers from Verona, Verona is the closest airport and the easiest way to get to Torri del Benaco by flight. While Torri del Benaco is small, it packs a punch with its big personality and abundance of historical sites and water sports for visitors to enjoy.
Despite its small size and population, this charming place is a must-visit village on your next trip to Lake Garda. With its picturesque harbor, narrow winding streets with traditional eateries, and abundance of historical sites to peruse, you won't be short of things to do on holiday here. Let's explore all the things to do in Torri del Benaco. 
Visit the Scaliger Castle
History buffs are in luck! Torri del Benaco is home to the Scaliger Castle, a medieval castle located in Torri del Benaco's center. The castle was built in 1383 as ordered by Antonio della Scala, with the purpose of protecting the town's shipyard and port. In 1405, the Scaliger Castle became the residence of the federal ruler, the Captain of the Lake. Nowadays, the castle functions as a historical site that visitors can explore to find out more about the area's history. 
In the rooms of the castle, you will find an exhibition that explores the history and traditions of this picturesque village. You will be transported back to the Medieval Ages with an in-depth insight into the traditional occupations of the area's residents. You will gain an understanding of how the residents have lived throughout the centuries and how the area has been shaped by historical events. 
At the back of the castle, there is a traditional greenhouse created for the cultivation of citrus fruits. By further exploring the castle's battlements, you will access views spanning not just Torri del Benaco but other towns in Lake Garda, too.     
Take a Stroll Along the Promenade
If you are looking for a way to relax and enjoy the natural scenery of Torri del Benaco, what better way than enjoying a stroll down the lakeside promenade? Not only will you get to enjoy beautiful views of the lake, but you will also be able to keep active on holiday – help some of that delicious pizza to digest! The promenade is relatively flat the whole way down, so even if you are with elderly visitors or walking with a stroller, you should find this walk straightforward.
Explore the Historic Center
If you don't want to make any specific plans for the day and want to see where your journey to Torri del Benaco takes you, simply plan a stroll around the historic center. The main square in Torri del Benaco is called Piazza Calderini. It is curved around a shell-shaped harbor, off which are narrow streets filled with independent boutiques, trattorias, and gelaterias.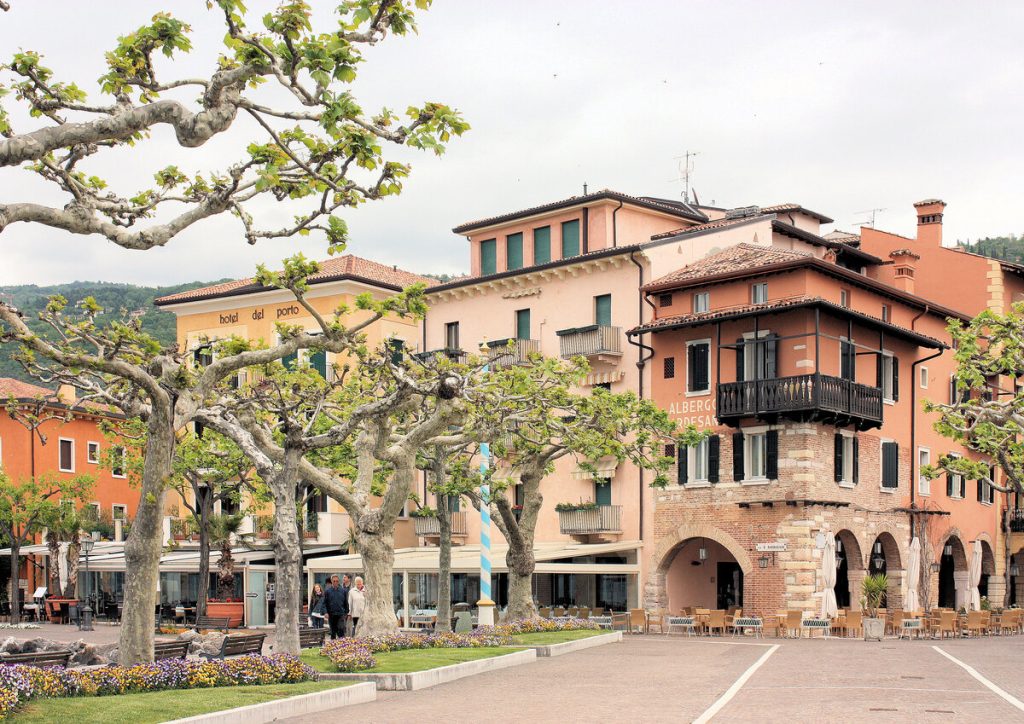 There are plenty of eateries, coffee shops, and bars with outdoor seating, so you can sit and watch the world go by or do a spot of people-watching. If you are in Torri del Benaco on Monday, you can attend the weekly market in the morning which extends from the ferry dock to Piazza Calderini. The market is a great place to find some clothing, homemade oil, fruits, and original olive wood items.
Visit the Gardesana Palace
Built in the 15th century atop Roman ruins, the Gardesana Palace is an elegant building that's well worth a visit if you are interested in history and architecture. While it no longer carries out its original function and now serves as a luxury hotel, it is still retained its breathtaking beauty. To really enjoy this beautiful building, consider staying there during your time in this vibrant village. 
Explore Torri del Benaco's Churches
Whether you are religious or not, there is no denying the magnitude and elegance that many of Italy's churches display. While you are visiting Torri del Benaco, there are several churches well worth a visit, each of which has its own historical story to tell. The Oratory of the Holy Trinity is probably the area's best-known church.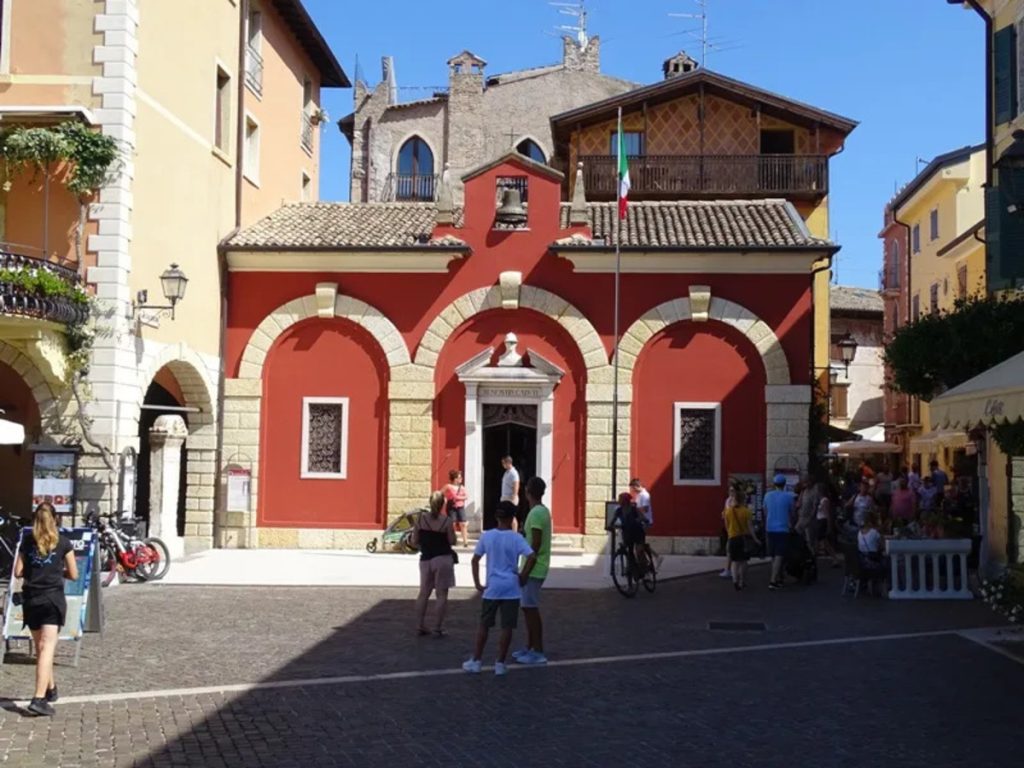 Built in the late 13th century, this small church is close to Torri del Benaco's stunning harbor, so you can stop by after you have taken a stroll by the promenade. Not only will you enjoy the aesthetic appeal of this popular church, but there is also a war memorial inside, as well as frescoes from the 15th century onwards. Other churches worth a visit include the Paris Church of St Peter and St Paul, St Mark's Church, St John's Church, and the Sanctuary of Madonna della Corona. 
Dine in One of Torri Del Benaco's Restaurants
If there is one thing Italy's known for, it is food, and Lake Garda is no exception. While you are exploring this part of the world, why not stop by one of Torri del Benaco's many esteemed eateries and enjoy an Aperol Spritz alongside meals cooked with the finest local ingredients? As well as finding Italian classics such as bruschetta, pasta, and pizza, the restaurants here also serve up tasty meat and fish dishes, plus innovative vegetarian options.
A few of the most popular restaurants in the village include Osteria La Cantina di Albisano, Ristorante Pizzeria Del Porto, and Menapace. If you are just interested in a coffee and a cake, don't worry. There are plenty of places for a hot drink and a quick snack in this delightful village. After all, drinking espresso is practically a national sport in Italy!
See Torri del Benaco's Clocktower
Dating back to the 13th century and a must-visit sight for history lovers, Torri del Benaco's clocktower proudly stands in the village as a nod to Torri's past. If you are walking past on a stroll, you can simply enjoy its beautiful exterior, but if you want a deeper understanding, there is a small museum inside that's open to visitors. 
Go for a Hike in the Village's Surroundings
The beauty of Lake Garda's towns and villages is that there truly is something to do for everyone. If you want a more chilled experience, you can kick back and relax, sipping on Aperol Spritz and going for leisurely walks. Active travelers can enjoy water sports or go for hikes. The surrounding areas of Torri del Benaco in particular are excellent for hikes.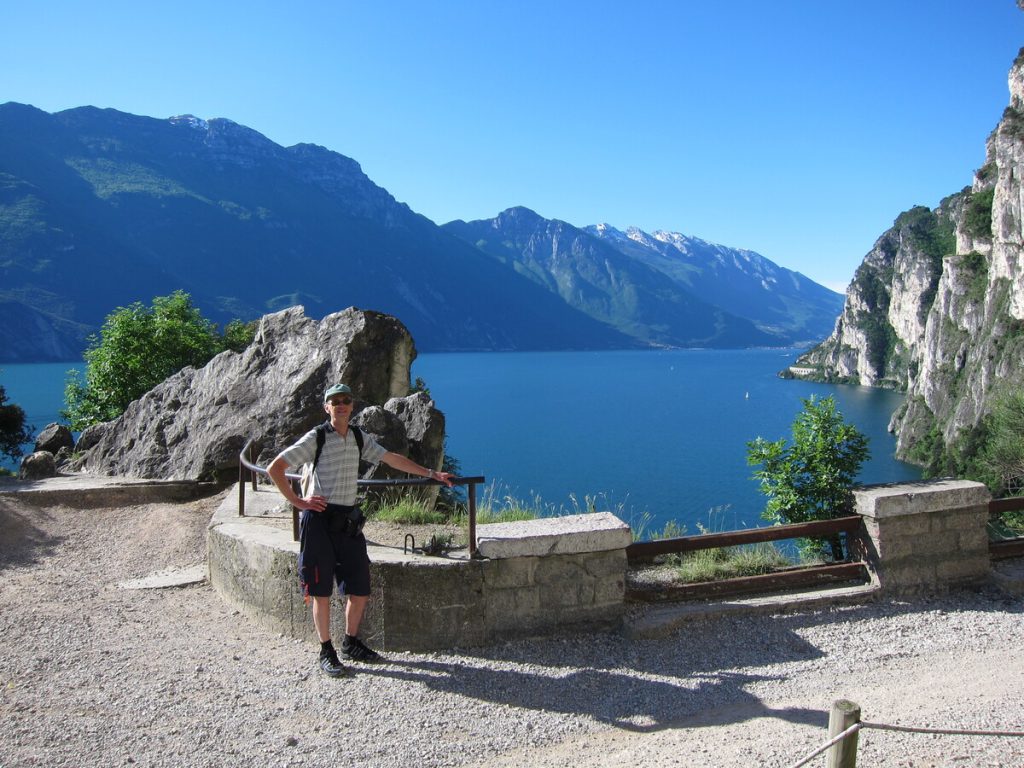 If you have hired a car, you can easily drive out to places such as the Tibetan Bridge and Rocca di Garda, which give you access to hiking routes that are equal parts challenging and enjoyable. The best part about hiking in the section of Italy is the scenery. Whichever route you take, you are guaranteed beautiful views. 
Go on a Lake Cruise
While you are visiting an area with such beautiful lakes, why not take advantage by catching a cruise or ferry to the other side of the lake? Some ferries even let you take your car across, so you will have free reign to explore once you get to the other side. That way, you are able to take in the sights and sounds of this breathtaking part of the country in a new way – by boat.
Visit Punta di San Vigilio
One of the biggest advantages of staying in Torri del Benaco is its proximity to other sites, towns, and villages that are well worth a visit. Punta di San Vigilio is one of these. It is a small promontory that separates the north and south end of Italy's iconic Lake Garda, and it's often cited as the most romantic and picturesque spot in the whole lake. Here you will find a beach alongside luxury resorts since Punta di San Vigilio has become a must-visit area for the rich and famous. 
Soak Up the Sun on the Beach
If you are looking to lie back and relax with a good book while you soak up the sun, you are in luck. Torri del Benaco is actually home to various beaches, each with its own vibe, but all equally as beautiful as one another. Right next to the village's historic center, you will find Spiaggia Sboco Valle Randina, which can be accessed and enjoyed free of charge. Sunset Beach is more trendy and attracts a younger crowd, but it's equally as beautiful and definitely worth a visit. 
Try Water Sports
Whether you are a water sports lover or a newbie hoping to try your hand at something different, you will have an amazing time. From Torri del Benaco, you will have the opportunity to enjoy water sports on Lake Garda, such as surfing, water skiing, diving, paddle boarding, and canoeing. You can even rent a boat to enjoy exploring the space in your own time and on your own terms. 
What are the best things to do in Torri del Benaco in one day?
If you are visiting Torri del Benaco for a day, don't worry. One day is still enough time to get to know this lovely village. You should stroll along the promenade, see some sights like the clock tower and the main square, and relax on the beach. If you are visiting Torri del Benaco in the summer months, there is even enough time to swim in the lake and try some water sports.
Whether you are interested in a relaxing short break soaking up the sun or an activity-filled week doing sports and sightseeing, there is something for everyone in this scenic corner of Italy. However you decide to spend your time in Torri del Benaco, we know you will absolutely love it. 
Check out more articles about Torri del Benaco:
Hey there! Some links on this page are affiliate links which means that, if you choose to make a purchase, we may earn a small commission at no extra cost to you. We greatly appreciate your support!