Torbole sul Garda is a small village located in the northeastern corner of Lake Garda. It is nestled between the mountains and the lake, so the wind often blows there. Therefore, this lovely place is famous among tourists who practice water sports like windsurfing, kiteboarding, and sailing. Furthermore, Torbole sul Garda also attracts other sports enthusiasts.
Near the village, there is Monte Baldo, with amazing paths for hiking and mountain biking. This picturesque place has houses arranged like an amphitheater on the shores of Lake Garda overlooking the small port, which remind us that this was once a fishing village. However, it was already a popular location in the past. In the fifteenth century, Torbole sul Garda was a destination to take a break for all passing travelers who were between Italy and Germany.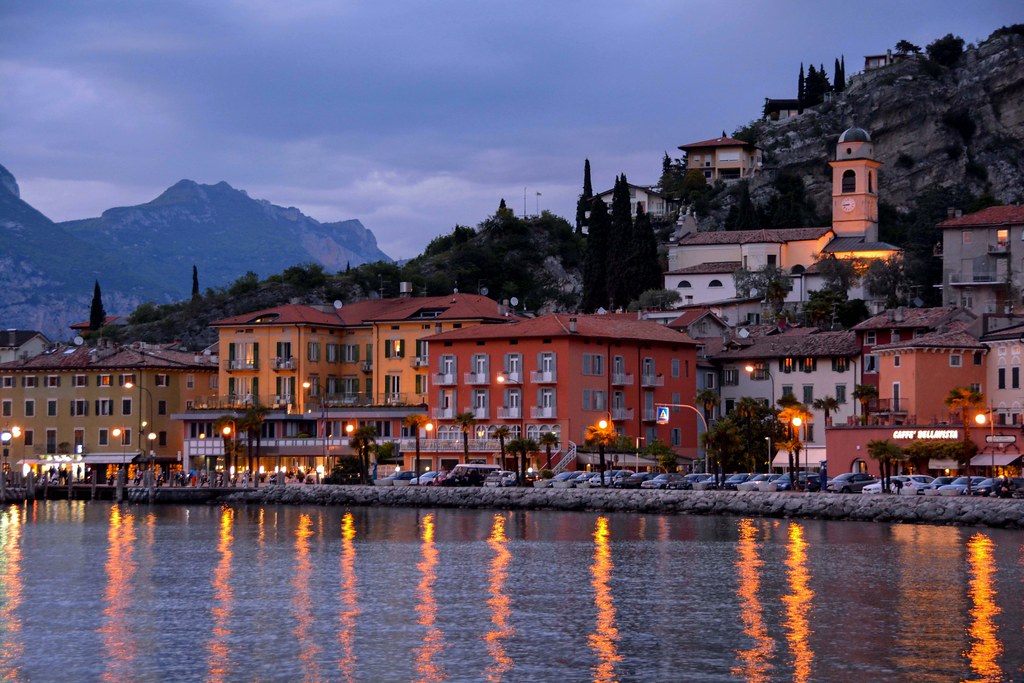 Even Goethe stayed in this village and recounted it in his works "Viaggio in Italia" and "Diario." That is why you can find Piazza Goethe here, a small square with a fountain and a plaque dedicated to him. Nowadays, Torbole sul Garda is a lively place frequented by tourists who come on vacation to swim, ride a bicycle, climb, surf, go on excursions, walk, or simply eat ice cream with the family.
Although the wind is pretty constant here, most tourists get used to it. Actually, the wind and fresh air will make your holidays more comfortable during the hot summer days. Let's dive into all of the things to do in Torbole sul Garda.
Take a photo in front of the Casa del Dazio
The Casa del Dazio is a beautiful and quaint small house always decorated with flowers. It was once the headquarters of the Austrian customs and was built during the Austro-Hungarian Empire as a border post between Austria and Italy for the collection of tolls. Nowadays, this house is the symbol of Torbole sul Garda and probably the first thing you see when you come to the village.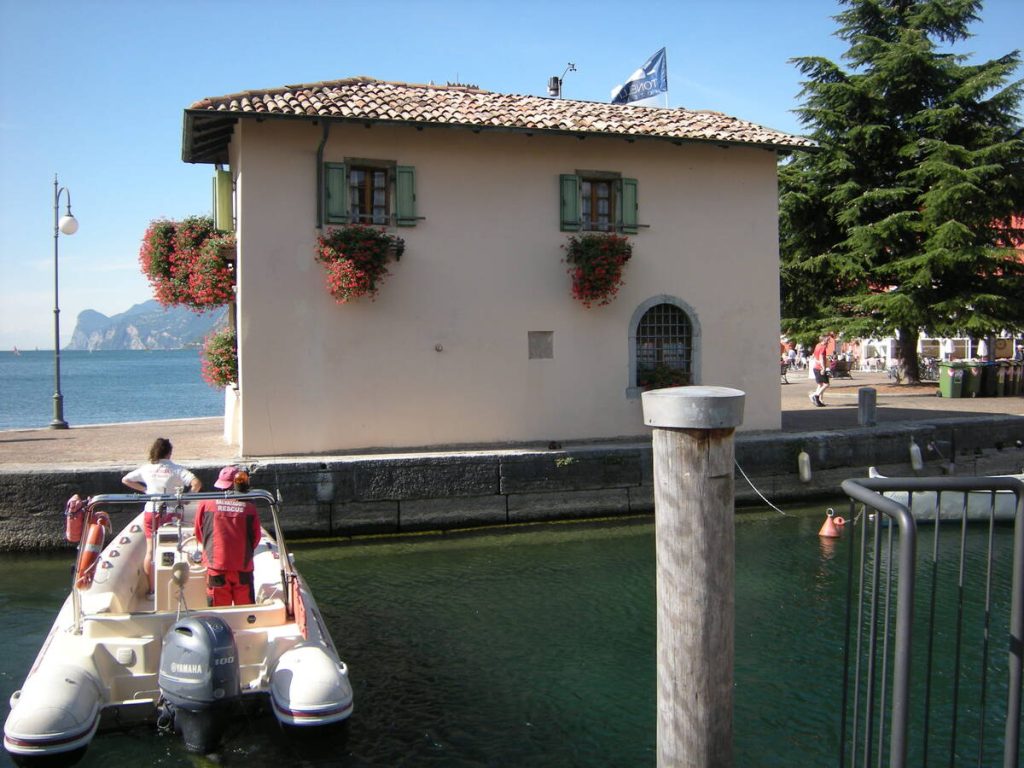 Thanks to its position surrounded by water and small boats, it is the most photographed spot among tourists. Therefore, if you like to capture beautiful photos, go towards the docking of the boats and take your souvenir photo of Torbole sul Garda.
Climb to the Belvedere viewpoint
Belvedere viewpoint is another gorgeous place where you can enjoy breathtaking views and take memorable photos. It is located just 10 minutes walking distance from the center of Torbole sul Garda. The climb up there is pretty steep, but it is still an easy walk up the hill. However, good walking shoes are recommended.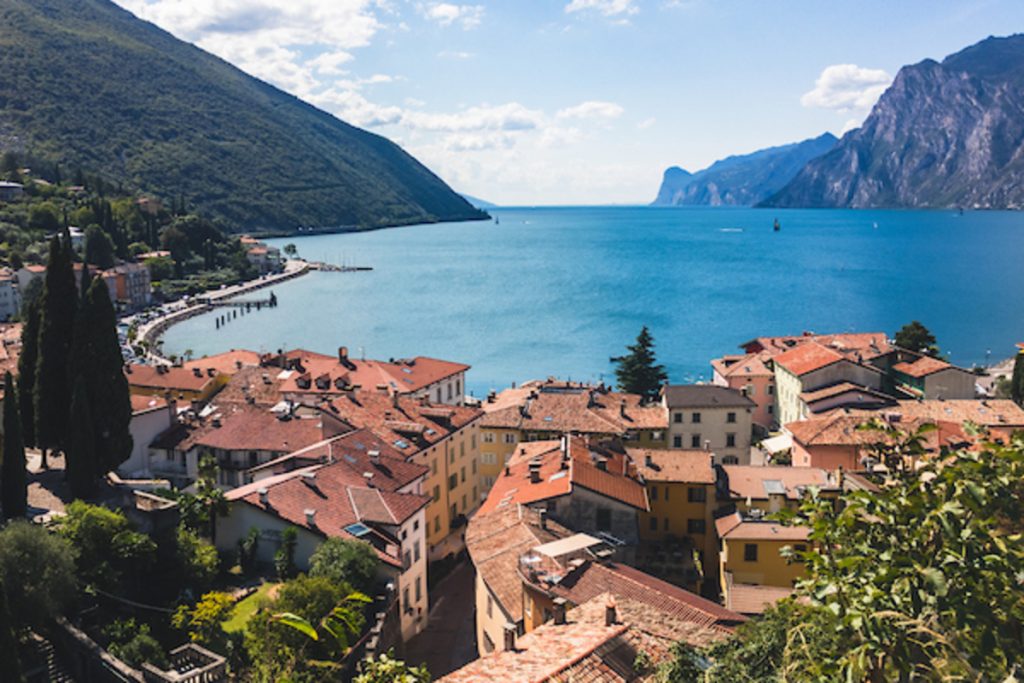 The locals call this viewpoint as Belvedere "castel" because of a fortification that was here in the past. From here, you will have a spectacular panoramic view of the village, lake, and mountains while relaxing from climbing. Even though this amazing scenery demands crossing steep staircases, it is totally worth the effort.
Hike Busatte – Tempesta path
The Bussatte-Tempesta path is one of the most popular hiking routes on Lake Garda. It goes on and above the eastern Lake Garda cliffs and is suitable for beginners and advanced hikers. The path mostly goes through the forest, with frequent photography opportunities, including panoramic views across the lake. However, at one part of the path, there are 3 stairways of 387 steel steps that pass over woods, olive groves, and steep rock.
It starts from Busatte Park, located above the Torbole sul Garda, and continues up to Tempesta. The walk is not very hard, but it takes around 3 hours to go back and forth, so make sure to bring plenty of water with you. If you are going to hike during the summer months, it is advisable to set off early in the morning or late in the afternoon to avoid the midday sun, as it gets extremely hot and humid up there.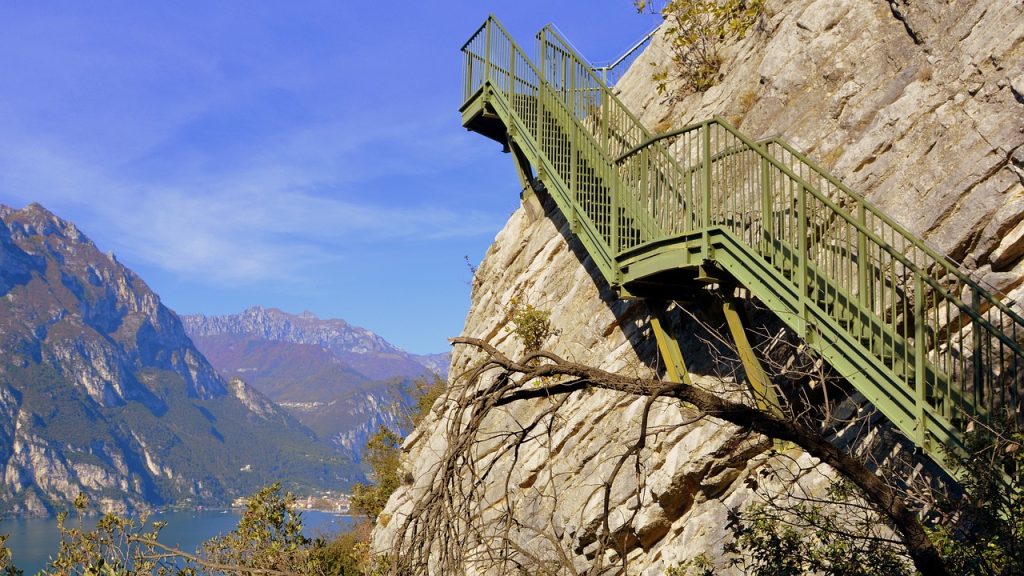 However, a gentle breeze from the surrounding mountains will accompany you at every step. Keep in mind that the Busatte- Tempesta path is not for those who have mobility problems or a fear of heights.
Have fun at Busatte adventure park
If you are an adrenalin lover or feel adventurous, you should go to Busatte adventure park. It is well structured, with various routes of different difficulty levels suitable for both kids and adults. There are more than 50 aerial passages from 2 to 15 meters high, and you get all the safety gear you need.
The climbing is amongst the trees on various obstacles and zip wires. The cables are rock solid and very safe, and you can only "unhook" yourself at the start and end of each passage. Therefore, you don't have to worry about safety. The entrance fee at the time of writing is 22 euros per person.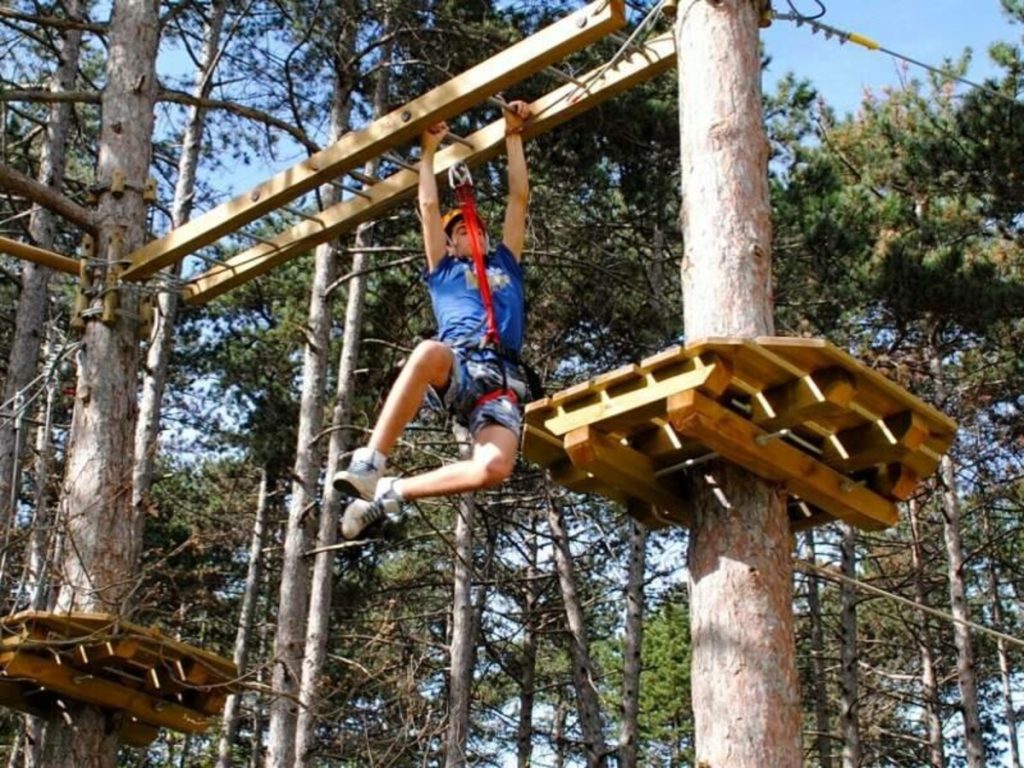 To get there, you will have to walk for around 20 minutes from the center of Torbole sul Garda, but most of that is uphill. The other option is getting a shuttle bus that runs every hour. Overall, Busatte adventure park is very fun and a great place to spend quality time with your family.
Relax on the beach
Torbole sul Garda has two beaches with pebbles and rocks where you can spend your time in complete relaxation. The first one is called Spiaggia Lungolago, and it is closer to the center of Torbole (5 minutes walking distance), while the other one is called Spiaggia di Torbole (10 minutes walking distance). Both are very clean and great places to admire the wonderful panorama.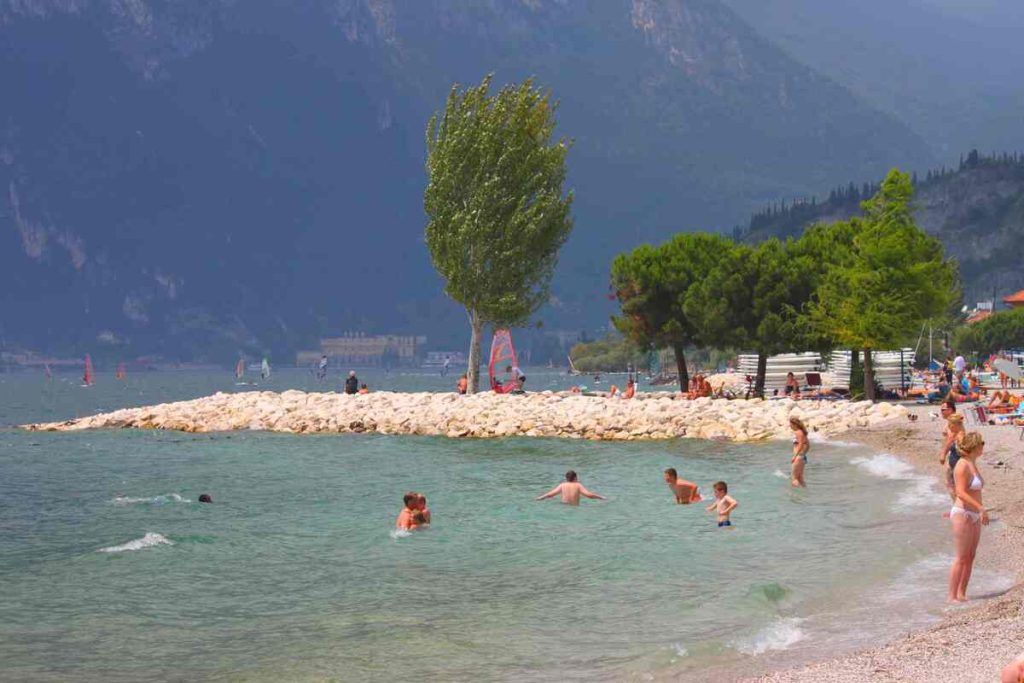 In the summer months, beaches are equipped with paid sunbeds and umbrellas, but there are still plenty of free spots to lay down and soak up the sun. Even during the hottest months, the water is very refreshing, and the beaches are full of windsurfers. If you decide to swim in the lake, bring swimming shoes with you. If it is too cold to swim, you can sit and listen to the sounds of the lake or admire the breathtaking sunset in the evening.
Visit the Church of Sant'Andrea
Going up one of the two long stairways that start directly from the historic center, you will reach the Church of Sant'Andrea. It is a small modern church built in 1939 and dedicated to Sant'Andrea, the patron saint of fishermen. Even though the church itself is pretty plain from the outside and inside, it is worth coming to because of the beautiful setting.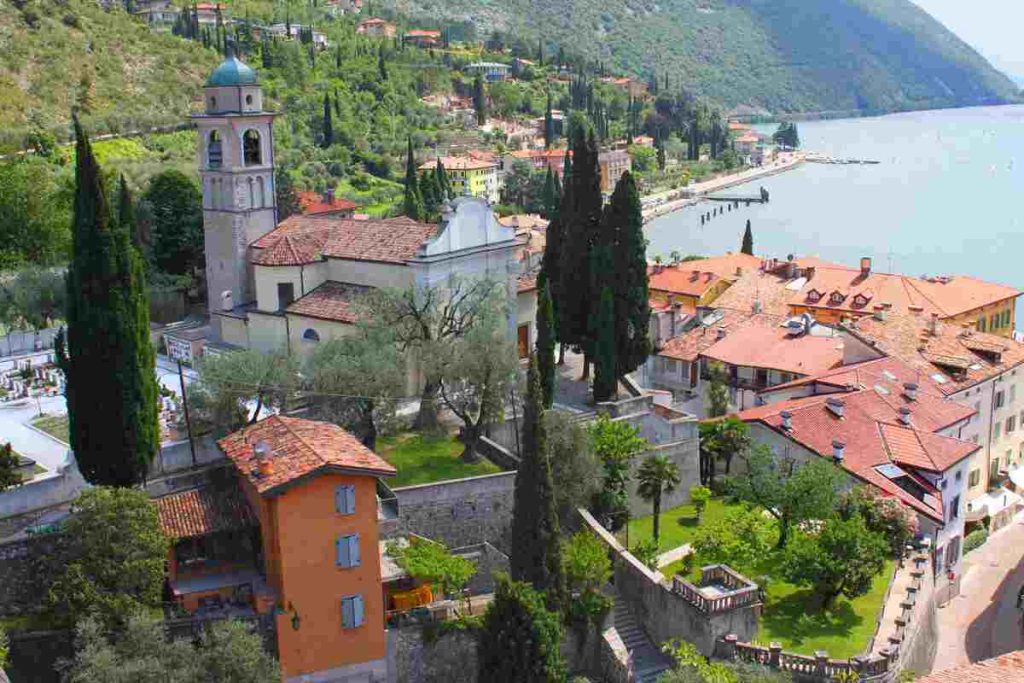 The square in front of the church is full of olive trees, greenery, benches, and fountains made in a modern way. This location is ideal for photographers and artists or those who are looking for peaceful places. Also, from the square you will have a gorgeous view of Lake Garda, so you can come to take some great pictures.
Practice various sports
Are you one of those people who want an active vacation? If so, Torbole sul Garda has plenty to offer for you. This small town is an ideal place for sports enthusiasts, above all for windsurfers and bike lovers. Here are all the sports you can do in Torbole:
Watersports in Torbole
Every year thousands of fans of this sport come to Torbole to enjoy the waves and the wind that never stops. Windsurfing is the most practiced sport in Torbole, and there are even World and European championships every year. Conditions for windsurfers in Torbole are just perfect because of the constant wind that supports the sails of those who already know how to practice this sport.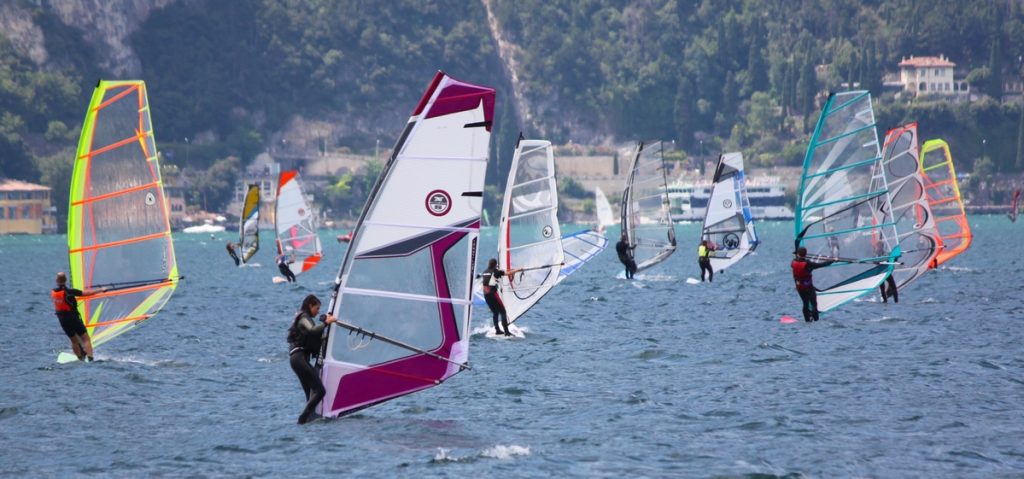 For those who want to try windsurfing for the first time or want to upgrade their knowledge, there are several schools that offer courses for all levels and all ages. Besides windsurfing, very popular are also kitesurfing and sailing.
Hiking in Torbole
If water sports are not your thing, keep in mind that Torbole sul Garda rises on the slopes of Monte Baldo, and this position makes it an ideal starting point for hiking. Besides the already mentioned Busatte-Tempesta path, there are numerous hiking paths of different difficulty that you can explore.
For beginners, there is the "Argini del Sarca" path which is 5 kilometers long and leads to Arco. Furthermore, there is the "Sentiero dei Paloni" path which is 9 kilometers long and goes along Monte Baldo mountain. However, it is recommended for more experienced hikers as it has some more dangerous sections.
Cycling in Torbole
Torbole sul Garda has a beautiful cycle path that runs along the beach of Torbole up to the Riva del Garda. The path is also loved by pedestrians, so you need to pay close attention, especially in summer, because it is very crowded. If you don't have a bike, don't worry. There are few places in Torbole where you can rent a regular or e-bike for hours or even for the whole day.
Don't miss the Marmitte dei Giganti
If you are a hiking enthusiast, here is another attraction for you. The "Marmitte dei Giganti", or "Giants' Pots" are the glacial wells formed millions of years ago because of the erosion of the stone. These pots can be reached by branching off to the left from the main road from Torbole to Nago, just before the parking, or by walking along a path heading to Nago from the end of Via Strada Granda in Torbole.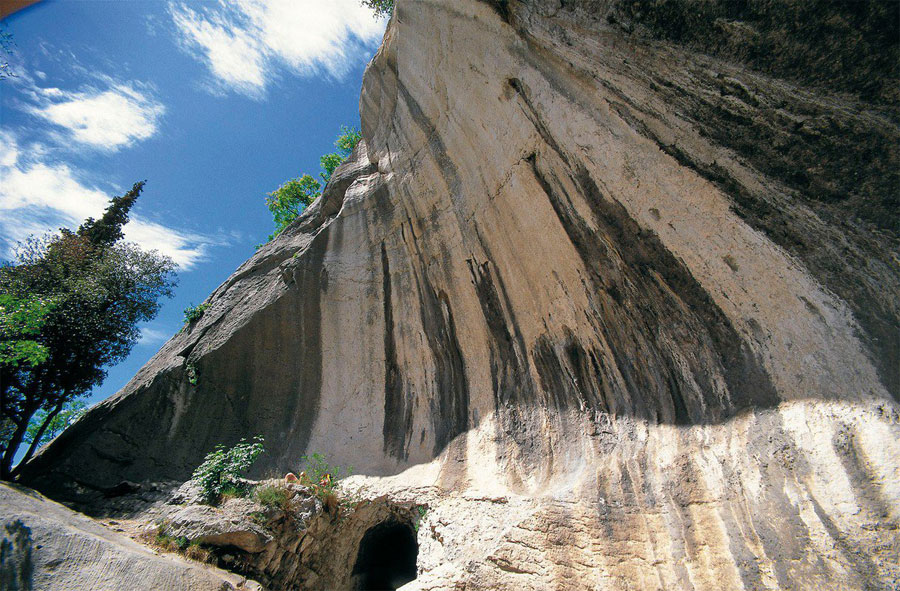 If you decide to hike, you will have to cross 1.5 kilometers long path which goes uphill. It takes longer to walk there than you will need to stay. However, these pots are still worth visiting, especially if you like geography.
Try Torbole broccoli
The winds and climate in Torbole sul Garda are not only beneficial for windsurfers. There is a popular vegetable that has an unmistakable sweetness and flavor thanks to the wind. Torbole broccoli, or "son of the wind", is the most authentic product in this little town that every visitor should try.
It is a part of the Slow Food Presidium, which guarantees its protection and preservation. In Torbole, you can try broccoli in pasta dishes, in some main courses, or as a side dish. If you are in Torbole sul Garda in January, you can taste raw, cooked, or steamed broccoli during the Torbole Broccoli Festival, which takes place every year in the port of Torbole.
Go on a day trip to Riva del Garda
If you have free time, you can visit a nearby town called Riva del Garda. It is a much bigger town than Torbole and has many sights and activities for tourists. Riva is reachable by car, bus, or simply by walking. If you decide to walk by the lake, it will take around 1 hour to get there.
The best things to do in Torbole sul Garda in one day
Those who are coming to Torbole sul Garda just for a day don't have time to explore all the things that this town has to offer. However, there is still enough time to visit Casa del Dazio and the Church of Sant'Andrea, casually walk by the lake, rest a little bit on the beach and try famous Torbole broccoli in one of the many restaurants.
Hey there! Some links on this page are affiliate links which means that, if you choose to make a purchase, we may earn a small commission at no extra cost to you. We greatly appreciate your support!