When someone mentions the region of Tuscany, the first things you probably think of are numerous Reinassance artworks, picturesque small villages, gorgeous hilly landscapes, medieval atmosphere, and high-quality wines. But, many often tend to forget the breathtaking beauty of the Tuscan coast. Along the jagged coast surrounded by the blue and clear Tyrrhenian Sea, there are many gorgeous beaches that are still undiscovered by mass tourism.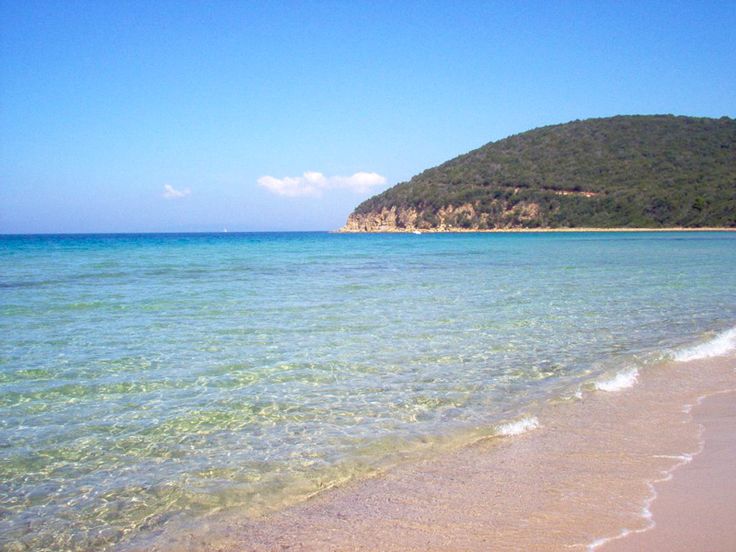 These beaches are perfect for those who want to be surrounded by nature, swim in the crystal sea, and be away from numerous bars, restaurants, and roads. Even though these kinds of beaches are usually away from towns and can be reached by car or boat, a little effort to discover natural gems is always worth it. Here are the best quiet beaches in Tuscany:
(This article contains 5 beaches in Tuscany, which are best in our subjective opinion. The order of the beaches is not related to their beauty. Every beach has its pros and cons, so choose the beach based on your personal preferences.)
La Paolina beach on Elba Island
La Paolina beach is located on Elba Island, around 2 kilometers (1.2 miles) away from the small town of Procchio. This mixed beach with sand and small pebbles is considered one of the most beautiful beaches on the whole island of Elba. It is a truly enchanting place nestled between the rocks, the greenery, and the clear sea. The beach got its name because of the Paolina islet that you can admire from the beach.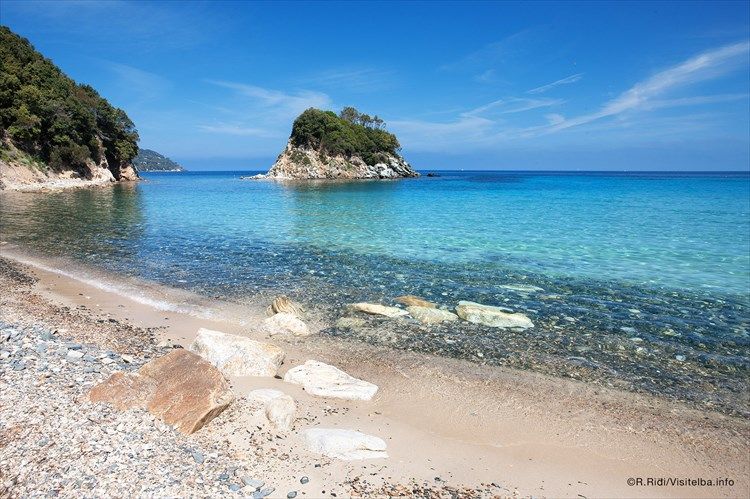 La Paolina beach has paid sails instead of umbrellas that protect from the sun that can be pretty hot in the summer mornings. But, in the afternoon, the shade comes pretty early. The beach is equipped with a bathroom, showers, a lifeguard, and a small bar where you can have lunch or buy some drink or ice cream for refreshment. This small beach can be reached by a short but steep path in the woods or by kayak from Procchio beach.
Location: Elba Island, 2 kilometers (1.2 miles away from Procchio
Type: sandy beach mixed with pebbles
How to get there: leave the car along the road and take a steep path or come by kayak
Recommended for: young people and couples
Cala del Gesso in Porto Santo Stefano
Cala del Gesso is a small but truly breathtaking beach located near Porto Santo Stefano. It is just like the Paolina beach, quite hard to reach, but a little effort totally pays off once you get there. You can enjoy wild unspoiled nature and the beautiful crystal sea on this pebble beach. There are no services of any kind so do not forget to bring a packed lunch and a lot of water.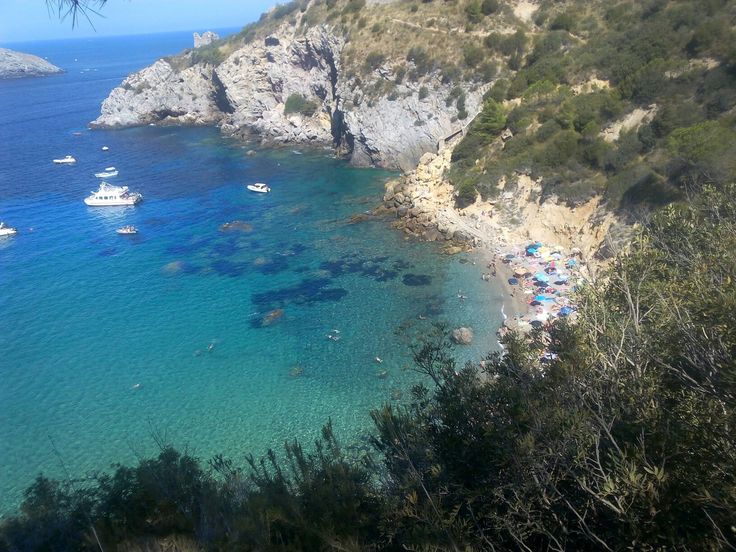 Even though Cala del Gesso is full of pebbles, you will feel soft sand underneath your feet once you enter the sea. The beach can be reached by boat or by car. If you choose a car as your transportation, keep in mind that you will have to leave it in a paid parking place or along the road. After that, you will continue on foot and go down the asphalt road for at least 20 minutes first and the mountain path afterward. The walking route is pretty challenging, so good sneakers are essential.
Location: a few kilometers from Porto Santo Stefano, in the village of Monte Argentario
Type: pebble beach
How to get there: by boat or by car from Porto Santo Stefano
Recommended for: couples
Cala Violina near Scarlino
Cala Violina is the most popular beach in the Tuscan Maremma. This long sandy beach in the middle of greenery is a perfect place for families with small children who love to make sandcastles. The beach has a limited number of visitors, so you have to book a reservation and pay admission of 1 euro per person for the entrance via the official website.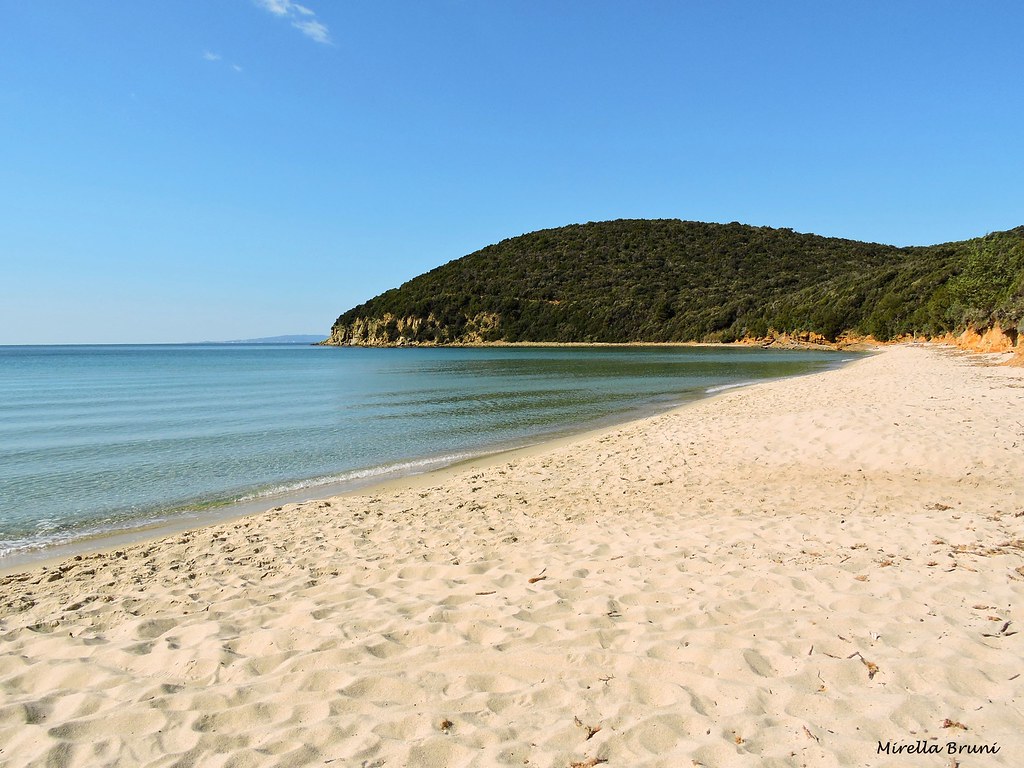 Cala Violina can only be accessed on foot after walking about 1.5 kilometers (1 mile) through the wood from the parking lot. There are only 150 parking spaces in a parking lot, so booking your space in advance is advisable. You will have to pay 10 euros for parking for the whole day. In the summer months, you will find a small mobile kiosk with sandwiches and drinks near the beach. We recommend bringing an umbrella with you because there are no shadows and the sand is getting very hot pretty fast.
Location: Scarlino, Grosseto
Type: sandy beach
How to get there: by car and then by walking through a forest for about half an hour
Recommended for: families
Cannelle beach in Giglio Island
Even though Elba island is the most popular island in the Tuscany region, there is also one small island covered in greenery with breathtaking beaches named Giglio Island. This little island has only 1,400 inhabitants, so it is pretty wild and full of beaches and coves that are perfect for those who want to get away from urban vacations. Among them, Cannelle beach is the most popular because of its soft golden sand, crystal clear water, and fresh air with scents of a nearby wood.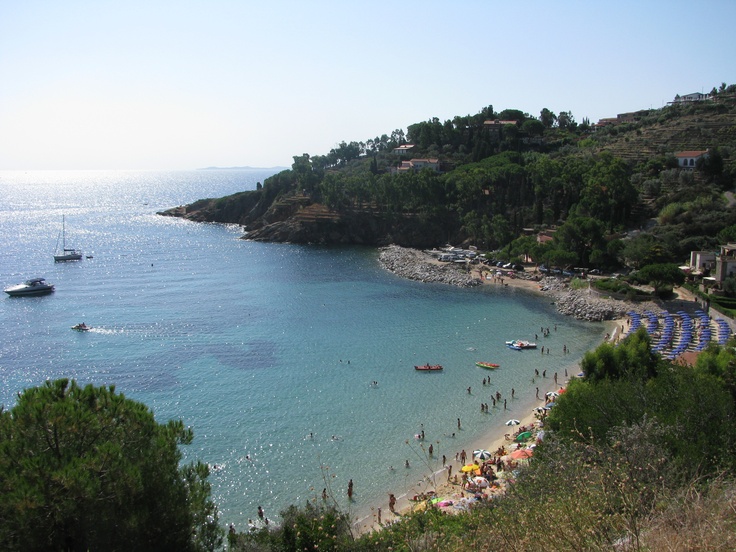 This beach is equipped with sunbeds and umbrellas for rent and a well-stocked bar with some refreshments. To get to the beach, you will have to walk for about 1.5 kilometers (1 mile) with a slight climb from the port, or you can take a shuttle taxi. The sea around Cannelle beach is rich with various kinds of fish, so you can bring your diving mask and admire the beautiful undersea scenery.
Location: Giglio Island, municipality of Grosseto
Type: sandy beach
How to get there: by shuttle taxi or by walking around 20 minutes from the port
Recommended for: couples and families
Cala Giovanna in Pianosa Island
Pianosa Island is a tiny islet and a gorgeous and mysterious paradise located about 22 miles from the island of Elba. It is reachable only by ferry from the main port of the nearby Elba Island, and there is a limited number of accesses to the islet, so make sure to get a proper reservation on time. Due to its small size and the presence mostly of jagged coasts, the only beach for swimming on the whole islet is Cala Giovanna.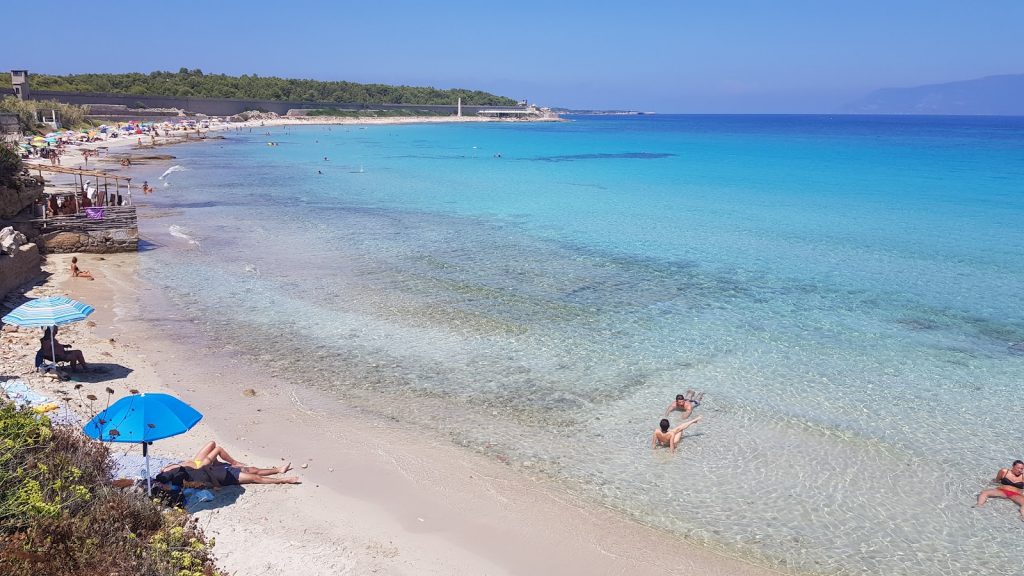 This limitation makes the beach wild, authentic, and harmonic with nature. Cala Giovanna is located near the town and the old port and is a very popular destination for young couples but also scuba divers and snorkelers. The beach has soft white sand and unspoiled turquoise water, which makes you feel like you are somewhere on a Caribbean island.
Location: Pianosa Island
Type: sandy beach
How to get there: by ferry and then by walking 8 minutes from the port
Recommended for: couples
Read more articles about Tuscany:
Hey there! Some links on this page are affiliate links which means that, if you choose to make a purchase, we may earn a small commission at no extra cost to you. We greatly appreciate your support!