Ischia is one of the most beautiful spots in Italy, and we highly recommend you visit this wonderful island. It is the largest island in the Gulf of Naples and, until the fifties, was nothing more than a small village filled with fishermen and a handful of people spending their summer there. In the fifties, however, Ischia became "the" place for everyone with a recognizable name and for those who wished to never have to introduce themselves again.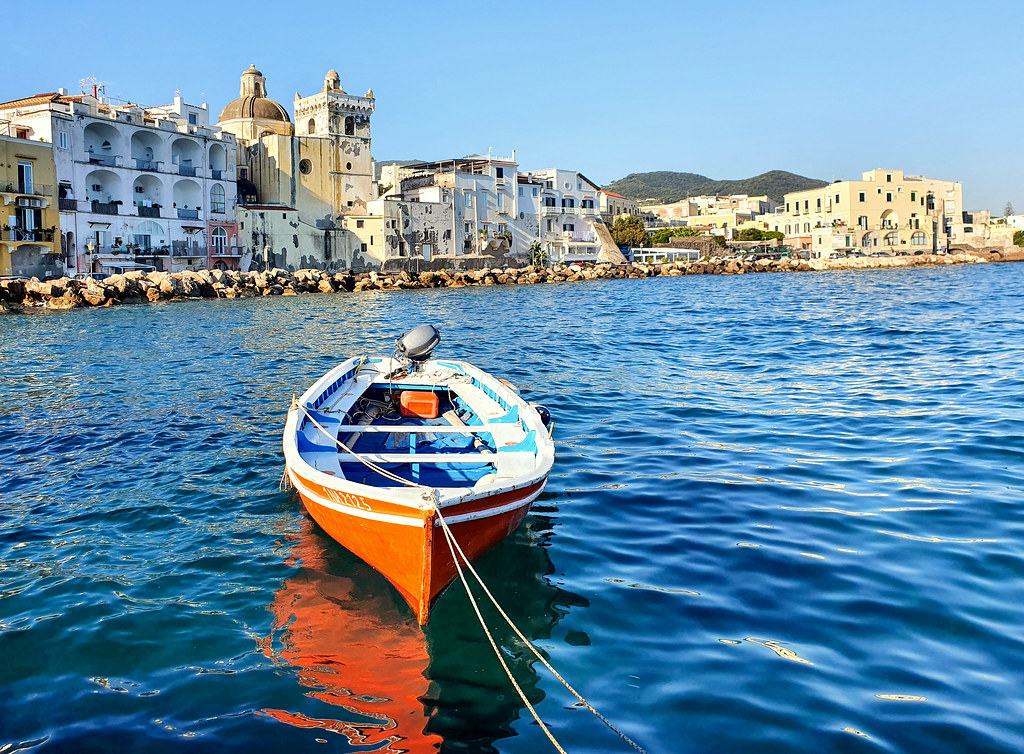 If you visit Ischia for a summer holiday, it is good to know that you are in the company of Charlie Chaplin, Liz Taylor, and even the Duke of Windsor, all of them vacationing here at one point or another. So, if you are looking for a perfect location for your holiday, look no further than Ischia. With its beautiful volcanic beaches, breathtaking nature, and delightful thermal waters, it offers plenty for relaxing. Plus, you won't get bored either, as there is more than enough to see, do, and take beautiful pictures of. Here are all the things to do in Ischia:
Explore Castello Aragonese
One of the unmissable spots in Ischia is certainly the Aragonese castle. The main star of most Ischia postcards, this castle stands on Ischia Ponte, the oldest village in the area. Historians place its origins in the 5th century BC! That means a lot of historical places and an ancient-like atmosphere for you to explore. Not far from the Aragonese castle on Ischia Ponte, you will find the beautiful cathedral of Santa Maria Assunta.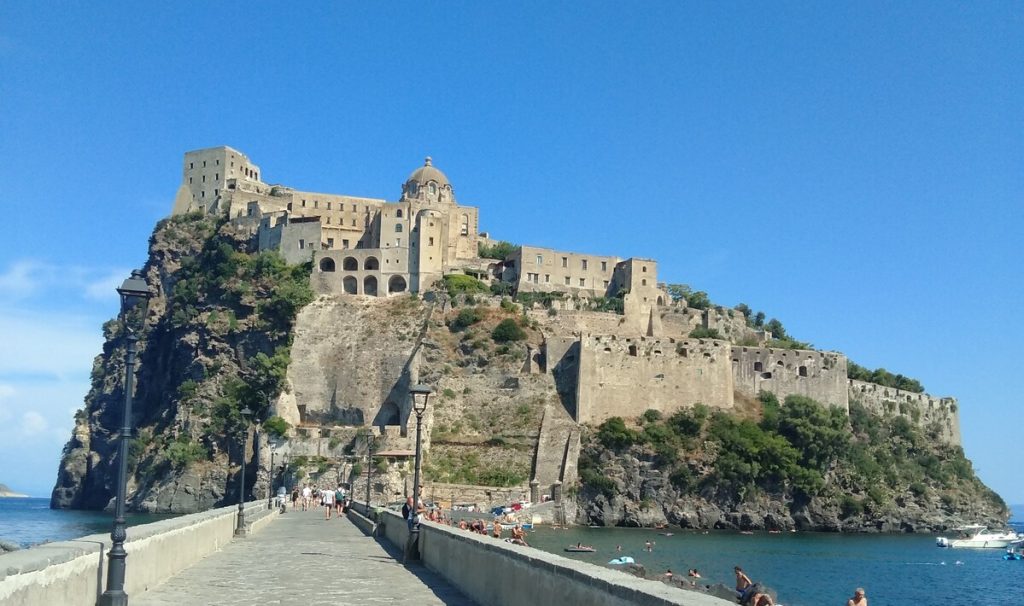 Other things worth exploring in the area are the Putridarium, the cemetery, the Church of the Immaculate Conception, and the historic center of Ischia Ponte. You can reach the island by foot via the old stone bridge. The beautiful walk will take you about half an hour, but you could also take the bus or jump in a taxi to get there. The entrance for Castello Aragonese will cost you 12 euros, but it is totally worth it. There are a lot of stairs, so it is advisable to wear comfy shoes.
There is a lovely coffee shop halfway up with beautiful views and a restaurant at the top where you can relax after the climb. Usually, 3 hours will be enough to see all the attractions without rushing. Also, there are many gorgeous photo opportunities along the way, so don't forget to charge your battery on your camera or phone. On the right side of Ischia Ponte, you will also find several pubs and restaurants where you can take a break and enjoy a drink with a nice view. 
Visit the gardens in Ischia
For those who love admiring nature up close, Ischia offers some of the most exquisite gardens in the world to do so! Carefully planned, well maintained, and filled with many lush and unique plants, these gardens are perfect for a nice stroll and taking numerous pictures. Some of the most popular gardens in Ischia are Giardini La Mortella, Eden, and Giardini Ravino. Together with the gardens in Ischia's thermal bath resorts, these offer some of the best and most beautiful garden experiences in this part of Italy. 
Giardini La Mortella 
La Mortella Gardens is certainly an incredible area to visit. Established in 1956, this garden is literally thriving to this day, with its 3000 different species of exotic plants. Composed of two gardens, it stretches over an area of ​​approximately 2 hectares. Taking a stroll through this marvelous garden will transport you to different parts of the world through its paths, stone walls, fountains, and waterways. This beautiful garden also includes three greenhouses, a quiet, Japanese-inspired meditation place, and a breathtaking view of Forio Bay from its highest point.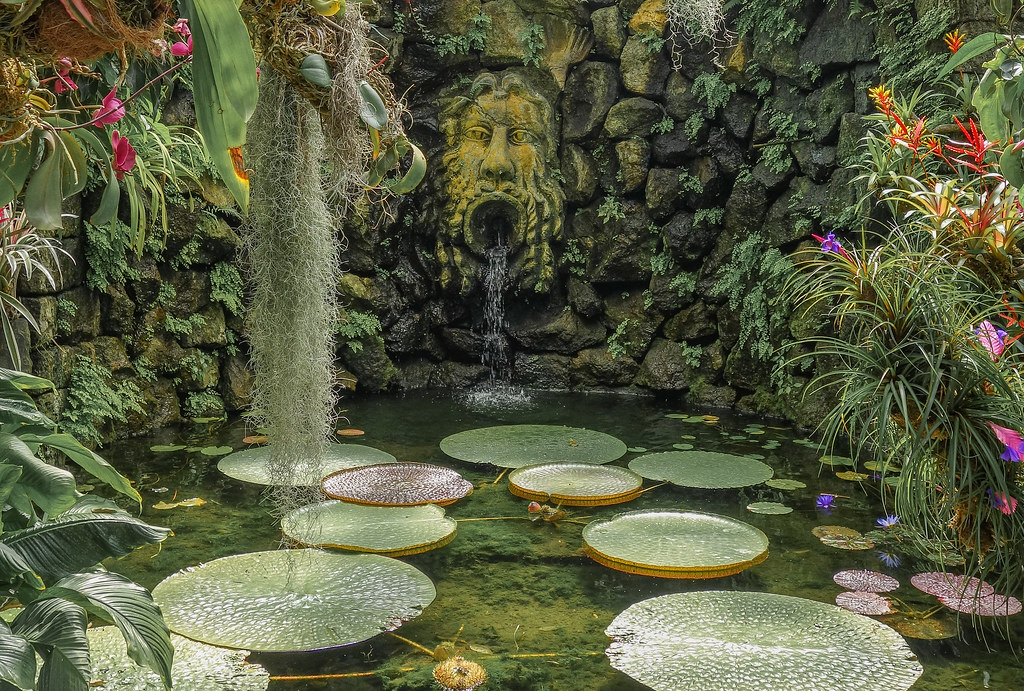 12 euros entry per adult seems like a little excessive for the size of the gardens, but it is still not so expensive for such a tourist place like Ischia. During the summer months, there are many open-air concerts in the gardens. Therefore, check La Mortella's official website to see the schedule if you are interested. The garden is open to tourists from April 1 to November 5, so make sure to plan it if you decide to visit Ischia during that period. 
Giardini Ravino 
If you are a fan of succulents, cacti, and rare botanical specimens, Ravino Gardens are the ones to pay a visit to. This unique collection of plants is masterfully combined with art from local artists, and the free-ranging peacocks only add to the extraordinary atmosphere of the place. The gardens are actually a very quiet place without many tourists, so you can walk around and enjoy the scenery in peace.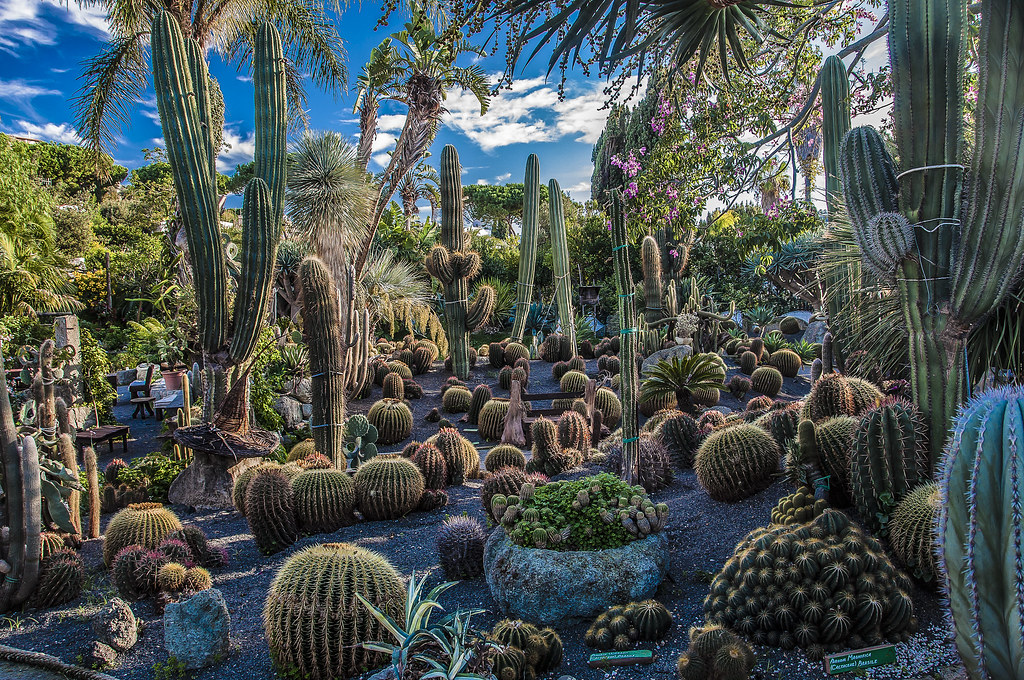 If you wonder how to get to the gardens, there is a bus directly from Forio, which drops off at the gate. Those who had the luck to visit this place highly recommend staying at the nearby villa Ravino, which boasts "unforgettable sunsets." There is also a small spa that guests can enjoy, and the cafe in the adjacent park offers delicious cactus juice and delicious local meals.
Don't miss thermal baths in Ischia
One of the top things to do in Ischia is bathing in its thermal baths. The ones in Ischia combine the beauty of enjoying a warm bath while being surrounded by nature and breathtaking views. While the tickets are a bit on the expensive side, you can enjoy sandy beaches, private areas, excellent restaurants, and, of course, a relaxing bath. For full enjoyment, you should make sure to take advantage of many amenities, including a visit to the sauna to steam off some of the stress.
There are also sunbeds, solariums, mud treatments, massages, gyms, and other amenities for you to make the most of your relaxing day. Some of the most popular options are Poseidon thermal baths, followed closely by Negombo, Afrodite, Eden, and Tropical Gardens, but there are also so many more for you to explore.
Giardini Poseidon Terme
Possibly the most popular tourist thermal bath in Ischia is Poseidon due to its sheer size and excellent amenities. Helping tourists and locals enjoy their time in Ischia since 1958, it has since grown into a monumental establishment. These days, Poseidon boasts 20 swimming pools, both outdoor and indoor. It is all about nature there, as its pools are surrounded by carefully nurtured greenery.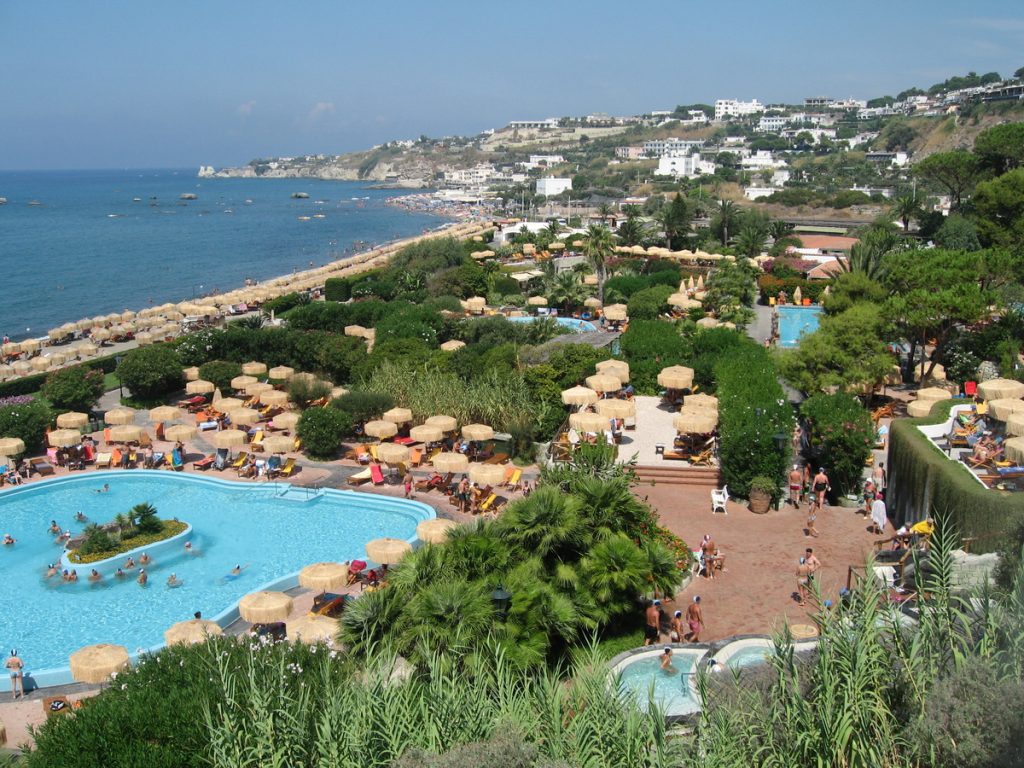 You will find that its pools are cleaned every day without employing toxic chemicals. Furthermore, saunas at Poseidon are dug into a tuff cave, sunbeds are made out of wood, and you will have to work hard to find plastic here. Also, you can enjoy it in a hot-cold pool and the chair where you are pummelled by hot water, which is very good for aches, pains, and circulation. Overall, Giardini Poseidon Terme is the perfect spot to relax and enjoy!
Negombo Thermal Spa 
Similarly to the Poseidon Terme, Negombo is another place you could visit to enjoy a warm bath. Slightly smaller than Poseidon yet a bit more exotic, this place takes after the city of Negombo in Sri Lanka when it comes to its flora and international events. Negombo is an astonishing combination of a hotel, a couple of spas, a gorgeous private beach, and some wonderful saunas.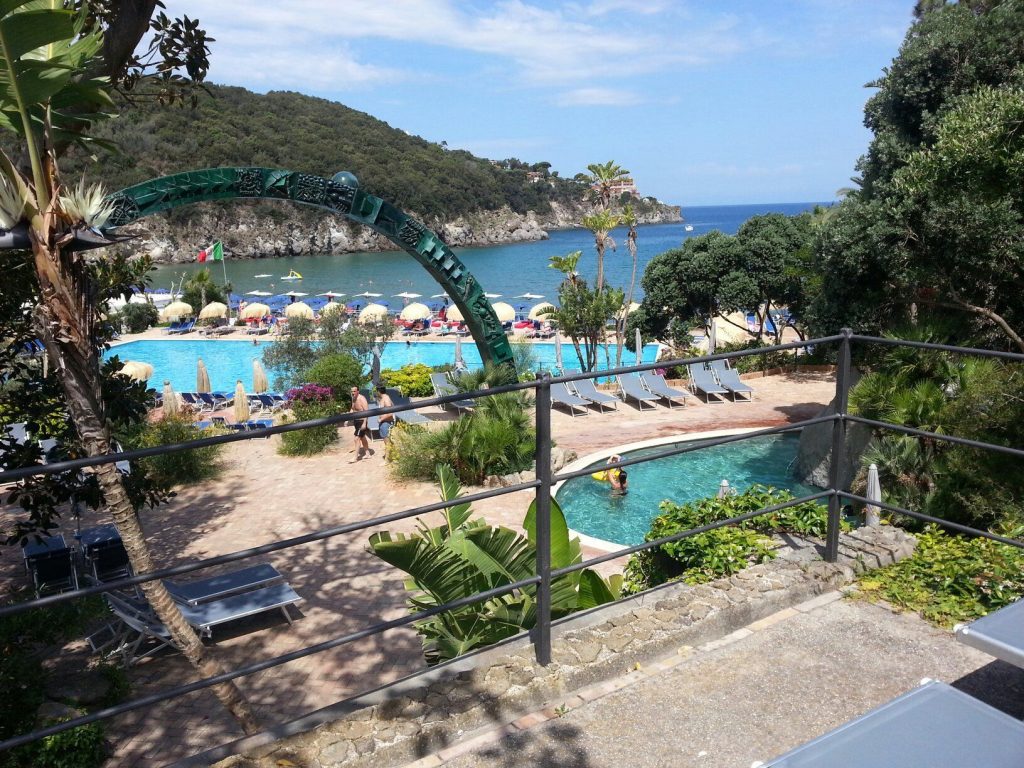 It also hosts numerous events, with its "Negombo by Night" events, that include memorable theater and musical shows, being the most popular. For the ticket price, you will have access to the entire facility all day long, including an umbrella and chairs for the beach and lockers for your valuables. However, keep in mind that Negombo Thermal Spa is very crowded during the summer months, so it is advisable to come early in the morning when all umbrellas and chairs are not taken.
Experience hot springs for free
While luxury establishments such as Poseidon and Negombo offer quite an unforgettable experience, you can enjoy the benefits of Ischia's thermal waters without paying a cent! There is an abundance of free hot springs you could visit to enjoy a nice bath. Perhaps not as glamorous, but still perfect for a couple of hours of connecting with nature and relaxing in a hot spring after a long day.
Sorgeto Bay
Possibly the most well-known free hot spring location in Ischia is Sorgeto Bay. This small inlet is a beautiful combination of pebbles and rocks and small pools of steaming water. Now, you don't need to be afraid of cooking yourself to perfection. Rather, all the natural pools in the area have temperatures that range from 30-37 degrees Celsius. The boiling hot water mixes with the colder water of the sea, making these pools ideal for relaxing, even at night and even in the winter!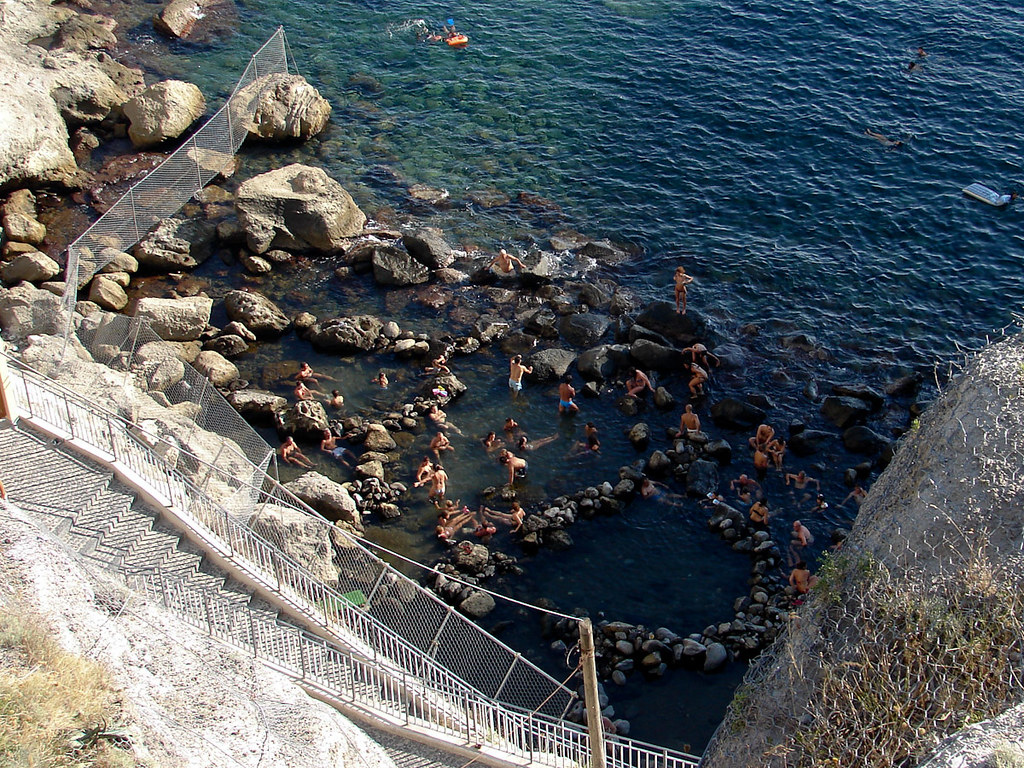 You can also enjoy aperitifs and delicious food served on a life jacket and enjoy the meal while you bathe in the moonlight! Many tourists and locals visit the Bay of Sorgeto for this remarkable experience. You will find it a bit crowded on summer evenings, and you will even find people bathing throughout the night. To visit Sorgeto Bay, head on to the southern coast, near the coast of Sant'Angelo. 
Le Fumarole dei Maronti 
If you find yourself on the southern side of the island, you shouldn't miss Fumarole Beach. It is located at the end of Maronti Beach, and you can visit it by a short walk of 10 minutes on a path that connects Maronti and Sant'Angelo. The volcanic fumes from the subsoil make this place a unique experience because they create gas bubbles in the sea, which is something every snorkeler should see.
On the surface, these fumes make sand extremely hot, so, ironically, we advise avoiding the beach on a hot summer day! In the evenings, though, this is the place to treat yourself to a nice hot bath, and the sand is perfect for healing treatments. Finally, you will also be able to witness and participate in an uncommon experience of cooking in the sand!
Feel free to bring your own eggs or potatoes, cover them in foil, and bury them for a while in the warm sand for a delicious and one-of-a-kind dining experience! If you don't feel like cooking, though, there are numerous establishments, bars, and restaurants where you can enjoy a delicious meal without having to carry a sack of potatoes with you.    
Climb the Monte Epomeo 
For those who love active holidays, there is one thing to do in Ischia. We have already mentioned several times that Ischia is the perfect place for nature lovers. And what would nature lovers do without a good hike? Luckily, there is Mount Epomeo nearby, which you are more than welcome to climb! It is a fairly easy climb, and it will take you approximately an hour to reach it from Fontana Square in Ischia. There is a cafe halfway up and at the top for those who would like to take a break.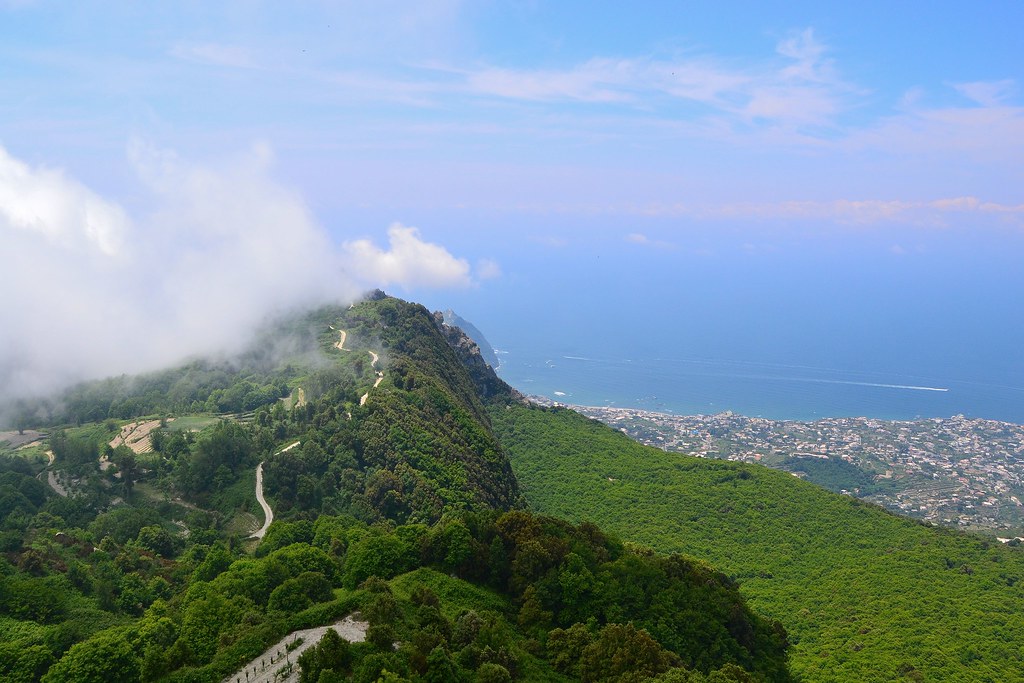 A combination of asphalt and dirt roads, this hike will take you to Mount Epomeo's summit, from where you can enjoy some gorgeous views. The path is well sheltered, but it is still very hot because it will get your heart rate up when you climb. Therefore, take enough water and a fresh T-shirt with you. It has several panoramic balconies from which you can observe Naples, Vesuvius, the Islands of Capri, and Ponza and take some magnificent photographs!
Have fun at Ischia Adventure Park
If you are visiting Ischia with youngsters and looking to provide them with an activity away from the beach, then Ischia Adventure Park should take up a spot in your itinerary. With various difficulty levels in this adventure park and excellent safety precautions set in place, you can spend a wonderful afternoon bonding with your kids while still being in touch with nature.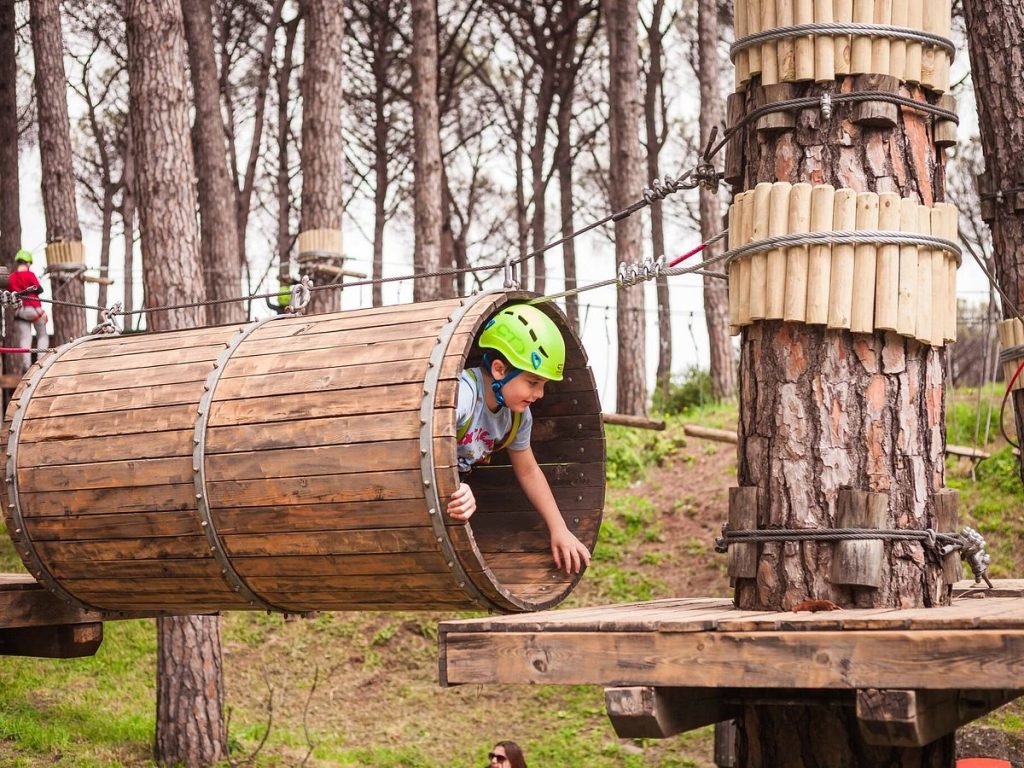 The Ischia Adventure Park's activities include playing games dangling from trees, multiple zip wires, walking between the catwalks, crossing Tibetan bridges, and exploring beautiful Tyrolean tunnels. To pass all of that, it will take you about 2 hours. The staff is really professional and friendly with excellent English. They will explain every activity well and will show patience and support for you and your kids.
Check out Chiesa del Soccorso 
There are many hidden gems across this island that you certainly must visit, one of them being the Church of Soccorso. It is located in Forio d'Ischia, on the Soccorso square overlooking the sea, and is one of the most memorable churches on the island. The church, in its Mediterranean style, is only 3 minutes away from the center of Forion on foot, so it definitely well worth the visit. It leaves a strong impression even on those who are not religious. Therefore, everyone can admire the history and breathtaking sunsets.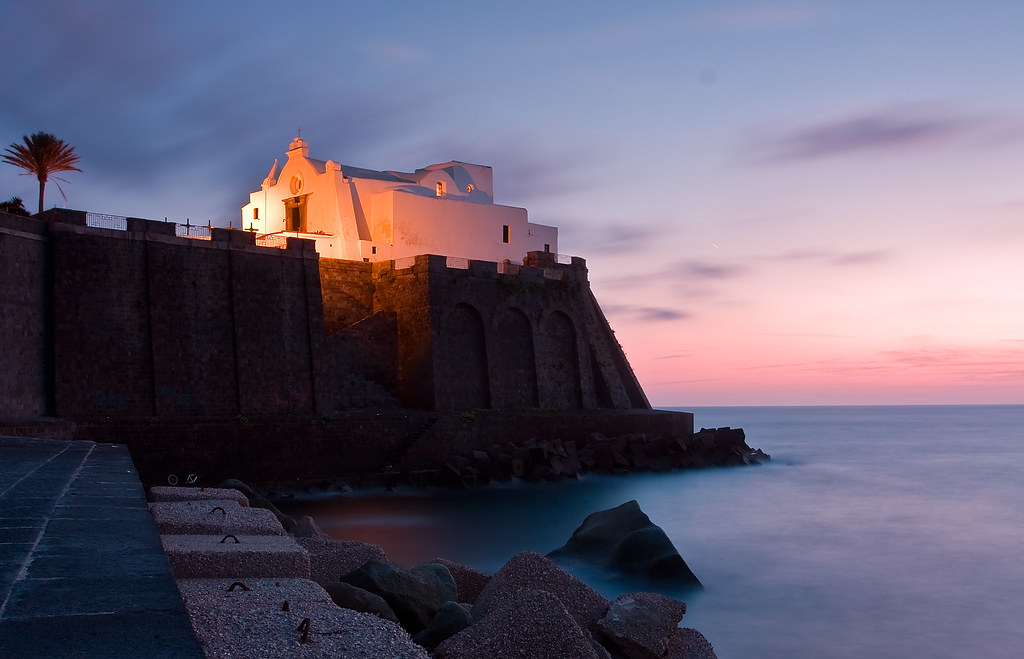 Inside the church, there is a chapel of the Crucifix, which hosts the wooden sculpture from the 15th century. It is said that the sculpture, in the shape of a crucifix, was brought there by a group of unfortunate sailors who got stuck on Ischia after the storm. After the storm passed, the sailors left it in place to protect all the sailors. To this day, the Church of Soccorso protects Ischia, and you will be able to see the offerings the locals present on your visit to the church.
Relax on the beaches
One of the best things to do in Ischia is sitting on the beach and listening to the sound of waves. Ischia has no shortage of gorgeous beaches all around it. In total, there are 23 beaches you could visit during your stay here. Most of the beaches are located on the northern side of the island. All of the beaches here are beautiful, with crystal-clear waters, and some of them even have healing powers! If you visit Ischia in the summer, it is well worth exploring each of these. Here are just the three you must not miss.
Maronti Beach 
Maronti Beach is the longest beach on Ischia Island, with almost three kilometers in length. The beach is full of sand and pebbles, but it is not recommended for people with smaller children, as the waters get very deep very soon. Still, if you want to spend a day at the beach, Maronti is the place for you. It is easily reachable by bus (number 10), and there are lots of sunbeds with umbrellas for rent.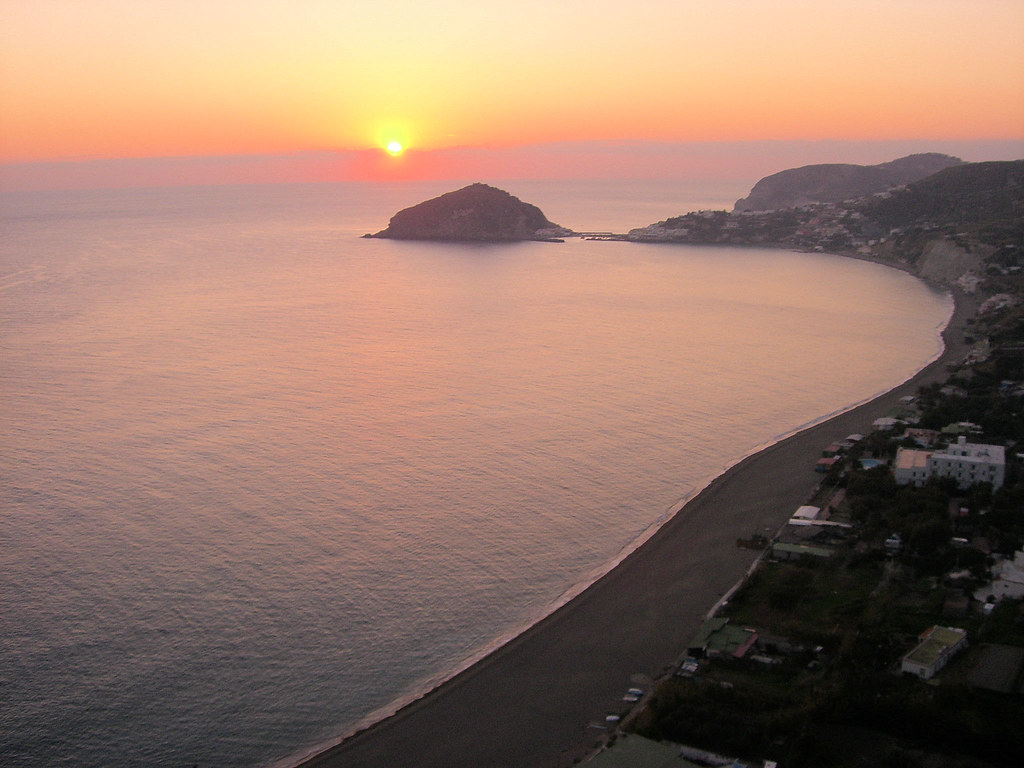 However, it is a free beach that stretches alternate with private beaches of hotels, restaurants, and bars that offer sunbeds and the amenities you might need for a comfortable day under the sun! Maronti Beach is also worth visiting even when the sea is not for swimming because you can always take a long walk or just sit and relax by the sound of waves.
Spiaggia di Citara
On the western side of the island, you can find Citara Beach. Unlike the Maronti, this one is perfect for families with small children as it is easily accessible and has gorgeous fine sand. The depth of the water varies among the stretches of free beaches and many establishments that offer sunbeds and other amenities. This beach is renowned for its sunsets and for the fact that Poseidon thermal baths are fairly nearby!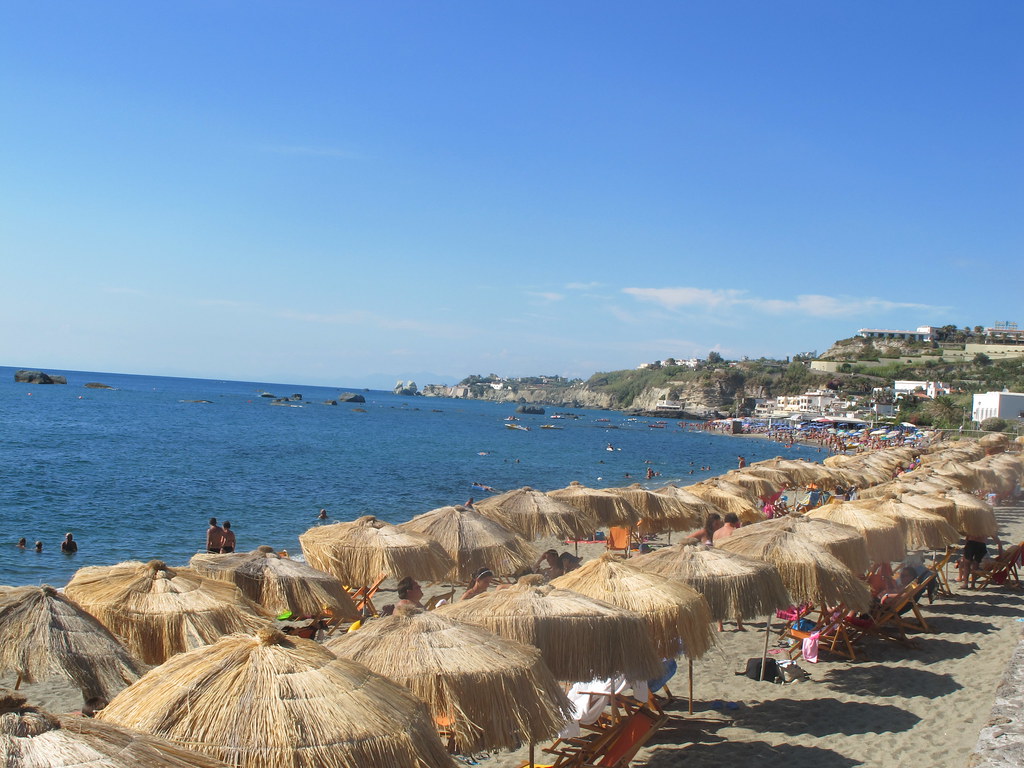 You can enjoy a beautiful panoramic view of Punta Imperatore. Also, you can even see the Ventotene island when the day is bright enough and without the haze. Keep in mind that Spiaggia di Citara is always crowded during the summer, so come early if you want to find a better spot on the beach.
Il Fungo
Now, if you want to enjoy a day in the sun and see something rather extraordinary, head on to Il Fungo Beach. It is located in Lacco Ameno, right along the town's seafront. The beach is also covered in stretches of free beaches and establishments that offer necessary amenities. However, tourists don't come here primarily for swimming. They come here to see (and take amazing pictures of!) a mushroom-shaped rock!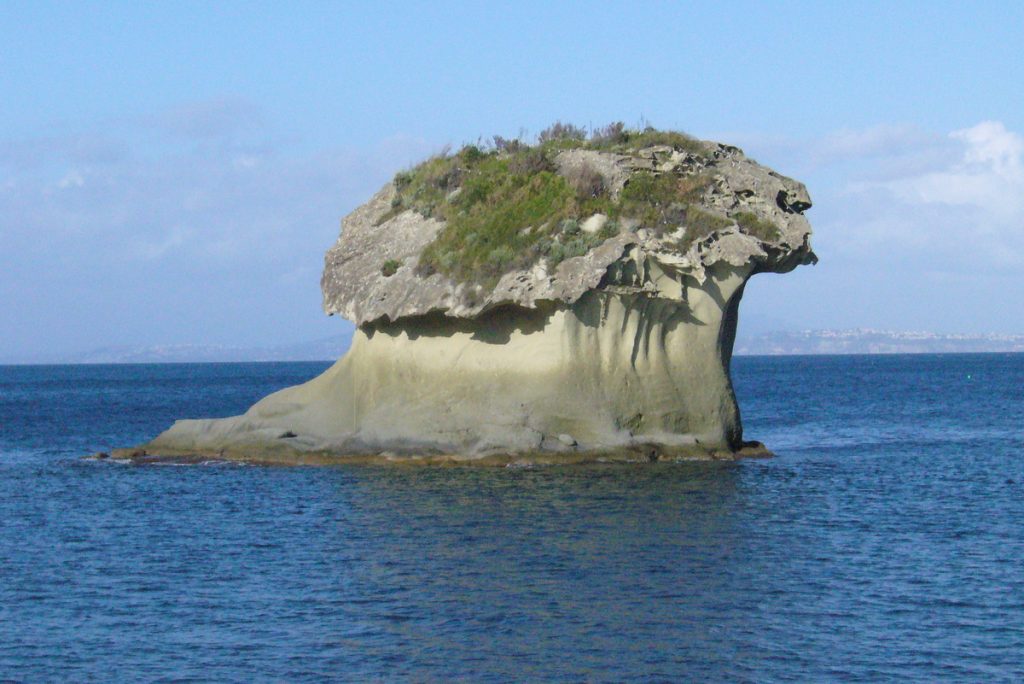 This rock, which proudly sits in the bay, fell from Mount Epomeo thousands of years ago, and it continues to enrich the local ambiance with its unique shape to this day. If you will be passing by Lacco Ameno on the bus, don't miss the opportunity to get off for a bit to take a photo, find a cafe with a view, and then get back on the bus and continue on your way.
Rent a boat or go on a boat tour 
If you can't afford a longer visit to Ischia, one of the most memorable experiences you can have is taking a tour of Ischia by boat. It is also a perfect experience if you visit in the summer, as you get to avoid the crowds and get a front-row seat to some memorable sightseeing. So, if you would like to see Aragonese Castle, Citara, San Montano Bay, and some beautiful coastal villas, these boat tours are an excellent choice.
Plus, most of them serve lunch on board, and they often make a stop for those who would like to squeeze in a good swim. Ultimately, you don't have to go around Ischia on a boat tour. If you have time to spare, you might consider taking a boat trip to nearby places such as Capri, Procida, or the famous Amalfi coast.
Book snorkeling tour
Ischia, with its beautiful waters and unique underwater volcanic phenomena, is the perfect spot to go snorkeling to discover these underwater miracles! All you need is a set of flippers, a good mask, a snorkel, of course, and an experienced guide, all of which you can easily find in many shops across Ischia. Many places offer exclusive tours with experienced guides. One of the most popular spots for snorkeling is Grotta Verde, or Green Cave, with its clear waters that turn green under the sun's reflections.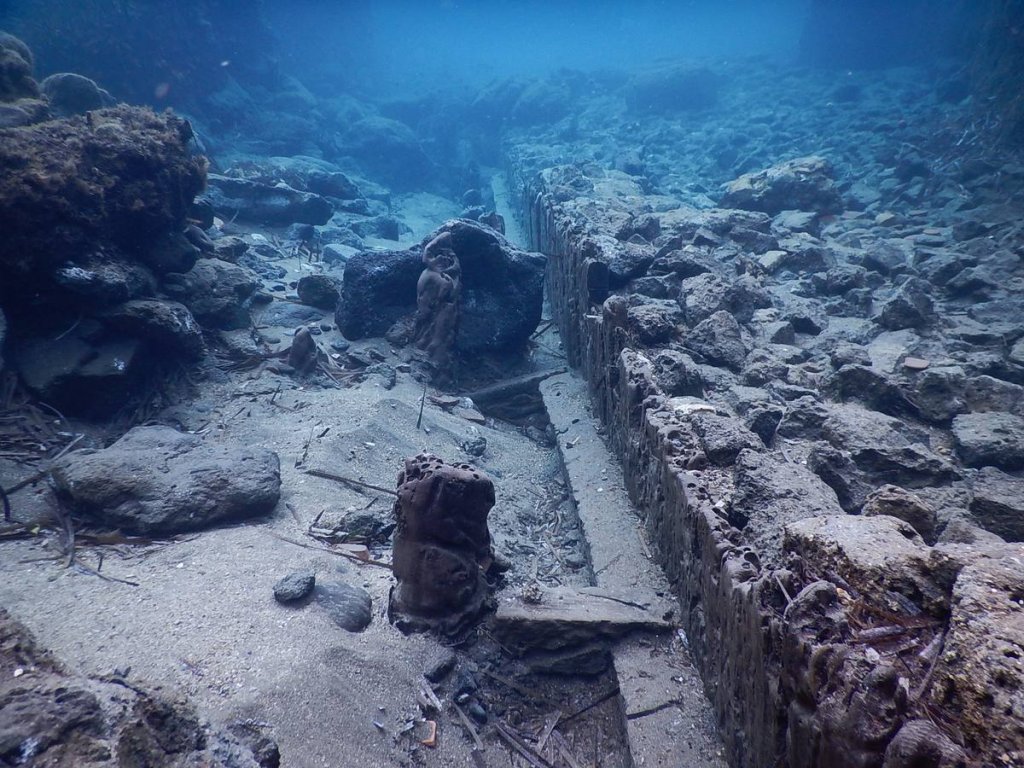 There is also Aenaria, an ancient Roman citadel that is nowadays, due to an unexpected natural disaster, completely submerged, and the cave of the Nymphaeum, which is an unmissable sight for anyone snorkeling. These tours cater to both beginners and experienced snorkelers. So, regardless of your experience, make sure not to miss this opportunity to uncover both common Mediterranean fish and marine species and some wonderful, one-of-a-kind sights. 
Try kayaking in Ischia 
If you love the waters but prefer being on top of them rather than under them, kayaking in Ischia might be the perfect activity for you. It will allow you to enjoy quality exercise under the sun yet visit and experience the beauty of Ischia, so don't hesitate to book yourself a tour! You will find excellent tours that accommodate all kayaking skill levels and provide an excellent experience under the guidance of expert local guides. Get in touch with nature and learn more about the island on a tour designed for you to discover the untouched beauties of Ischia.
You will explore secret beaches and beautiful lagoons that tourists would have a hard time enjoying without a small boat, making them pristine and unspoiled. This translates to some of the most perfect spots to observe the marine life that thrives in this region! The experienced guides will also tell you the most amazing stories and share some of the knowledge only locals know, making this an astonishing way to get familiar with Ischia. 
Visit Sant'Angelo village 
The most "in" village in Ischia is certainly Sant'Angelo. This beautiful and picturesque village of white and pastel houses, each with its own unique views of the sea, restaurants, and bars, is completely pedestrianized and somewhat hard to reach. It could be this distance that helped it maintain its charm and keep most of the tourists away. Therefore, Sant'Angelo is the perfect place for those who want to experience an authentic Italian life without mass tourism.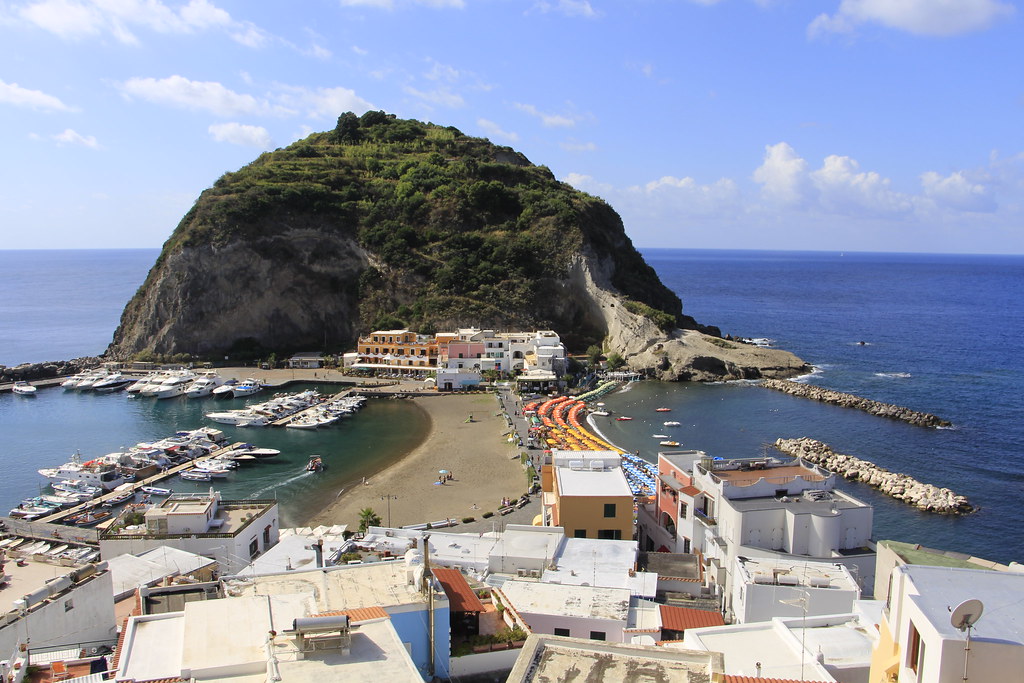 Also known as "little Capri", the Sant'Angelo village was beloved by many artists throughout history. In its center lies the Piazzetta, which is a tiny square filled with restaurants, shops, and art galleries. After your long walk through the beautiful streets, you will also find amazing beaches to relax under the sun, or take advantage of the great selection of thermal springs here to enjoy a nice warm bath in the evening! To reach this small village, just take a bus from Ischia Porto, and you will be there in about 50 minutes.
Get lost in Casa Museo
If you find yourself in Serrara Fontana on a rainy or super hot day, you should take the time to find and visit Casa Museo. The "House Museum" is a spectacular combination of historical artifacts and artwork by its owner, Salvatore Di Meglio. The museum has many rooms and tunnels to explore, all of them covered in mosaic artwork handmade by the owner. Di Meglio is proud to have used only natural materials to create this beauty, including pebbles, seashells, and other natural resources.
You will be able to see many artifacts from the historic Ischia as well, and you can even climb up a small path outside to reach a picnic place with beautiful views and some friendly goats. Casa Museo is open most of the year, and it is completely free to visit it. However, it is also expected that you leave a small tip for the owner in the designated fountain.
Take a photo of Guevara Tower 
Another unmissable sight on your trip to Ischia is the Guevara Tower. Contrary to your first association, it has nothing to do with the Cuban revolutionary leader. Rather, it takes its name after the noble family that used to own it. This tower was initially built to defend the island from pirate raids, which is the reason for its strict exterior.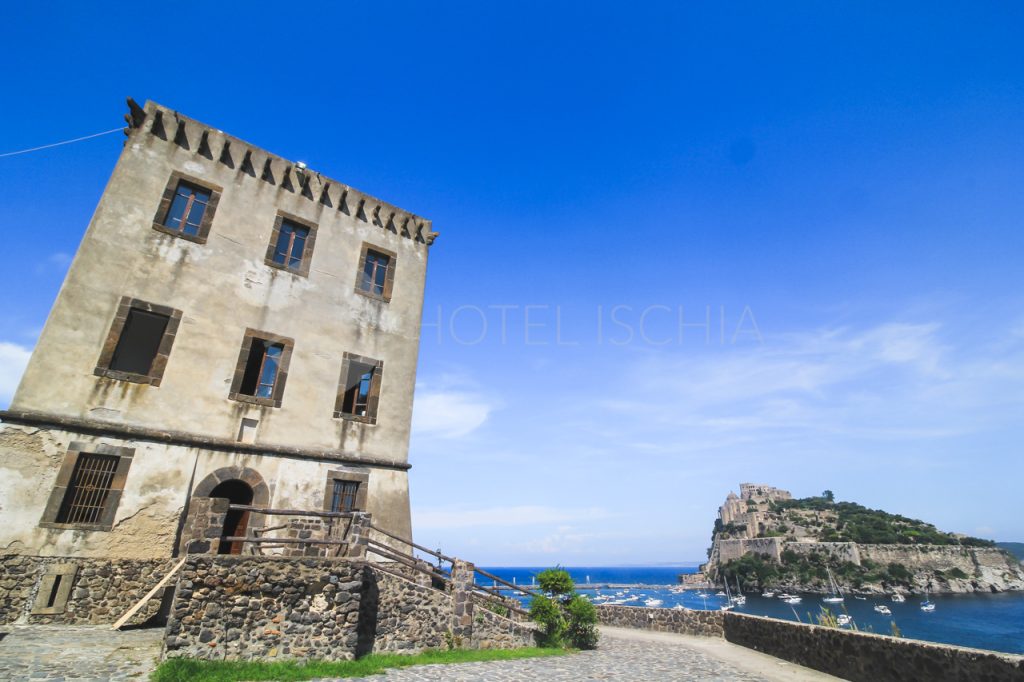 Rumor has it that it was once the home of Renaissance artist Michelangelo. Nowadays, you can see some incredible works of art inside the tower, as well as some frescoes that are even speculated to be made by Michelangelo. The tower and adjacent gardens these days regularly host exhibitions of international artists, so it is well worth taking a tour through its halls. 
Rent a scooter
Probably the best way to explore the whole island of Ischia is by scooter! Especially in the summer months, the streets of Ischia can get a bit crowded, which is why it is often recommended to leave your car at home. Lack of parking and narrow, crowded streets can be a bit too much to conquer with a four-wheeled vehicle.
This is why scooters are a perfect solution for getting around Ischia! You can find many excellent places to rent one and enjoy a fully "Roman Holiday" experience onboard a nice Vespa! Keep your eyes on the road, though, and a helmet on your head!
Go shopping in Ischia
After spending a couple of days in Ischia, we are absolutely certain you would like to take some of it home with you! You will find plenty of touristy souvenir shops around the island, so you will effortlessly find fridge magnets and other trinkets to bring to your loved ones at home. However, we highly recommend going with unusual, traditional gifts for souvenirs. For example, rucolino, an arugula-based liquor, is a traditional product of Ischia.
This liqueur is a bit on the bitter side and is often enjoyed after a meal. For its unique taste, rucolino should definitely find its way onto your shopping list. The second product that Ischia is famous for is ceramics. Ischia's ceramic traditions stem from prehistory, as the island is very rich in clay. It's not as convenient as taking home a magnet, but having a unique, designer ceramic to remember this trip by will certainly be worth it for years to come.
Now, if you have a lot of friends and relatives you would like to surprise with some unique souvenirs, we wholeheartedly recommend spices. There are several healthy and delicious herbs that grow spontaneously on the island, with oregano being the most famous. Locals use these for preparing their delicious meals, so you will find plenty of places that sell them as spices. You can bring them as souvenirs to your friends without breaking the budget or overwhelming your suitcase!  
Taste local food 
Being an island, Ischia's local cuisine is primarily based on seafood. You will find excellent seafood restaurants with the freshest fish to enjoy, as well as internationally recognized gourmet restaurants. Surprisingly, the dish Ischia is most famous for is Coniglio all'Ischitana (or Ischia-style rabbit)! Apparently, there were too many rabbits jumping across the island, so the Italians mastered the way to prepare it as a delicious meal.
It is often prepared in a terracotta pot and served with pasta as the first dish and meat as the second. It takes a long time to prepare, so it is recommended that you book it in advance in one of Ischia's renowned trattorias or farmhouses!
Visit Procida 
If you traveled to Ischia from Naples, your ferry likely stopped at Procida already! The entire area of this island is only 4 kilometers, making it a perfect choice for a day trip. You could start your sightseeing trip at Terra Murata, which is the historic center of this small island. From there, you could visit San Michele Arcangelo Abbey.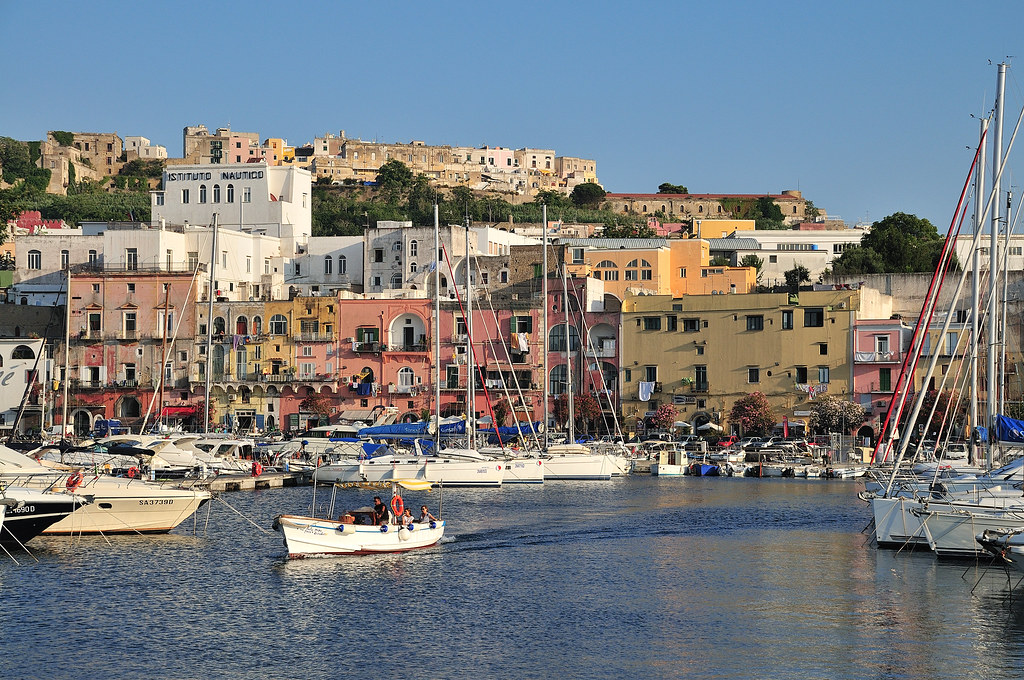 From the Abbey, take the staircase to the most renowned sight on Procida island: Corricella Harbor, the miniature and picturesque fishermen's village. There, you will also find plenty of restaurants for a delicious lunch on a remarkable pier.  
Take a day trip to Naples or Capri 
If you have an extra day to spare, you should consider taking a day trip to Naples or Capri from Ischia. Both are marvelous choices, and you won't regret visiting them! Capri is a fairly small island and has two main cities on it: Capri and Anacapri. Many locals and tourists will recommend taking a boat trip around Capri to see all the exquisite natural formations, including Arco Naturale, Tiberius' Leap, and the Faraglioni Rocks. This boat tour also goes by Punta Carena Lighthouse, which is another unmissable sight. 
Exploring the city of Capri is another fun activity that will take you an hour or two. Visit the main square of Capri and the Gardens of Augusto. If you have the time, you should also squeeze in a chairlift to Mount Solaro for some breathtaking views of Capri, Vesuvio, Ischia, and the Bay of Naples. Taking a day trip to Naples is another excellent idea we highly recommend, even though we think you need more time to properly explore it. Still, as a teaser for a potentially longer next holiday, a day trip here is an excellent idea.  
Naples is one of the oldest cities in Italy and is brimming with historical sights. We recommend starting your day trip at the historical center, visiting Gesu Nuovo, the Monumental Complex of Santa Chiara, and having lunch on the old Via Tribunali. We'd also suggest paying a visit to Sant'Elmo Castle and completing your day with a stroll down Naples' beautiful waterfront.
Other cool things to do in Ischia
If you like to experience authentic events while being on vacation, Ischia has a lot to offer. Some of the most popular are the Feast of Sant' Anna, which is held every July 26; the Feast of Sant' Alessandro and the parade of the costumes of the past, held every August 28; and The Feast of San Vito, held in June. Check out the whole schedule of events in Ischia, and visit the one that interests you the most.
Another cool thing to do in Ischia is to visit the market. Every village in Ischia has a market day once a week where you can find various products, from homemade food to clothes and other souvenirs. These markets are perfect places for those who want to find a unique thing for a bargain price. Keep in mind that you can always negotiate the price with sellers, so the price will depend on your skills.
Hey there! Some links on this page are affiliate links which means that, if you choose to make a purchase, we may earn a small commission at no extra cost to you. We greatly appreciate your support!