Most people would probably agree that authentic Italian cuisine is some of the most delicious and flavorful in the entire world. From its rich sauces and herb-infused meats to its hearty plates of pasta and creamy gelato desserts, just thinking about how much Italian food has to offer is enough to make your mouth water. When it comes to a location for some great Italian restaurants, Malcesine is no exception and boasts many of the finest eating establishments in the entire province of Verona.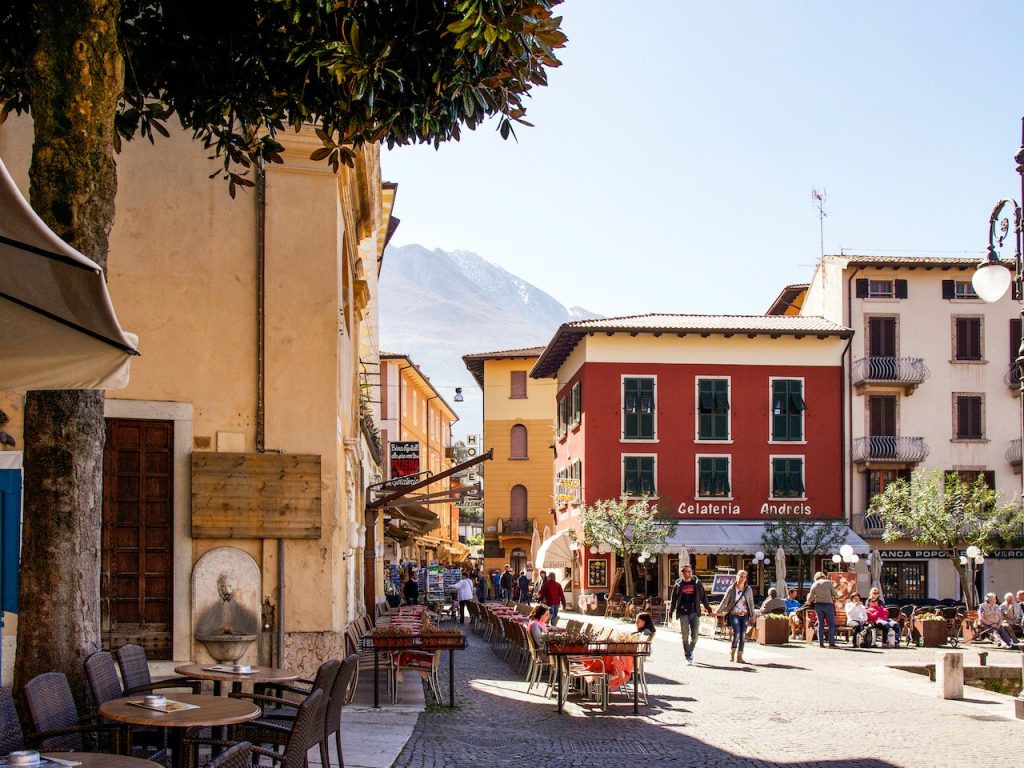 Located on the eastern shore of Lake Garda, this lovely town is best known for its storied history, picturesque mountain ranges, and romantic scenery. With all this in mind, there is arguably no better backdrop in all of Italy for some memorable meals than Malcesine. Unlike many Italian tourist towns that have succumbed to the pressures of the tourist trade, Malcesine has remained mostly true to the traditions of its roots.
As a result, the local restaurants are some of the finest and freshest you will find anywhere. The following guide showcases five of the top restaurants the charming town has to offer, their best dishes, and why it's worth your time to eat there. So, whether you are busy working on your tan by the lake in the summer or skiing the slopes in the winter, you will have one less worry knowing that all your restaurant needs are covered. Here are the best restaurants in Malcesine:
(This article contains 5 restaurants in Malcesine, which are best in our subjective opinion. The order of the restaurants is not related to the quality they offer. Every restaurant has its pros and cons, so choose the one based on your personal preferences.)
Vidoc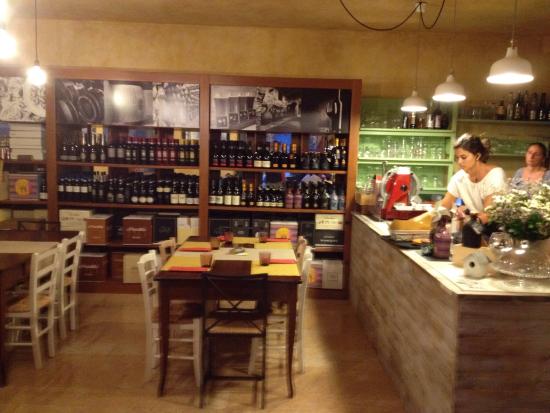 Situated on the quiet side street of Via Dosso, just several minutes from the Palazzo Di Capitani, Vidoc regularly ranks near the top of many online restaurant review sites. Its quaint, rustic architecture, cultured vibe, and inviting atmosphere are enough to get you through the doors before even looking at the menu.
Speaking of the menu, Vidoc offers a wonderful array of authentic Italian dishes to choose from as well as some cuisine from other cultures for you to enjoy also. Everything on the menu is made by hand here, including the famous Italian flatbread you will be munching on while you wait for your appetizers and main courses to arrive.
With every choice on the menu being a great one, it's hard to highlight one worth noting above the others, but their Sri Lankan Taste curry and Tiramisu are two of the most delectable choices according to reviewers. One thing worth mentioning, though, is that many of the dishes are also available as a vegetarian or gluten-free option, so you need not worry if you have specific dietary requirements.
Matching this with their reasonable prices, eclectic wine menu, and suave outdoor terrace vibe, it is easy to see why Vidoc is one of Malcesine's most highly rated restaurants. Although it might not share the same scenic views as some of the other restaurants on this list, this charming little restaurant is the spot for every foodie.
It is open every day except Wednesday for lunch from 12:00 PM (12:00 hours) to 2:00 PM (14:00 hours) and for dinner from 6:00 PM (18:00 hours) to 10:00 PM (22:00 hours). On Sunday restaurant is open only for dinner, while on Monday, it works all the time from 12:00 PM (12:00 hours) to 10:30 PM (22:30 hours).
Distance: 200 meters (0.1 miles) from Malcesine harbor
Phone: +39 045 657 0060
Al Bacio Restaurant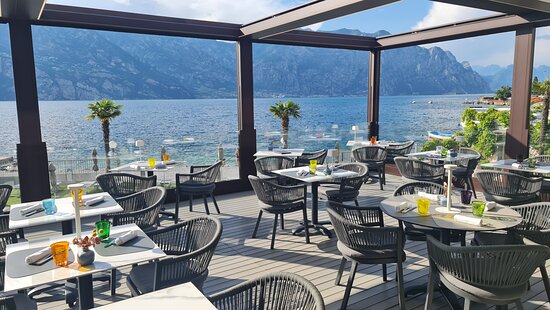 Located in the Hotel Castello Lake Front, Al Bacio's lakeside view is second to none in all of Malcesine. With the breathtaking expanse of Monte Bestone, Lago Garda, and the Scaliger Castle all within view, the ambiance of Al Bacio Restaurant is worth the experience, day or night.
The restaurant has both indoor seating and a beautiful outdoor patio section, so you shouldn't have little problem finding a table of your liking. Don't let the fact that Al Bacio is a hotel restaurant deter you, the food here is of the finest quality, and the menu is impressively large when compared with other restaurants. They provide a wide diversity of dishes, with their seafood-infused pasta ensembles being a signature.
Almost all of Al Bacio's dishes are light and balanced. The portion sizes might be a little bit small for some people, but all the food is beautifully presented and moderately priced, so you won't have to break the bank if you fancy another side dish or second dessert. Al Bacio also caters to a less sophisticated palette with Western favorites such as French fries, burgers, and onion rings.
So, if you are looking for fine dining or just want to grab a burger and a beer by the lake, check out Al Bacio, you won't be sorry that you did. It is open daily from 12:00 PM (12:00 hours) to 2:30 PM (14:30 hours) for lunch service and for dinner from 6:30 PM (18:30 hours) to 9:30 PM (21:30 hours).
Location: Via Paina 21
Website: H-C.it
Distance: 500 meters (0.3 miles) from Malcesine harbor
Phone: +39 045 740 0233
Ristorante Vecchia Malcesine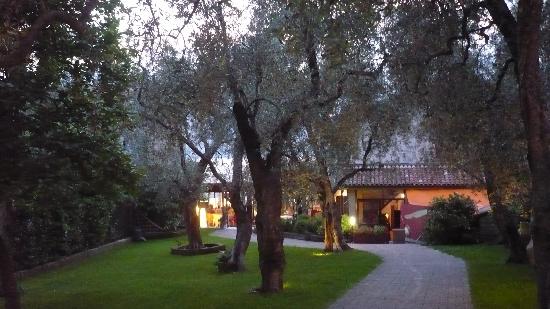 Ristorante Vecchia Malcesine is authentic Italian cuisine at its finest. With a suspended view above the lake from its window, this Michelin-star restaurant is a must if you are looking to indulge yourself in a fine dining experience you will remember long after it is over.
Everything you will find at Ristorante Vecchia Malcesine is of premier quality. The décor is classy, sleek, and ultra-modern while at the same time still managing to retain its vintage charm and heritage. Just like the furbishing and ornamentation, the food itself is also presented as a work of art and is just as much a visual experience as it is a culinary one.
At Ristorante Vecchia Malcesine, taste meets the modes of color and form, resulting in a layout that any modern artist would be proud of. Being a Michelin-star restaurant, expect the prices to be high and the portion sizes to be dainty at best, but with that being, it is more about the overall experience here. What the food lacks in size, it more than makes up for in flavor.
They also offer a tasting menu and wine pairing combination if you are struggling to decide on what to get. With many unique one-of-a-kind dishes, Ristorante Vecchia Malcesine is a must if you are looking to splash out while on holiday and bring back a story about a truly memorable culinary experience. This amazing place has opening hours From 12:00 PM (12:00 hours) to 1:30 PM (13:30 hours) for lunch and from 7:00 PM (19:00 hours) to 9:45 PM (21:45 hours) for dinner. Keep in mind that it is closed on Wednesday and Thursday for lunch.
Distance: 150 meters (0.1 miles) from Malcesine harbor
Phone: +39 335 637 7699
Joy's Place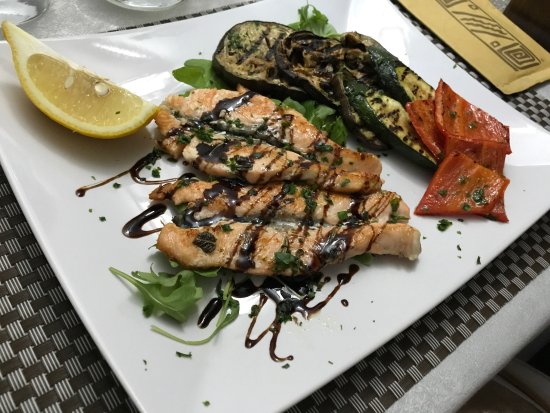 Joy by name and Joy by nature. Nestled snugly just off the main street of Piazza Statuto, Joy's place is the 'go to' spot if you are looking to stuff your face Italian style. Its affordable prices and big portions are just two of the reasons why you should stop by. When grabbing a table either indoors or outside, you will be treated to an incredibly authentic mood, laid-back atmosphere, and friendly staff.
One thing also worth mentioning that makes Joy's unique from some other restaurants in Malcesine is that it is open all throughout the year, so no matter what time of year you are there, they will have a table for you. Both the lunch and dinner service offer an extensive menu, so you won't be missing out on whatever time you decide to arrive. Speaking of the menu, above all else, the phenomenal food is the main reason why you should go check out Joy's.
Generous, to say the least, it's pretty much a guarantee that you will leave Joy's with a full belly and a wide smile. Everything is freshly cooked and expertly seasoned. Many of their courses come with multiple ingredients, such as shrimp and mussels, for example, and their massive pizzas are a hit with guests.
If you are looking for a fairly priced restaurant with a comprehensive and nourishing menu, be sure to check out Joy's Place. They open from 12:00 PM (12:00 hours) to 3:00 PM (15:00 hours) and then re-open for dinner from 6:30 PM (18:30 hours) to 11:00 PM (23:00 hours), which is the general standard for most places in town.
Distance: 150 meters (0.1 miles) from Malcesine harbor
Phone: +39 045 740 0819
Ristorante Al Gondoliere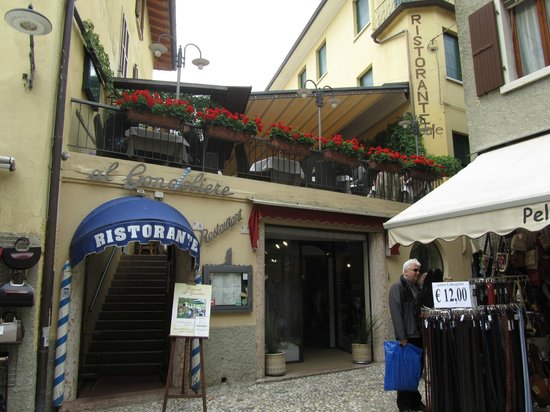 Located in the heart of Malcesine at Piazza Vittorio Emanuele, Ristorante Al Gondoliere is the quintessential Italian restaurant as far as appearances go. Its attractive old-world architecture and intimate open balcony seating make it an incredibly inviting venue for lunch or dinner. Ristorante Al Gondoliere specializes in Mediterranean seafood dishes and is truly superb in this regard.
All of their dishes are tremendously colorful and appealing to the eyes, with an enriching taste and flavor to match their presentation. The majority of their dishes are homemade, and many of their ingredients are locally sourced. These factors lend themselves to the overall flavor and presentation of the meal. When you dine at Ristorante Al Gondoliere, you can rest easy knowing that all the food is fresh, and this is wholeheartedly reflected in the taste.
If you are not a fish lover, this place might not be your first choice on the list. However, they provide enough 'non-fish' courses on the menu to keep everyone happy. The homemade gnocchi and stuffed pasta are two favorites among reviewers, and portion sizes have been praised as generous. The establishment is a little on the small side as far as seating goes, but this intimate setting and amorous balcony setting are part of the charm.
The staff is friendly and engaging, and the restaurant has been applauded for the atmosphere it provides. Ristorante Al Gondoliere opens its doors from 12:00 PM (12:00 hours) to 2:00 PM (14:00 hours) and then again for dinner from 6:00 PM (18:00 hours) to 10:00 PM (22:00 hours) seven days a week. There is no booking required for a table, but due to its relatively small size, it's always a good idea to call ahead just in case.
Distance: 150 meters (0.1 miles) from Malcesine harbor
Phone: +39 045 964 1107
Where to find the best restaurants in Malcesine?
Even though Malcesine is quite a small town, it is full of charming little family-owned restaurants that serve mostly homemade food made of local ingredients. Furthermore, because of its structure, everything in Malcesine is close to each other, so you won't need to walk far to reach your wanted destination. Worth mentioning is that in Malcesine, there are no many tourist traps as in other popular Italian cities. Therefore, you can easily find your restaurant only by looking at its menu rather than checking reviews online, which can be pretty time-consuming.
Check out more articles about Malcesine:
Hey there! Some links on this page are affiliate links which means that, if you choose to make a purchase, we may earn a small commission at no extra cost to you. We greatly appreciate your support!