Just like most of Tuscany, the quaint hilltop town of Montepulciano is known for its stunning scenery, sprawling vineyards, authentic Italian heritage and culture, and beautiful Medieval architecture. In fact, when it comes to these things, it could be argued that no other region in all of Italy has quite the same combination of qualities that Tuscany does. Coinciding with its long and storied history, both Tuscany and Montepulciano have developed an unrivaled reputation for their incredibly high-quality cuisine and delicious dishes, many of which can trace their origins back hundreds of years.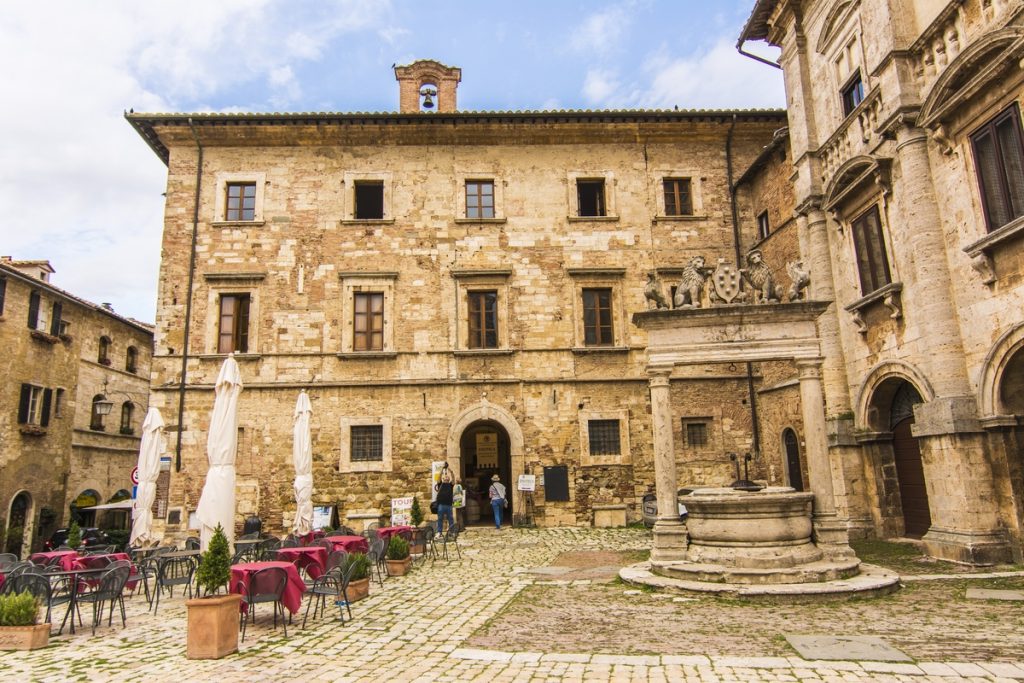 Therefore, Montepulciano and the surrounding areas are hosts to some of the very best restaurants Italy has to offer. This crème de la crème standard can be found all throughout, meaning that when it comes to deciding what to eat, it can be a case of too much choice and can result in some anxious dinner decision-making. With that being said, you need not fear because we are here to help. Here are the best restaurants in Montepulciano:
(This article contains 5 restaurants in Montepulciano, which are best in our subjective opinion. The order of the restaurants is not related to the quality they offer. Every restaurant has its pros and cons, so choose the one based on your personal preferences.)
La Vineria Di Montepulciano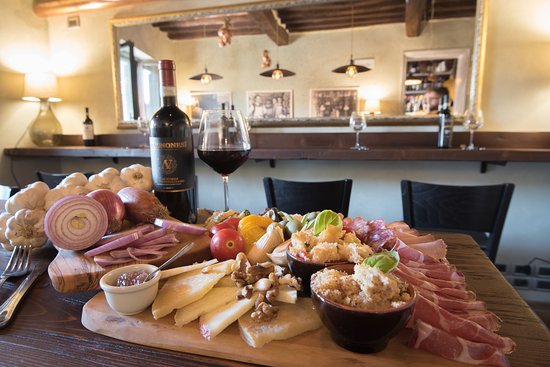 La Vineria Di Montepulciano is known as one of the best and most highly respected restaurants in Montepulciano for a number of reasons. As a restaurant, the food is unmatched in terms of taste and cultural authenticity. As a wine bar, it is second to none in terms of quality and choice, and as a general venue to spend an afternoon or evening, the atmosphere at La Vineria Di Montepulciano is both relaxed and romantic. Don't forget to order Vino Nobile di Montepulciano, a famous red wine and a symbol of this town.
Another strong advantage of La Vineria Montepulciano, according to many guests, is the friendly service and casual vibe. The delicious food is also fairly priced compared to many other restaurants, so you will have wonderful dining instead of being in just another tourist trap place. Speaking of the food, you won't find a better meat and cheese board in all of Tuscany at a better price than at La Vineria Di Montepulciano.
Somewhat more basic Tuscan dishes than some of the other restaurants on this list, it is the perfect spot to grab a sandwich and a glass of wine rather than a three-course meal. One downside that must be mentioned, though, is that the restaurant itself is quite small, and seating is limited, so it is best to book a reservation in advance to be sure that you will get a good table.
You can grab a table at La Vineria Di Montepulciano pretty much at any time on any day. The restaurant is open seven days a week from 12:00 PM (12:00 hours) to 11:30 PM (23:30 hours), Monday to Thursday, and 12:00 PM (12:00 hours) to 12:00 AM (00:00 hours), Friday to Sunday.
Distance: 700 meters (0.4 miles) from the center of Montepulciano
Phone: +39 057 885 0153
Il Teatro Cucina Toscana
One thing you will notice right away when you arrive at Il Teatro Cucina Toscana is a blend of old-world architecture and modern décor. It does a phenomenal job in seamlessly blending the two together, resulting in a dining experience that is both extravagant and, at the same time, grounded in its historical roots.
This blend of modern innovation mixed with traditional roots continues throughout Il Teatro Cucina Toscana's attractive menu too. Above everything else, the restaurant serves dishes in a very unique way that really makes it stand out from its competitors.
So, it offers a wide selection of distinctive dishes to its guests that are both beautifully presented, in some cases bizarre to look at, and always delicious. Il Teatro Cucina Toscana is the kind of restaurant experience you tell your friends about afterward and has an element of fun to its dishes to go alongside the great Italian taste.
Some might say the presentation of the food is a little pretentious and that the portion sizes are a little small. But at least they are reasonably priced, and as far as an unusual restaurant experience, is definitely worth your time. The restaurant is open all week long for both lunch and dinner service. Lunch starts from 12:00 PM (12:00 hours) to 2:30 PM (14:30 hours), while dinner begins at 7:00 PM (19:00 hours) and ends somewhat early at around 9:30 PM (21:30 hours).
Distance: 100 meters (0.1 miles) from the center of Montepulciano
Phone: +39 057 844 0368
L'Altro Cantuccio Ristorante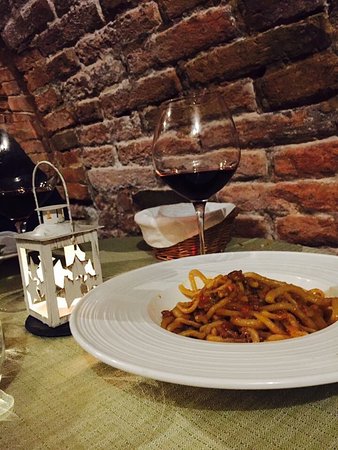 If you are on the lookout for something more conventional and based on traditional Tuscan cuisine, then L'Altro Cantuccio Ristorante is the place for you. Like any good local restaurant, it offers the best traditional food while, at the same time, also providing a modern and extensive menu.
With a huge wine list with over 400 labels gathered from all corners of the Earth and a menu that boasts an abundance of fantastic seafood, steak, pasta, and dessert dishes, the biggest challenge you will face at L'Altro Cantuccio Ristorante is choosing exactly what to eat and drink.
Thankfully they also supply wonderful tasting menu options, so you won't feel like you are missing out. The sleek furnishings and classic brickwork also greatly add to the atmosphere and overall dining experience. As far as some of L'Altro Cantuccio Ristorante's signature dishes go, online viewers are all in agreement that the Ravioli Di Piccione, Ragu Toscano, and L'Altro 'Flowerpot' Tiramisu are all excellent choices.
Keep in mind that the sizes of the portions are artistic and small, so this restaurant is only for those who want to enjoy a fine dining experience at its best. The opening hours are somewhat different in that the restaurant is closed on Thursdays and only opens for dinner service on Fridays. Other than this, it is open all week, with lunch running from 12:00 PM (12:00 hours) to 3:00 PM (15:00 hours) and dinner running from 7:00 PM (19:00 hours) to 9:30 PM (21:30 hours).
Distance: 550 meters (0.3 miles) from the center of Montepulciano
Phone: +39 057 875 8364
Rosso Rubino Trattoria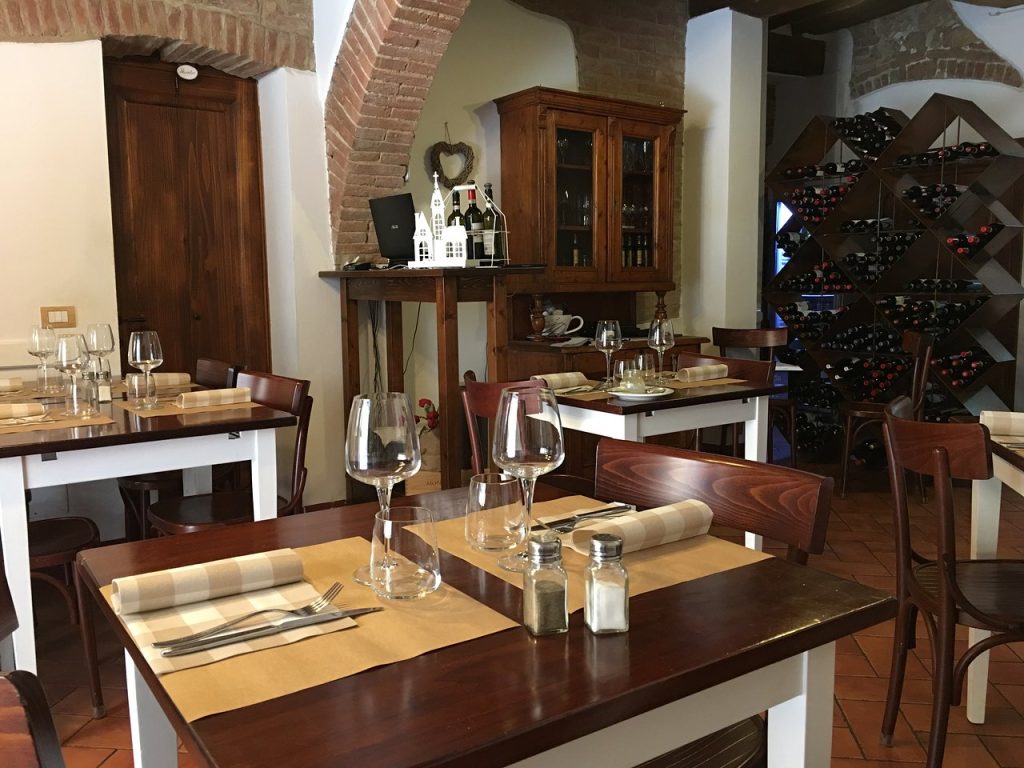 Rosso Rubino Trattoria is a small family-run restaurant, and this "family vibe" can be felt all throughout the restaurant and in every homemade dish. This sweet little gem of a diner is the perfect place for those looking for a venue to eat that puts focus on the food first rather than trying to impress customers with glitzy décor or gimmicky dishes.
The menu of Rosso Rubino Trattoria offers a wide selection of traditional Italian, Tuscan, and Mediterranean cuisine, as well as a whole host of incredible homemade desserts and local wines. The mama and poppa feel of the place really comes across in some of these dishes, especially in the desserts. As far as the dishes go, the wild boar is a particular selling point for meat lovers looking to try something a little bit different, while the roasted potatoes and lasagna also come highly recommended.
For those who love desserts, the homemade chocolate cake is a must-try, as is the Panna Cotta and the Semifreddo. Like many restaurants in the region, Rosso Rubino Trattoria is open seven days a week for both lunch and dinner. Lunch service starts at 12:30 PM (12:30 hours) to 2:30 PM (14:30 hours), while dinner service takes place for just two hours, from 7:30 PM (19:30 hours) to 9:30 PM (21:30 hours). So, if you are planning on going to dinner, it is best to arrive as early as possible or make a reservation in advance.
Distance: 200 meters (0.1 miles) from the center of Montepulciano
Phone: +39 057 871 6373
La Pentolaccia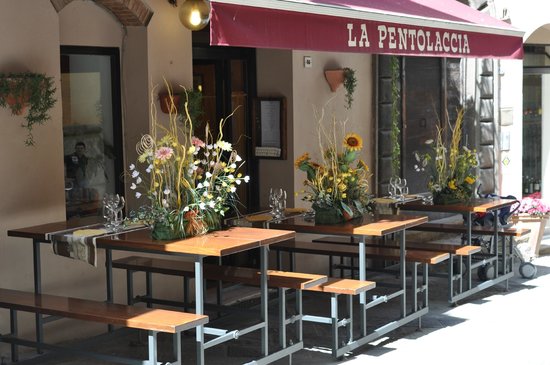 Located in the heart of the old town, the interior design of La Pentolaccia is quite the sight to behold and the distinguishing feature of the restaurant. Grounded in a classic red clay finish, accompanied by warm lighting, captivating artwork, fashionable wooden furniture, and voguish tablecloths, the vibe at La Pentolaccia is as bona fide Tuscan as can be. For a relatively small and traditional restaurant, both the food and wine selection at La Pentolaccia is rather extensive and chic.
With almost every dish you would expect to find at an authentic Italian restaurant available, La Pentolaccia has you covered whether you are looking for something basic or are feeling adventurous and willing to try something new and typically Italian. All the dishes are adequately priced, as is the wine, and both of which come highly praised for their presentation and quality.
Speaking of some dishes that are a bit different and worth trying, the truffle pasta is a particular favorite, while the Pork and Prunes dish is a unique combination that surprisingly works well. La Pentolaccia is open from 12:00 PM (12:00 hours) to 3:00 PM (15:00 hours) for lunch and then again for dinner from 7:00 PM (19:00 hours) to 10:00 PM (22:00 hours). The restaurant is small, and tables both inside and outside are quite limited, so keep this in mind before you go.
Distance: 350 meters (0.2 miles) from the center of Montepulciano
Phone: +39 057 875 7582
Where to find the best restaurants in Montepulciano?
Montepulciano is truly a town every food lover should visit. It offers so many top-quality restaurants that you will be overwhelmed with choices. This is the place where you have better odds of picking an excellent restaurant over the bad one when choosing blindfolded. Therefore, whichever restaurant you choose from our list, we guarantee that you will have a unique and memorable dining experience.
But there are many more amazing restaurants in the town and nearby. If you want an exquisite dining experience, check out a Michelin-star restaurant called La Bottega del Nobile. There are also some more which are very good, but it would be almost impossible to include them all in the article, so you can always check the menu from the restaurant you like on the Internet, as most restaurants here have their official websites. Restaurants are spread throughout the town, but reaching any of them in such a small town is not a problem.
Check out more articles about Montepulciano:
Hey there! Some links on this page are affiliate links which means that, if you choose to make a purchase, we may earn a small commission at no extra cost to you. We greatly appreciate your support!