If you have heard of Montepulciano, there is a high chance you have heard of the popular wine named after this town located in Tuscany. While its famous wine is well worth sampling, there is much more to this quaint Italian town than you might expect. In fact, it was even used as a location for the popular fantasy romance film, Twilight: New Moon. It's worth noting that Montepulciano is located high on a hill, so it is not for the faint-hearted when it comes to dealing with hills.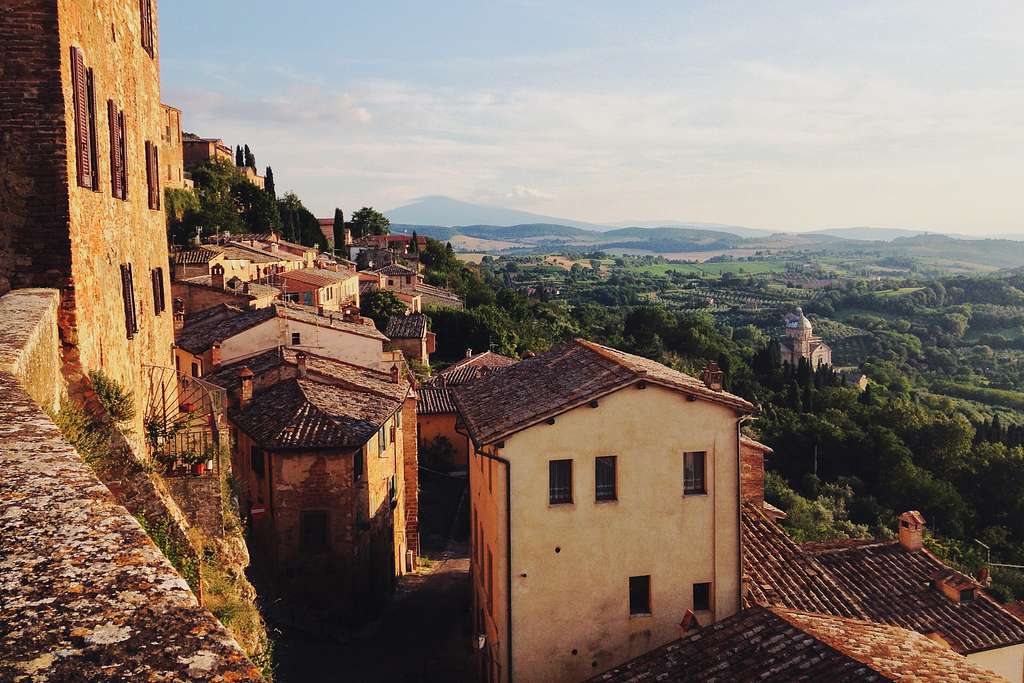 Luckily, Montepulciano is so beautiful that you won't mind meandering slowly up and down its slopes because you will be too busy enjoying the views. Montepulciano is a medieval hilltop town, so like many other Italian towns and cities, it is steeped in history as well as sights from centuries ago. Whether you are touring Tuscany or simply plan on heading straight to this charming town, we have got you covered. Here are the best things to do in Montepulciano:
Take a stroll down Il Corso
Pack a pair of comfortable walking shoes when you visit Montepulciano because the best way to navigate this charming town is on foot. One street, in particular, is worth taking a stroll down. Il Corso is a kilometer-long main street that runs between Piazza Grande and the ancient city gate, Porta al Prato. If you are trying to follow a map, this street can be a bit confusing at first. Although it is commonly referred to as "il Corso," it is not normally labeled on a map in this way.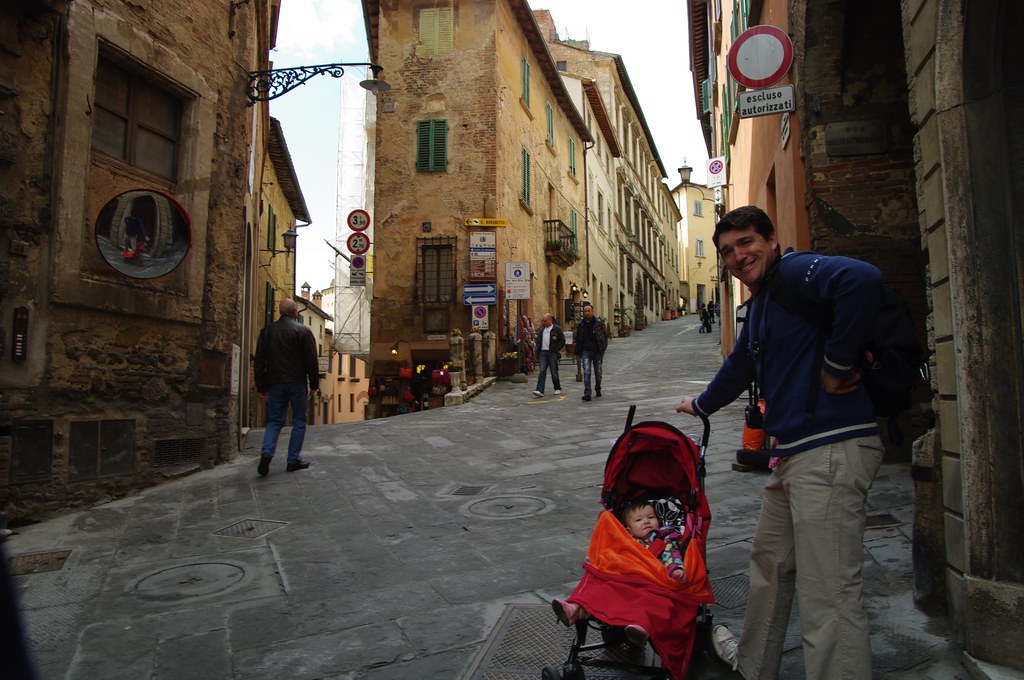 The street starts at the Porta al Prato gate as Via di Gracciano nel Corso, then you will come to Via di Voltaia Nel Corso, and after that, it becomes Via dell'Opio Nel Corso, and finally Via Poliziano. Il Corso is home to plenty of sights, including the Church of Saint Agostino, Torre di Pulcinella, and Palazzo Bucelli, and it is considered one of the most iconic streets in Montepulciano. While casually walking, you can admire beautiful mansions that were once homes of wealthy people in the town.
Along the way, you will see many restaurants, wineries, gelato stands, little shops with arts and souvenirs, and handmade leather stores. Keep in mind that Il Corso goes uphill when walking into town and downhill when leaving downtown. The slope is gradual and gentle rather than incredibly steep, so it is easily manageable for most people. However, if you don't want to walk uphill, take a bus to get to Via dell Teatro, and from there, you can cross Il Corso by walking downhill.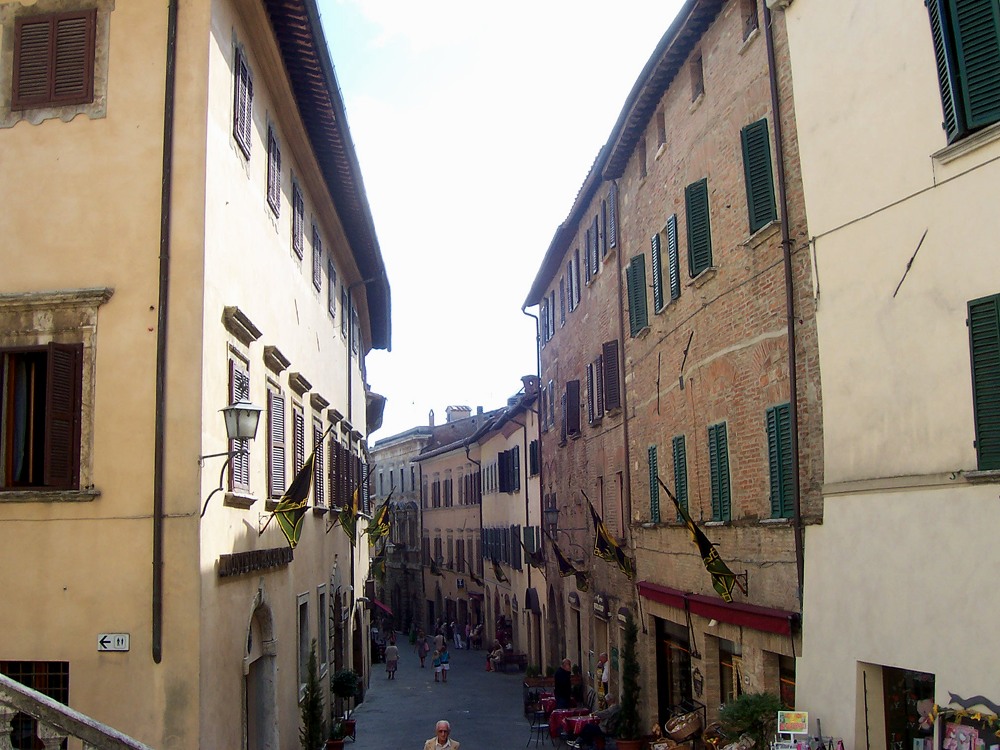 Even though this is a pedestrian zone, a few occasional trucks can go uphill/downhill at rapid speed. There are always enough people on this street for it to be buzzy, but the street is not crowded as some in Florence or Siena. Therefore, you should definitely walk down this iconic road at a leisurely pace to allow yourself adequate time to take in all the beauty, both natural and man-made. 
Visit the famous Piazza Grande in Montepulciano
Considered to be Montepulciano's beating heart, the Piazza Grande (as the name suggests) is the town's largest and central square, home to the hustle and bustle and a constant buzz from residents and tourists. Its official name is actually Piazza Vittorio Emanuele, but everyone called it Piazza Grande. This square sits at the top of the hill, in the heart of Montepulciano and somehow reminds of the famous Piazza della Signoria in Florence.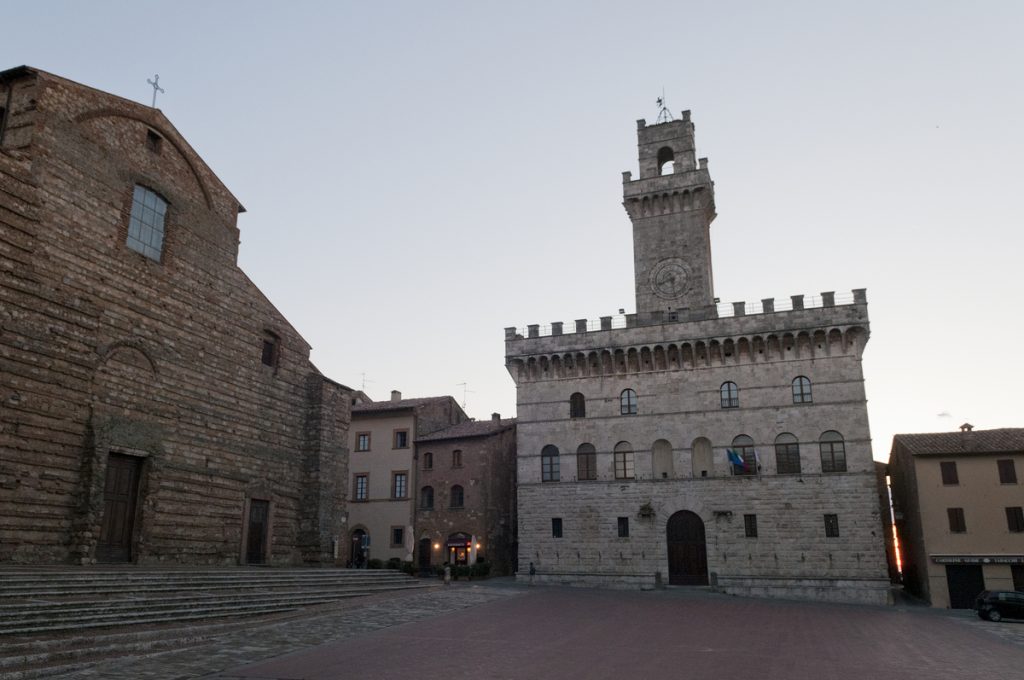 Also, Piazza Grande is the only flat area in this Tuscan town where all streets are sloping, so it is the perfect place to rest a bit from walking up and down. The square is filled with many historical sights, such as the cathedral, the town hall, the clock tower, Palazzo Contucci, and Il Pozzo dei Grifi e dei Leoni. Furthermore, there are many small cafes that are perfect for relaxing and watching locals go by.
In the summer months, Piazza Grande is the center of activities in Montepulciano because there are many open-air concerts. They are usually held when it is not so hot, so be sure to check this square again in the evening.  
Check out Il Pozzo dei Grifi e dei Leoni in Montepulciano
Il Pozzo dei Grifi e dei Leoni is a water well often mistakenly referred to as a fountain. It is more than 500 years old and tucked into a corner of Piazza Grande, in a small space between the Palazzo dei Nobili Tarugi and the Palazzo del Capitano del Popolo. On its top, there are two rather tame-looking lions holding a shield, two mythical griffins, and two small sphinxes.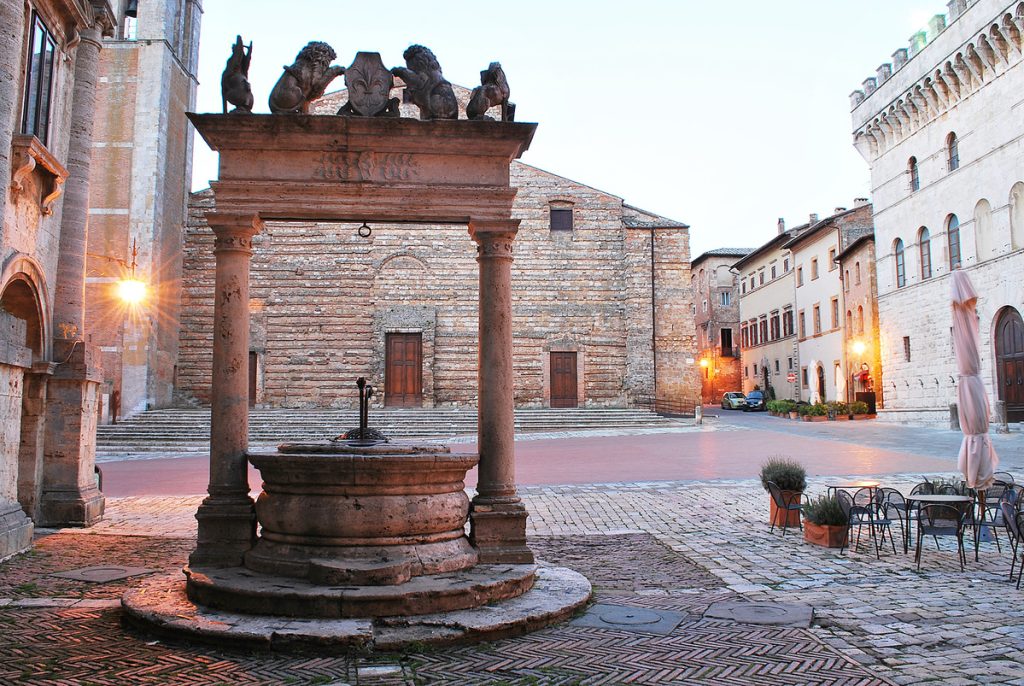 The lions represented Florence as Montepulciano was at that time under the control of Florence, while the shield with the 6 balls is actually the powerful Medici family crest. Furthermore, on either side of the lions, there is a griffin representing Montepulciano, The well is worth quick checking out, and you can take a few photos too.
Take a look at palaces on the main square
Piazza Grande is home to beautiful palaces that you should at least take a look at. Those are the Palazzo Comunale, or the town hall, and the noble palaces of the Contucci, the Nobili-Tarugi, and the Capitano. Montepulciano is one of the few towns in Tuscany that has so many palaces on the main square. Let's dive into each one of them.
Palazzo Comunale in Montepulciano
When you come to Piazza Grande, the first thing you will notice will probably be Palazzo Comunale or the town hall. This magnificent palace dates back to the late 14th and early 15th century, and it is very similar to the Palazzo Vecchio in Florence. This palace is covered entirely in travertine and has a beautiful terrace that can be visited for a small fee.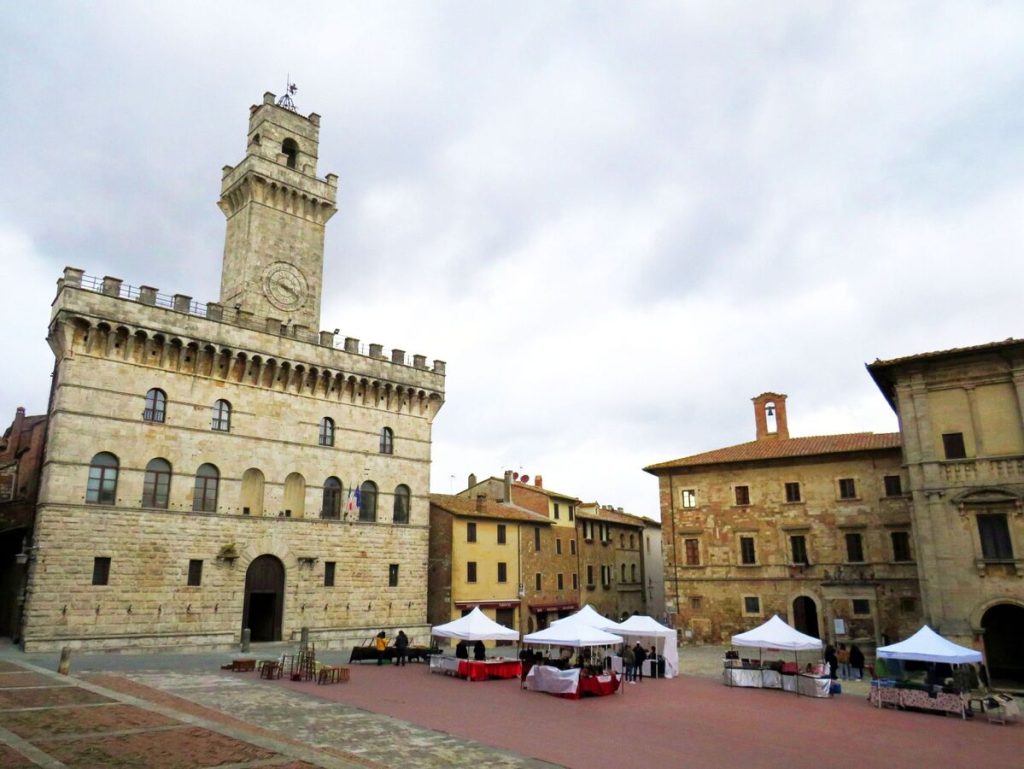 It is open daily between 10:00 AM (10:00 hours) and 6:00 PM (18:00 hours) from April to November and also during the Christmas period. Palazzo Comunale is the most photographed building in Montepulciano, so don't forget to bring your camera and snap some cool photos for your album.
Palazzo Contucci in Montepulciano
In the eastern part of the square, you will find Palazzo Contucci. It was built in the year 1519 and was firstly the home of the Del Monte family. However, in 1642 it became the house of the Contucci family, who still live in the building today. This palace is not open to tourists but you can freely visit the enoteca and the wine cellars, where you can taste and buy delicious homemade wines from the Contucci family production.
Palazzo Nobili-Tarugi in Montepulciano
Another palace worth checking out is Palazzo Nobili-Tarugi from the early 16th century. You will recognize it by the main entrance, which is a cathedral-like. This lovely palace is still privately owned today and therefore not open to the public.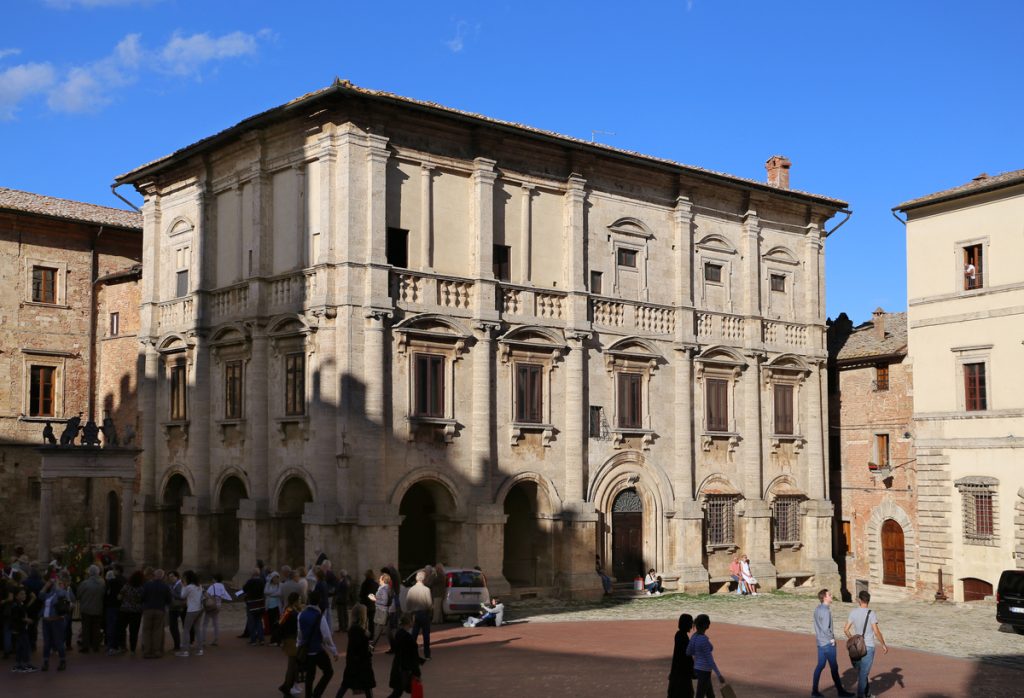 Palazzo del Capitano in Montepulciano
The oldest one among these palaces on Piazza Grande is Palazzo del Capitano. It dates back to the 12th or 13th century, but it underwent renovation works in the 18th century, which gave the building its current appearance. Nowadays, there are some municipal offices and a large meeting room for various conferences.
Climb the clock tower in Montepulciano
If you want to experience the best views of the town and surrounding landscape, you should climb to the top of the clock tower in Piazza Comunale. Walk into the quiet courtyard of Comunale, turn to the left, and take the elevator to the ticket office for the terrace and tower. Keep in mind that the view from the terrace level is not something special, but climbing up to the tower is totally worth it.
On top, you will have breathtaking 360-degree views of Montepulciano and the hills of Val d'Orcia. Also, the additional bonus is the view of the mechanism of the clock in the tower and the massive bell. However, climbing is not for those who fear heights and tight spaces because the steps are extremely steep and narrow.
Visit churches in Montepulciano
Italy has a long history of religion, Catholicism in particular, so you can count on there being at least one stunning church to visit in every town. And Montepulciano has two of them that everyone should visit. Those are the church of San Biagio (Sanctuary of the Madonna di San Biagio) and the cathedral (Cathedral Saint Mary of the Assumption). If you are really into churches, and want to visit more of them, other holy places to visit are St. Agostino Church (Chiesa di Sant'Agostino), the Church of Gesu (Chiesa del Gesu), the Church of Santa Maria dei Servi (Chiesa di Santa Maria dei Servi and the Convent church of Saint Agnes (Parrochia di Sant'Agnese).
Church of San Biagio
Located just outside the walls that surround the historic center of Montepulciano, there is a beautiful Renaissance Church of San Biagio, completely surrounded by greenery. It sits at the foot of the town, so you will have to walk down the scenic road surrounded by cypress trees while admiring stunning Tuscan countryside along the way. If you prefer not to walk, take the city tourist bus that travels down to the church.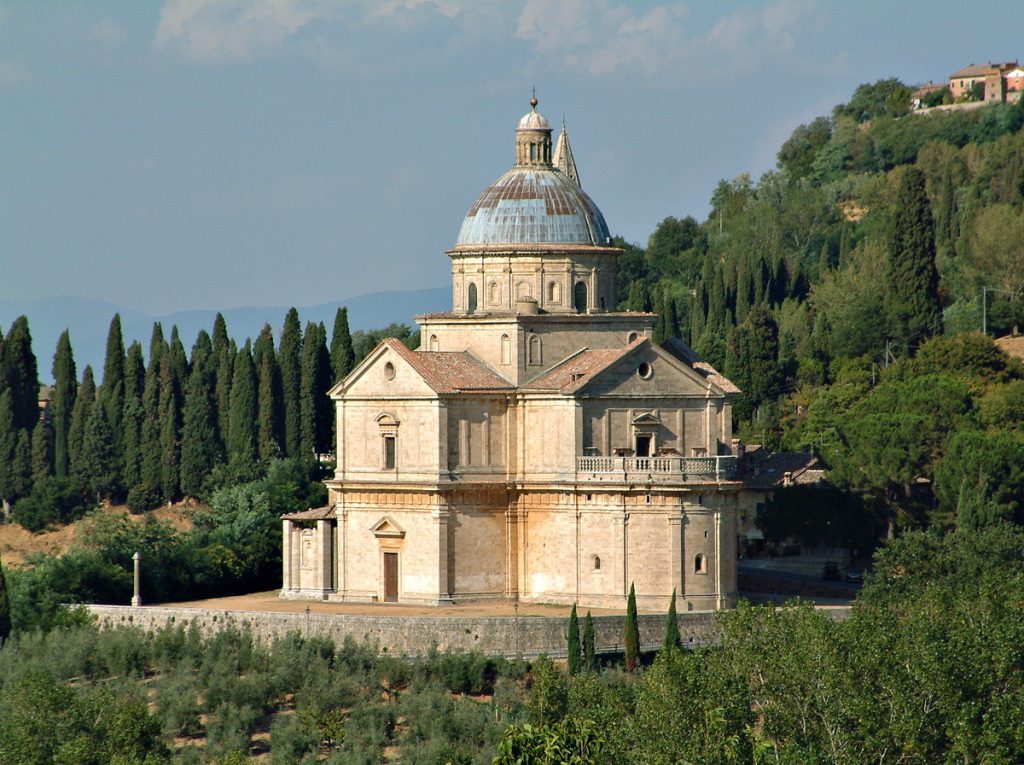 It was built in the 16th century, and it is visible from various points of the town thanks to its large dome and bell tower. Actually, the best photos are taken when viewed from a distance. The Interior of the church is a bit plain but still attractive, especially if you want to see 16th-century frescoes. To get inside, you will have to pay a small fee, and the audio guide is included in the price.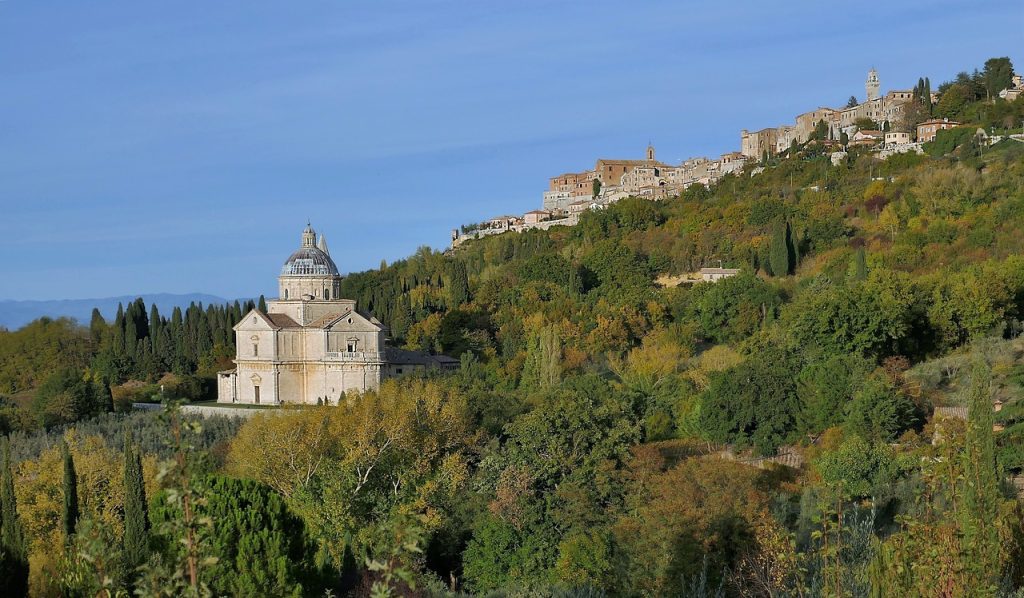 In the audio guide, you will hear a cool thing you can do while inside. Church of San Biagio has a unique acoustic, so you can clap your hand while standing directly under the dome, and you will hear 20 echoes. Believe us, it really works! The opening times of the church are constantly changing, so it is best to check out the official website.
Cathedral in Montepulciano
If you come to Piazza Grande, you will find yourself in front of the Duomo. It is Montepulciano's most famous church, even though it is made of bare bricks. The first impression you will have is that cathedral looks unfinished from the outside. And you will be right! Construction started in 1586, and the plan was to cover the whole church with beautiful marble.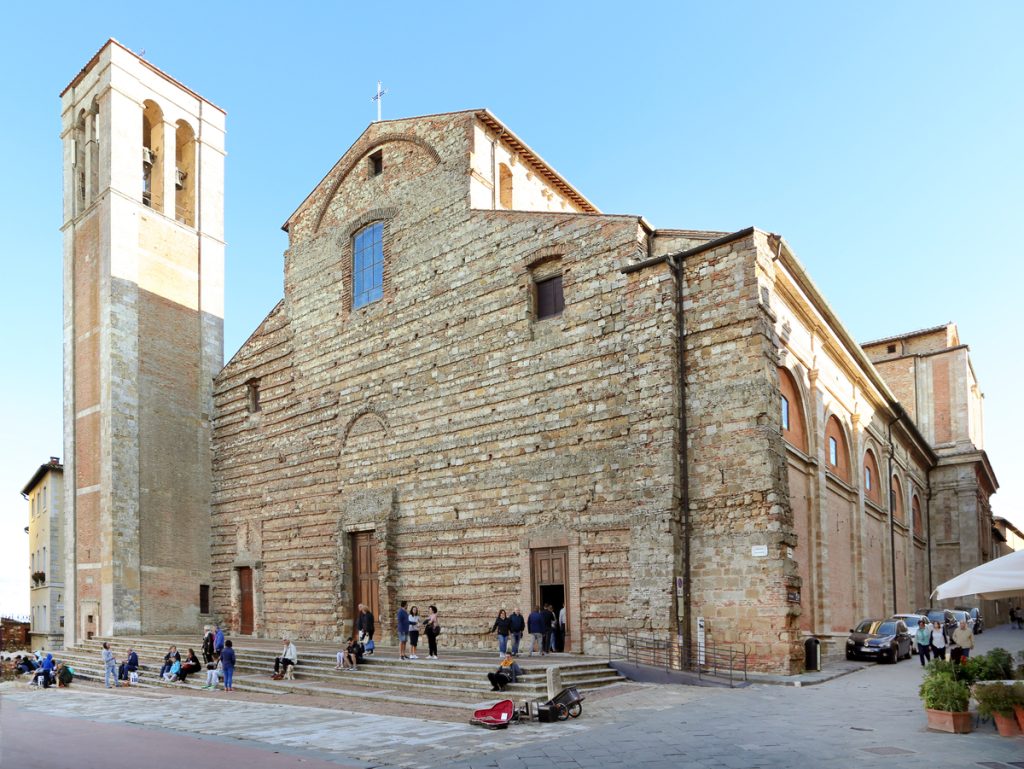 However, that never happened because the town simply ran out of money. Therefore, it was finished in 1712 and stayed the same to this day. It is free to go inside, so it is worth a visit to see a masterpiece called "The Assumption of the Virgin." This stunning piece of artwork hangs above the altar. It is small, but you can see enough of it to get an idea of how much artistry went into it.
Don't miss the Pulcinella Tower in Montepulciano
While walking on Il Corso, halfway between Piazza Grande and the Porta al Prato, you will notice the large square clock tower with a clown-like character on top of it. This wooden character is called Pulcinella, and he uses his stick to strike the bell on the hour, every hour, for more than 300 years. However, no one knows for sure how he got up there and became one of the most popular attractions in Montepulciano.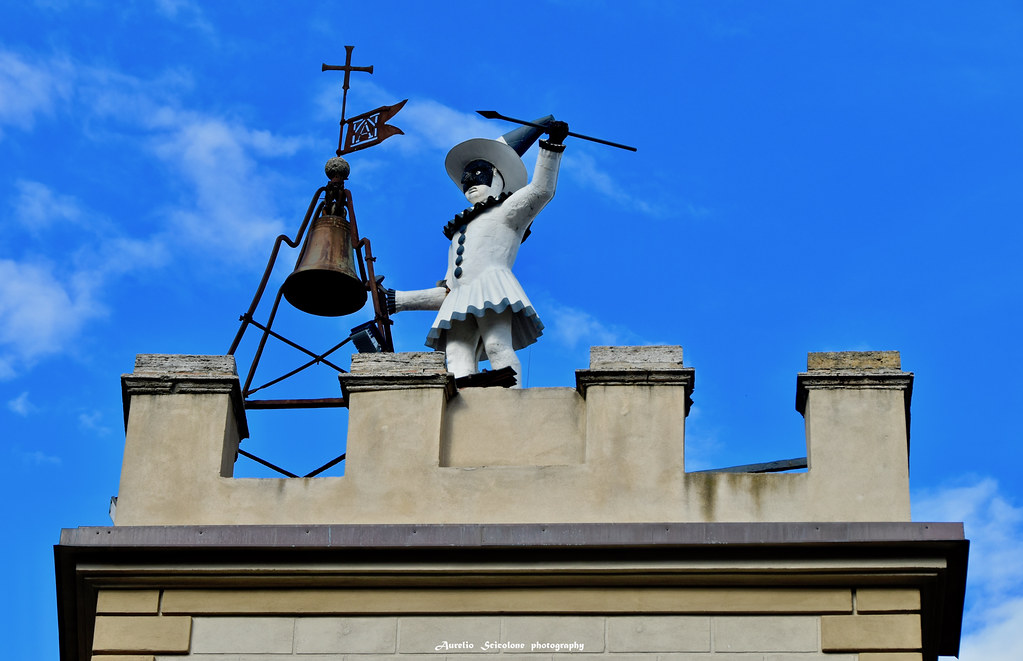 He is a character from 17th-century Italian comedy and was very popular in Naples puppet shows. One theory says that he was brought by a bishop from Naples, while others think he was placed as a tribute to the Italian theater. Even though Pulcinella looks funny, according to the legend, he is actually lazy, sneaky, and greedy and will do anything for a bowl of pasta. Go stand in front of the tower on the hour and watch him ring the bell a few times.
Admire the views of Montepulciano from Belvedere
Montepulciano is located on top of the hill, so there are a few viewpoints in the town where you can enjoy breathtaking views of surrounding nature. If you are near the center of Montepulciano, check out Belvedere del Comune, located on Piazza Grande, or Belvedere del Gesu, located on Via delle Mura Castellane. Those exploring downtown can visit Belvedere Porta Farina or Belvedere Porta di Collazzi.
Whichever viewpoint you choose, you won't be wrong. All of them offer amazing views of the Tucan hills, so don't forget to take panoramic photos. If you are feeling adventurous and in good shape, why not take a tour and check them all?
Check out the Civic Museum in Montepulciano
If you want to learn more about the history of Montepulciano or want to admire beautiful art pieces, there is one place in Montepulciano just for you. In the Neri-Orselli palace in Via Ricci, a splendid fourteenth-century building, there is the Crociani Civic Museum that exhibits rich archaeological finds and paintings from the fourteenth to the nineteenth century. The museum has four main sections, but the largest section by far is the art galleries on the top floors.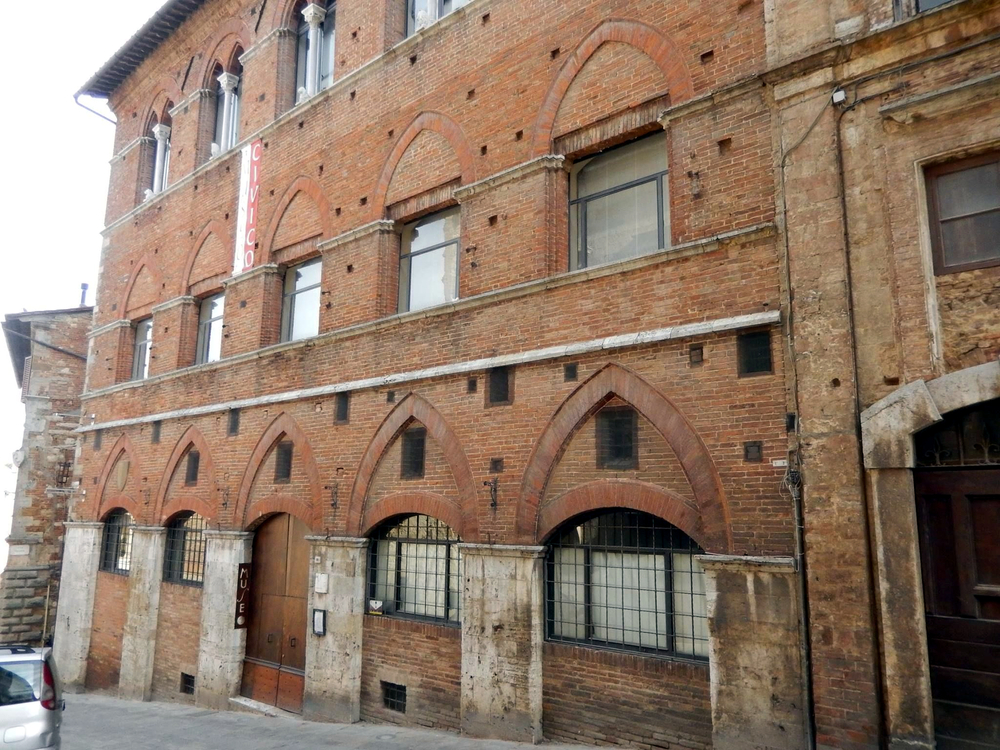 The first two sections are largely on the ground floor and in the basement. You can see the Archaeological section, which includes finds from Etruscan and Roman tombs and buildings, and the Montepulciano section depicting various items from stone artifacts to ceramic and silver items. In the third section, there are 15th and 16th-century glazed terracotta altarpieces by Andrea Della Robbia.
The last section has paintings from various artists from the 13th to the 19th century. There is also the most popular Caravaggio painting, which is in a small room of its own. Overall, the museum is a nice place to hide from the sun and vine-tasting crowd, especially if you love historical pieces. Also, it is pretty underrated, so don't be surprised if you will be alone in the whole museum.
Visit Fortezza Medicea in Montepulciano
The famous fortress is located a few steps from Piazza Grande, and while it's no longer home to walls and towers, you can take a walk through its botanical gardens and even go wine tasting. Inside this fortress is Enoliteca Consorzio Vino Nobile, which is home to the famous Vino Nobile di Montepulciano, Vin Santo di Montepulciano, and Rosso di Montepulciano wines. The wine tasting is remarkably good value for money, so you won't have to break the bank to try some of Italy's finest tipples.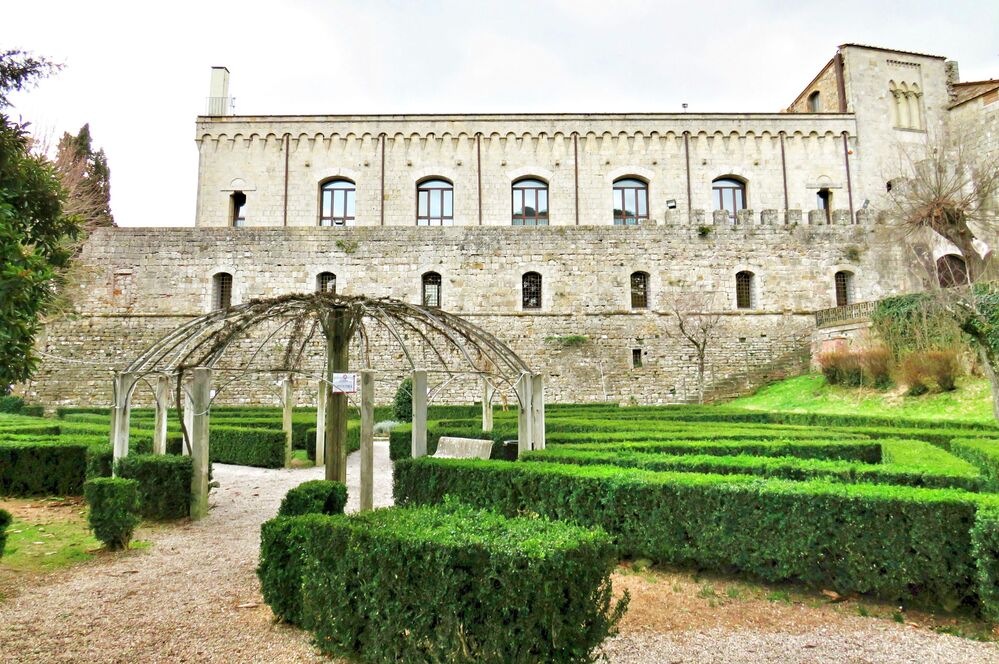 There's even a wine shop, so if you try something you like, you can buy it on your way out of the store. If you don't like wine, it's still well worth a visit. The fortress built in 1261 for military purposes has been destroyed and rebuilt several times, so the renovations of the 19th century brought the Montepulciano fortress to look more similar to what we can see today.
There are spectacular views over the terrace, and you can even see archaeological finds through the glass floor of the bar. The gardens are also worth strolling through, especially if you are traveling with kids. Once the fortress grounds, they are now a public park. It is not a large area, but it is a beautifully green and shady space with hedged mazes and several fun statues.
Sample Montepulciano wine
While there is certainly more to do and see in Montepulciano than wine, it would be a missed opportunity to come all the way to one of Italy's most famous wine-producing towns and not at least try its iconic tipple! You could decide to simply park yourself in one of the town's many friendly bars and ask your server for a local tipple or advice on which wine to choose, and they will be more than happy to help. It is actually one of the best things you can do if you love wine.
If you want a more in-depth guide or insight into the region's wine, your best option is to head out to a vineyard. That way, you will get a tour from an expert who will be able to not only share some of the most popular wines with you for tasting but can also give you an insight into how these wines are made. However, there are also wine cellars in the town where you can sample high-quality wines and buy some for your collection.
Contucci Wine Cellar
As mentioned before, the Contucci family still lives in the Palazzo Contucci, which is located on Piazza Grande. Their wine cellar is open to everyone, and no appointment is needed. It is actually Montepulciano's oldest winery, producing wine for 1000+ years and still family-run. You can enjoy a short self-guided tour of the wine cellar and free wine tasting if you buy a bottle.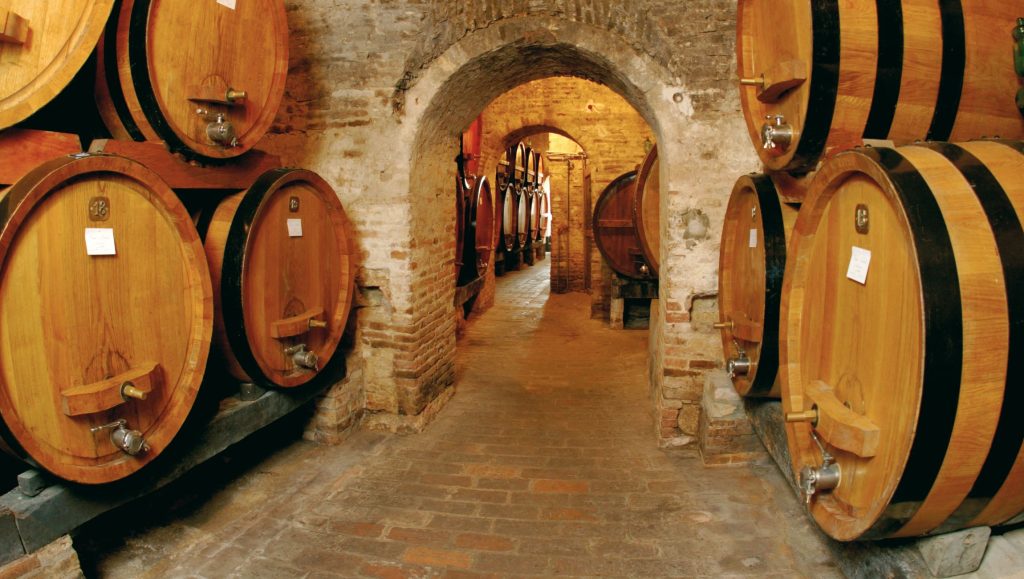 Each of their wine is unique, authentic, and of very high quality. If you buy wine as a souvenir, the most famous is the red wine called Vino Nobile di Montepulciano. If you are not into wines, at least visit the wine cellar with wooden barrels, which is free of charge.
De'Rici Wine Cellar
Another great winery located near Piazza Grande, which is worth checking out, is the De'Rici winery. This one is known as "the most beautiful cellar in the world" because of its deep and cavernous underground system of wine cellars. If you want this experience, you have to book your tour in advance. The tour guide is about wine facts, stories, and history, there is also a cellar tour and 6 wine tastings at the end.
Take a day trip
If you want to see sights outside Montepulciano, its well-connected location in Tuscany enables you to get to plenty of other popular Italian cities, towns, or villages. From this medieval town, you can easily reach the friendly Pienza, the well-known Montalcino, or the thermal village of Bagno Vignoni. At the end of the day, you can always easily get to Montepulciano agian.
If you are willing to go further afield, there are other Tuscan treasures well worth exploring, such as Florence, one of Italy's most iconic cities with historical sites to keep you busy for days. There is a train station that serves this town (although oddly, it is located slightly outside of the town), and there are plenty of car hire options in the area if you decide to drive to your day trips.
Go for a hike
If you are the outdoorsy type, or want to try some new fun things, the good news is that Montepulciano offers not only opportunities for walking but hiking, too. And no, we don't just mean the hilly streets of the town! There are plenty of hikes available around this picturesque town, including a hike to Monticchiello, a village near Montepulciano.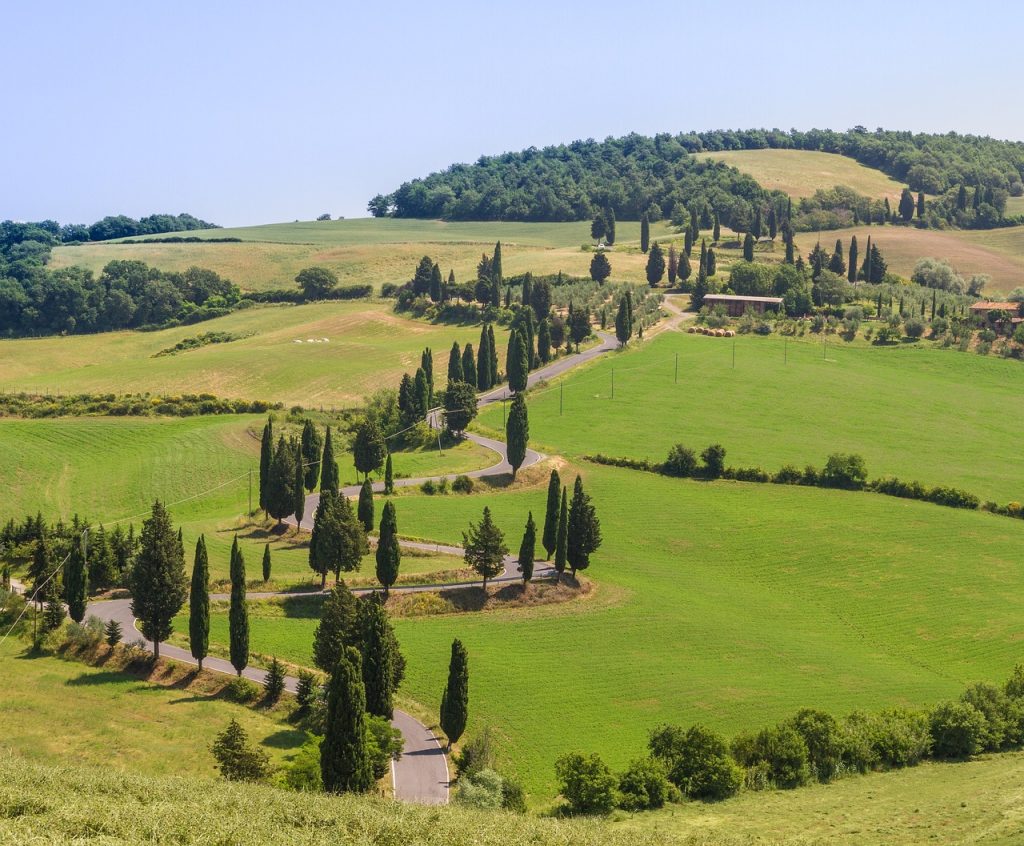 The hike isn't too challenging (although beginners should definitely take care in the summer heat), and it takes just under two hours. It is a popular route, so you won't have to step through much wilderness or overgrowth to get there, and you will enjoy beautiful natural views along the way. 
Enjoy local food
We doubt there is ever been a visitor to Italy who hasn't looked forward to one key thing about this beautiful country – the food! Famous for producing some of the world's most beloved dishes (pizza and pasta), Italy has long been a must-visit destination for avowed foodies. Montepulciano is no exception. As well as Italian classics such as carbonara, pizza margarita, and bruschetta, you will also find some more regional fare in this part of Tuscany.
This part of Italy is known for pecorino cheese, so make sure you try it when you see it on a menu or in a local grocery store. Arguably the region's most famous dish is pici, a type of pasta made using only water, flour, and olive oil. You can enjoy it with a sauce of your liking. Just don't forget to wash it down with a glass of the region's beloved wine! If you are on a tight budget that doesn't account for much eating out, you can still enjoy cooking from your accommodation during your visit with the high-quality local ingredients available in local grocery and specialist food stores.
Get in touch with nature at the Lucciola Bella Nature Park
Southern Tuscany is known for its beautiful nature, and there is plenty to be found in Lucciola Bella nature park. It's just 15 kilometers (9 miles) south of Montepulciano and is considered so breathtaking that it is actually a UNESCO-protected site. The landscape offers rolling green hills and fields as well as imposing jagged cliffs, showing off the diversity in Italy at its finest. You might even spot some local wildlife, so be sure to pack a pair of binoculars if you have them.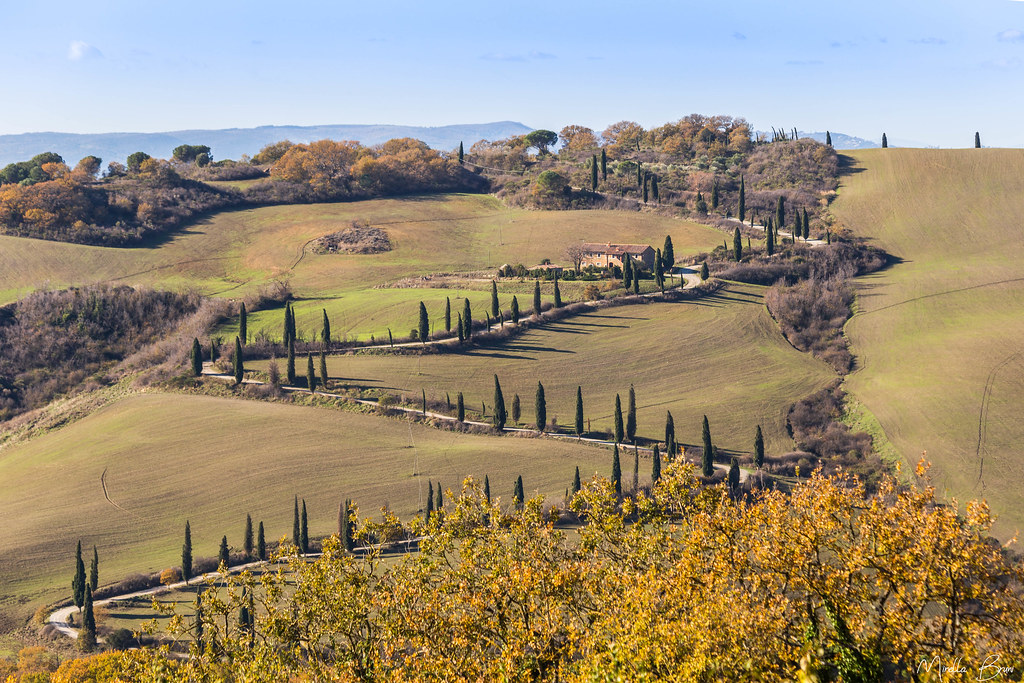 There are many wonderful photo opportunities along the way. However, be aware that the road is mostly one car wide, with some deep ditches and no real places to turn a car around, making driving very challenging. So, we recommend this road only for qualified and adventurous drivers.
Go shopping in Montepulciano
Montepulciano isn't known for being home to designer boutiques (that's Milan's job), but if you take the time to slowly meander through its streets, including the iconic main street of Montepulciano, you are sure to find a range of welcoming, independent shops, selling either local artisan food or goods such as clothing and accessories. Quite obviously, the most popular souvenir is a bottle of wine. If you decide to buy wine, the safest choices are Rosso and Nobile di Montepulciano, known as the best wines in the town.
Other things to do in Montepulciano
Visitors to Montepulciano come for the wine and stay for the culture of this charming, friendly town, which plays host to many historical sites and even the filming location of a blockbuster film. Even though we made a pretty big list of the things you can do in Montepulciano, there are some more options. If you have some free time, you can visit the Museum of Torture. There are original torture devices, no replication, just good old fashion torture equipment where you can see how horrific punishments were in the past.
Furthermore, there are many events and festivals in Montepulciano throughout the year, of which the most popular is the medieval tradition called Bravio delle Botti. It is an event similar to Siena's "Palio," where 8 districts compete to win a painted cloth (called Bravìo) by rolling barrels of 80 kilograms on an uphill route that ends on Piazza Grande. This event always takes place on the last Sunday of August in honor of the patron saint of Montepulciano, San Giovanni Decollato. If you are interested in other events, check them out on this website.
Tips for visiting Montepulciano
In this travel guide, we will show you some tips and tricks so that your trip to Montepulciano will be stress-free and the best possible. To make the most of your visit, it's best to visit this little gem during the Spring or Autumn months when the weather is pleasant and there are not so many tourists in the town. Furthermore, the easiest way to visit Montepulciano is by renting a car. That way you will have the freedom to explore the town and countryside outside of Montepulciano.
As you already know, the thing you should definitely try in Montepulciano is its wine. Many think that Italy's best wine is actually produced in the Montepulciano region. Therefore, if you want to taste a famous wine from wine cellars in Montepulciano for free and don't want to buy it, here is what you can do. Check out some smaller, family-owned wineries that are often more generous with their tastings than the bigger and more popular ones. These are one of the best places not only to try wine but also to meet new people and friends. 
Check out more articles about Montepulciano:
Hey there! Some links on this page are affiliate links which means that, if you choose to make a purchase, we may earn a small commission at no extra cost to you. We greatly appreciate your support!