If you are planning to visit the Campania region, you should consider adding Vietri sul Mare to your list. This small town is the hidden gem of the Amalfi Coast, less crowded than Positano or Sorrento and still undiscovered by many tourist advisors. Full of stunning beaches and shops of ceramics, it also offers lots of good restaurants that serve great food, including pizza, seafood, pasta, and meat dishes.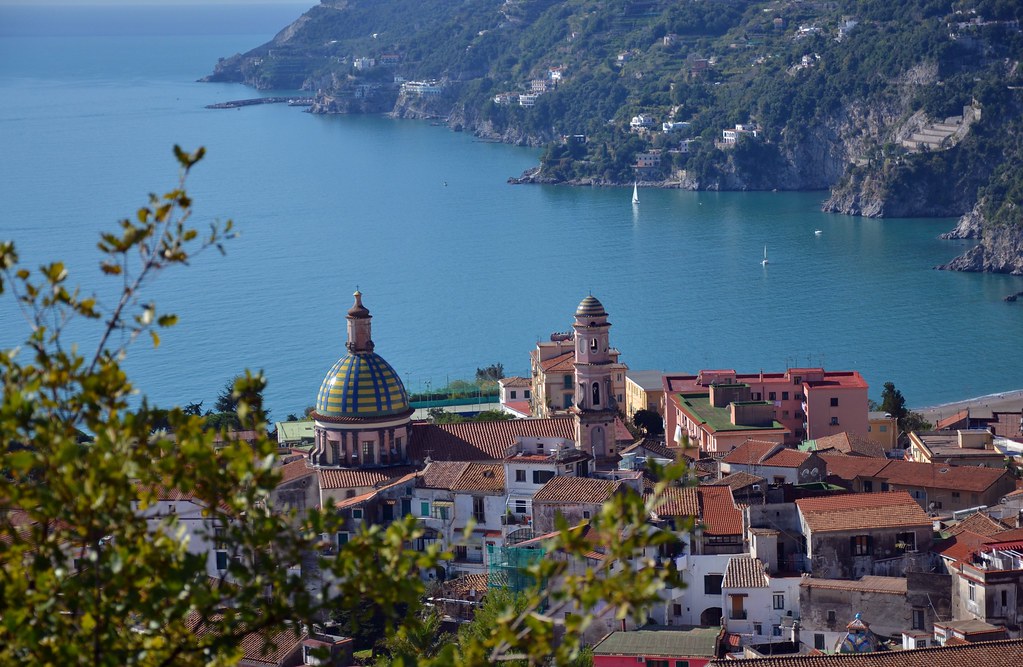 Therefore, visiting Vietri sul Mare without trying the delicious flavors of the local cuisine would be a true miss. From freshly caught seafood dishes bursting with Mediterranean flavors to traditional Neapolitan pizzas prepared in wood-fired ovens, there is something for everyone. Even though there are many restaurants to choose from, not all of them deserve your time and money. Here are the best restaurants in Vietri sul Mare:
(This article contains 5 restaurants in Vietri sul Mare, which are best in our subjective opinion. The order of the restaurants is not related to the quality they offer. Every restaurant has its pros and cons, so choose the one based on your personal preferences.)
Passariello Cantina Mediterranea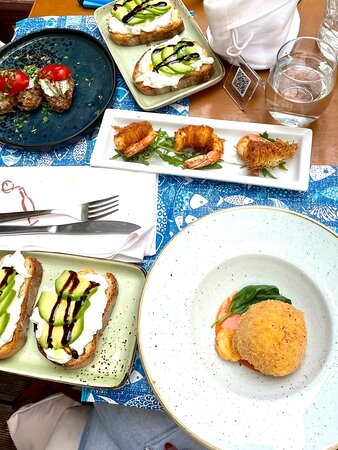 Passariello Cantina Mediterranea is a perfect place to eat tapas and enjoy delicious wines from Campania. This restaurant is run by a nice family, and for their efforts, they were awarded the Travelers' Choice Award 2022 by TripAdvisor. Also, this is a sign that you are in the restaurant where you will get the most for the price you pay.
The restaurant is hidden in a little courtyard, so you will have to put a little effort into finding it, but it totally worth it. You will feel such good energy and a pleasant atmosphere here, which is mostly created by good background music but also by friendly and helpful staff. The interior is typical Italian, filled with bright colors and beautifully decorated.
There is a young, ambitious chef that prepares delicious dishes from high-quality, fresh ingredients. Furthermore, this restaurant offers amazing cocktails, so don't forget to order some after the meal. We liked mojito, margarita and pina colada the most. Speaking of food, the menu mostly includes Italian, Seafood, Mediterranean, and Southern-Italian cuisine. Not only that the food is fresh and delicious, but they also pay a lot of attention to decorating your plate.
The most popular dishes include stuffed anchovies, cod in chickpea puree, potato chips with cheese sauce, burrata cheese on tomatoes, and bread with anchovies. However, tapas are something that every visitor speaks about. Besides amazing food and cocktails, there is also a good choice for wine lovers. All their wines are from the Italian region of Campania, so you can try something authentic here.
There is even a wine cellar where wines are stored, so you can also buy some wine to take home with you. How cool is that? Passariello Cantina Mediterranea is open every day except Tuesday from 11:30 AM (11:30 hours) to 3:00 PM (15:00 hours) for lunch and from 6:30 PM (18:30 hours) to 11:00 PM (23:00 hours) for dinner. To book your table, you can contact them on their phone number, or you can visit their website.
Distance: 100 meters (0.1 miles) from Corso Umberto I in Vietri sul Mare
Phone: +39 089 995 3060
Il Principe e La Civetta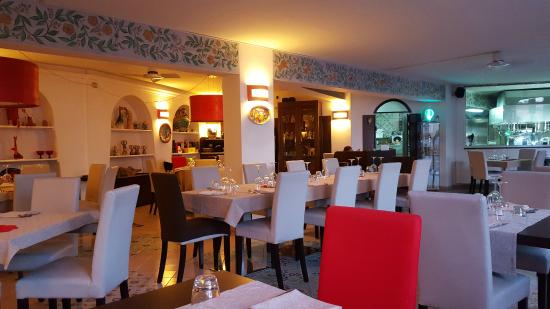 Il Principe e La Civetta is a small restaurant in Vietri sul Mare, perfect for business lunches, dinners, or romantic dinners. It offers a variety of foods such as pasta, meat, and seafood, all very delicious. With a nicely decorated interior and cozy atmosphere, it gives a great dining experience, so you will leave this restaurant with a positive attitude.
The restaurant usually serves authentic and local food. Therefore, you can try Mediterranean cuisine, pasta from local producers, Italian freshly caught fish, or meat that comes from Tuscany. The owner and the chef, Antonio, is always at your service. He is passionate about his food, answers all your questions, adjusts meals to your needs, and suggests alternative ways to cook the ingredients if you want something different. So, if you have a special diet like vegetarian, vegan, or gluten-free, just let him know.
The most popular dishes are fusilli pasta with pesto sauce and mozzarella, ravioli stuffed with ricotta in a pumpkin sauce with yellow tomato, and Caprese salad with juicy shrimps. Their cellar has a fine selection of Italian wines, but the list is in Italian, so ask the staff about the details if you don't know what to order. The restaurant is very clean, and there is a large window between the dining area and kitchen so you can watch the cooking process. Furthermore, the prices are very reasonable considering the quality that the restaurant provides.
Worth mentioning is that the staff is friendly, helpful and nice to all guests. If you don't speak Italian, chef Antonio is there to speak fluent English. He can even show you the preparation of your meal and explain the whole process if you are interested. Overall, you will feel like you are in a much more luxurious place because of all of this. Just like many Italian restaurants, Il Principe e La Civetta has double working hours. It is open every day from 12:00 PM (12:00 hours) to 3:00 PM (15:00 hours) and from 6:00 PM (18:00 hours) until 11:00 PM (23:00 hours).
Distance: 100 meters (0.1 miles) from Corso Umberto I in Vietri sul Mare
Phone: +39 089 763 2201
Ristorante Pizzeria Da Giufe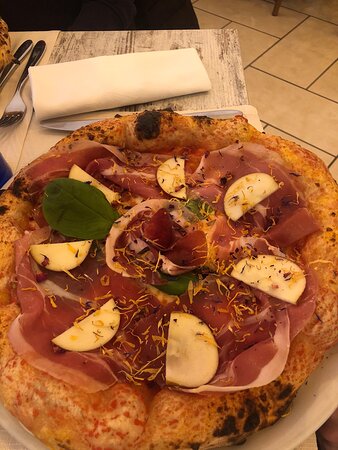 If you are a pizza lover, don't miss Ristorante Pizzeria Da Giufe. After visiting this restaurant, many guests say that they ate the best pizza there on their journey. Well, Da Giufe has everything you need for memorable dining. There is a friendly owner, clean space, and great food. Because of that, it also got TripAdvisor's Travelers' Choice 2022 reward. On their menu, besides pizzas, you can find pasta, seafood, and a variety of main dishes to match with wine or beer.
You can eat in a lovely dining room or in a small dining area outside. Even though the menu is full of options, most guests often choose pizza. There is a wide choice of pizzas, so everyone should be able to find the perfect pizza for themselves. Pizza is made in a Neapolitan way, which means that the dough is exceptional, freshly made, and baked in a bread oven. They also offer homemade breads which are just as good.
Besides pizza, you can order nibbles, platters, pasta dishes, and fried seafood. We recommend getting fried seaweed, arancini, crocchè, and zucchini flowers, or Scialatielli with seafood and pasta with plague, sausage, and walnuts. To finish a great meal, you have a nice selection of desserts. All of that, you can perfectly combine with one of their wines or a craft beer. Keep in mind that there are also gluten-free options and options for vegans.
The owner is knowledgeable and happy to help his customers when they are making their decision. Therefore, don't be afraid to ask, because he makes sure that all the visitors have a wonderful experience. Ristorante Pizzeria Da Giufe is a pet-friendly restaurant, so you can bring your little travel companion. Working hours are from 12:00 PM (12:00 hours) to 4:00 PM (16:00 hours) and from 7:00 PM (19:00 hours) to 12:00 AM (00:00 hours) every day except Thursday. If you want to eat your meal somewhere else rather than visiting the restaurant, you can easily order your food via the phone and they will deliver it to you.
Distance: Right on the Corso Umberto I in Vietri sul Mare
Phone: +39 089 971 3521
Ristorante 34 da Lucia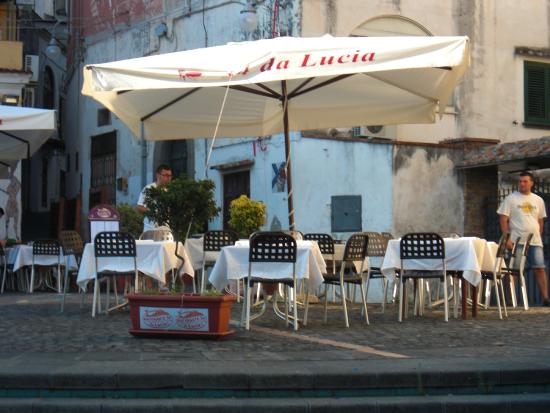 Located in the historical part of Vietri sul Mare, Ristorante 34 da Lucia is another great restaurant for those who want to try authentic Italian cuisine. Just take a short walk from the Corso Umberto I and you will be there. If you love seafood, this restaurant is the place where you want to be. It offers fresh fish in an innovative way and in a simple, welcoming environment.
The restaurant 34 da Lucia is praised by gastronomic guides thanks to their meals which are always prepared with fresh ingredients. They know how to combine different products and always create unique but very delicious meals. The menu includes lots of choices of pasta, seafood, salads, and antipasti. The most popular dishes are seafood spaghetti, and gnocchi in tomato sauce and mozzarella. The good thing is that portions are large, which is rare in Italy, they justify the price you pay. With food, you can order some wine or other usual drinks which are offered.
The hospitality and attention of the staff will make your stay pleasant. They all speak very good English, so you can easily communicate with them. There is an outside dining area which is perfect for those who want to eat while breathing fresh air and watching the world go by. Overall, this is the perfect restaurant for seafood lovers or for casual dining late afternoon. Working hours are from 12:00 PM (12:00 hours) to 3:00 PM (15:00 hours) and from 7:00 PM (19:00 hours) to 11:00 PM (23:00 hours) except for Sunday and Tuesday. On Sunday the restaurant is only open at lunchtime, while it is closed on Tuesday.
Distance: 250 meters (0.1 miles) from Corso Umberto I in Vietri sul Mare
Phone: +39 089 761822
Divina Vietri Pizzeria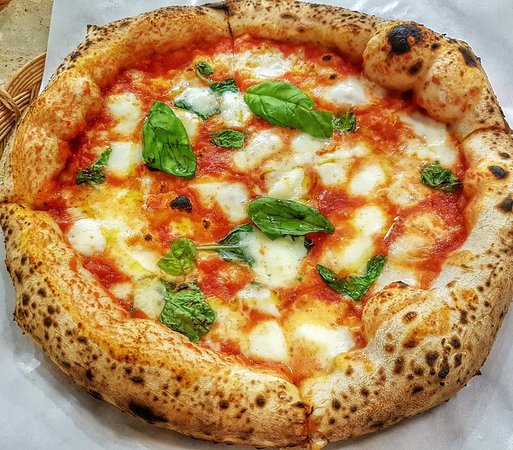 Born from a passion for simple dishes, Divina Vietri Pizzeria became a great success. This pizzeria preserves Neapolitan tradition, so you can find quality products, fresh ingredients, and tasty flavors of Neapolitan dough. The interior is quite interesting with ancient elements like Vietrese ceramics, and it's combined with different elements such as wood and copper. Therefore, the whole restaurant has rustic vibes and a lovely atmosphere.
As the name says, this is a pizzeria, so there are only various pizzas on the menu. However, these pizzas are so delicious, the dough is soft, and you won't feel tired and stuffed after eating them. There is also a wine list and options for vegetarians and vegans. The prices are average for pizzas on the Amalfi Coast but keep in mind that there is a cover charge (coperto) if you eat in the restaurant.
After pizza, you can try some desserts like Amalfi Coast lemon mousse and 7 Veils with pistachio. If the names piqued your interest, be sure to check them out! For drinks, you can order wine, beer, or some popular soda. The service is nice and very quick. Everything happens so fast so you can be done and out because of the small capacity in winter. There isn't much space inside so be there early or make a reservation.
In summer, there are tables outside, but it is not so easy to find available ones. Therefore, you can order your pizza for takeaway and bring it home with you. There is also a delivery to your front door which is fast and efficient. Divina Vietri Pizzeria is open only for dinner from 7:00 PM (19:00 hours) to 11:30 PM (23:30 hours). On Monday and Tuesday, the pizzeria is closed.
Distance: 150 meters (0.1 miles) from Corso Umberto I in Vietri sul Mare
Phone: +39 089 296 1191
Where to find the best restaurants in Vietri sul Mare?
Vietri sul Mare is a small place full of great restaurants, so you won't need to walk a lot to find one for yourself. Most restaurants are close to the main shopping street called Corso Umberto I. Even though restaurants in Vietri sul Mare usually don't have many seats, they are all close to each other, and many of them have a takeaway option.
Hey there! Some links on this page are affiliate links which means that, if you choose to make a purchase, we may earn a small commission at no extra cost to you. We greatly appreciate your support!