Siena, a little gem in Tuscany, is one of the best places for a getaway. Whether a romantic retreat or part of a solo backpacking adventure, you can't go wrong making a stop in this small city packed with amazing sights. Located right in the center of Italy, it's a charming old town whose center is full of gorgeous churches and a palace that stands mightily above the city.
But how much time do you need to explore this little gem? Stop over for just a day, and you will sacrifice some things. You don't want your visit to one of Italy's most special cities to go by in a blur. You probably don't want to stay here for a week or more either. Though special, you might get bored of the small town after your third or fourth walk around the old town. Read our guide to find out how long to spend in Siena!
What should you see in Siena?
There's no shortage of places and activities that warrant a visit to Siena. The main attractions are in a small, concentrated area. What's better, the city is walkable! Most hotels are located near the old town, so you can see the best of what Siena has to offer within ten minutes of leaving your room. The following is not a definitive list. The number of unique things to see and do in the city could fill a novel, so we have selected a few must-sees.
When approaching the town, you will likely notice the Duomo complex first as it seems to float above the old town. Find your way there as soon as possible! It's the most epic attraction and has an insane view. It's home to a gorgeous cathedral, a crypt, and much more.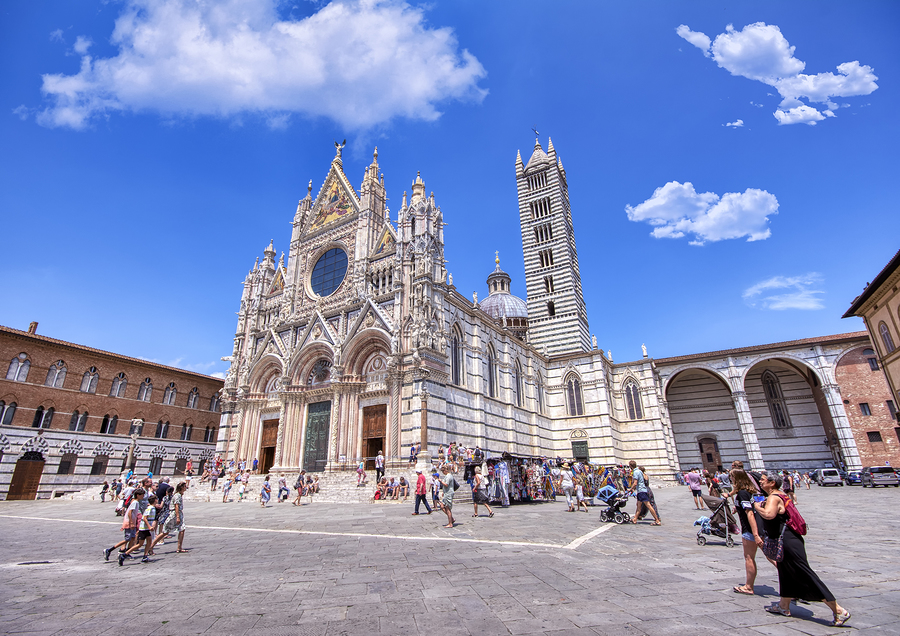 The Piazza del Campo (aka Il Campo) is another spot that you can't miss. Spend some time in the old town, and you will find it eventually. It's a medieval square that's the center of city life, surrounded by brick buildings housing cafes, shops, and always full of people. Be sure to check out the Palazzo Pubblico (city hall), also located on the square!
If you have limited time in town and feel overwhelmed choosing what to see, consider a free walking tour. They help you capture the essence of the city, and you can revisit and spend more time at places you enjoyed from the tour later on in the day!
When to visit for something truly special?
Any time of the year spent in Siena is sure to be a magical, unforgettable experience. However, if you are able, plan your visit around the Palio di Siena. Happening twice every summer, on 2 July and 16 August, it's a horse race whose origins date back to medieval times.
Riders take to the streets of Siena bareback (riding without a saddle) and often get thrown off their horses taking sharp turns in the narrow old town streets. The race lasts less than two minutes, but it's an event that people spend the whole year planning for. The old town is decked out in elaborate decor, and the racers wear colorful costumes.
The verdict
We've determined the essential sights of Siena and when to best experience the city, but how much time does it take to see the place and get a proper feel for it? Several websites have published one-day itineraries to help you get the most out of a quick Siena stopover.
However, that's hardly enough time to experience any Italian city, no matter how small. Sure, you can line up at your first museum at 8:00 and go all day, scratching one sight after another off your list, but your vacation will go by in a blur! It's hard to enjoy oneself when adhering to such a busy schedule.
You should give yourself at least two days to explore Siena. Take in its sights at a comfortable pace. You won't just get to cross some museums off your list. You will also get to partake in the local culture. Life in smaller Italian cities is all about relaxing, enjoying some good food, and, most importantly, enjoying life. Slow down and give yourself time in between museums and church visits to live la dolce vita (the sweet life).
Read more articles about Siena:
Hey there! Some links on this page are affiliate links which means that, if you choose to make a purchase, we may earn a small commission at no extra cost to you. We greatly appreciate your support!