If you come to Siena by car, it is essential to know where to park, payment methods, and when some parking is paid or free. Otherwise, you can incur financial penalties, which can cause you a lot of unwanted stress on your vacation. Keep in mind that the historic center of Siena is considered a limited traffic area (ZTL), so cameras delimit this whole area along the perimeter of the ZTL.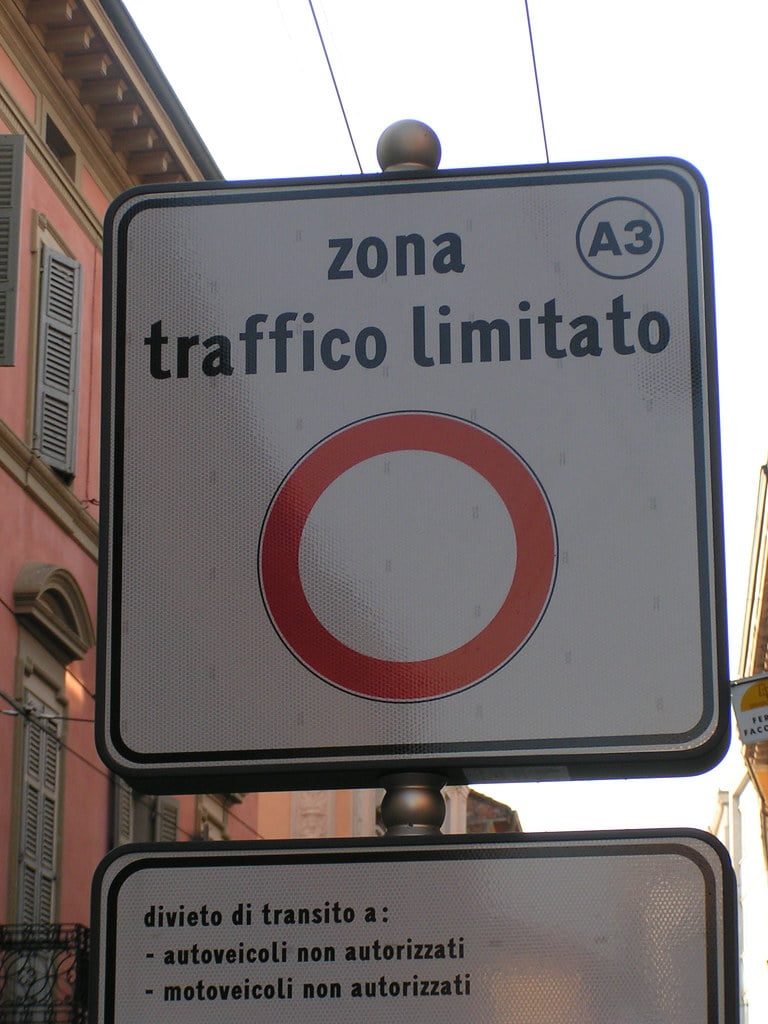 In order to enter the ZTL by car, it is necessary to have a permit, which should be requested in advance by the traffic police. Violators of this ban are usually punished with expensive penalties. Outside the ZTL area, there are seven car parks in garages, two on the street with a controlled area and another four in a public area with parking meters. Below, we will answer the question of where is the best place to park in Siena.
Basic facts about parking in Siena
Siena Parcheggi is the company that takes care of parking in the municipal area and manages parking spaces on the street and in a garage. Parking on the street nearby the center of Siena is normally paid from 8:00 AM (8:00 hours) to 8:00 PM (20:00 hours) with an ordinary rate of 1,50 euros per hour. But, be aware that it is not so easy to find available parking spaces in this area.
The paid parking spaces are clearly and exhaustively marked by blue stripes, while the free parking spaces are usually white. Yellow parking spaces are reserved for handicapped permits, taxis, or official vehicles. A good thing to know is the fact that all paid car parks in the city of Siena are free on Sundays and holidays.
Free parking spaces in Siena
Let's start with the free car parks, which are the best if you plan a budget trip to Siena and have the time and pleasure to take a stroll. The first free car park you should consider is in Via Esterna Fontebranda. It is medium-sized parking located a few steps from Fontebranda and the Risalita del Costone, which leads to the Cathedral of Siena. The second one is a small car park in Via Laterina. It is located near the municipal cemetery and is only a 15-minute walk from Piazza del Campo.
The next one is a car park in Viale Achille Sclavo located not far from the historic center, and well connected by public transport. There are two more car parks that are free in Siena. One of them is located in Viale Mario Bracci, on the street that leads to the city's main hospital. The other one is located in Via Lauro de Bosis, which is located directly across from the main train station in Siena.
Paid car parks in Siena
Here is the list of all paid car parks in Siena with prices, times, and other helpful information:
Il Campo car park
Type: Parking in garage
Open: 24 hours a day every day of the year
Height limit: 2,05 meters
Daily price: 35 euros
Weekly price: 140 euros
Spaces: 589
Services: WC and ATM
Hourly price: 2 euros
3-day pass price: 85 euros
Distance: 10 minutes on foot from Piazza del Campo
Siena Duomo parking
Type: Parking in garage
Open: 24 hours a day every day of the year
Height limit: 2,05 meters
Daily price: 35 euros
Weekly price: 140 euros
Spaces: 228
Services: WC
Hourly price: 2 euros
3-day pass price: 85 euros
Distance: 15 minutes on foot from Piazza del Campo
San Francesco car park in Siena
Type: Parking in garage
Open: 24 hours a day every day of the year
Height limit: 2,05 meters
Daily price: 35 euros
Weekly price: 140 euros
Spaces: 277
Services: WC
Hourly price: 2 euros
3-day pass price: 85 euros
Distance: 10 minutes on foot from Piazza del Campo
Santa Caterina car park in Siena
Type: Parking in garage
Open: 24 hours a day every day of the year
Height limit: 2,05 meters
Daily price: 35 euros
Weekly price: 140 euros
Spaces: 501
Services: WC
Hourly price: 2 euros
3-day pass price: 85 euros
Distance: 15 minutes on foot from Piazza del Campo
La Stazione parking in Siena
Type: Parking in garage
Open: 24 hours a day every day of the year
Height limit: 2,05 meters
The first hour: 0,50 euros
Monthly price: 22 euros
Additional info: Free every Wednesday morning
Spaces: 480
Services: WC
The first half hour: free
Second hour and hourly price: 2 euros
Distance: 15 minutes on foot from Piazza del Campo
Stadio-Fortezza parking
Type: Parking on the street
Open: 24 hours a day every day of the year
Height limit: 2,50 meters
Free: from 8:00 PM to 7:00 AM the following day
Spaces: 698
Closed: on Wednesdays for the weekly market
Hourly price: 2 euros
Daily price: 26 euros
Distance: 15 minutes on foot from Piazza del Campo
Heliport parking
Type: Parking in garage
Open: 24 hours a day every day of the year
Height limit: 2,05 meters
Daily price: 2,5 euros
Spaces: 742
Free: for the first hour
The second hour price: 1 euro
Fastpark parking
Type: Parking in garage
Open: 24 hours a day every day of the year
Height limit: 2,05 meters
Daily price: 2,5 euros
Spaces: 742
Free: for the first hour
The second hour price: 1 euro
Amendola parking
Type: Parking in street
Open: 8:00 AM to 8:00 PM
Payment: by parking meter
Spaces: 104
Hourly price: 1,50 euros
Via Roma parking
Type: Parking in street
Open: 8:00 AM to 8:00 PM
Payment: by parking meter
Spaces: 99
Hourly price: 1,50 euros
Via Bastianini and Via del Nuovo Asilo parking
Type: Parking in street
Open: 8:00 AM to 8:00 PM
Payment: by parking meter
Spaces: 124
Hourly price: 1,50 euros
Viale Fruschelli parking
Type: Parking in street
Open: 8:00 AM to 8:00 PM
Payment: by parking meter
Spaces: 99
Hourly price: 1,50 euros
Read more articles about Siena: