Located about 10 kilometers from Amalfi in one direction and 10 kilometers from Positano in the other lies Conca dei Marini. It is a small authentic village stretched from the bay up to the top of the hill amongst scented lemon orchards and beautiful flowers. You can easily arrive at this quaint village from either of these Southern hot spots either by car or public transport.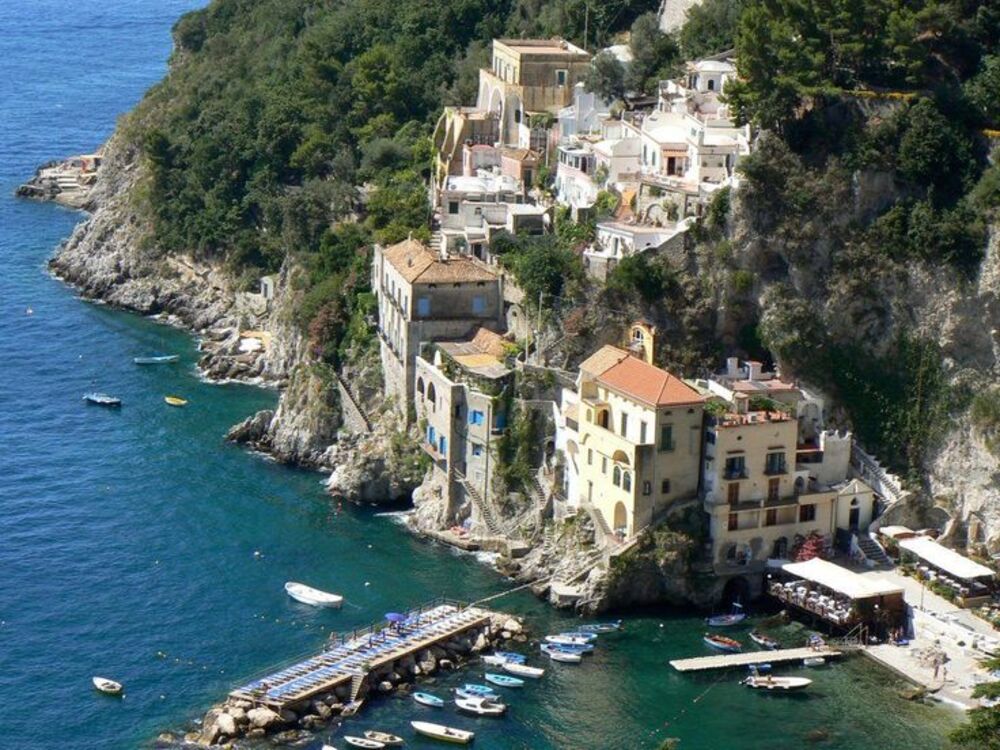 If it's rugged cliff views you are on the hunt for, Conca dei Marini has them in abundance. Home to just a few hundred inhabitants, this village has it all, with natural beauty so stunning you won't believe it, and rocky beaches that enjoy almost year-round sunshine. The white and multi-colored houses tucked into the giant, gothic rocks give this little village a unique and gorgeous look. 
Once upon a time, Conca dei Marini was a relatively unknown and isolated fishing village, whereas now it attracts many tourists every year. As well as just taking in the breathtaking views, there is actually a surprising number of things to do and see in this small village, as well as plenty of places to savor classic Italian food and wine. Here are all the things to do in Conca dei Marini:
Visit Grotta dello Smeraldo (Emerald Grotto)
Probably the main sight that visitors flock to Conca dei Marini for is the Emerald Grotto, a karst cave that's been formed over millennia and has gradually become full of seawater. The 'grotto' gets its name from the beautiful emerald color that's produced when the sunlight filter's through the cave's turquoise water.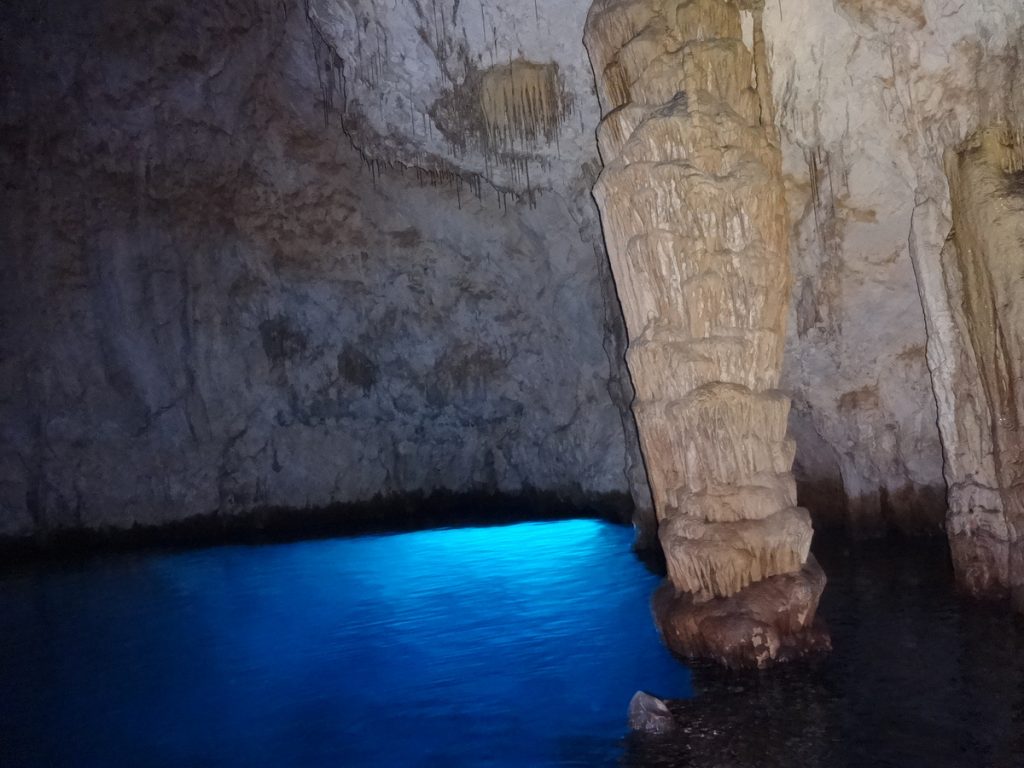 You can access the breathtaking grotto either by sea or land, and it is home to various celebrations throughout the year. Every Christmas, for example, scuba divers take a trip to the Emerald Grotto and put down a Jesus from a nativity scene and a fresh bunch of flowers. Even though the boat rides through the cave takes only around 10 minutes, it is a nice experience to see this cave and take some great photos.
Try one of Conca dei Marini's culinary specialties
If there is one thing any visit to Italy guarantees, it is good food and drink. The Amalfi Coast, in particular, is a hub of delicious cuisine that is unique to the area. The food item that Conca dei Marini is most famous for is its sfogliatella Santa Rosa. This delicious pastry was created in the 18th century by nuns (no, really)! By adding sugar, milk, dried fruit, candied cherries, and semolina to the dough leftover from making bread, the nuns happened upon what is now one of the most beloved dishes of the Amalfi Coast.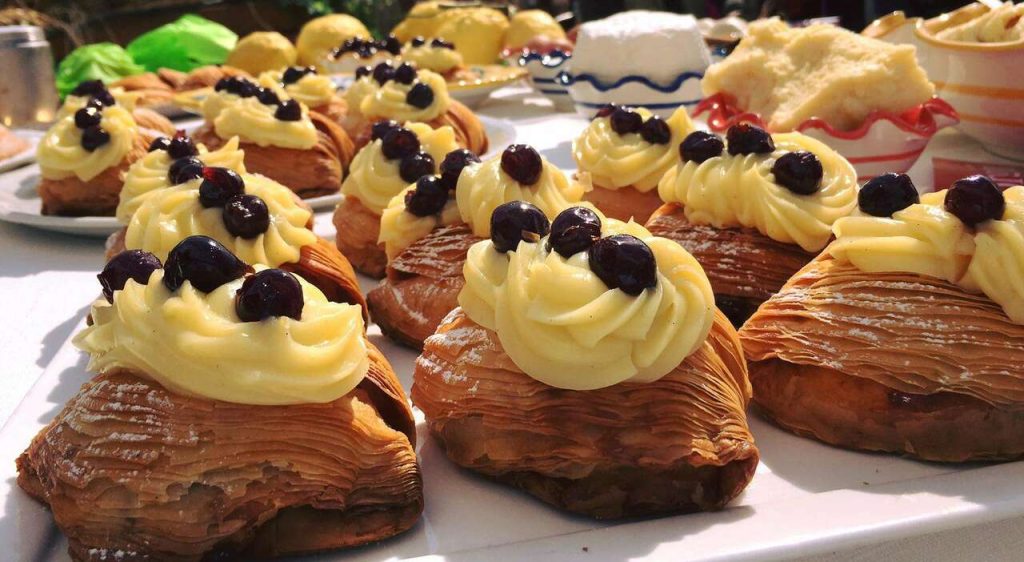 If you plan on visiting Conca dei Marini, it's worth trying the area's pomodorini a piennolo – cherry tomatoes shaped like cylinders. These juicy tomatoes are tied in bunches and stored in the dark for months from the minute they are picked, resulting in a unique, distinctive taste. Since Conca dei Marini is located on the coast, you will naturally find excellent fish and seafood here, with tuna, in particular, being a local delicacy. Some of the best restaurants to check out in the area include Baglio Amalfi Italian Bistro Cucina, Vino & Drinks, Le Bonta del Capo, and Ristorante La Tonnarella. 
Look at the Torre Saracena
The Torre Saracena, also known as the Torre Bianca or the Torre del Capo di Conca, is a 16th-century guardhouse that juts out of the village towards the sea. This Saracen tower is covered in thick vegetation, which simply adds to its mysterious allure. The tower was originally used as part of the Amalfi Coasts' defensive apparatus to prevent pirate invasions that were becoming all too common at the time.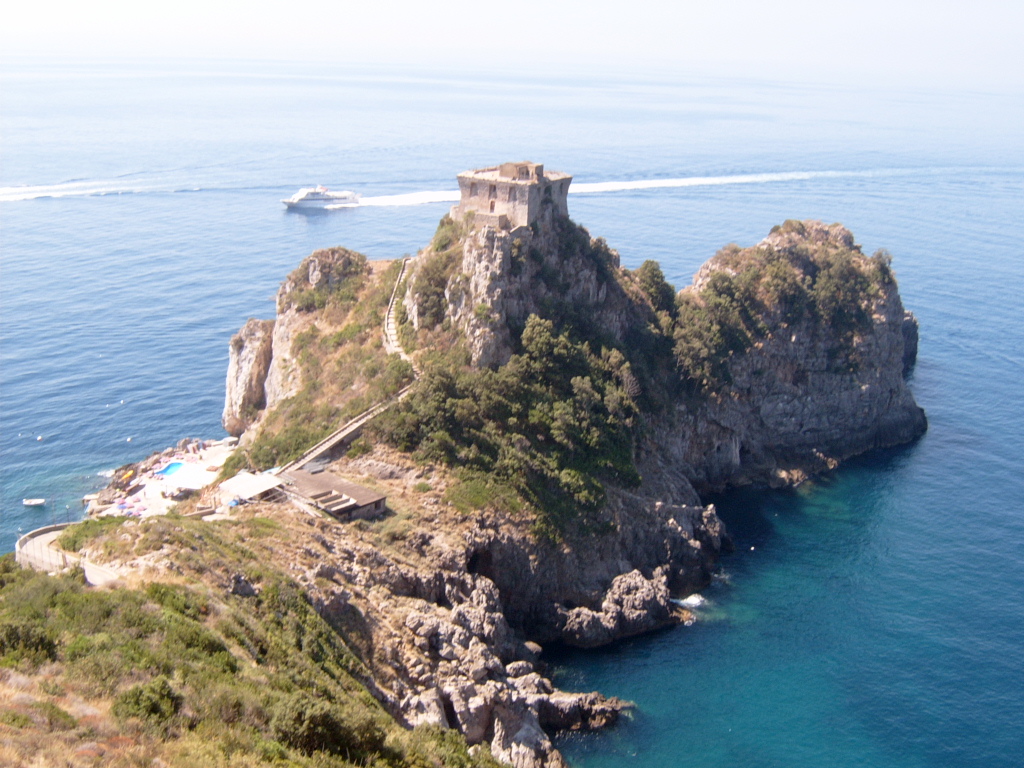 Nowadays, it is a place for private ceremonies, but everyone can hike up to the tower and look around it. However, there are lots of stairs, so don't go when it's too hot. When you come to the top, you can sort of walk around and get a great view of the coast. The views are really stunning but they are not exceptionally different from somewhere else nearby on the coast, so this is more an attraction for hiking enthusiasts.
Attend the Festa Della Santa Rosa
The Italians are famously passionate about their food – and for good reason. Conca dei Marini's most iconic dish is the popular pastry, sfogliatella, and there is even a festival to celebrate it every year on the 30th of August! It is one of the most famous Conca dei Marini attractions, so don't miss it if you find yourself in the village at the end of August.
Visit the Convent of Santa Rosa
Just above the village, you will find the Convent of Santa Rosa, which was built in the 14th century and is famous for being the birthplace of the sfogliatella. It is a popular site for food lovers and those who want to know more about the history of Conca dei Marini. Sadly the convent cannot be visited fully because it is privately owned, but there is a small church that can be accessed by contacting the Conca Town Hall. Also, the church is used in the summer for concerts.
Take a walk around the village
One of the main reasons why so many tourists flock annually to the Amalfi Coast is, of course, its stunning natural beauty. Walking along the Amalfi Coast is always a memorable experience. As well as the grandiose cliffs overlooking the coastline, Conca dei Marini is beautiful in its own right for its beautiful houses and restaurants with scenic views. 
Keep in mind that there are many stairs and steep alleys, so you should avoid walking up at high temperatures. However, the more up you go, the better views of the coastline there are, so your effort will be truly awarded. Bring enough water and a pair of comfortable shoes and get yourself on adventures wandering around tiny Conca dei Marini streets.
Enjoy a day on the beach in Conca dei Marini
Thanks to its coastal location, Conca dei Marini has a beach with beautiful turquoise waters. It is called Lido Capo di Conca and it is the perfect place to spend the day sunbathing or enjoying a dip in the water. If you do visit Marina di Conca, the village's main beach, just be aware that you will need to descend quite a few stairs to get there!
There are umbrellas, a restaurant, change rooms, restrooms, sun beds, a pool, and steps leading you to swim in the sea. The whole beach is actually a deck at the edge of the sea, so it is popular with those who like to jump in the deep water. Also, remember that the beach is in the shade late afternoon.
Take a day trip
Conca dei Marini enjoys proximity to many of the coast's other towns and villages, including popular destinations such as Amalfi and Positano. Whether you hire a car, take a taxi, or try public transport, you can enjoy a day trip from this charming village that allows you to get to know more about the area. If you prefer a place where you will feel like a celebrity, take amazing photos, and shop for some fashion items, then Positano is the town for you.
On the other hand, if you are more into historical sights, choose Amalfi over Positano. Also, there are some smaller and more peaceful places along the coast like Atrani, Praiano, Furore or Ravello, where you can enjoy your day trip. If you love sea travel, consider choosing the island of Capri as your trip destination. 
Things to do in Conca dei Marini in one day
If you are looking for a quaint village to visit on the Amalfi Coast that's slightly less tourist-heavy than some of the main towns and villages, look no further than Conca dei Marini. This lovely village is so small that one day will be enough to casually explore the streets, have some relaxing time on the beach, and get some sfogliatella.
Visiting Grotta dello Smeraldo and Torre Saracena is possible in one day, but you will have to be very organized. To conclude, Conca dei Marini with its picturesque gothic cliffs and laid-back beaches, offers a relaxing trip away, with some of the most delicious pastries you will find on the Amalfi Coast. Have a sfogliatella for us!
Hey there! Some links on this page are affiliate links which means that, if you choose to make a purchase, we may earn a small commission at no extra cost to you. We greatly appreciate your support!