Amalfi is the biggest town on the Amalfi Coast. Once, it was a powerful maritime republic, so the town has an impressive history and a wealthy historical heritage.
Hundreds of tourists are coming every year to Amalfi to enjoy the crystal clear water, beautiful white buildings spread over the mountain, and long attractive main beach.

The most popular sight in Amalfi town is Sant'Andrea cathedral. This 10th-century beauty has an outstanding shining golden mosaic on the top. There is the Cloister of Paradise next to the cathedral, an elegant Arabic-style building with the lovely garden in the middle.

If you wonder what else you can do and see in Amalfi town, check out this post:

Even though Amalfi town is not the most popular town on the Amalfi Coast, it is still a trendy tourist destination. There are luxurious apartments and hotels where you will feel like a celebrity.
In Amalfi town, there are only three hotels in the 5-star category. All three are extremely luxurious, beautifully decorated, and offer top-notch services.
If you want to know more about luxury hotels in Amalfi town, and all of what they offer, or their pros and cons, you should read: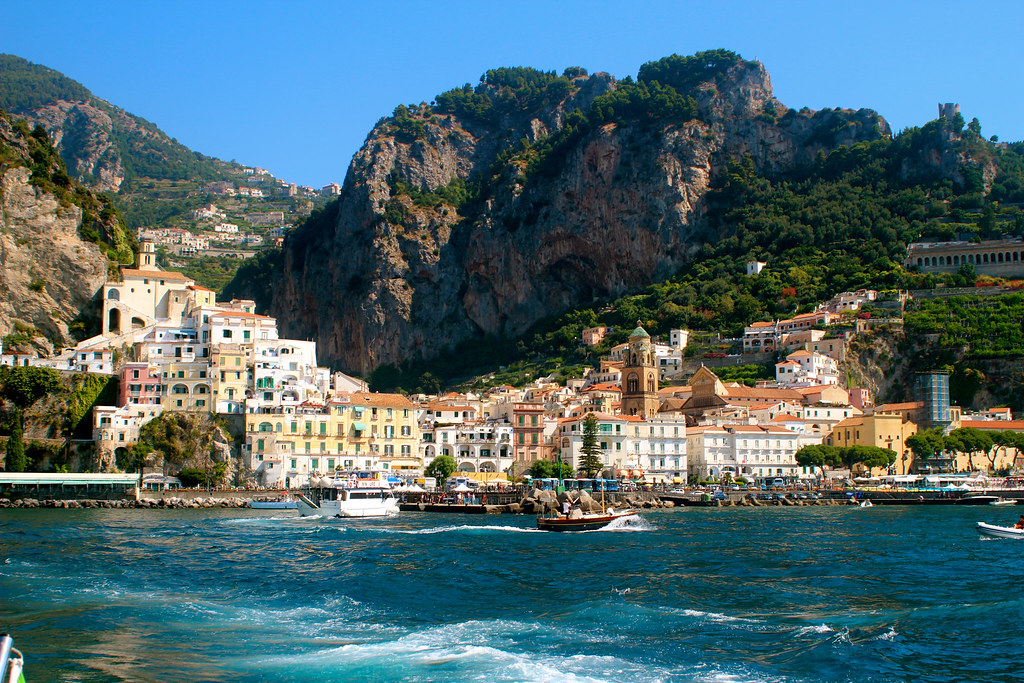 Find a good restaurant
In such a popular place like Amalfi town, it is often tough to find a good restaurant. There are many different restaurants with attractive menus and incentive waiters, so it is easy to be caught in tourist trap. Here you will find 10 best restaurants where your money will be worth spending.
Where to eat pizza in Amalfi town
If you are a pizza lover or you are searching for a delicious budget-friendly meal, you should check pizzerias in Amalfi town. There are not many pizza restaurants in Amalfi town, but here you will find the 5 best pizzerias where you can try an excellent, Italian pizza.
Where to have the best nightlife in Amalfi town
If you want to know the best bars and clubs for a night out in Amalfi town, this article will help you a lot. There are many good places to have fun at night in Amalfi town, but to choose the perfect one, you have to know where to look up.
Questions & Answers about Amalfi
1.

How big is Amalfi town?
Amalfi is slightly bigger than Positano, but it has more cultural and historical sights. The town is perfect for those who want to explore many narrow streets that look like a labyrinth.
2.

Where is Amalfi town located?
Amalfi town is located in the Gulf of Salerno between Conca dei Marini and Atrani. It is close to a very popular town on Amalfi Coast called Ravello.
3.

Where to park in Amalfi town?
It is not advisable to go to Amalfi town by car because of the huge traffic and limited parking spots. The best place to park your car in Amalfi is the large Luna Rossa parking garage where parking costs 3 euros per hour. The alternative is a car park inside the port area in Piazza Flavio Gioia for the same price.
4.

What to wear in Amalfi town?
Anything goes in Amalfi, but most people wear casual clothes. The town has a Mediterranean climate so during the summer linen dresses are very popular.
In Amalfi town, there are not only one, but several beautiful beaches where you can relax and enjoy sunbathing.
6.

When to visit Amalfi town?
The best time to visit Amalfi town is Spring or Autumn. In Summer, the town is full of tourists and the temperature is very high while in December the days are very short and it often rains.
7

.

Is Amalfi town worth it?
Amalfi is the town with the richest history on Amalfi Coast, so it is perfect for those who love visiting cultural and historical attractions while being on vacation. It also has a beautiful sandy beach and many quality restaurants so it is worth spending at least a day in Amalfi.
8.

Which airport is nearest to Amalfi town?
Naples International Airport or "Capodichino" is 76 kilometers far from Amalfi town and it is the nearest airport you can use.
9.

What to do in Amalfi town when it rains?
Amalfi town is full of indoor sights, so you will not be bored on a rainy day. Some of the attractions you can visit are Duomo di Sant'Andrea, Museo della Carta, Museo Diocesano, or Arsenalle della Republica. 
10.

What is Amalfi town known for?
The most popular tourist attraction in Amalfi is definitely the Sant'Andrea cathedral located in the center. It is pretty unusual to see a cathedral with Moorish details of the facade in Italy.