Gargnano is one of the most diverse towns in Lake Garda, located on the picturesque west bank. Hilly landscapes surround the city, so it shines above all with its charming location. Even though Gargnano is pretty small, it still has some fascinating sights and leisure facilities that are always worth visiting.
The urban area includes the districts of Bogliaco, Gargnano, and Villa, which are located directly on Lake Garda, and ten districts extending into the hills.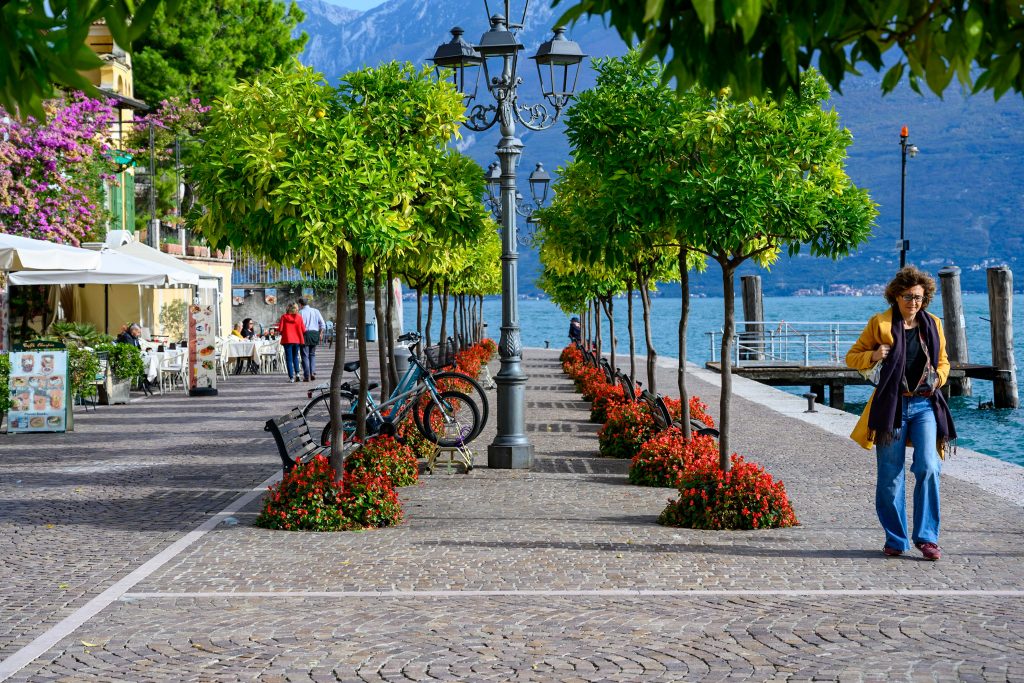 Gargnano is protected by the mountains and therefore has a Mediterranean climate. Like most of the west coast of the lake, hardly any precipitation falls in the Gargnano area during a year.
That makes this lovely town one of the famous Italian winter travel destinations where there are no winter sports. In Gargnano, the focus is on winter relaxation and not necessarily on active holidays. Here are all the things to do in Gargnano Lake Garda:
Leisurely wander around the town
Gargnano is a small tourist resort with only 2,814 inhabitants, so you can explore the whole town quickly on foot. It is really relaxing to stroll between the port and small picturesque alleys, especially in Spring when you can smell scents from different flowers and breath the fresh air. The town is very tied to its agricultural past and has a landscape that has been well preserved over the years.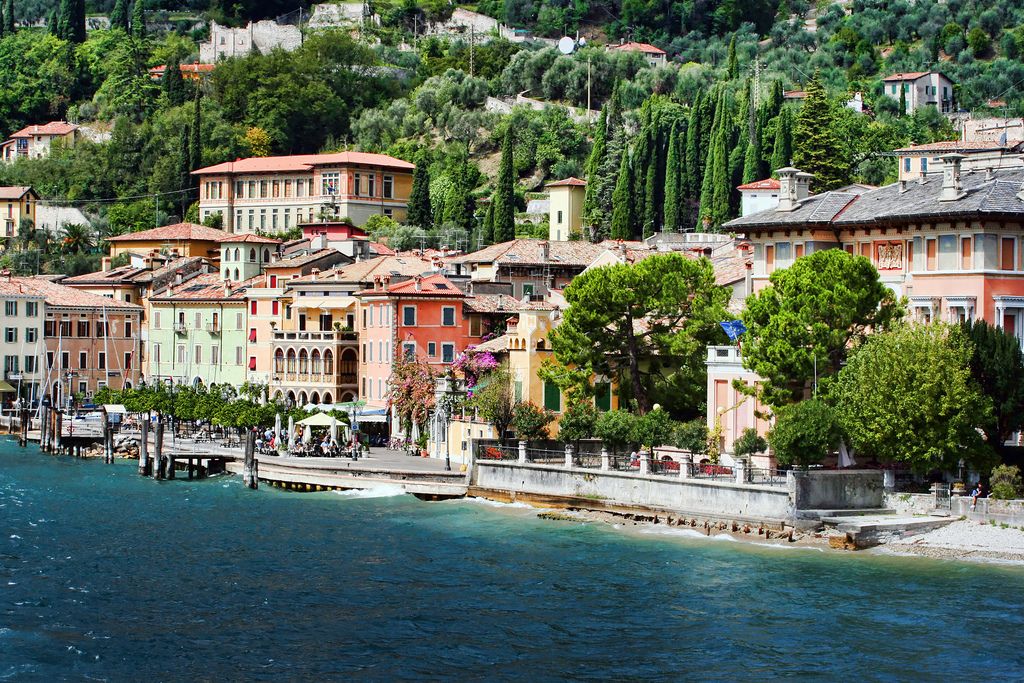 When you come to Gargnano, you will instantly feel the great atmosphere in this town. Locals are very kind and do everything to make visitors feel like they are at home. Also, Gargnano is a great holiday spot because it isn't that crowded and constantly buzzing with people. Therefore, you will have a pleasant walk in Gargnano without too many people around you.
Explore the historic center of Gargnano
The first thing you will see when you come to Gargnano is its small historic center. It is the lifeline of this small town and is located just in front of the lake, so you will have a beautiful view while being there. The center is full of small shops, bars, and restaurants where tourists and locals spend their afternoon hanging with their friends or enjoying their morning coffee.
The center is pretty unique because of houses and palaces depicting cannonballs lodged on their facades due to a bombardment of the village by Austrian ships in 1866, during the Third War of Independence.
Relax on Gargnano beaches
Gargnano becomes a very popular vacation place in summer due to a few lovely beaches. The first and the most popular one is called Spiaggia del Corno. It is a beautiful, well-kept free beach with pebbles and clear water located 2 kilometers away from the center of the town.
The beach is not very crowded, so it is recommended for couples or groups of friends. Also, Spiaggia del Corno offers many available parking spaces for those coming by car. From the beach, you will have a breathtaking panoramic view of Monte Baldo mountain.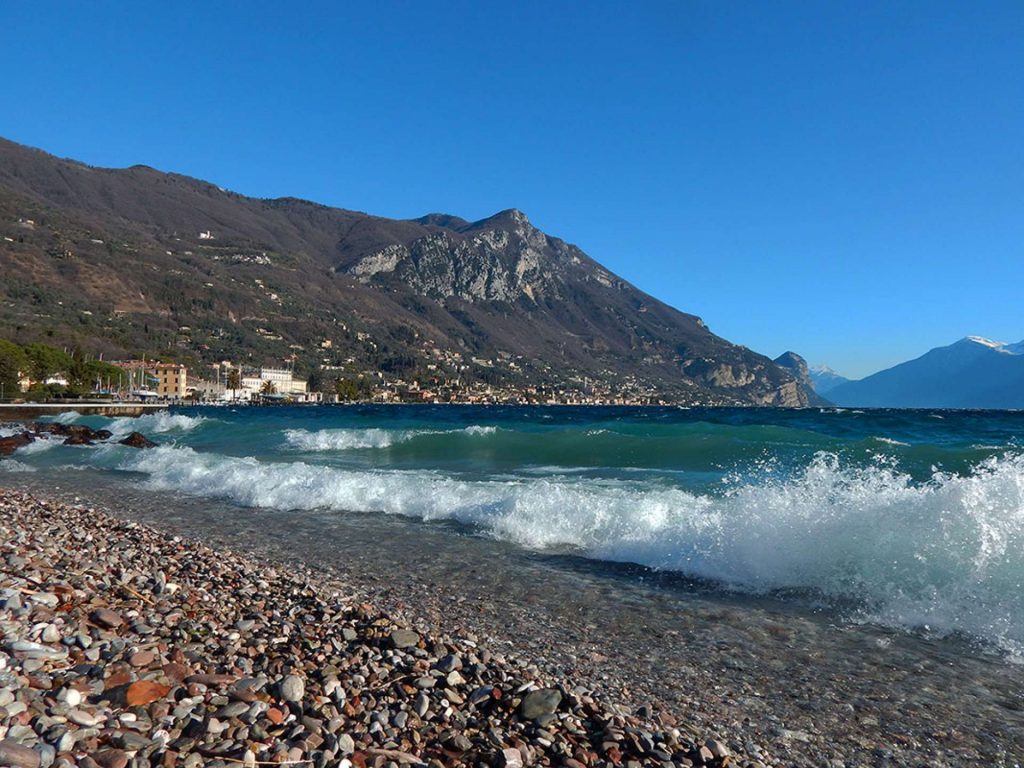 The second popular beach near Gargnano is called Fontanella beach. It is equipped with a beach volleyball court, and there is also a large green space in addition to the pebble beach. The beach is usually crowded with tourists, especially in summer, but it is still worth visiting.
Those who are interested in water sports can rent pedal boats, surfboards, and canoes. The closest beach to the center is called Spiaggia della Gial. It is a small rocky beach where pets are allowed.
Visit Gargnano churches
Over the years, Italy has become very popular because of the beautiful old but well-preserved churches. The Saint Francesco church and its cloister are a good place the start. The monastery was founded in 1266 by the Franciscans, and the church was built in 1289. In the inner courtyard of the cloister, there are porticos on columns and the bas-relief capitals decorated with fish, leaves, birds, limes, and lemons.
The second interesting one is the Saint Martino Parish Church. It was constructed in the 11th century on the remains of an old Roman building and was quite small at first, so the church was enlarged during the first half of the 19th century. The architect Rodolfo Vantini added two majestic domes to the structure. Nowadays, this impressive church has five altars with paintings done by Andrea Celesti.
Take a tour at Limonaia La Malora
Just at the beginning of Gargnano, you can find the famous Limonaia La Malora, which is certainly worth a visit. It is rumored to be one of the oldest lemon houses in Lake Garda. This house is very well maintained, and you can book a self-guiding tour for 5 euros.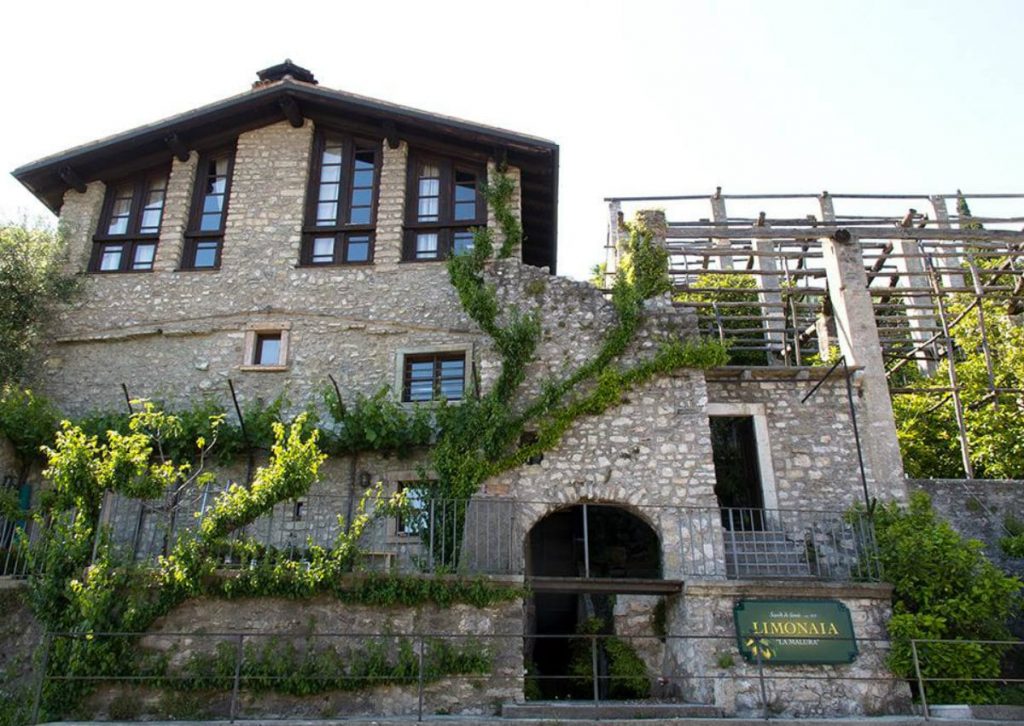 At the entrance, you will get a brochure that explains the whole history of the lemon house, and then you can walk around the lemon trees and up the different levels from where you can have a wonderful panorama on Lake Garda. At the end of the tour, you will have a possibility to taste and buy the products of the lemon house, among which are the most popular homemade limoncello and lemon jams.
Take a look at Palazzo Feltrinelli
Once you pass Gargnano center and the Fontanella beach, you will see a beautiful Palazzo Feltrinelli built by the Feltrinelli family in 1899. This palace is famous because Benito Mussolini used it at the time of the Republic of Salò. Nowadays, this lovely building belongs to the University of Milan, so many courses for foreigners and university courses are held inside.
Events in Gargnano
The most popular event in Gargnano is the Centomiglia sailing regatta, the largest of its kind on Lake Garda. The spectacle is held every year in early September and captivates thousands of people. The town's weekly markets, which are increasingly becoming a meeting point for young people, are also worth seeing and should be visited. There you can buy typical homemade food and other authentic products.
Go explore nearby Parco Alto
Gargnano visitors don't have to go far to get to the Parco Alto Garda Bresciano. After all, Gargnano is an essential part of a natural oasis, which attracts attention with a fascinating natural spectacle. Mountains towering steeply above the lake are reflected in the crystal waters of Lake Garda.
Mediterranean gardens stretch along the shore with an interplay of lush forests and mountain pastures. Now and then, a cowbell sounds while visitors comfortably drink a cup of cappuccino.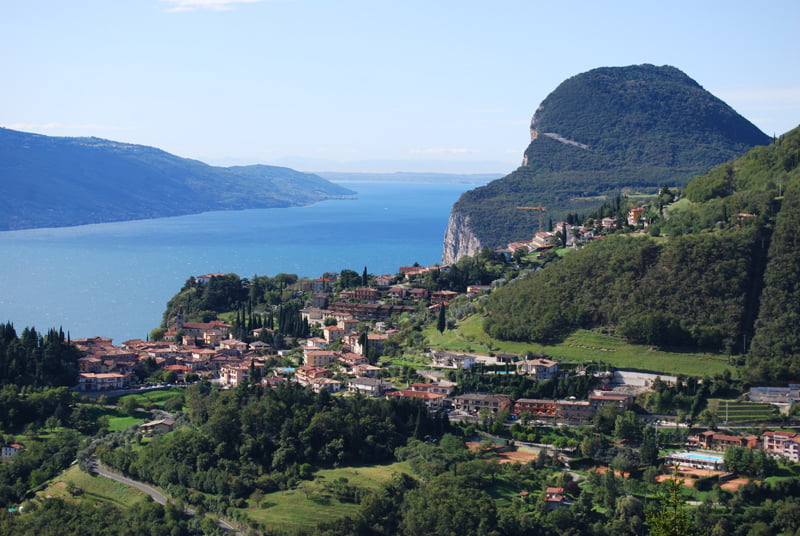 This nature park promises the best conditions for exploring the region on cobblers, horseback, or mountain bike tours. Therefore, Parco Alto is the place for those who want to breathe fresh air while exploring wonderful nature.
How to get to Gargnano
The best way to travel around Lake Garda is by bus. It allows you to sit back and look at the scenery around you without having to concentrate on driving yourself. The seating on the buses is comfortable enough, and it is very clean.
Another good thing is that you can have a second or third glass of wine with your meals because you won't need to drive anywhere yourself. There is also a ferry service between some towns. Keep in mind that some Hotels have discount vouchers for the tickets, so always ask the receptionist for vouchers.
Hey there! Some links on this page are affiliate links which means that, if you choose to make a purchase, we may earn a small commission at no extra cost to you. We greatly appreciate your support!