Besides the great weather and breathtaking scenery, many people choose Italy as a summer holiday destination simply for the food. As far as pride in the quality, presentation, and flavor of food, it can be argued that nobody does it better than the Italian culture. Northern Italy, in particular, is renowned for both its scenic views and fantastic cuisine.
Bardolino is one of the premier holiday destinations in the region, especially for tourists looking for a less busy location compared to some other towns. Located in the province of Verona on the eastern edge of Lake Garda and known as a wine district, it is famous for its sprawling vineyards, organic olive gardens, majestic marina view, and of course, its great food.
With that being said, like most touristic destinations, there are tons of places to eat, so finding the right one for you might be a bit overwhelming, especially if you don't speak the language or are visiting the area for the first time. That is why we are here to help. Here are the best restaurants in Bardolino that you don't want to miss!
(This article contains 5 restaurants in Bardolino, which are best in our subjective opinion. The order of the restaurants is not related to the quality they offer. Every restaurant has its pros and cons, so choose the one based on your personal preferences.)
La Piccola Osteria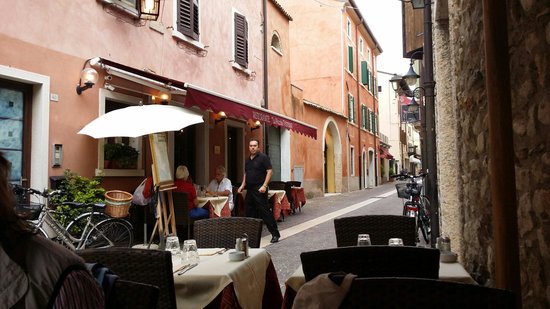 La Piccola Osteria is one of the finest dining establishments in all of Bardolino and one of the most highly rated across multiple restaurant review websites, including winning the TripAdvisor Travelers Choice award for 2022. As well as being highly regarded for their incredible food and impressive menu, the dishes at La Piccola Osteria are most well-known for their stunning presentation.
Many of the servings at La Piccola Osteria are presented like works of art, and this is definitely one restaurant where you will be taking a picture of your meal before you start eating it. For example, their vegetable flower decorations are a sight to behold and add an element of elegance to the plate. The menu itself features a wide variety of great authentic Italian dishes, almost all of which are handmade, locally sourced, and can be supplemented for a vegetarian or gluten-free option. Check out the whole menu here.
However, some reviewers have dropped scores on the basis that the food is a little overpriced or at least a little too pricy relative to the portion size. La Piccola Osteria can be found just off the busy street of Via Palestro, a few minutes walk from the Comune Di Bardolino and the Veliero San Nicoló pier. There is both indoor and outdoor seating, so whether you are looking to soak in the local atmosphere over lunch or want a warmer, more romantic setting for dinner, this restaurant has you covered for both.
La Piccola Osteria's opening hours are from 12:00 PM (12:00 hours) to 2:00 PM (14:00 hours) for lunch and then again from 6:00 PM (18:00 hours) to 10:00 PM (22:00 hours) for dinner. The restaurant is open 7 days a week, and although a booking isn't required, seating is limited, so you might want to call ahead if you are looking to dine during peak hours.
Distance: 100 meters (0.1 miles) from the port of Bardolino
Phone: +39 045 621 0421
Pizzeria Bardolino 
When you think of Italian food, pizza is probably one of the first things to come to mind, and for a good reason. Not only did the Italians invent the popular dish, but they are still by far the best in the world at making it, and once you have had authentic Italian pizza, you won't want anything else. Pizzeria Bardolino is one of the best in the region at making the classic dish, and the pizzeria was also featured on TripAdvisor's Traveler Choice list in 2022.
For mostly only offering pizza on the menu, Pizzeria Bardolino provides plenty of creativity with its pizza dishes and is accompanied by some tempting side dishes, desserts, and wine selections. You might want to grab a table inside instead of just grabbing your pizza to go. The regular busyness of Pizzeria Bardolino should tell you all you need to know about just how good the pizza is.
However, this means that finding a table might not always be so easy. They don't take bookings per see, and there is often a queue outside which moves quickly, but if you are in a hurry, this might not be the spot for you. If you do have the time, though, and want to experience the best pizza Bardolino has to offer, then Pizzeria Bardolino is certainly worth your time.
The pricing, service, and overall atmosphere of the establishment have also been praised by online reviewers and guests. Pizzeria Bardolino is located inland, somewhat away from the lake at 27 Via Fosse, not far from the SR246 highway. The restaurant is open all week long, with the opening hours starting from 12:00 PM (12:00 hours) to 2:30 PM (14:30 hours) and then again for dinner service from 5:30 PM (17:30 hours) to 11:00 PM (23:00 hours).
Distance: 350 meters (0.2 miles) from the port of Bardolino
Phone: +39 045 621 2069
Ristorante Biri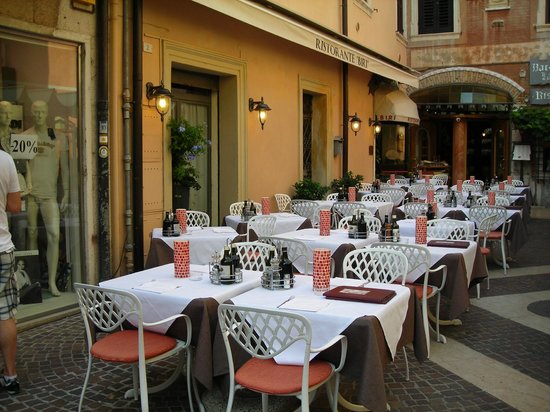 Another TripAdvisor 2022 Choice Award alumni, Ristorante Biri, has a little bit of something for everybody. For starters, the restaurant's rustic décor and outdoor patio provide the perfect backdrop for a bona fide Italian bistro experience, day or night. Situated at 4 Piazza Statuto, in the heart of Bardolino, and wedged between the cross-section of Via S. Martino and Via Giuseppe Verdi street, Ristorante Biri's inviting charm is there for all to see.
With its warm lighting, classic white tablecloths, and vintage brickwork, dining here feels as typical and authentic an Italian restaurant experience as you will find anywhere. The ensemble of delicious dishes on the menu are equally as inviting and range from classic Italian coffee, wines, and cocktails to trademark pasta, desserts, and everything else you would want from a top Italian restaurant.
Even though it is not necessarily a seafood specialty restaurant, Ristorante Biri's fish courses are undeniably some of the best on offer. As far as opening hours are concerned, Ristorante Biri is distinct from other establishments in that it remains open all day and doesn't close after lunch. They open from 12:00 PM (12:00 hours) until 10:30 PM (22:30 hours) all week long, except on Fridays when they don't open their doors until 5:00 PM (17:00 hours).
Distance: 250 meters (0.1 miles) from the port of Bardolino
Phone: +39 045 721 0873
La Virata Trattoria del Pesce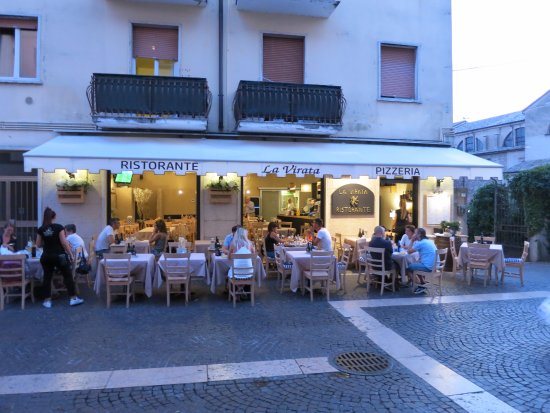 Located at 40 Via Fosse, right across the street from the Pizzeria Bardolino, La Virata Trattoria del Pesce is arguably the best fish-based restaurant Bardolino has to offer. The quiet location, tidy environment, and exceptional customer service are just some of the reasons you might want to pay this place a visit…other than the food of course.
Even though La Virata Trattoria del Pesce does offer some non-fish dishes such as pizzas and French fries, their specialty is seafood cuisine, and they are tremendous in this regard. If fish isn't exactly your thing, this probably isn't the restaurant for you, but if it is, then you must go check this place out.
Their menu is a colorfully creative array of marine-based plates, platters, and specials that will make what you eventually choose to order one of the most difficult decisions of your entire trip. Both the fresh and deep-fried octopus dishes are some of the most popular among numerous guests, with the shrimp pasta and mussels being among the other top choices.
The lobster, too, is quite the experience if you are feeling decadent, and the assorted seafood platters or mixed grill are enough to both share and leave you satisfied. If you do have some room left over afterward, there are also options for dessert or coffee, either of which is the perfect palate cleanser after all that delicious fish.
La Virata Trattoria del Pesce is open 7 days a week, with lunch starting from 12:00 PM (12:00 hours) to 2:30 PM (14:30 hours) and re-opening for dinner at 5:30 PM (17:30 hours) to 11:00 PM (23:00 hours). Pricing is overall reasonable for the quality of dishes served, while seating capacity is slightly on the smaller side.
Distance: 350 meters (0.2 miles) from the port of Bardolino
Phone: +39 045 721 1636
D'Annunzio Osteria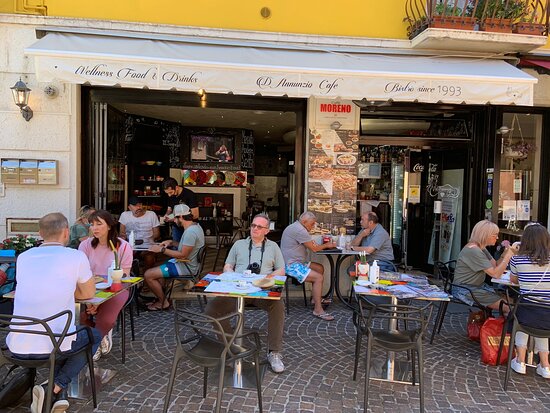 If you are looking for a restaurant that houses a broad of high-class and locally inspired cuisine, then D'Annunzio Osteria is the venue for you. The vogue style and artistic presentation of both the dishes served and the restaurant itself complement each other well to ensure a memorable dining experience. Each course is its own unique experience, and D'Annunzio Osteria is the type of place you might want to visit more than once.
Even though the menu offers an abundance of top-notch dishes, one of the restaurant's major attractions is its bread. D'Annunzio Osteria's sandwiches, subs, burgers, and breadboards are hands down some of the greatest in all of Bardolino. Furthermore, the restaurant also offers a great selection of vegetarian options and even things like pancakes and waffles, so there is something here for all the family.
Don't think that the prices will be cheaper though, just because there are some less sophisticated choices on the menu. On average, D'Annunzio Osteria is one of the more expensive restaurants on the list, but with that being said, it is by no means too overpriced or unaffordable.
You will find D'Annunzio Osteria at 5 Via Cesare Battisti, next to the main streets of Via Carducci and Via Fosse. The restaurant is open 7 days a week, all day from 7:30 AM (7:30 hours) to 12:00 AM (00:00 hours), and therefore is the perfect place for breakfast, lunch, dinner, or supper.
Distance: 350 meters (0.2 miles) from the port of Bardolino
Phone: +39 045 923 2495
Where to find the best restaurants in Bardolino?
Bardolino, like many towns on Lake Garda, has many great restaurants to choose from. What makes it great for every traveler is the fact that all the best restaurants are located around the center of Bardolino. To check them all, you won't spend more than 10 minutes. This is awesome if you want to see first which fits your budget or has available tables when you get hungry.
Check out more articles about Bardolino:
Hey there! Some links on this page are affiliate links which means that, if you choose to make a purchase, we may earn a small commission at no extra cost to you. We greatly appreciate your support!