When you think about what makes a great restaurant experience, what are some of the first things that come to mind? Delicious food? Friendly staff? Eye-catching décor? Affordable prices? These are all, no doubt, essential things, but there is one other thing required that is crucial for a truly memorable dining experience. What is this one thing missing, you ask? It is none other than a spectacular and unforgettable view.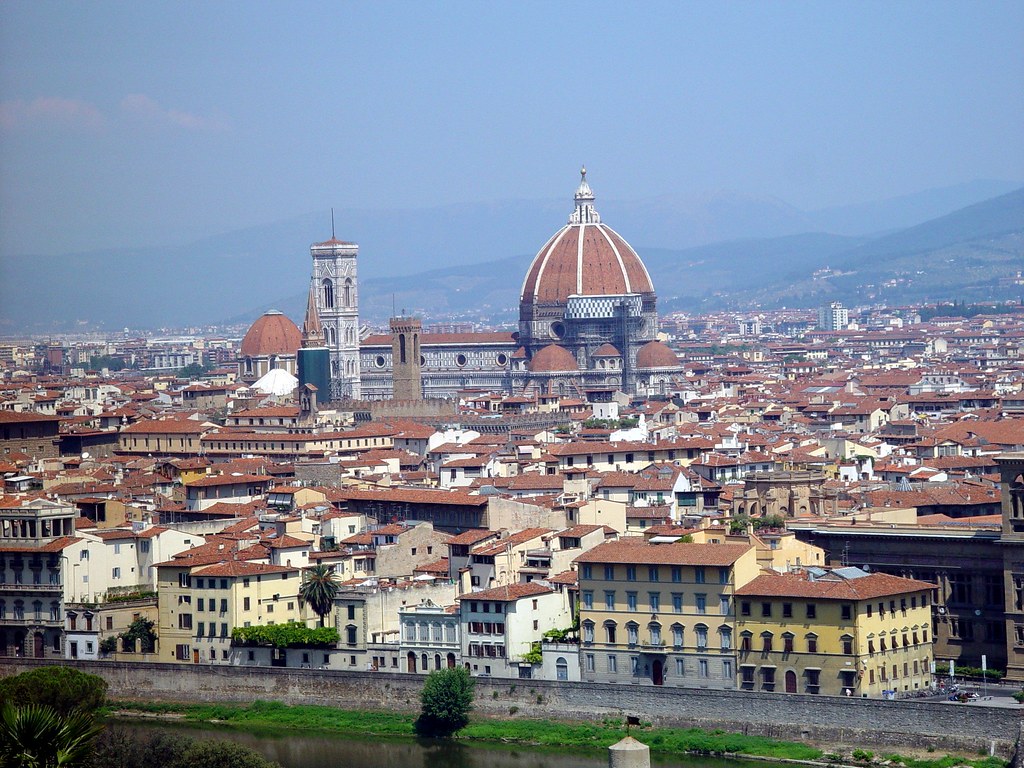 Not only can the right view greatly enhance the vibe of a restaurant, but sitting in pleasant surroundings has also been scientifically proven to increase your mood and therefore result in a more pleasurable experience all around. One popular Italian tourist destination that is known for both its breathtaking view and idyllic scenery is the Tuscan capital of Florence.
Home to a rich history of art and culture, this city is an excellent choice for travelers looking for an awesome and authentic Italian experience. During your trip, enjoying the world-famous Italian cuisine should undoubtedly be a top priority. With that being said, come along with us now as we take a tour around the city known as the birthplace of the Renaissance and take a look at some of the best restaurants in Florence with a view.
(This article contains 5 restaurants with a view in Florence, which are best in our subjective opinion. The order of the restaurants is not related to the quality they offer. Every restaurant has its pros and cons, so choose the one based on your personal preferences.)
B-Roof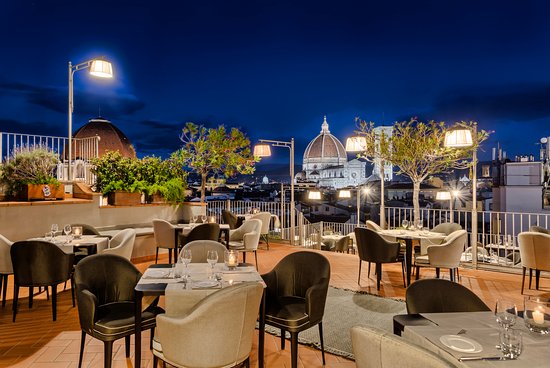 Formally known as the Terrazza Brunelleschi, B-Roof is located on the fifth floor of the Grand Hotel Baglioni in the heart of Florence. B-Roof can be found at Piazza dell'Unita Italiana 6, less than 5 minutes from Florence's historic center, and provides some of the best views in the entire city.
Whether you grab a table inside B-Roof's illustrious interior or on top of the coveted rooftop terrace, you will be rewarded with panoramic views of some of Florence's most impressive feats of architecture, such as the Basilica Di Santa Maria Novella and the Basilica Di San Lorenzo, to name just two. B-Roof specializes in traditional Tuscan cuisine. Despite being somewhat simple in this regard, the food is of excellent quality, and there is a considerable amount of variety on the menu. Like any good Italian restaurant, both the Ravioli and Tiramisu come highly recommended.
B-Roof also offers a fun cocktail menu, although some reviewers have complained that they are a little pricey for what they are. B-Roof is open seven days a week, with lunch starting from 12:30 PM (12:30 hours) to 2:00 PM (14:00 hours) and then re-opening for dinner at 7:30 PM (19:00 hours). Last orders normally occur around 10:00 PM (22:00 hours), so don't arrive too late if you wish to take your time and fully immerse yourself in the beautiful surroundings of B-Roof's rooftop retreat.
Location: Piazza dell'Unità Italiana 6
Website: B-Roof.it
Distance: 500 meters (0.3 miles) from Florence's cathedral
Phone: +39 055 2358 8560
Panorama Restaurant La Scaletta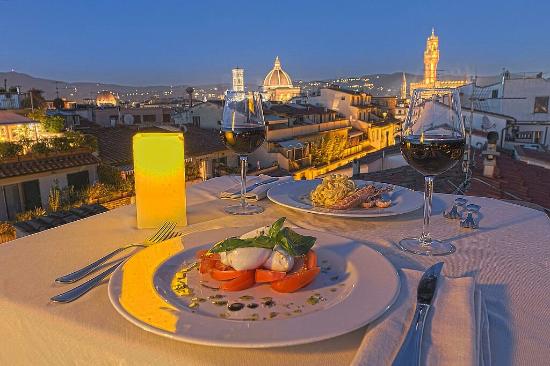 Panorama Restaurant La Scaletta is the very definition of a hidden gem and has received almost perfect review rating scores across multiple online restaurant reviewing platforms. Hidden amongst the rooftops of Via Dei Guicciardini, the Piazza De' Pitti on the south side of the river, Panorama Restaurant La Scaletta is perfect for those looking for a little slice of gourmet tranquility.
Having received TripAdvisor's traveler choice award in 2022 as well as many other accolades, Panorama Restaurant La Scaletta offers a fine dining experience that is unlike anything else in all of Florence and unmatched in terms of quality. The hand-crafted dishes are so beautifully presented that you will definitely be taking a picture before you start eating.
Speaking of picture worthy, the views around La Scaletta are some of the very best and most inspiring this side of the Arno, and there is no better way to see sights such as the Palazzo Pitti, the Ponte Vecchio and Ponte Santa Trinita bridges, and the Basilica Di Santo Spirito, than from the canopy of Restaurant La Scaletta.
Panorama Restaurant La Scaletta is open seven days a week but only for dinner service, which starts at 7:00 PM (19:00 hours) and stops around 10:30 PM (22:30 hours). Prices are considered slightly above average comparatively but are affordable overall. The cheesecake is a must-try for anybody who like desserts, and the wild boar pappardella is among the restaurant's most acclaimed dishes.
Distance: 850 meters (0.5 miles) from Florence's cathedral
Phone: +39 379 145 2728
La Leggenda Dei Frati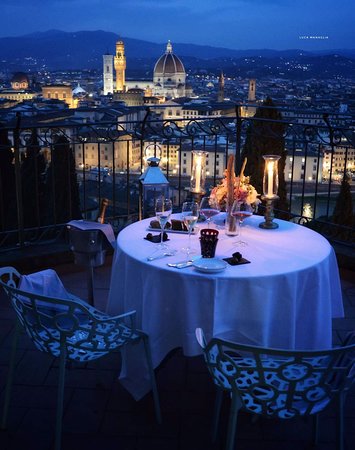 The La Leggenda Dei Frati derives its name from an old Siena legend about three friars indulging in a night of heavy eating and drinking and is one of the oldest restaurants in Florence still thriving today.
Built way back in the 1600s, La Leggenda Dei Frati has a long history of success and has garnered a reputation as one of the best restaurants in the region and a true Tuscan establishment. It can be found inside the Villa Bardini at Costa San Giorgio. The grounds of the villa also feature the beautiful Bardini Gardens, as well as a contemporary art museum on site.
Subsequently, the views from the restaurant's windows and rooftop are simply breathtaking, especially in the evening. The vibe and atmosphere in this lovely restaurant are very elegant and cozy, thanks to its bright décor and a lot of artwork. The food served is both outstanding and creative, as La Leggenda boasts a Michelin star to its name. It offers a wide menu of colorful and charming courses, as well as wine tasting and beautifully decorated tasting boards to get the most from the menu.
Despite all this, the restaurant is very expensive, so it can be an underwhelming experience in terms of service and price for those who don't want to spend a fortune on such an experience. La Leggenda Dei Frati is open from 7:00 PM (19:00 hours) to 10:00 PM (22:00 hours) on weekdays and from 12:30 PM (12:30 hours) to 2:30 PM (14:30 hours) for lunch on weekends, with dinner service starting again from 7:00 PM (19:00 hours) to around 10:30 PM (22:30 hours).
Distance: 1.2 kilometers (0.7 miles) from Florence's cathedral
Phone: +39 055 068 0545
SE-STO On Arno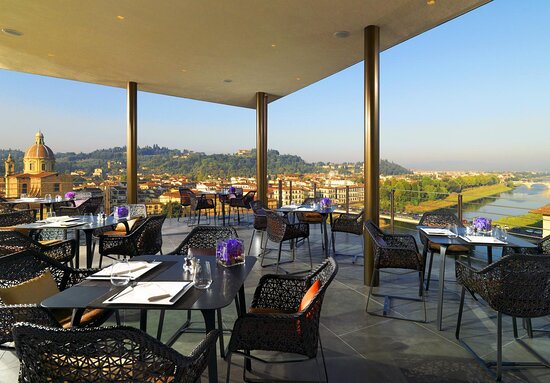 SE-STO is a trendy upscale restaurant and rooftop bar. It is situated on the sixth floor of the Western Excelsior Hotel at Piazza Ognissanti, right beside the river Arno and the Basilica Di Santa Maria Novella. SE-STO offers some of the best drinks in all of Florence, as well as a comprehensive gourmet menu.  
The five-star view and incredible glass-plated outdoor area are the main reasons why you will want to visit SE-STO though. Being six floors up, SE-STO is well above the hustle and bustle of the streets below and provides the perfect venue for taking in the surrounding sights, day or night. The food is mostly Mediterranean based with some international dishes also available. Reviews are mixed online, with the bar and rooftop terrace being highly rated, while the food is only average when compared to the quality found in Florence.
SE-STO is the perfect place for those who want to enjoy incredible evening views while drinking some amazing cocktails or a glass of high-quality wine. Both the restaurant and bar at SE-STO On Arno are open all week long, all year round. The restaurant opens its doors for lunch at 12:00 PM (12:00 hours) and closes at 2:30 PM (14:30 hours). Dinner service usually starts from around 7:00 PM (19:00 hours) to 10:30 PM (22:30 hours), while the bar stays open all day from 12:00 PM (12:00 hours) until 1:00 AM (1:00 hours).
Distance: 1 kilometer (0.6 miles) from Florence's cathedral
Phone:  +39 055 2715 2783
Angel Roofbar & Dining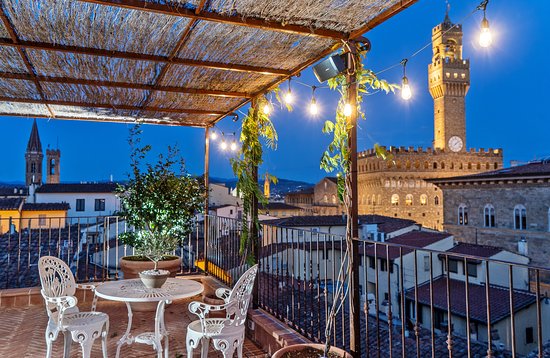 Located on the fifth floor in the Hotel Calimala at Via Calimala 2, right next to the Plaza Della Signoria, Angel Roofbar & Dining offers a unique Italian rooftop dining experience. Location-wise, there is arguably no better place to be found in all of Florence when it comes to viewing the amazing architecture, culture, and atmosphere that Florence is famous for.  
Angel Roofbar's 360-degree panoramic view of the city is something you can only get here. It provides unparalleled views of the Piazza Della Repubblica, the Piazza Della Signoria, the Palazzo Vecchio, and the Palazzo Strozzi, as well as the Duomo Cathedral to mention just a few. If you are looking for the best angle to take pictures of the popular sights while enjoying a drink and a bite to eat, then Angel Roofbar & Dining is definitely the place for you.
Having also been featured on TripAdvisor's traveler's choice award list last year, Angel Roofbar & Dining's food and drink can be both fun and refreshing, but just like SE-STO, the real selling point of this place is the unforgettable view. The food served is a fusion of Mediterranean food, and Angel Roofbar makes a point to highlight both its health-conscious and vegetarian courses.
There is a good selection of entrees and main courses, so if you are just looking for appetizers along with your drinks, Angel Roofbar has you covered. Some reviewers online were disappointed by the price, but most enjoyed the food and atmosphere provided. As far as the drinks menu goes, Angel Roofbar & Dining provides a wide variety of refreshments aimed at adding romance or excitement to your meal.
From local Tuscan wines to cocktails bursting with flavor. The vibe is a mixture of authentic Italian with a modern trend. There is a second bar downstairs accompanied by a small pool, and in the height of summer can get quite lively. Both the restaurant and bar are open from 5:00 PM (17:00 hours) to 11:00 PM (23:00 hours) on weekdays and all day on weekends from 11:00 AM (11:00 hours) to 11:00 PM (23:00 hours).
Distance: 400 meters (0.2 miles) from Florence's cathedral
Phone: +39 339 411 3863
Where to find the best restaurants in Florence with a view?
Even though there are many viewpoints in Florence that offer breathtaking views, you won't find many rooftop restaurants. However, if you want romantic lunch or dinner with a view, there are still a few restaurants in Florence. The good thing is that all of them are pretty close to the center, so you won't have to walk a lot. Keep in mind that restaurants with a view have higher prices than regular ones, and a view is usually what you are paying for while the food is still pretty good but rarely worth these prices.
Check out more articles about Florence:
Hey there! Some links on this page are affiliate links which means that, if you choose to make a purchase, we may earn a small commission at no extra cost to you. We greatly appreciate your support!