Located just fifteen minutes from the popular tourist town of Positano on the beautiful Amalfi Coast in Southern Italy, the tranquil little village of Nocelle is the very definition of a hidden gem. Known primarily for the elevated viewpoint of the surrounding coast and the Path of the Gods hiking trail, Nocelle is the perfect place to explore for an afternoon or two.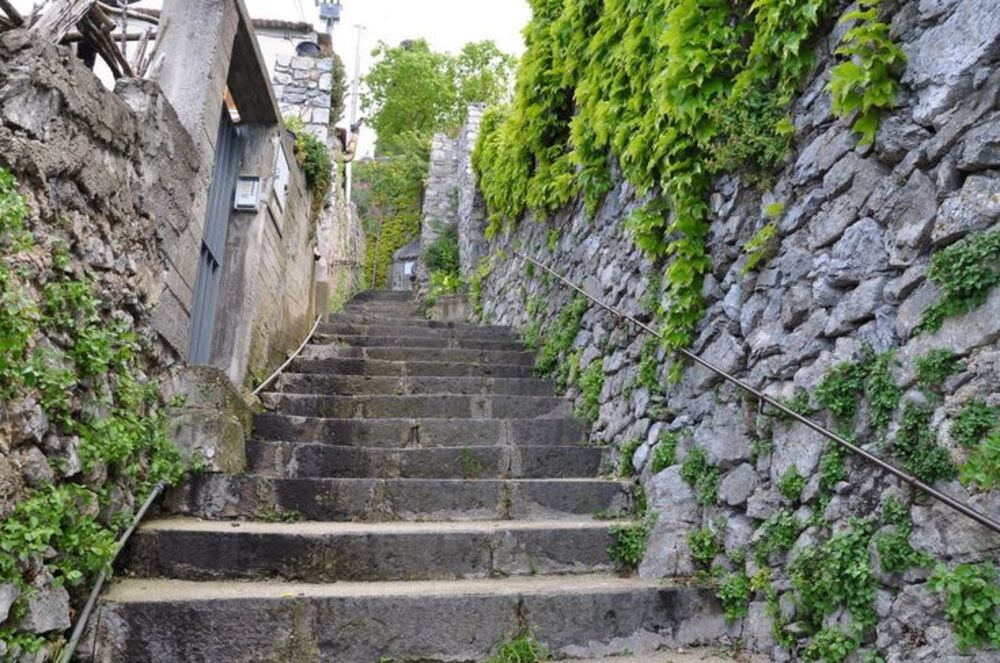 For most tourists, it is the hike to the top of the Path of the Gods trail and the incredible views awaiting at the summit that usually brings outsiders to the town. The hike itself takes around 3 hours to complete and has many great places to stop for a drink or bite to eat along the way. You can reward yourself with something tasty after you have finished the hike and taken in the views from the top. Here are the best restaurants in Nocelle:
(This article contains 3 restaurants in Nocelle, which are best in our subjective opinion. The order of the restaurants is not related to the quality they offer. Every restaurant has its pros and cons, so choose the one based on your personal preferences.)
Rifugio dei Mele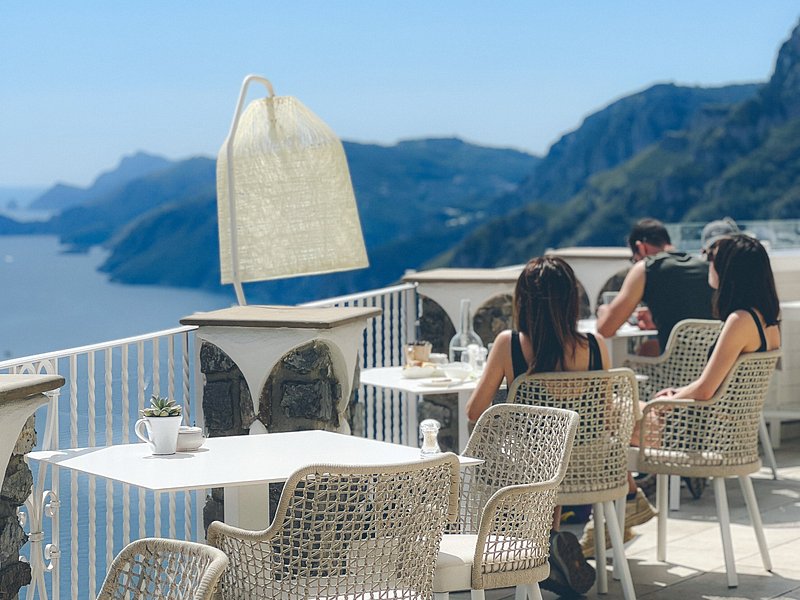 One of the best things in all of Nocelle is undoubtedly Rifugio dei Mele. With a charming décor, unforgettable terrace views, an impressive wine and cocktail list, and a menu that's designed to wow, Rifugio dei Mele is the type of culinary experience you will remember for a long time afterward. It is also one of a select group of TripAdvisor-reviewed restaurants to have received a flawless 5-star rating from customers.
Situated in the heart of the Nocelle hills, this lovely restaurant has something for everyone. If the jaw-dropping view overlooking the azure waters of the Amalfi Coast isn't enough to entice you to come inside, the highly-rated, top-quality food certainly will. The menu is full of Mediterranean and traditional Italian dishes, but the most popular dish is tasty grilled steak. Rifugio's quirky dessert menu is also a particular high point and provides a unique assembly of picture-worthy dishes that are both delicious and aesthetically pleasing to look at.
Prices start off reasonable enough, but some dishes or wines can be quite pricey, so keep this in mind before you go. Rifugio Dei Mele is open all week long, with lunch service beginning at 12:00 PM (12:00 hours) and wrapping up at 3:30 PM (15:30 hours). The restaurant re-opens its doors at 6:30 PM (18:30 hours) for dinner service, with the last orders ending around 10:00 PM (22:00 hours). Rifugio Dei Mele also provides a shuttle service to and from Positano, so getting to the restaurant and back won't be a problem.
Distance: 100 meters (0.1 miles) from the Path of the Gods hiking route
Phone: +39 089 811 429
Il Chiosco del Sentiero degli Dei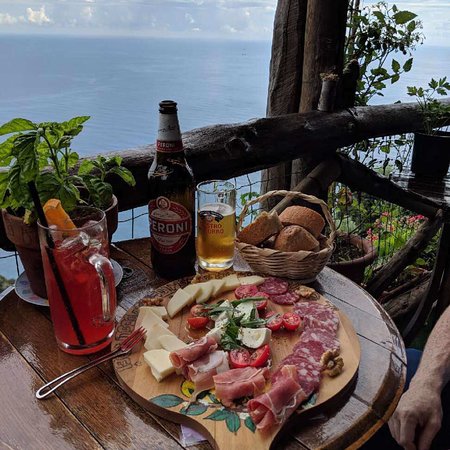 Keeping with the theme of breathtaking views as a central theme, the views at Il Chiosco del Sentiero degli Dei rival any other in all of Amalfi. The restaurant's rustic outdoor terrace is calling you with all the charm and glamour you could ever hope for, while the panoramic snapshot of the seascape below is something that cannot be explained in words and has to be experienced to fully appreciate.
A family-run restaurant for many years, Il Chiosco del Sentiero degli Dei doubles as both a café and restaurant, catering to travelers just passing by on the trail and those looking for an authentic Italian meal experience. As well as being regional and refreshing, the food and drink available are delicately light and very healthy. Also, this high-quality, authentic food is fairly affordable.
The locally grown lemon juice and bruschetta are among the best found anywhere in the area and the sandwiches are also something you would die for. The homegrown tomatoes and mozzarella are also a hit with guests, as is the Caprese salad. The restaurant is quite small but this only adds to the atmosphere and vibe of the place. There is no direct shuttle service to this restaurant, so you will have to get a taxi or walk there.
If you are hiking along "The Path Of The Gods" hiking trail, Il Chiosco del Sentiero degli Dei is the perfect place to stop off and grab a cold drink. Also, it is a perfect restaurant to enjoy the full service and amazing view of the Amalfi Coast. You can visit this charming place every day except Sunday from 8:00 AM (8:00 hours) to 7:00 PM (19:00 hours).
Distance: Right at the start of the Path of the Gods hiking route
Phone: +39 328 967 0581
Ristorante Santa Croce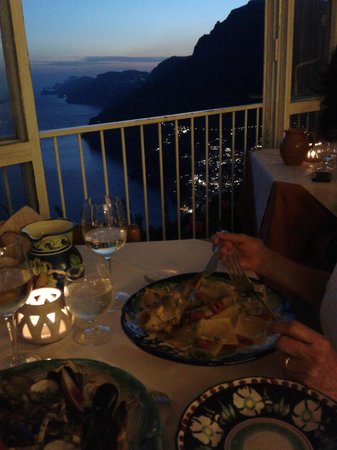 If you are looking for more of a fine dining experience while exploring Nocelle, then Ristorante Santa Croce is the perfect place for you. With a classic Italian look and feel in terms of decoration and atmosphere, this restaurant also offers an incredibly delicious Italian menu, featuring seafood and Southern Italian recipes as its main attractions.
Other than the amazing views that can pretty much be found all along Nocelle on the Path of the Gods hike, what really makes this place worth mentioning is the spectacular cooking and impressive list of available dishes. Also, there is a great wine cellar with some popular high-quality wines.
From top-notch salads to masterfully sliced meat and cheese plates, crunchy fried calamari to rich-sauced ravioli, Ristorante Santa Croce is sure to leave you satisfied with each of their meals. However, with so many great courses to choose from picking the right one for you might be a challenge.
Some particularly popular dishes are the grilled mozzarella, the seafood pasta, and the gnocchi, but whatever you choose is sure not to disappoint. The restaurant is closed on Mondays and opens the rest of the week for both lunch and dinner. Lunch runs from 12:30 PM (12:30 hours) to 3:30 PM (15:30 hours), while dinner starts at 7:00 PM (19:00 hours) and finishes at around 10:30 PM (22:30 hours).
Distance: 200 meters (0.1 miles) from the Path of the Gods hiking route
Phone: +39 089 811 260
Where to find the best restaurants in Nocelle?
Nocelle is a very small village, so there are not many restaurants to choose from. However, these restaurants really offer a unique experience for their guests. Usually, hikers, after crossing the Path of the Gods route, are very hungry and want to eat something delicious and authentic. After a long walk, they won't settle for something that is not very tasty and professionally cooked. That is why these restaurants have to provide excellent, high-quality food to stay in business. Therefore, whichever restaurant you choose, you won't make a mistake. All of them offer amazing eating experiences and food that will be worth your money and time.
Check out more articles about Nocelle:
Hey there! Some links on this page are affiliate links which means that, if you choose to make a purchase, we may earn a small commission at no extra cost to you. We greatly appreciate your support!