The tiny village of Nocelle near Positano on the Amalfi Coast is so small that it only has around 100 permanent residents. It is located above Positano, pretty high in the mountains, at an altitude of 461 meters above the sea. The village has much-lower prices than in Positano and other Amalfi towns, so it is a perfect base for those who want to save a little. Even though it is off the beaten track, you can still meet at least a few tourists anytime in Nocelle who admire breathtaking views or hike on surrounding roads.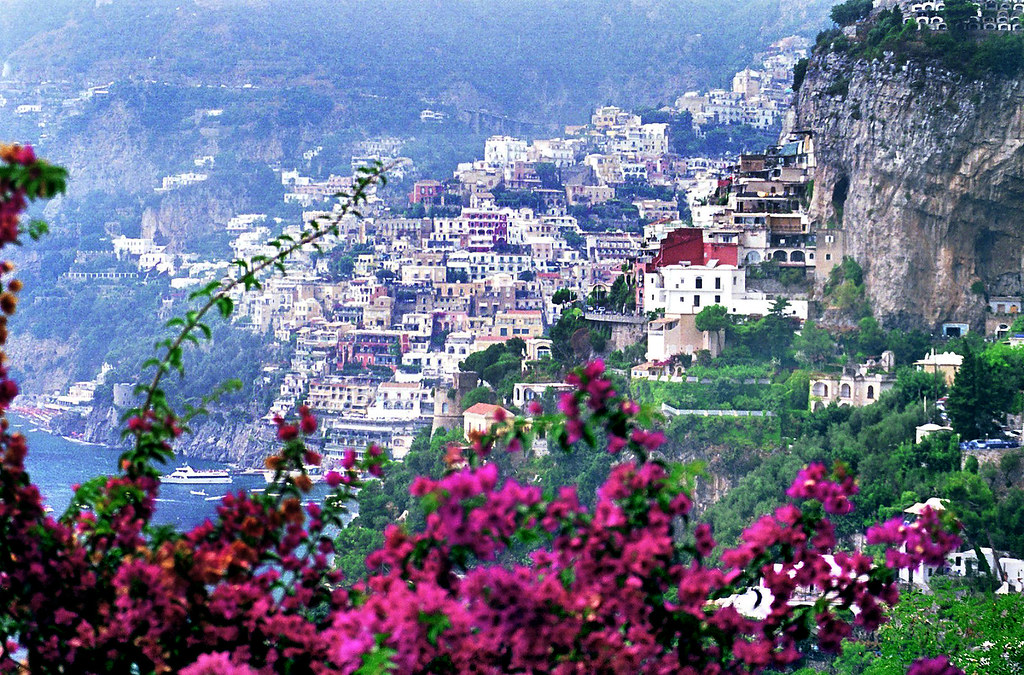 Also, Nocelle's altitude is excellent for those who want to cool themselves on the hottest days of summer because there is always a pleasant wind breeze. Despite its small geographical size and population, there is enough to see and do in this quaint village, including food hangouts and walking opportunities. Here are the best things to do in Nocelle:
Buy fresh ingredients from the Nocelle Mini Market
If you are staying in Nocelle, why not make your own delicious meals using local ingredients? Check out Nocelle Mini Market, located only 3 minutes away from the heart of the village. There you can find some essential items like strawberries, tomatoes, herbs and spices, mozzarella, and various breads. Plus, a selection of the finest Italian wines is available here too. Don't let the lack of shops in the village fool you into thinking that the prices will be extortionately high.
In fact, costs at Nocelle Mini Market are among the lowest on the Amalfi Coast. Therefore, you can get your hands on high-quality ingredients at affordable prices. Also, by getting your groceries from Nocelle's Mini Market, you will support small businesses and ensure that this place remains open for tourists in the future. Buying from small-scale shops is always the best way to secure fresh produce, support local enterprises, and lower your carbon footprint.
Find time to reflect at the Chiesa di Santa Croce
If you are looking to wander the stretching pews of a giant cathedral, you won't find any experiences like that in the small coastal village of Nocelle. But look at it another way. For many, religion is supposed to be an intimate practice, and the Santa Croce church is perfect for just that. Perched in the foreground of a glistening blue sea, you will find a beautiful pink stone church.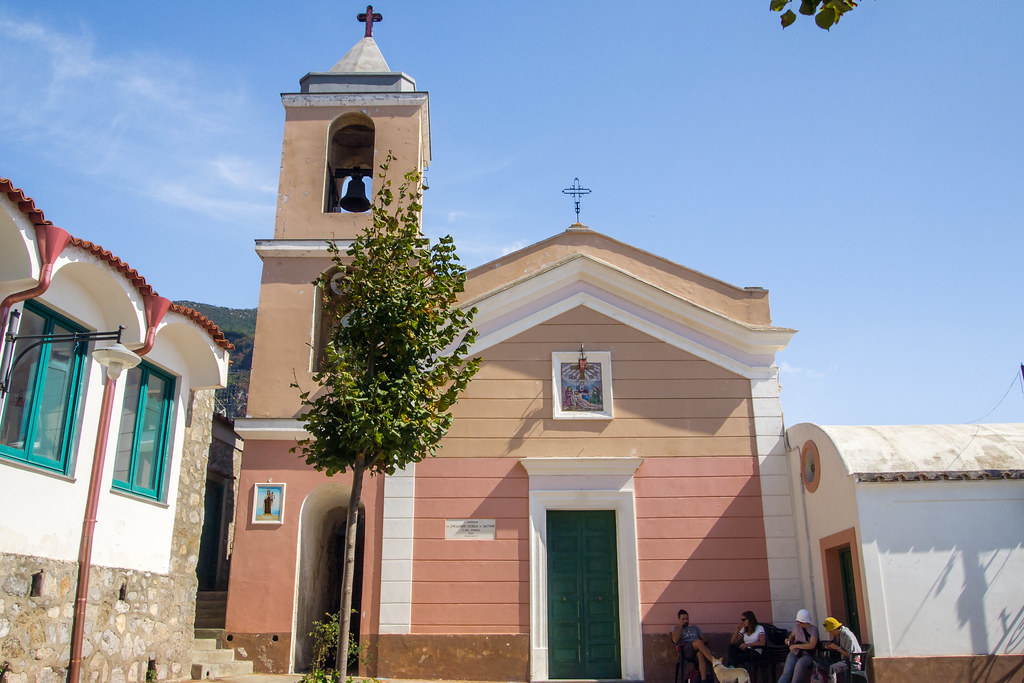 It is very easy to spot because of its contrasting green door. Inside the church's quaint exterior, you will discover a small area for quiet contemplation and prayer. Whether you are religious or not, you will enjoy the historical importance of this building and find enjoyment considering how it has united many generations of Nocelle residents. This humble church is free to visit all year round and is best enjoyed just before you sample a fresh lemonade from Lemon Point.
Stop for Lemonade at Lemon Point
Right next to the church, there is Lemon Point. It is a quaint juice bar housed within a hut that offers lemonade, orange juice, and slush drinks. The extremely low cost of the products for sale here will surprise you, given its location at the end of a popular hiking trail and overlooking the sea.
The owner of Lemon Point is incredibly friendly and is always found with a smile on his face, making this experience truly heartwarming and special. There are plenty of benches nearby the hut, so you can sit and look out across the ocean while sipping on your refreshing beverage.
Dine at one of Nocelle's restaurants
Even though there are only a few restaurants in Nocelle, all of them offer excellent, high-quality and traditional Italian dishes. Using local ingredients and creative flair, the meals on offer here include seafood, zucchini, ravioli, gnocchi, lamb, and meatballs. Furthermore, restaurants in Nocelle give so much more for the money you pay than restaurants in other popular towns on Amalfi Coast.
Besides the authentic food, these restaurants have one of the best views on the whole coast. Imagine having an authentic meal made of local ingredients, an amazing view of Positano and the sea, and all of that for reasonable prices. To secure a seat with the best view, it is advised that you call ahead.
Take A hike along The Path of the Gods
Hikers – rejoice! Fans of active holidays will love this unique opportunity within the hills of the Amalfi Coast. Known as "Sentiero degli Dei" or The Path of the Gods, the walk between the two small villages of Nocelle and Agerola is truly spectacular. Named this because of the gorgeous views of the Amalfi Coast and the island of Capri, this hike is a chance to build physical and mental strength.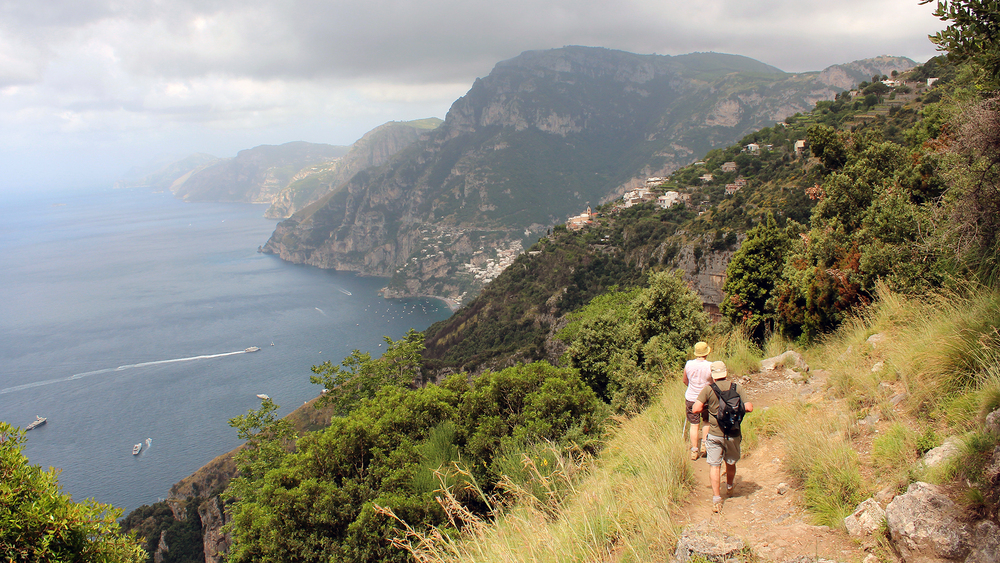 If you decide to take a hike in the summer months, we recommend starting your hike early in the morning and going most of the hike before the hotter afternoon temperatures. Even though you will be hiking at a high altitude where temperatures are better, it is still not advisable to go when the sun is the strongest. Don't forget to get sun cream with you to not get burned.
Break for juice at Sapori d'Italia
On the outskirts of Nocelle sits a cute little van serving tasty juice drinks. It is right near the bus stop, so is perfect for those visiting Nocelle for the day as well as those on a walk along The Path of the Gods. The painted lemons on the side of the van make it easy to spot.
Sapori d'Italia opens daily from 12:00 PM (12:00 hours) to 7:00 PM (19:00 hours) and sells refreshing ice cold drinks like lemonade and slush, as well as hot drinks like coffee and alcoholic drinks including beer. It is a much-needed stop for those who have just hiked up the mountain to Nocelle.
Find the cross above Nochelle
While hiking around Nocelle, keep your eyes peeled for a giant red metal cross. It is about twice the size of a person and is a powerful symbol for local Christians. Facing out to the ocean, this cross in the hills has no doubt helped some sailors to shore over the years.
Sample a limoncello at Il Chiosco del Seniero Degli Dei
For fine dining at its best, visit Il Chiosco del Seniero Degli Dei in Nocelle. It's the ideal lunchtime spot, serving a meat and cheese board, toasted sandwiches, and bruschetta. There's also coffee, juice, Aperol spritz, prosecco, and limoncello – a perfect citrusy treat.
Other things to do in Nocelle
If you are staying in Nocelle or just coming to this village for a day, you can simply walk around, explore tiny narrow streets, and enjoy the surrounding nature. Nocelle is very quiet and, therefore, the best for those who want to relax away from Positano's crowds. Also, this village comes in very handy for those who look for parking.
Parking on Amalfi Coast usually causes headaches to all that comes by car, especially in the summer season. It is almost impossible to find an available spot in Positano during the season. However, finding parking in Nocelle is not only possible, but it is also free. Therefore, don't be surprised if you see tourists come to Nocelle only to park their cars.
Check out more articles about Nocelle:
Hey there! Some links on this page are affiliate links which means that, if you choose to make a purchase, we may earn a small commission at no extra cost to you. We greatly appreciate your support!