If you are heading to Bologna by car, the first thing you probably want to know is the parking situation in the city. Well, you don't have to worry because there are enough parking spots for everyone. However, the closer you get to the center of Bologna, the harder you will find available spots, and also the price will be higher too.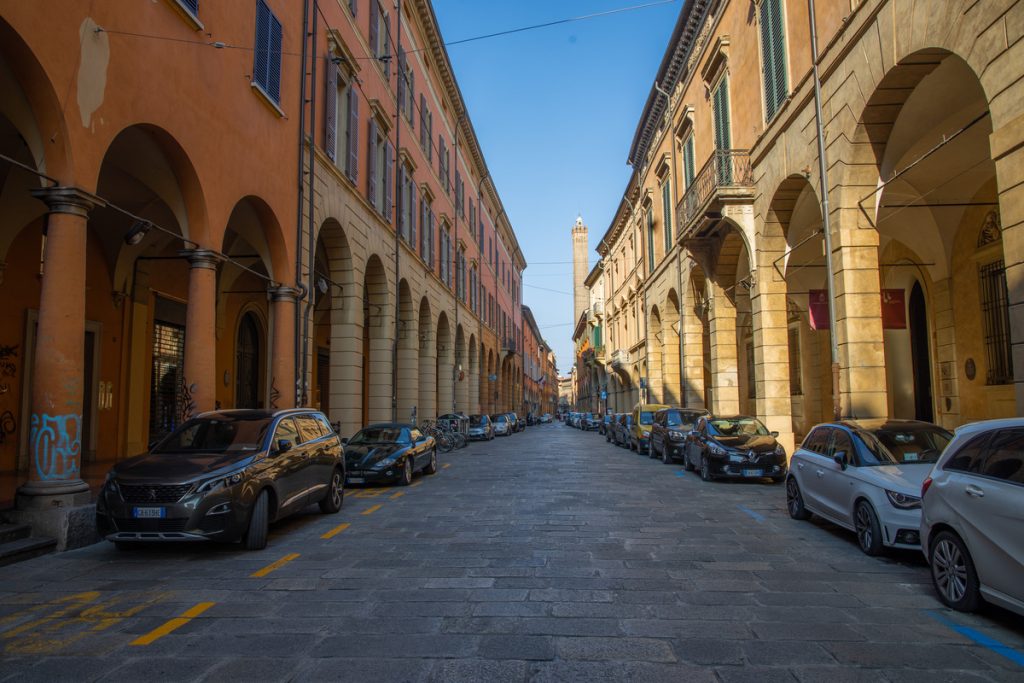 But that is a pretty normal thing for all popular tourist destinations, so prepare your nerves for that. There are three different colored parking lines in Bologna, white, blue, and yellow ones. The white lines are for residents, the blue lines are paid parking spots, and the yellow ones are for buses, taxis, or people with disabilities. Let's dive into the tips on how to find parking in Bologna easily.
Free parking in Bologna
Are you looking for free parking in Bologna? Unfortunately, we have to tell you that there is no free parking there, but we are here to offer you the best options where you can park your car. The best advice is to park your car a little outside the center and proceed on foot or by public transport to the historical center of the city. When looking for parking in Bologna, take into account that white lines do not indicate that you can park for free in Bologna like in some other countries or even Italian cities.
They are used to indicate the parking spaces reserved for residents, so you will get a ticket if you park there. When you notice yellow parking lines, avoid them because they are intended for buses, taxis, or people with disabilities. If you want to park on the street in Bologna near the central areas, you will need to look for the blue lines.
Where to park in Bologna?
You can park on parking spots in Bologna's streets that are marked with blue lines, but keep in mind that there are different prices and time ranges according to the area where they are located. Be prepared that you won't be able to find any parking spot cheaper than 1.80 euros per hour near the center, and there is no daily parking rate in the historic center. So, find parking near the historical center in the early hours of the day because you will have better luck then.
Also, take coins with you because you will definitely need them to pay for parking using the machine, which sometimes doesn't accept cards. If you prefer bigger car parks or parking garages rather than parking on the street, here are the best car parks in Bologna:
Tanari parking in Bologna
Tanari parking is the best choice for those who want to save some money. It is close to the train station and located only two kilometers from the center. Furthermore, the parking has 450 parking spaces, but it is not covered or guarded if that is important to you. As for costs, the hourly rate is 0.60 euros while for the whole day, you will have to pay 5.00 euros.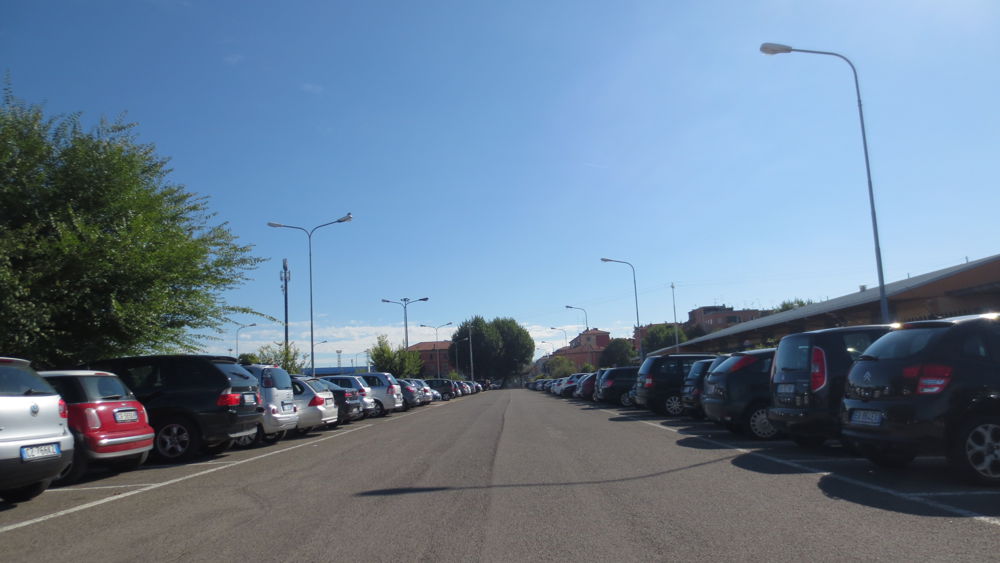 These rates are very affordable for such a popular Italian city like Bologna, but there is even one trick on how you can save more. If you plan to use public transport pass, you can leave your car for 24 hours totally free of charge. Yes, you read it right! Tanari parking is free for 24 hours from the entrance if you have a public transport pass on a MiMuovo card or if, after parking, you travel by public transport to reach the city center.
After you park your car, buy the bus ticket at the automatic cash desk. When you return to the parking lot, just insert the used LPT ticket into the validating machine in the car park to get the exit ticket for free. This parking is open 24 hours a day, every day of the year, and there are automatic cash machines where you can pay by cash or card.
Parking Staveco in Bologna
If you are looking for parking just a few minutes from the city center, Parcheggio "Staveco" is the parking you should consider! However, take into account that it is located in a restricted traffic area. If it is your first time in Bologna and you don't know the streets well, don't worry, you will find this parking lot quite easily. Staveco parking is slightly cheaper than the others close to the center.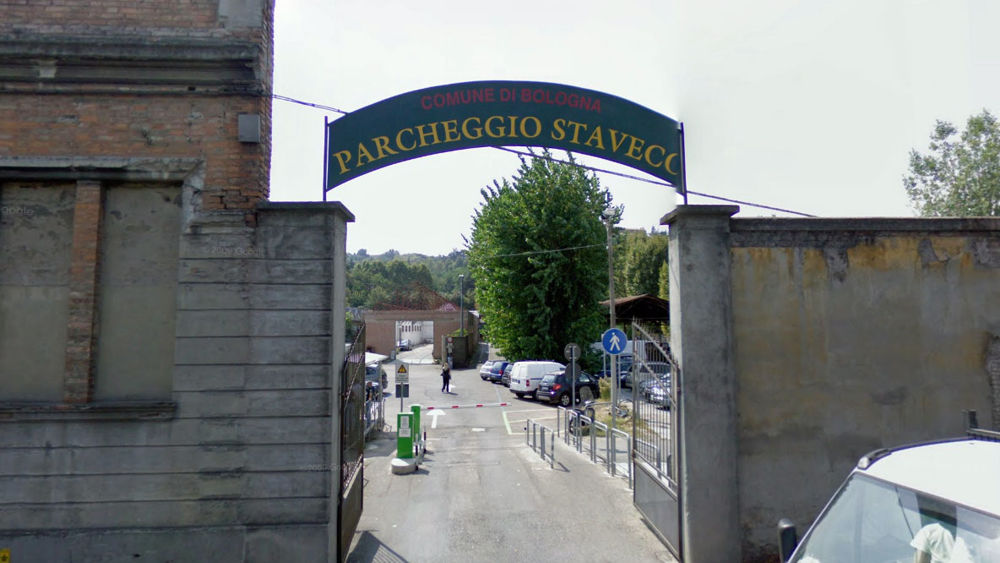 You will have to pay 2.00 euros per hour, and daily parking will get you 12.00 euros. If you want to leave your car overnight, then every night hour is 1.00 euro. This parking is also open 24 hours a day, every day of the year, and has card or cash payment options. There are 180 uncovered parking spaces, and the parking is not guarded.
Parking Riva Reno in Bologna
Parcheggio Riva Reno is another car park located within the historic center but not in the restricted traffic area in Bologna. It is a multi-story car park with 540 parking spaces available open any day of the year, 24 hours a day. You will have to pay 2.70 euros per hour, while daily parking tickets cost 18.00 euros.
Of course, the parking fee varies according to the length of the stay, so the longer you stay, the less you pay per hour. The car park is not guarded, but it is secured with cameras which is pretty convenient. Like most car parks in Bologna, it is also equipped with automatic payment machines for cash, credit card, or debit card. Keep in mind that this parking is rarely sold out and therefore highly recommended if you come on weekends.
Parking VIII Agosto in Bologna
If you want to park your car at the entrance to the Limited Traffic Zone (ZTL) in order to get to the limited traffic area of Bologna as quickly as possible, park your car in Piazza VIII Agosto. This underground, multilevel parking lot is located in front of the Giardino della Montagnola in the historic center of Bologna. Most Bolognese who live in the suburbs of Bologna chooses this parking when they come to the city center during the weekend.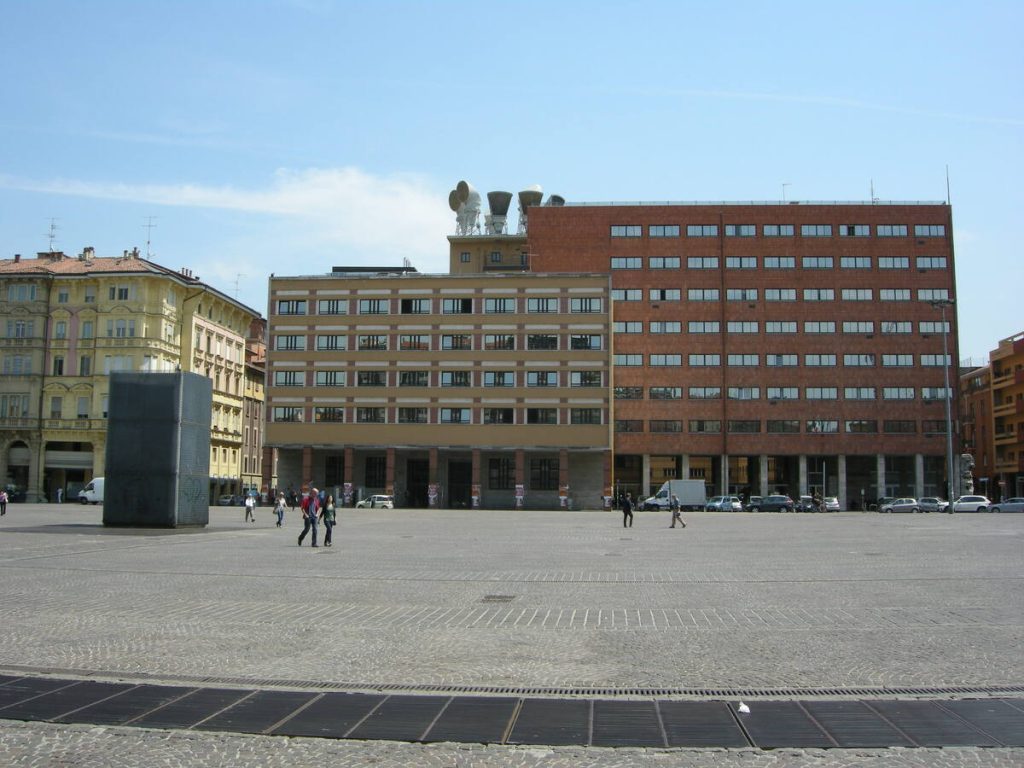 This parking lot offers 600 covered parking spaces where you can park 24 hours every day of the week. The hourly price for parking is 3.20 euros, while a daily ticket costs 24.00 euros. The car park is not guarded, but it is also secured with cameras and equipped with automatic payment machines for cash, credit card, or debit card. If you have an electric car, pick this parking because there are parking spaces for that kind of vehicle too.
What should you know about the Limited Traffic Zone in Bologna?
The center of Bologna is a Limited Traffic Zone (ZTL) which is monitored by video cameras that control access. These cameras cover almost the whole city inside the old walls, so if you are a non-resident, it is forbidden to drive in that area from 7:00 AM (7:00 hours) to 8:00 PM (20:00 hours). It's important to know in advance where the area begins because the road signs aren't clear and well visible. Keep in mind that if you arrive at the walls of Bologna with your car, you will struggle to find an available parking spot.
It is pretty common that tourists when they visit Bologna often go astray looking for parking and enter streets where driving is not allowed. We advise you to avoid the ZTL if you don't have permission to access it. Otherwise, you risk a fine for the prohibition of transit. However, after 8:00 PM (20:00 hours), you can access the restricted traffic areas and park in the blue-striped parking lots. But don't forget to remove your car by 7:00 AM (7:00 hours) the next morning to avoid being charged the normal hourly rate.
How to get permission to access ZTL?
For example, residents have permission to access ZTL, and you can buy daily passes up to a maximum of three per month for each license plate. If you need to enter the ZTL and are not eligible for a permit, you can buy a ticket valid for one day for 6.00 euros or 4 days for 15.00 euros. However, you can only get 3 day tickets a month or one four-day pass. So, what to do if you need access to the ZTL because you are a customer of a hotel, a garage, or an auto repair shop?
Ask your hotel or contact the business manager to assist you with the registration of your license plate number. They will give you a valid permit to access the facility in the restricted traffic area for the period of your stay. This way, you will avoid fines at the entrance to the ZTL!
There are also controlled areas in Bologna during which you are not allowed to drive 24 hours a day. These include Via Rizzoli, Via Ugo Bassi, and Via Indipendenza streets. Also, you cannot drive in the restricted Azzo Gardino area, University area, San Francesco-Pratello area, and Moline-Capo di Lucca area. Take the above into account and enjoy beautiful Bologna without unexpected and unpleasant expenses!
Check out more articles about Bologna:
Hey there! Some links on this page are affiliate links which means that, if you choose to make a purchase, we may earn a small commission at no extra cost to you. We greatly appreciate your support!