Bologna is one of Italy's most underrated and intriguing cities. While it doesn't have the history of Rome or the fashion of Milan, Bologna's power is in its ability to surprise unassuming visitors with what it has to offer. Known by its three nicknames, La Dotta (the intellectual), La Rossa (the red one), and La Grassa (the fat one), Bologna is home to one of Italy's most famous universities as well as a food culture that's basically unrivaled – hence La Dotta and La Grassa.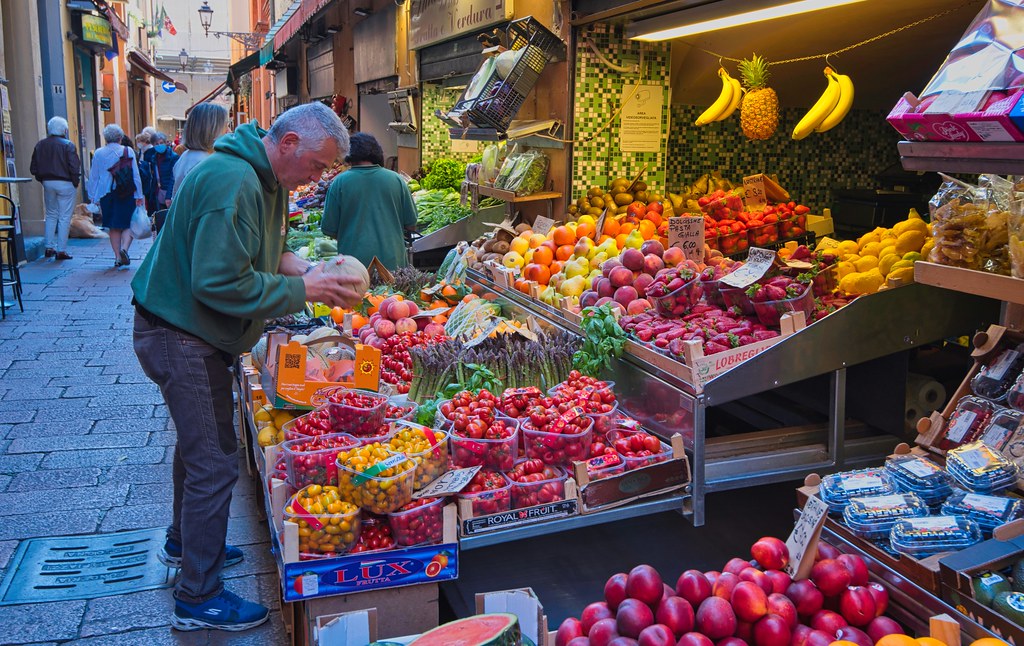 La Rossa comes from the red color of Bologna's iconic roofs. This fascinating city sits in Italy's Emilia-Romagna region, which is famous for local delicacies such as balsamic vinegar and even parmesan cheese. If you are a foodie, there is no better place to be. Naturally, as a result, many of Bologna's shops sell local foods and wines, but you will still find clothes shops here, too. 
If you are interested in doing some retail therapy during your time in Bologna, you are in luck. From designer boutiques to independent retailers, there are plenty of places to spend your hard-earned cash. Here is all you need to know about shopping in Bologna:
Places to Shop in Bologna
There are plenty of piazze (squares) in Bologna that are home to stylish shops, as well as shopping malls and old-style streets. Whether you are seeking out a local delicacy or looking for a way to spend the day in this vibrant city, here are some popular shopping options. 
Centro Borgo
The oldest shopping mall in Bologna, Centro Borgo, opened in 1989 and has been popular with locals and tourists ever since. Located in the city's historic center, you will find stores, a large market, eateries, and even beauty salons in this large mall. Shops you will find in this space include Intimissimi, Kiko Milano, and Blue Spirit.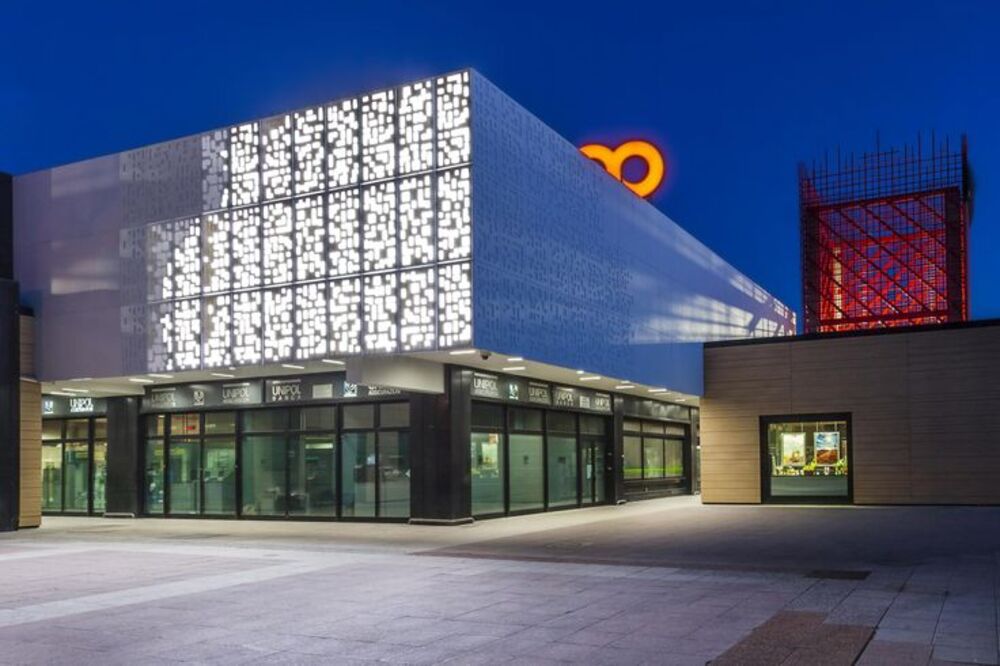 It is not home to particularly expensive brands, but you are sure to find a range of affordable clothing, accessories, and beauty products. This mall is also great for parking because it has more than a thousand parking spots. There are even parks for bicycles and the mall is accessible for wheelchairs too.
Castel Guelfo The Style Outlets
Located just outside of Bologna (but connected by shuttle buses or a short train), this outlet is home to plenty of the world's most recognizable brands sold at discount prices. You will find well-known, designer products at up to 70% off, with the outlet boasting more than 200 brands from Italy and the rest of the world. 
If you get hungry during your trip around Castel Guelfo, you can recover with food and drink from one of the on-site eateries or cafes. Some of the brands on offer here include Guess, Levi's, Adidas, Nike, Timberland, and Gap. Keep in mind that the place because of good prices can be pretty crowded.
Piazza Maggiore
One of the city's main squares, Piazza Maggiore, is home to plenty of stores, many of which specialize in something Italy is known for – fine leather goods. Take a wander around the square and its surrounding streets to find a mix of clothing stores, souvenir shops, and independent boutiques selling local specialties. 
Mercato di Mezzo
If there's one thing Bologna's famous for, it's food. This city does food better than almost anywhere, so you will be thrilled to find out that you can purchase some of the area's best-known delicacies from the food market, Mercato di Mezzo. Compared to other markets in big cities, you may find that one a little bit small. However, there are still many different options.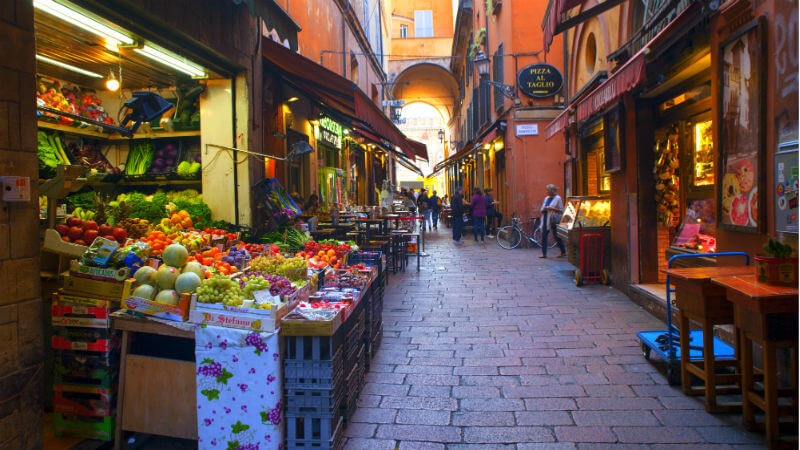 Selling fresh fruit and vegetables, fine Italian cheese, as well as high-quality cuts of meat and fish, there is plenty on offer to delight your culinary senses here. And while you are popping in to buy ingredients for that night's dinner, you can pick up something for now, with plenty of restaurants and bars offering Italian cuisine to eat at the market. 
Galleria Cavour
If strolling through a stylish shopping mall while browsing clothes from some of the world's biggest brands is your thing, you will love Galleria Cavour. Located within Bologna's center, the mall is set in a building whose roots go all the way back to the 1500s. This mall is the go-to destination for luxury-loving fashionistas, with brands such as Louis Vuitton, Versace, and Prada selling their goods in Galleria Cavour.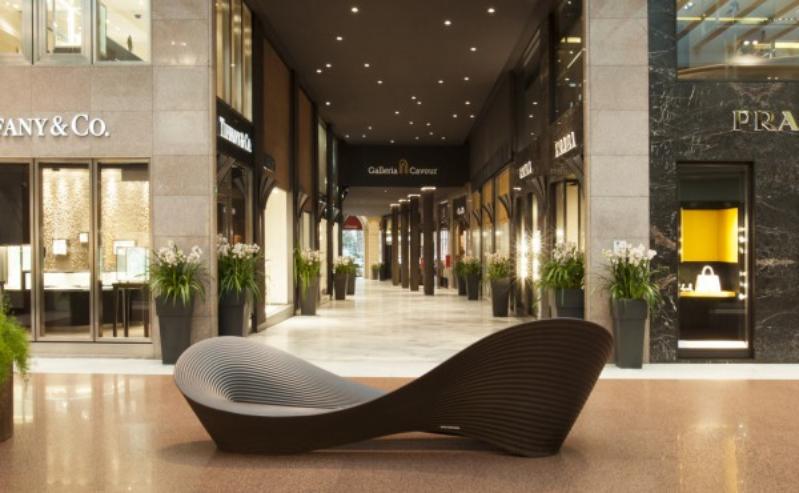 Therefore, this mall is full of high-end fashion and glamour. Even if you don't want to spend your money on such expensive clothes, you can at least take a look and enjoy wandering around. If you need a rest from all your retail therapy, there is even a spot where you can grab a coffee and something to eat. 
Via dell' Indipendenza
If you find yourself near Bologna's Central Station or the awe-inspiring Piazza Maggiore, head straight to Via dell' Indipendenza, one of Bologna's main shopping streets. Down this attractive (and long) street, you will find sellers of fine wine, local delicacies, up-market clothing, and plenty of places to grab a meal.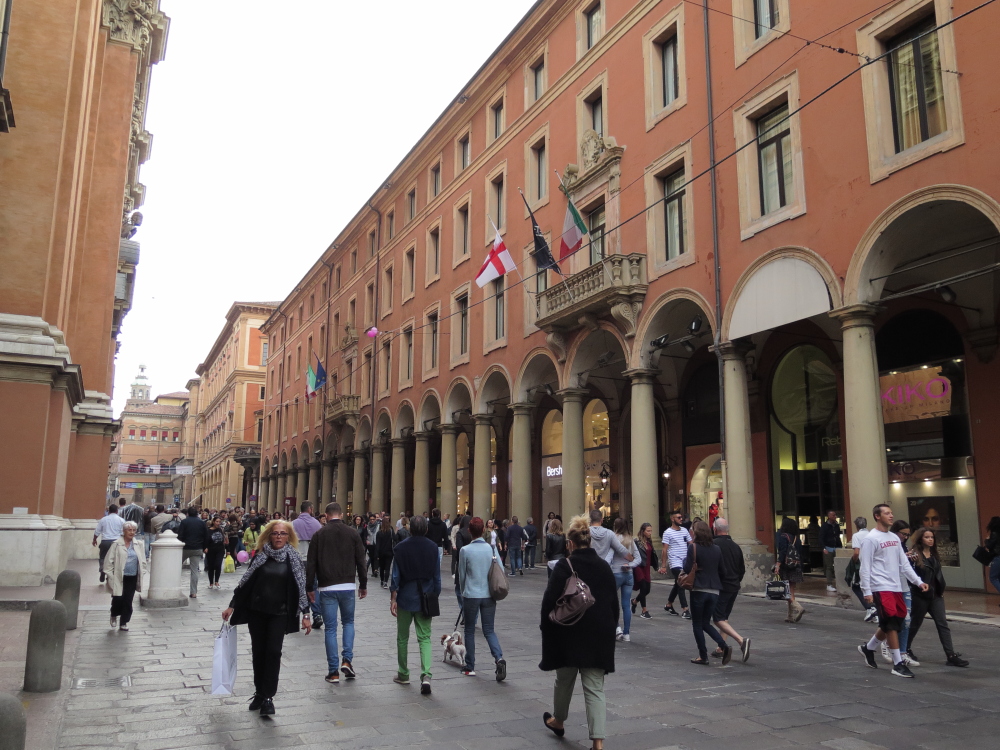 On some days, known as T days,  this street even becomes pedestrianized, so you can enjoy your retail therapy without having to dodge any cars. Walking down this popular shopping street, you will see big names such as H&M, Pull and Bear, and L'Occitance, as well as smaller, independent boutiques, too. 
Via Rizzoli
What you will learn when you visit Bologna is that you are never too far from a store of a brand you love or a small family-run boutique selling local specialties. Via Rizzoli is no exception. This well-known shopping street in Bologna is lined with popular stores such as United Colors of Benetton, Nike, and Max Mara.
If you are looking for a new phone or tablet, you can even pay a visit to the nearby Apple Store. As always in Bologna (it's known as 'the fat one' for a reason), you are also never far from something to eat, so you can relax after a busy day of shopping in one of the nearby restaurants or bars. 
Parco Commerciale Meraville
This huge shopping complex in Bologna is home to a variety of popular high-street brands as well as eateries serving quick and simple food. It's located just outside of the city center, about a 20-minute car drive or bus journey away. However, if you are staying near Bologna's center, traveling to this place can be a bit problematic.
The easiest way to reach it is by car, and there is a big free car park where you can always easily find your spot. This shopping mall is full of different shops, so everyone will find something for themselves. The convenient fast food joints offer visitors somewhere to enjoy a tasty meal when taking a break from shopping, while the shops on offer include Decathlon, Game Stop, Coop, and Alcott.
Independent Shops
As well as seeking out Bologna's most famous malls and shopping streets, simply walk through the streets of this beautiful city, and you will come across plenty of independent shops selling vintage clothing (La Leonarda is a must-visit for thrift shoppers), high-quality shoes, or local food. 
Is it worth going shopping in Bologna?
Shopping in Bologna is absolutely worth it. Whether you are staying in this beautiful city for a few days, or you are spending one day here, there is always enough time to go shopping. You can find everything from amazing handmade artwork, cool stuff, and vintage clothing to souvenirs, leather products, and high-end brands. And you don't have to walk far. All of that and much more you can buy around the center.
Check out more articles about Bologna:
Hey there! Some links on this page are affiliate links which means that, if you choose to make a purchase, we may earn a small commission at no extra cost to you. We greatly appreciate your support!