Praiano is a lovely little town with only 2,000 inhabitants located on a mountain slope on a magnificent Amalfi Coast. Finding parking spots on this gorgeous coastline has always been challenging and stressful, especially in the summer season when a bunch of tourists flood small narrow towns. Of course, there are better chances to find parking spots in the off-season months, but still, parking in this area is always a big problem.
Not only that parking on the Amalfi Coast is hard to find, but it is also often very expensive. Therefore, many tourists spend a lot of money on parking, which could be spent much better. With that in mind, we recommend taking public transportation instead of a car, especially in the summer.
Coastal towns are connected by buses, and you can also use the ferry service to reach other places on the Amalfi Coast. However, if you still choose a car as your transportation, here are all the things you have to know about parking in Praiano:
Parking in Praiano
Praiano is a little terraced town on the rocky cliffs of the Amalfi Coast. There is a high probability that in the summer months, you will not be able to find a parking spot right where you want to stop unless you are extremely lucky that day! Parking spaces are often narrow, outlined in blue, white, or yellow. There are very few free parking spaces which are marked by white painted lines, so take into account that it is difficult to find a free spot available.
Many public parking lots are often reserved for local residents with special permits, so pay attention to the signs at the beginning of the white painted lines to avoid getting a ticket. Street parking lots marked with blue lines are paid per hour and usually cost 2 euros per hour.
The good news is that there are discounts if you pay for parking for a minimum of 6 hours. In that case, you will pay only 1 euro per hour. Yellow marked parking spaces are reserved for people with disabilities or for local residents. There are many hotels that offer free or cheaper parking spaces for their guests, but keep in mind that you should book such hotels early.
Where to park in Praiano
If you want to visit Marina di Praia, a beach between rocks full of restaurants and clubs, go on a boat trip, or enjoy the panorama and a romantic walk, you can drive to the marina and try to find parking space in a small paid parking lot.
If you want to explore the Amalfi Coast by motorcycle or scooter, you will get where you want much faster and enjoy the beautiful scenery. There are some free parking spots for cars marked with diagonal white lines, but it is really hard to find available ones, especially when you need them. Therefore, paid parking is your best bet.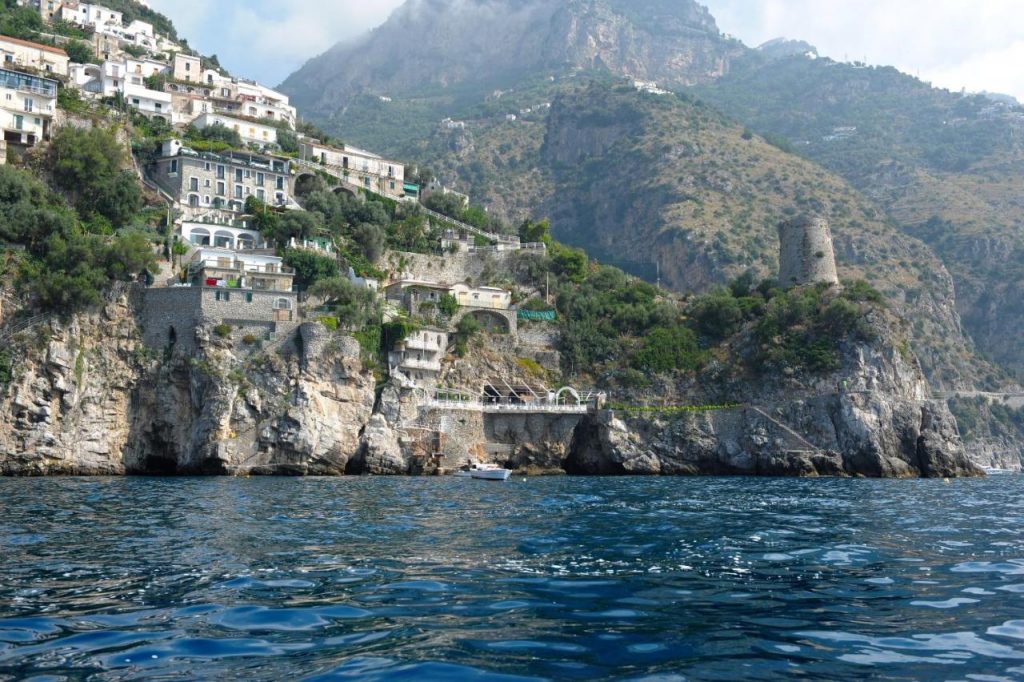 Parking Castellano in Praiano
Also, tourists can park their cars in the parking garage. Further from the city center, there is a paid parking garage near La Praia beach, which you will recognize by the green tents! This parking lot is a great choice if you go to the beach or restaurants and want to have fun at the Africana nightclub or even go on a trip to Capri. Weekly parking is also offered if you are staying nearby, which is very convenient.
This parking garage is perfect for those who want a safe parking place during your vacation in Praiano. Also, the great thing is that your car will be in the shade and covered. The staff speaks English which is a bonus, and prices are the same as street parking, but your car is more secure.
Parking Flavio Gioia Praiano
Parking Flavio Gioia is alternative parking where you can leave your car in Praiano. It is actually a local rental and shuttle bus provider located in Via Gennaro Capriglione 1, which offers 40 parking spaces for tourists. This is a safe parking lot, and they also provide a car wash service.
The parking is a good choice for those who are tired from driving, want to leave their car and use public transport or their transfer service. You can freshen up by swimming on the beaches near this parking lot which is a bonus. Parking Flavio Gioia is located right off the Amalfi Coast Road on the outer edge of Praiano.
Check out more articles about Praiano:
Hey there! Some links on this page are affiliate links which means that, if you choose to make a purchase, we may earn a small commission at no extra cost to you. We greatly appreciate your support!