Praiano is a charming little town that is perfect for those who are seeking a quiet vacation. It has around 2,000 inhabitants, and it is situated on a mountain slope with a view over the Amalfi coast. This lovely town got its name from the Latin word "pelagium," which means "open sea." Right next to Praiano, as a part of its municipality, is the small village called Vettica Maggiore.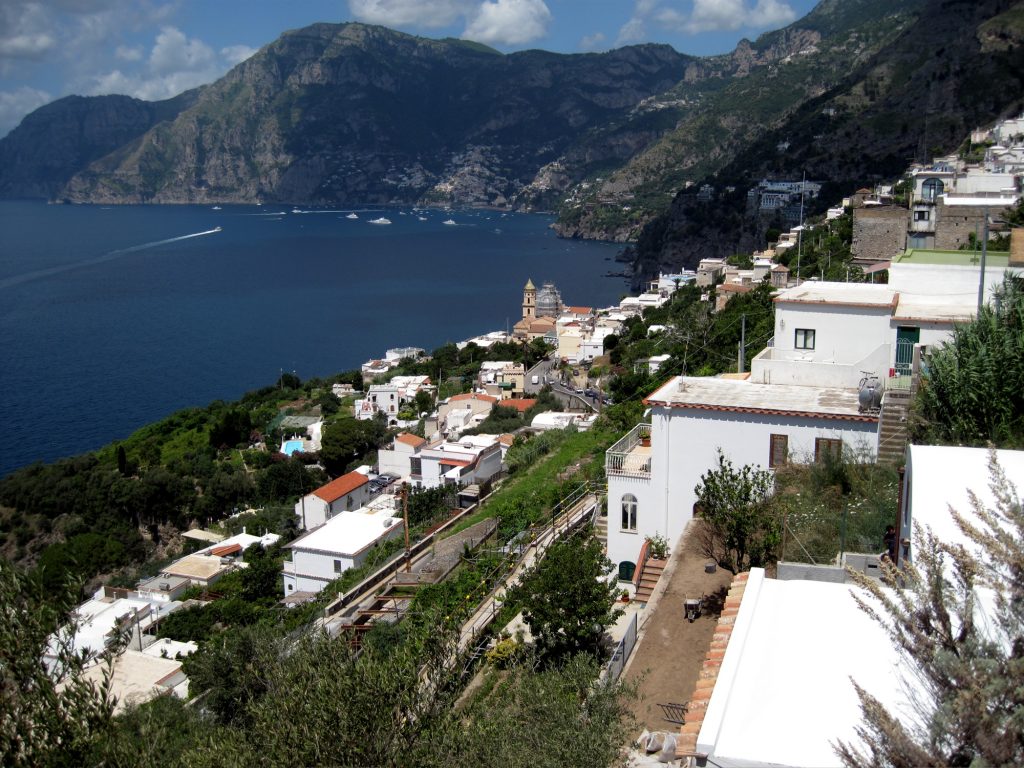 Praiano is only a fifteen-minute drive away from more popular and more crowded Positano. Not only is Praiano more peaceful than Positano, but it is also less expensive. Therefore, it is a great option for those who want to save some money.
Even though Praiano is small, there are plenty of things you can do. The town is known for its incredible colorful villas and houses that perfectly fit into the natural landscape.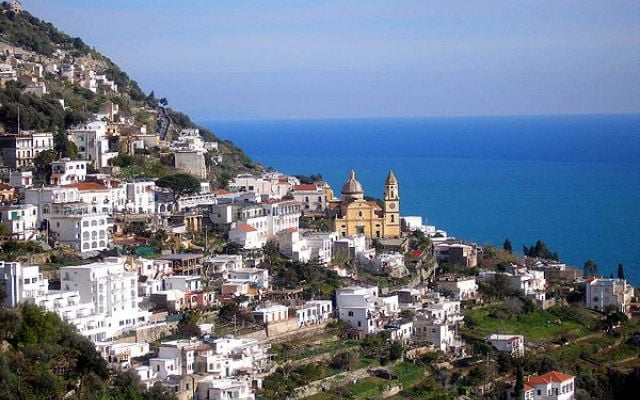 There is also a small square, lots of tree-lined boulevards, and a small beach protected by the coast. Wherever you go, you will have outstanding sea views because of its vertical position on the cliff. That also means that you will have to cross a lot of stairs. If you are for the first time in this beautiful town, here are the things to do in Praiano:
Wander the narrow streets
Praiano has lovely narrow streets and stairs that lead down to the natural harbor and a small beach. This harbor used to be the main square, which was lost in a landslide. In the spring and summer, the streets of Praiano are full of fragrant flowers. Therefore, it could be very romantic to explore these wonderful tiny streets.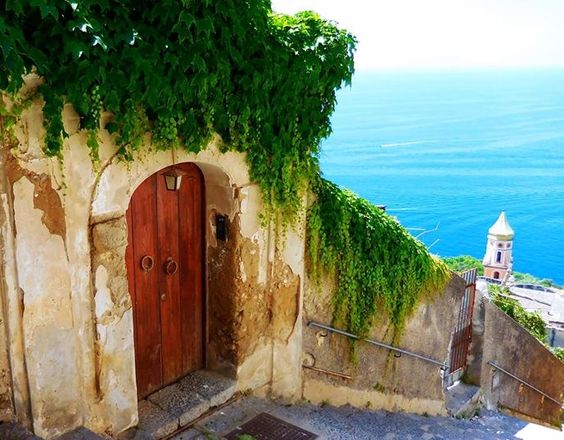 Keep in mind that Praiano is built vertically, so you will have to walk uphill and cross many stairs. But that should not stop you because wandering these tiny narrow streets is an experience in itself.
Historical and cultural attractions in Praiano
This quiet little place has a rich and long history. In Praiano, you can find old remains of towers and castles that were once strategic points in the city, and some of them are available for visiting. Furthermore, there are a few beautiful churches that everyone should see. Here are the best historical and cultural attractions in Praiano:
San Gennaro church
Di san Gennaro church is a small but beautiful church in the middle of Praiano. It is located in a large square from where you can have a gorgeous view of the sea. A square is also a place for many locals, both young and old. The church is known for a tile floor that will take your breath away.
At the entrance, there are small scarfs for women to cover their shoulders. The church's exterior is in a cream and yellow color with a terracotta tiled roof and a blue and white majolica tiled dome.
Inside, there is a beautiful domed altar, but everyone is coming to see the floor. You should not miss this little church, especially because you can visit it for free.
Di Santa Maria a Castro convent
To reach this convent, you will have to climb out of Praiano following signs to the Path of the Gods. Even though you have to climb uphill, it is totally worth it because of the convent's breathtaking view. Also, you can enjoy the ringing of the goat's bells and the wind soughing through the trees at this peaceful place.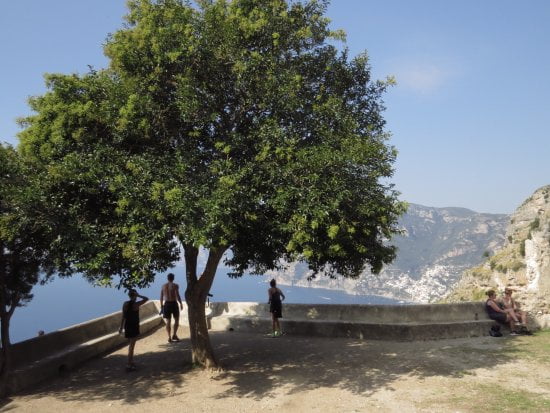 It only takes a few minutes to walk through the convent, and there is no entrance fee. This lovely convent is usually the best spot to stop and refresh for those who are hiking the Path of Gods trail.
San Luca Evangelista church
San Luca Evangelista church is one of the oldest buildings in Praiano. It is built in the 12th century and redesignated in the Baroque style in 1772. Even though you have to climb up a lot to find this church, it totally worth it. This little church is located in a square from where you will have outstanding views.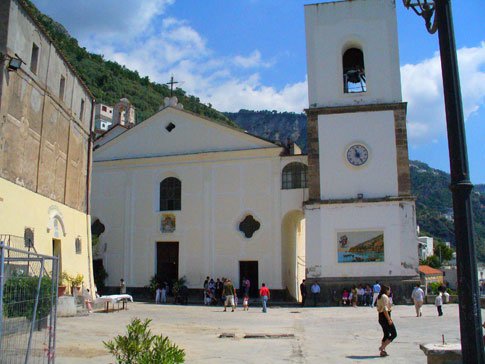 Inside the church, you can see beautiful artworks, statues, and ceramics. The church and the square are very authentic places where you can feel like a local. The entrance is free, so we suggest visiting this little gem.
Relax on the Praiano beaches
One of the best things you can do in Praiano is to relax on a beautiful beach. Beaches in Praiano are known for crystal turquoise water, wonderful sea views, and scary cliffs on both sides. Even if you are not visiting Praiano for swimming and tanning, you should not miss Praiano's beaches. Here are the two most popular beaches in Praiano:
Marina di Praia beach
Marina di Praia is a small, beautiful, quiet, and intimate beach in Praiano. It is placed at the foot of the cliff on which there is an ancient Saracen watchtower called the Torre a Mare. At the beach, you will find beach loungers and sun umbrellas for rent.
This beach is perfect for swimming because of the water which is beautiful and perfectly clean. Furthermore, there are numerous restaurants where you can enjoy good food and a variety of drinks.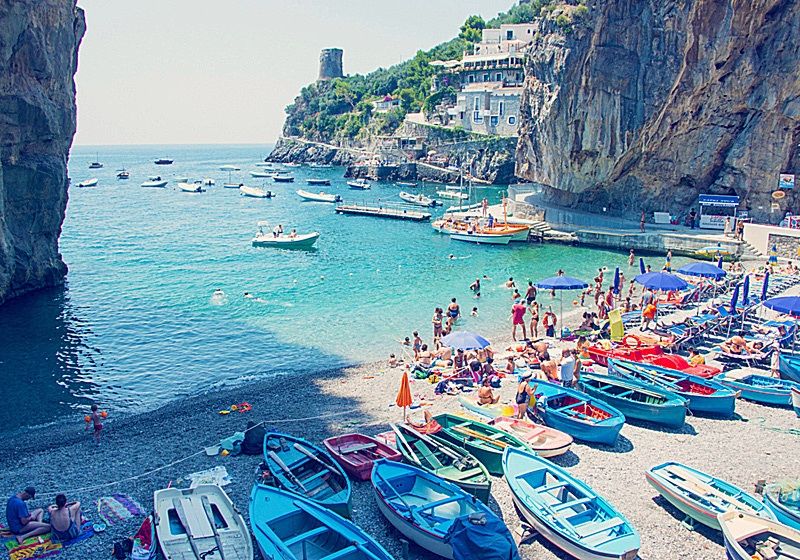 If you are adventuristic, there are also kayaks for rent and a scuba diving school. Marina di Praia beach is great for photographing amazing scenes that will forever remind you of this perfect spot! This beach is made of pebbles and stones, so be sure to bring water shoes!
Keep in mind that there are no showers on the beach. The beach turns from quiet into wild and loud in the evening because of a popular dance club called Africana. This small romantic beach is absolutely worth a trip whenever you visit it on a day or night.
Gavitella beach
Gavitella beach is a wonderful place where you can swimming, diving, or relax with a cold drink. It is known for its spectacular view of Positano and magnificent sunsets. The water at the beach is turquoise, refreshing, and clean. To get to Gavitella beach, you will have to cross many stairs with a handrail. Furthermore, the beach is made of rocks and pebbles so bring your water shoes.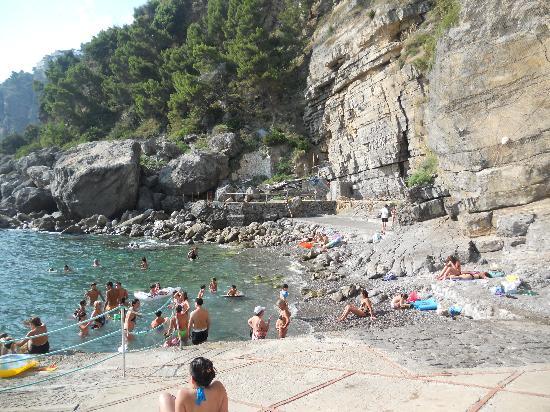 Those who want a cold drink can go to the beach club. You can rent a sunbed at the beach, or you can put on a towel and sit on the public side of the beach. Keep in mind that the prices of drinks, food, and sunbeds are a bit pricey.
The good thing about this beach is that it is easy to get in and out of the sea. There are also places to go cliff jumping for brave ones. You will definitely have a lot of fun on this lovely beach, so don't miss this hidden gem!
Rent a kayak in Praiano
Renting a kayak is another great thing to do in Praiano for those who want an active holiday. With a kayak, you can explore hidden caves and beaches that are only accessible by the sea. Furthermore, you will enjoy the Amalfi Coast view from the sea while having good exercise. To rent a kayak in Praiano, visit the Windsurf & Kayak at Marina di Praia.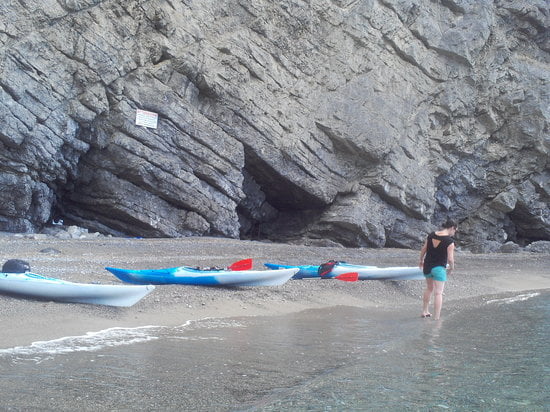 They offer a single kayak rental for 10 euros per hour and a two-seater for 15 euros per hour. Also, you can rent sup or go on kayak-guided excursions with them. If you will kayaking on your own, you should definitely see Grotta di Suppraiano and Grotta dello Smeraldo.
Rent a scooter in Praiano
There is no better way to explore the Amalfi Coast's wonderful locations than with a Vespa scooter. With a scooter, you will be free from crowded public transportation, without a parking problem, and you will go wherever your heart desires. To rent a Vespa, you will need to have you need a valid driver's license, valid identity card, and a credit card.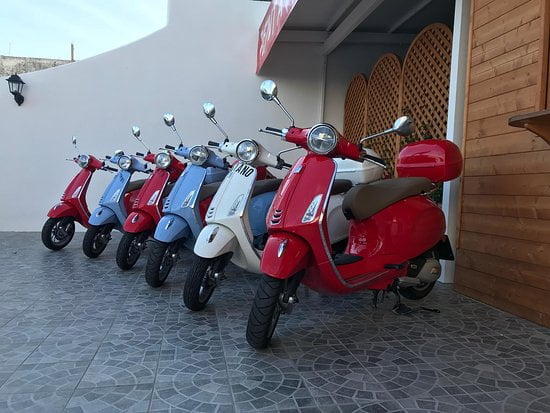 The rental company that we advise you to use is called ML Porter. You can book your Vespa through their website or by calling their phone number. The price for an hour is 20 euros and the whole day costs 60 euros. All scooters are in excellent condition, and the staff is very polite. They also offer to pick you up and drop you off at your accommodation, which is very convenient.
Book a boat cruise in Praiano
If you want to discover the most beautiful places on the Amalfi Coast and the Gulf of Naples by the sea, you should book a private boat cruise. Have a perfect day on an elegant and luxurious boat and feel like a celebrity. During the cruise, you can drop anchor in a quiet cove to have a swim in crystal clear waters, or you can find a secret hidden beach.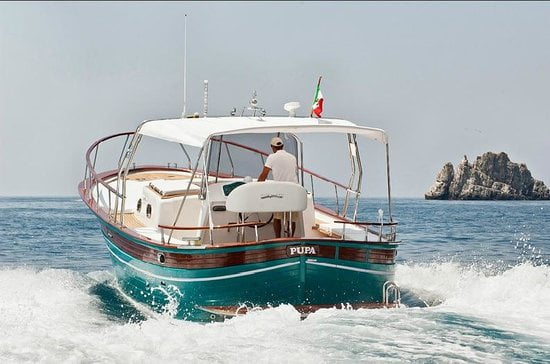 The best cruising company in Praiano is the Plaghia Charter. The cruises are more expensive than other boat tour options available in Praiano but totally worth it. Check-in is very easy, and the crew is accommodating and polite.
The crew also speaks English fairly well, and there are plenty of drinks and snacks on the boat. Compared to other boat tours, this cruise is less crowded and has a better selection of food and drinks.
Dance in Africana Nightclub
Africana nightclub is located in a cave at Marina di Praia beach. You will get a club card that records drink purchases at the entrance, and the bill accumulated on the cards would be paid for when you exit the club. It is a great solution if you don't want to pull out cash and coins every time you order a drink.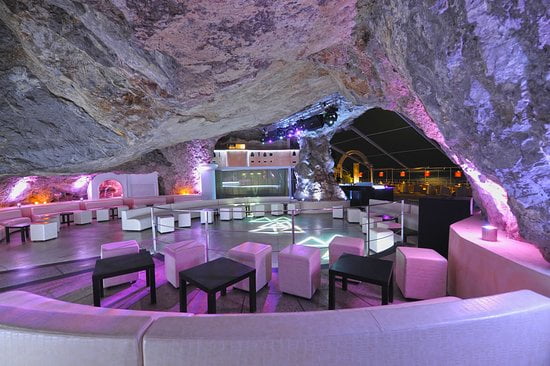 Africana club is dimly lit with multicolored lighting, which adds to the exciting, warm, and welcoming ambiance. The white interior, as well as the assortment of features on the walls, contribute to the overall stunning and polished look of the club. There is also a seating area away from the dance floor that overlooks the sea.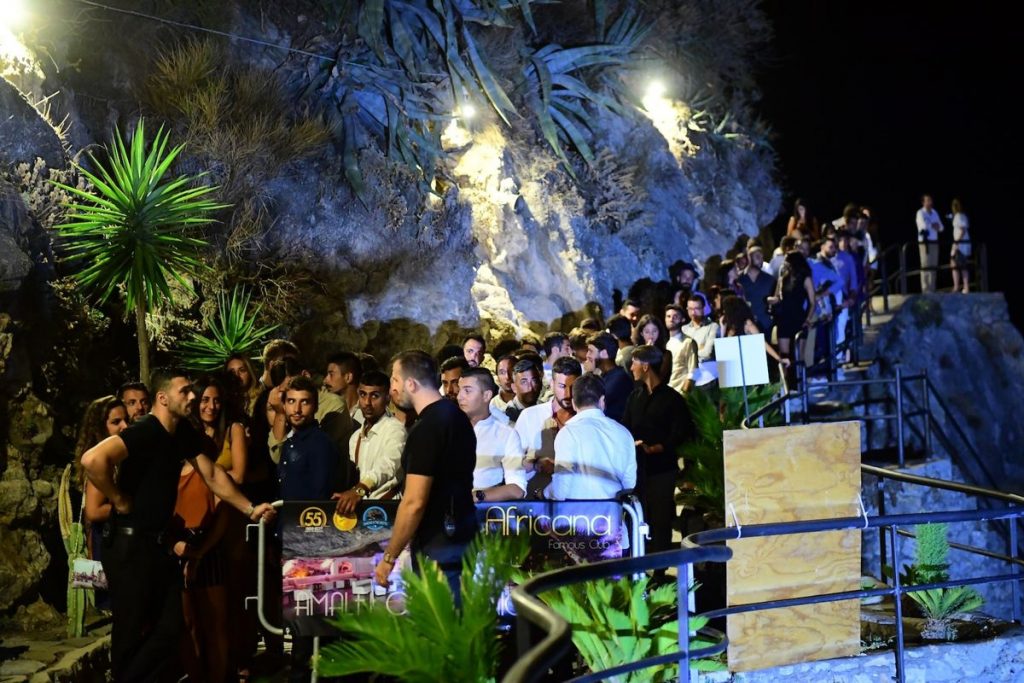 The view is breathtaking, and unlike other clubs, you don't need to be on a VIP list to sit in this quieter section, near the water. The drinks prices are a little bit pricey, but still in the normal range for the Amalfi Coast. In the club, there is also an excellent range of music playing throughout the night so that you will have a lot of fun at that place.
Visit Fiordo di Furore
Fiordo di Furore is a deep and narrow cleft in the coastline located around 6 kilometers (3.7 miles) south of Praiano. At the bottom of the cleft, there is a tiny beach accessible by a stone staircase. This small picturesque beach is a must-see place. It is a beautiful and very quiet place which is perfect for those who want to relax.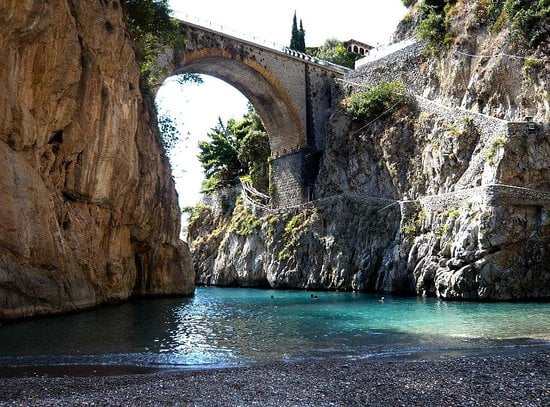 Usually, you will see boats and people swimming in the incredibly blue water and even jumping off a rock. But, there is a small possibility that this little beach is actually closed to visitors due to the falling rocks or construction works. If that happens, we still advise you to come to Fiordo di Furore, enjoy the spectacular scenery and take some cool pictures.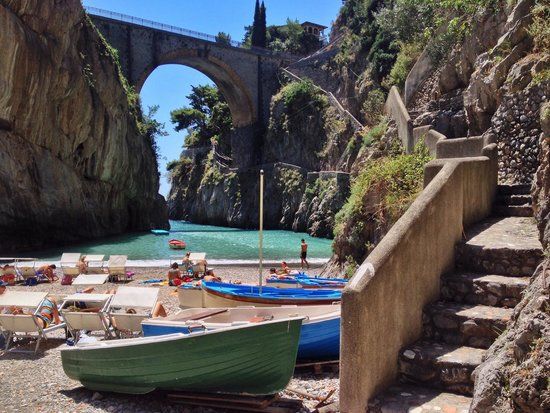 To get there from Praiano, you can choose between a SITA bus, water taxi, or private car. Traveling by SITA bus is the cheapest and easiest solution, in our opinion. If you choose a car for your transportation, keep in mind that it is not easy to find a parking space. You will have to park along the highway.
Go on a day trip
Since Praiano is located in the middle of the Amalfi Coast, it is a perfect starting point for many day trips. Whether you choose to go north of Praiano or south, there are plenty of interesting towns and locations to explore. The only available transportations from Praiano are a public bus and your private or rental car or scooter.
Day trip to Positano
Positano is the most popular town on Amalfi Coast and a place where you have a great chance to see some celebrities. It is known for its outstanding views, unique buildings spread over the mountain, and many small fashion boutiques.
There is also a huge sandy beach called Spiaggia Grande, where you can enjoy the sun and the clear sea. Positano is only 10 kilometers (6 miles) far from Praiano, so it would be a shame not to visit it.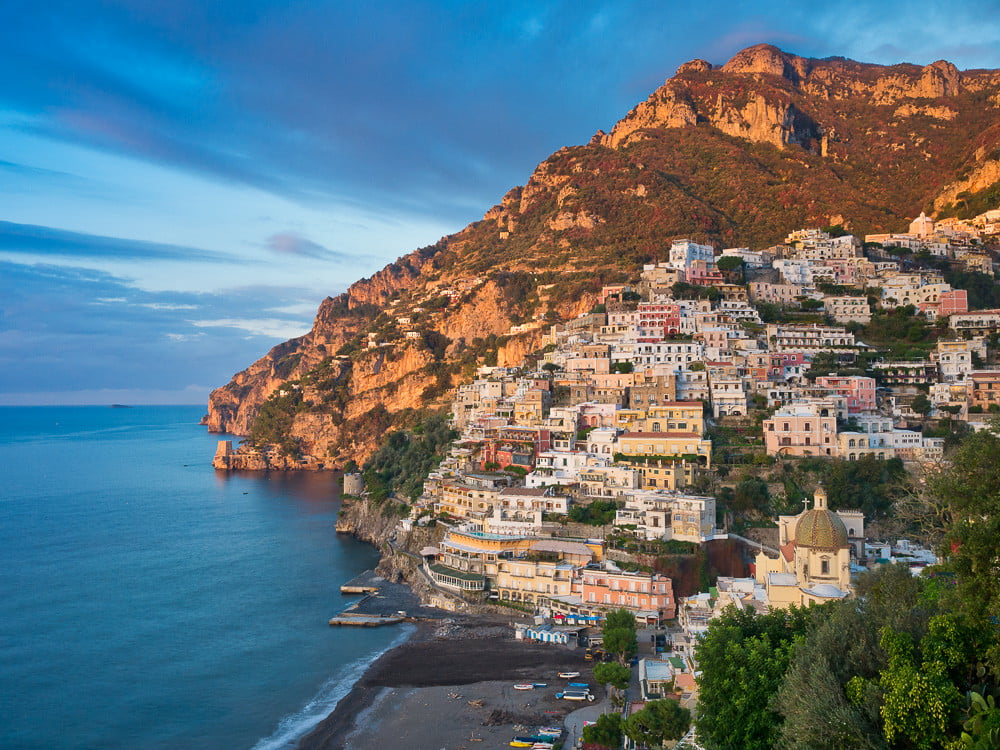 You can come to Positano from Praiano only by bus. The bus ticket for an unlimited 24 hours drive costs 10 euros per person. You will reach Positano in about 15 minutes. Keep in mind that during the crowded summer months, the buses are often standing room only.
Read more: Best things to do in Positano
Day trip to Amalfi
Another beautiful and well-known town on Amalfi Coast where you can spend your day is called Amalfi. It is located 13 kilometers (8 miles) south of Praiano and is also reachable by bus. Amalfi is famous for its narrow streets where you can easily get lost. Also, there is a magnificent cathedral from the 13th century that symbolizes the town.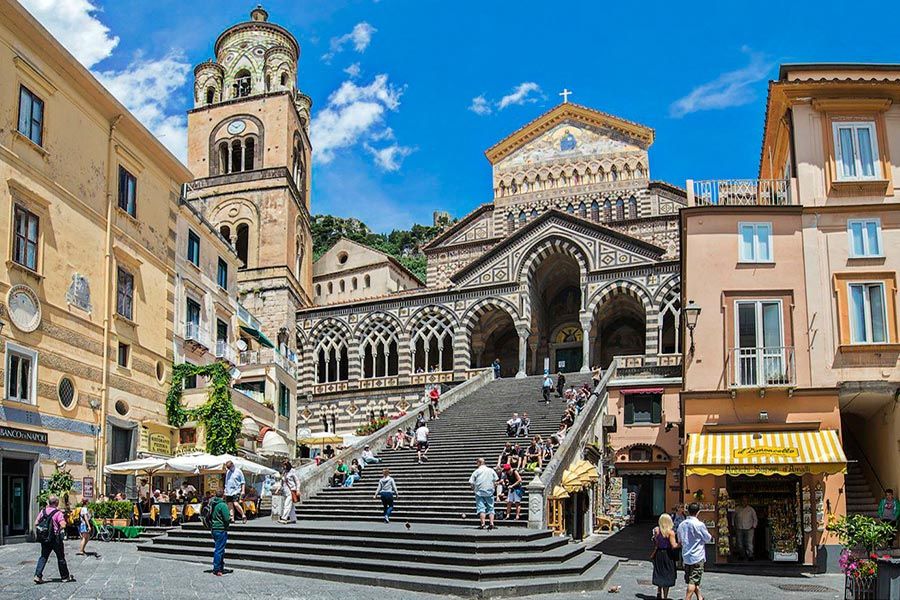 Amalfi is bigger than Praiano and Positano, so you will have many things to see and do. From Praiano to Amalfi, the bus ride usually lasts around 25 minutes.
Read more: Things to do in Amalfi town
Day trip to Ravello
If you ever find yourself near Amalfi, you should definitely visit Ravello. It is a beautiful hilltop village famous for the best views that you can get on the Amalfi Coast. While there, you should not miss Villa Cimbrone with its magnificent gardens and Terrace of Infinity.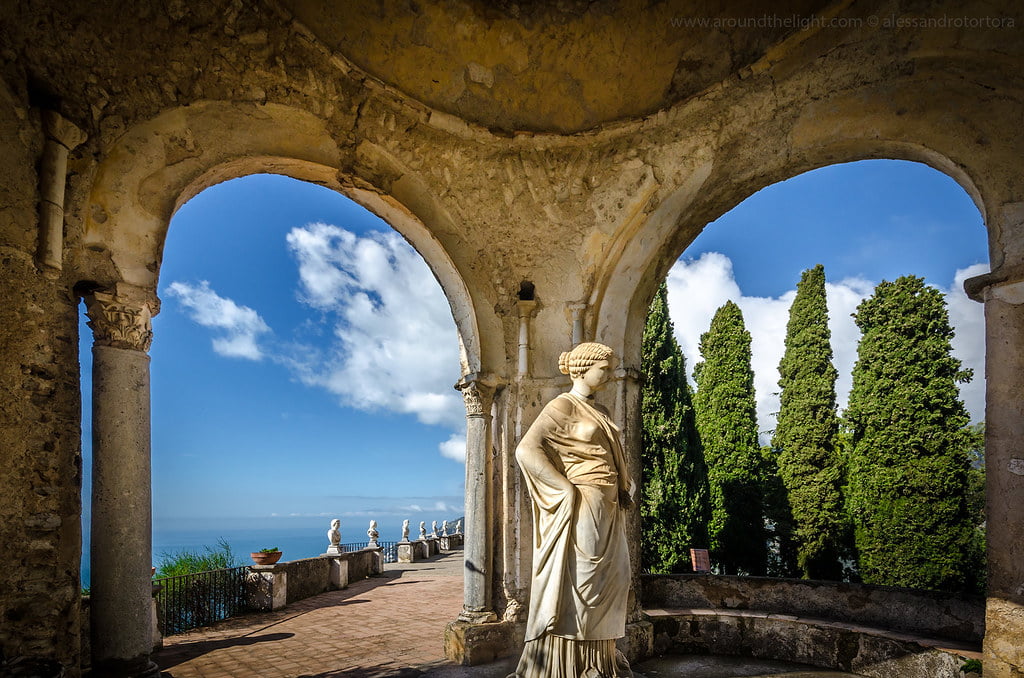 Ravello can be reached only by bus from Amalfi. The ride lasts around 30 minutes, and buses are heading towards Ravello every 15 minutes. Ravello is located on the hill so you will have a ride with many narrow turns.
Other things to do in Praiano
If you are in Praiano between the 1st and 4th of August, you will experience the magnificent Festival of San Domenico. Every year, since 1599, these 4 days, Praiano is full of lamps lit by wax and oil. During the festival, all Praiano people decorate their balconies, terraces, windows, and gardens with lamps that look amazing, especially at night. Furthermore, both locals and tourists take part in the splendid decoration of Piazza St Gennaro.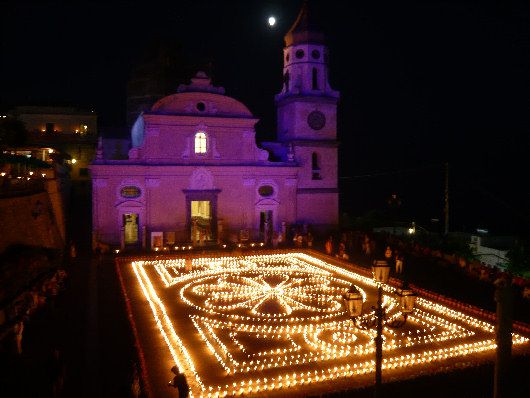 Check out more articles about Praiano:
Hey there! Some links on this page are affiliate links which means that, if you choose to make a purchase, we may earn a small commission at no extra cost to you. We greatly appreciate your support!