Praiano is a lovely little town on the Amalfi Coast with only around 2,000 inhabitants. It is popular with lovers of quieter beaches with fewer tourists and beautiful views everywhere you turn. Also, many tourists choose Praiano for their vacation rather than Positano, which is only 15 minutes drive away.
But Praiano is less expensive, and it is not so crowded. However, during the summer months, you can not expect peaceful and empty Praiano, but the town is still less visited than other popular places on the Amalfi Coast.
Beaches in Praiano are perfect for those who want fully enjoy the sun. They are illuminated by the sun for a large part of the day until sunset, which is quite rare. If you want an incredible and most romantic experience after swimming and enjoying activities on the beach, you should wait for the sunset on one of the charming beaches.
Beaches in Praiano
Even though Praiano is located on the mountain slope, there are a few beautiful beaches where you can swim in the crystal blue sea. Those beaches are natural rocky beaches, so bringing swimming shoes with you is advisable for a better experience. Here are the best beaches in Praiano:
Marina di Praia
Marina di Praia is the most beautiful picturesque beach in Praiano, located between Praiano and Conca dei Marini. This small pebble beach is a natural fjord and the historic seaport of Praiano. It is surrounded by beautiful high rocks overlooking the sea, giving you the impression of being in a cave.
All around the beach, there are Mediterranean pine trees, plants, and sea cliffs that seem to extend into the blue sea. There is a section in the water intended for swimmers, separated from the section where boats arrive at the shore. It is advisable to bring flip-flops and swimming shoes and watch out for jellyfishes in the water.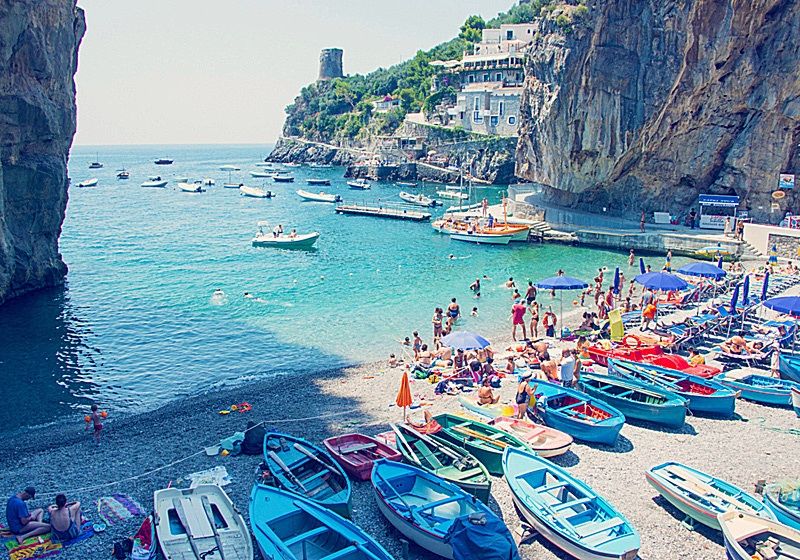 On the beach, within the restaurant da Alfonso a Mare and Il Pirata, you can rent sunbeds, beach chairs, and umbrellas if you want to relax completely. The daily price of renting beach chairs varies, but it is around 10 euros. Worth mentioning is that you can enjoy refreshing drinks in nearby bars, such as the Meloncello Spritzer, or snacks. For those who want various activities on the beach, there are many sailboats on the water which you can rent for a coast tour.
Water activities include a diving center for everyone who wants to dive, kayaking, and windsurfing. Those who come to Praiano to relax can walk on a path along the water and admire the coast. There are also many nice local restaurants nearby, where you can try excellent fish and seafood dishes.
The nearby cliffside restaurant, Il Pirata beach club, has a diving platform for those who want to have fun in the water. There you can rent beach loungers and umbrellas on rocky platforms right above the sea.
If you stay on the beach in the evening, you can enjoy a romantic evening while the waves crash onto the beach and shoreline. Take a sit on the concrete wall and watch the local fisherman at work. It is a pretty romantic and unique thing to do. On one side of the rocks that surround this beach, you will see Torre a Mare, the Saracen tower of a sighting.
At the top of the road leading down to the beach, there is a SITA bus stop if you want to visit some other town on the Amalfi Coast. Keep in mind that Marina di Praia beach is most peaceful and relaxed during weekdays, while more people can be expected during the weekend. For those coming by car, there is a parking lot with affordable prices next to the beach.
Cala Gavitella
Gavitella Beach is the only beach along the Amalfi Coast bathed in sunlight until the sunset. You must walk down 413 steps from Piazza San Gennaro in Praiano to reach this amazing beach. Even though there are many stairs to cross, going down the stairs with a handrail will be worth it once you see the beauty of this place.
But, going down the stairs is an experience on its own because you will pass beautiful gardens and charming houses. Halfway to the beach, there is an amazing bar overlooking Positano and the sea where you can take a break and have a drink. Furthermore, you will also see Torre di Grado, which is part of the sighting towers that were built by the Spanish to protect the Tyrrhenian coastline.
On this rocky pebble beach, you can relax on a towel at the free spot, or you can rent sunbeds, but keep in mind that the rental prices can be very high, especially during peak season. Part of the beach consists of concrete on which you can sit and have a more comfortable time than sitting on rocks.
On the beach, you can enter the water using a ladder, or you can get in and out of the water with a rope on the big rocks. Those who are adrenalin lovers can go to places where they can try cliff jumping. But, keep in mind that this activity is not advisable for inexperienced jumpers due to the high possibility of badly hurting yourself. Another great activity on this beach is snorkeling because of the stunningly clear turquoise water.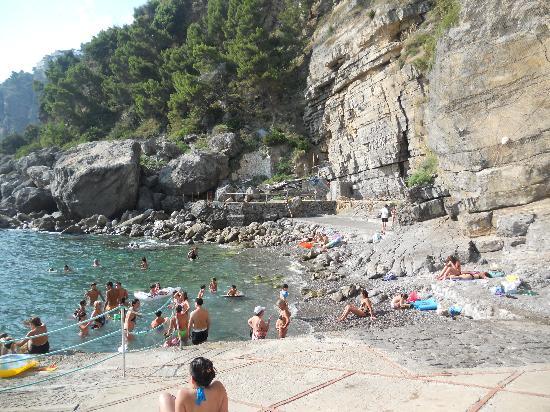 Cala Gavitella offers a wonderful view of Li Galli's Island, Positano, and Capri. The beach is very quiet and equipped with several bars and restaurants. Next to this lovely beach, you will find the Fontana dell'Altare, a natural swimming pool located inside an amazing grotto.
Furthermore, around the corner is One Fire Beach bar and restaurant, where they have a watermelon ceremony at 4:30 PM (16:30 hours) where they sacrifice a watermelon. It is super fun to watch their ritual dance! And finally, be sure to wait for the sunset on this beach and have an unforgettable, romantic experience.
Beautiful beach nearby Praiano
Another beach for those who want to explore more and take unreal photos is located only 10 minute's drive away from Praiano. Fiordo di Furore and its beach is an unimaginable place where you will be surprised by the beautiful scenery. The beach is very small and secretive but very picturesque.
There are parts of the beach that are in the shade, which is great on hot sunny days. The water is very deep, refreshing, and in perfect blue color. The beach is often closed due to the possibility of falling rocks or due to construction works, so check out recent news about this beach before you go.
Keep in mind that you may not be able to access the beach and that it is quite problematic to park a vehicle nearby because there is no official parking, so many people just park their cars on the road above the beach. Not only sunbathing on this amazing beach but also seeing and photographing it from the road above is an unforgettable experience. Therefore, if you have time, you should not miss this natural gem.
Check out more articles about Praiano:
Hey there! Some links on this page are affiliate links which means that, if you choose to make a purchase, we may earn a small commission at no extra cost to you. We greatly appreciate your support!