Planning to see the Amalfi Coast this year? You are in for a real treat. There is no place on Earth with so much natural beauty and a friendly atmosphere as this little region. Spanning just 50 kilometers, the coastline is full of charming villages with old houses, sandy beaches, and big, jagged cliffs. There is no spot where the view doesn't sweep you off your feet. Each year, people learn about this little piece of paradise, and tourist numbers climb higher and higher.
In 1997, it became a UNESCO World Heritage site. Its architecture and culinary traditions are unique to the region and are under special protective measures. There are tons of places to see and visit on your journey along the Coast. Sorrento, Amalfi, and Positano are all popular choices. Praiano is another place that visitors often find themselves in. Conveniently located near the center of the coast, it's the logical choice if you plan to move around and visit other towns.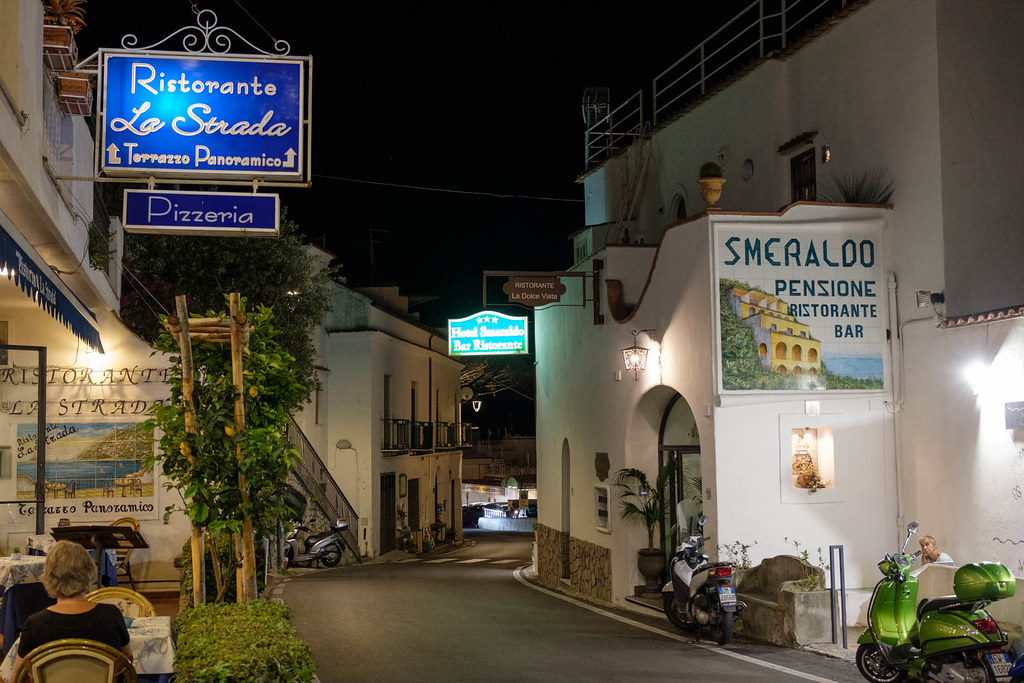 There are plenty of things to do here, like visiting ancient churches, going for hikes, and enjoying some of the best nightlife in the region. Moreover, it's one of the best places to eat here. Too many spots along the Coast have grown to become tourist traps. Not these places– in Praiano, you can find food made with love and care. Read our guide to find out the best restaurants in Praiano!
(This article contains 5 restaurants in Praiano, which are best in our subjective opinion. The order of the restaurants is not related to the quality they offer. Every restaurant has its pros and cons, so choose the one based on your personal preferences.)
Ristorante La Cucina del Tramonto d'Oro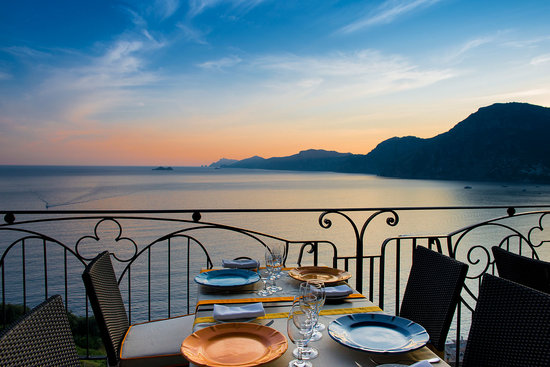 This restaurant is located just off the main highway that runs through town and connects the whole coast. It offers a unique dining atmosphere with an amazing view. Guests can admire the nearby San Gennaro church that sits right in front of the window as well as the sea in the background!
Their spacious interior has a modern, relaxing appearance that can accommodate a small dinner date, families, or big groups. You can admire the view from the dining room, with tons of natural light and views pouring in through huge windows, or from their rooftop cafe.
The menu relies heavily on regional fare. Seafood lovers will feel at home here. Many dishes contain octopus, shrimp, or mussels. The first courses are no exception. You can sample linguini with mussels and seaweed or langoustines in a blue cheese risotto. However, if you have picky eaters in your group, there are alternatives, such as linguini with lemon sauce.
They bring out the big fish for the main course! Feast on grilled seabass or grouper, both caught fresh off the coast and served with a hefty portion of roasted vegetables. And again, for those who aren't big seafood fans, there's the braised beef cheek with eggplant in an eggplant sauce. Servers are top-rated for their politeness and attentiveness.
It is a family-run business, after all. They are always eager to give recommendations when asked and serve with a smile. The restaurant is open daily from 7:00 PM (19:00 hours) to 9:30 PM (21:30 hours). Due to its location, they are almost always busy. Therefore, it is a good idea to book your table in advance.
Distance: 400 meters (0.2 miles) from Piazza San Gennaro in Praiano
Phone: +39 089 874955
Trattoria Da Armandino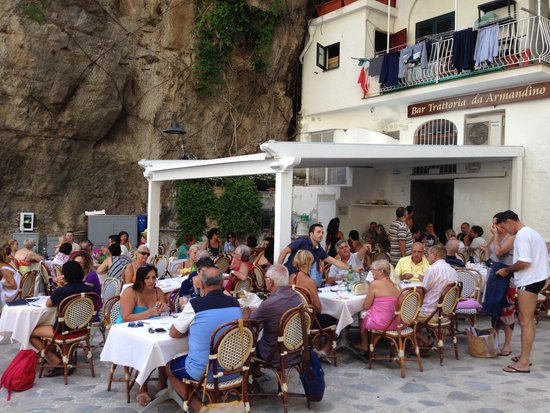 On the other edge of town, Trattoria Da Armandino serves up local delicacies with a unique view. The restaurant is just a few steps away from the beach and faces the sea. While dining, you will feel the breeze and hear the waves crashing against the cliffs just meters away from you.
Since 1986, this place has been preparing some of the best top-quality fish and vegetable dishes in Praiano. It's a great place to try some of the cuisines that originated out of the Amalfi coast.
Start your meal off with a local favorite which is anchovies! You can get them deep-fried or grilled, but both are excellent choices. You can have them alongside some fried calamari, too. The first courses are mainly seafood, with classics like linguini with mussels or langoustines.
But if you are not feeling fishy, they still have you covered. Try their calamarata pasta in a thick, house-made tomato sauce. They also serve a small variety of pizzas that are worth tasting. The main courses, once again, are classic Amalfi! Lots of grilled fish with side salads and roasted vegetables. You can usually choose from seabass, grouper, and octopus.
Vegetarians can help themselves to a pizza, one of the best in the region. The restaurant is open daily from 12:00 PM (12:00 hours) to 4:00 PM (16:00 hours) for lunch and 7:30 PM (19:30 hours) to 11:00 (23:00 hours) for dinner. It is advisable to make reservations to beat the summer crowds.
Distance: 2.1 kilometers (1.3 miles) from Piazza San Gennaro in Praiano
Phone: +39 089 874087
Kasai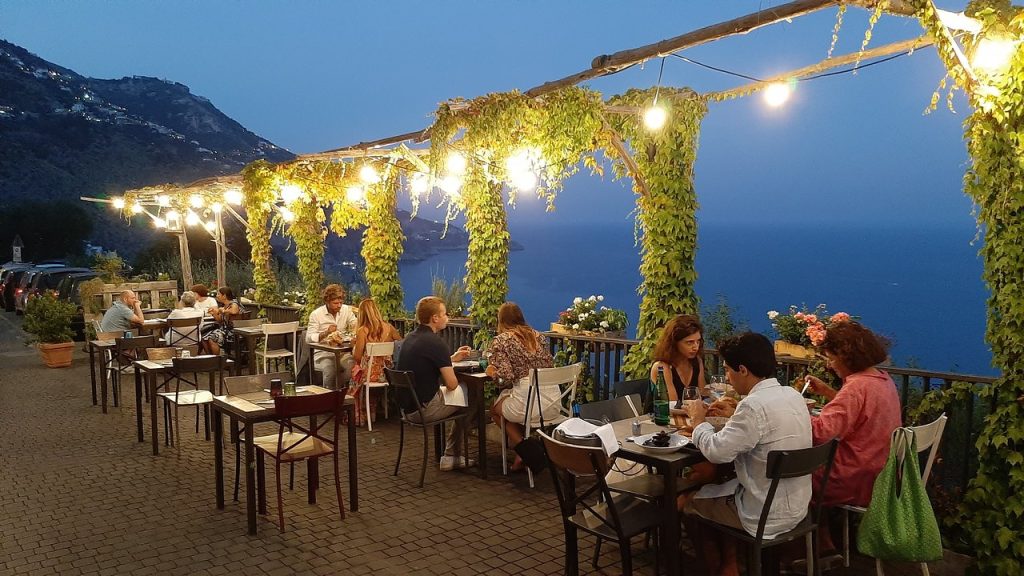 If you are in the center of Praiano, be sure to check out Kasai. It will be hard to choose between sitting in the restaurant's intimate, rustic dining room or on its sea-facing patio, feeling the breeze between the vines hanging overhead. Both, however, make for an unforgettable dining experience.
Kasai isn't like other places in town. While they offer many familiar flavors typical of the Amalfi coast, the restaurant's chefs are knee-deep in the world of modern dining. Their plates look absolutely stunning, and they taste even better. Also, their dishes may look typical, but take one bite, and you will taste flavors you never imagined going together.
Take their grilled octopus starter, for instance. This dish is served in most places nearby, but they season it with sour onions and spicy tomato sauce and serve it with black licorice-infused mayonnaise. The first courses are equally exciting. They have various types of pasta and seafood combinations, but with unique additions that will blow your mind.
Things like black truffles and 40-year-aged parmesan are Kasai's secret weapons that keep their guests coming back for more. You don't have to stop at pasta! The main courses are also full of unique flavors. Consisting mainly of grilled seafood, they are loaded with aromatic herbs, garlicky sauces, and fresh, seasonal vegetables.
They also have roasted lamb for non-seafood eaters. Kasai is open daily from 10:00 AM (10:00 hours) to 8:00 PM (20:00 hours). Their location generates a lot of foot traffic and interest, so it's smart to reserve your table.
Distance: 800 meters (0.5 miles) from Piazza San Gennaro in Praiano
Phone: +39 089 874108
Il Pino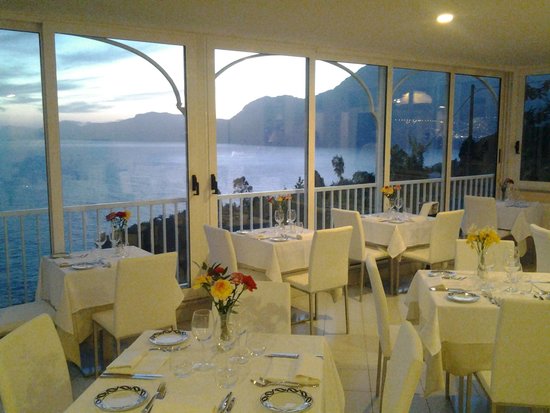 Il Pino is part of the hotel of the same name. It's a lovely place to stay when in Praiano to experience the local hospitality. However, if you are just passing through, you can still dine with them.
The dining room is a modern establishment with a panoramic view of the town and gulf. It's the perfect spot for a romantic dinner or simply a night out with family or friends.
Il Pino serves mainly fish dishes with some vegetarian options. While they offer many traditional dishes from the region, they have some more internationally-inspired seafood flavors as well. These include seared Ahi Tuna seasoned with soy sauce and Italian spices and coated with sesame seeds.
They also have a raw seafood platter as a starter with many sauces from different international cuisines. Before you order, check the wine list! They have one of the biggest selections in town, and they will gladly make recommendations that will suit your tastes.
Don't skip out on the first courses. They offer heavenly combinations of pasta and shellfish tossed in light sauces with lemon, butter, garlic, and oil. For the main attraction, they have a variety of grilled and fried fish plates.
However, don't be afraid to try some of their raw fish instead! It's served like tartare with lots of spices inside. Il Pino is open every day from 12:00 PM (12:00 hours) to 11:00 PM (23:00 hours). However, restaurants' hours vary each year, especially out of the season. To get the most current information, it is advisable to check their website. You can also find out about the rooms they offer and stay up-to-date on special deals!
Location: Via Gennaro Capriglione 13
Distance: 400 meters (0.2 miles) from Piazza San Gennaro in Praiano
Phone: +39 089 813045
Ristorante Costa Diva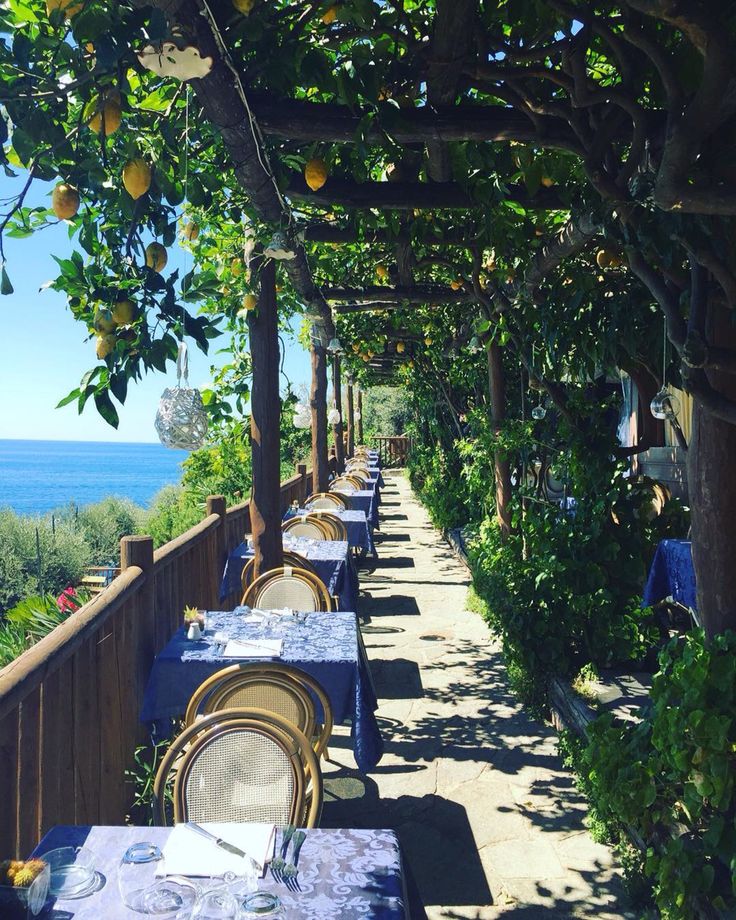 Costa Diva is another incredible hotel-restaurant combo that's been serving happy customers in Praiano for several years. Whether you stay for a weekend or just pop by for dinner, you are welcomed like family at this place.
Their chefs proudly serve up the most traditional recipes exclusive to Amalfi. Never sacrificing quality for their guests, they only use the finest raw ingredients sourced from nearby sellers. Here you can sample all the local flavors while taking in the amazing scenery. Sit atop a terrace overlooking the sea in the middle of a lemon orchard.
Exclusive Amalfi recipes mean seafood and lots of it! From shellfish to big fish straight out of the sea, it all depends on your tastes. You can start with anchovies prepared how you like them, grilled or fried, and topped with lemon juice and spices. As a healthier option, try a salad topped with steamed shrimp or calamari.
The first-course menu is pasta paradise! Sample a range of dishes like linguini with mussels, or keep it simple with gnocchi and tomato sauce. The main courses here are for seafood lovers. If you can't decide what to have, go for a platter.
They will bring you a huge plate full of grilled delicacies from the sea, such as shrimp, mussels, scallops, seabass, and many more! You can pick and choose based on your tastes. The restaurant's opening hours depend on the season, but most of the time, they are open every day from 12:00 PM (12:00 hours) to 4:00 PM (16:00 hours) for lunch and from 7:00 PM (19:00 hours) to 11:00 PM (23:00 hours) for dinner. Visit their website to stay in the loop, reserve a table, and check out their rooms.
Distance: 1.6 kilometers (1 mile) from Piazza San Gennaro in Praiano
Phone: +39 089 813076
How do the best restaurants in Praiano look?
Praiano is a beautiful little town located on a cliffside, so you can expect breathtaking views wherever you go. Stunning views are also a strong advantage of the restaurants here. Most of them have terraces or windows that offer spectacular views while eating. However, to reach your desired restaurant, you must cross lots and lots of steps, so pack some comfy shoes. Worth mentioning is that most restaurants serve seafood, so if you are not into this cuisine, always check the menu first to see if there are other options.
Check out more articles about Praiano:
Hey there! Some links on this page are affiliate links which means that, if you choose to make a purchase, we may earn a small commission at no extra cost to you. We greatly appreciate your support!