Some of the most famous places on the Amalfi Coast include Amalfi and Positano, but for those in the known, there are a few hidden gems, too. Montepertuso is one such gem. Located just above Positano overlooking one of the Amalfi Coast's best-known towns, Montepertuso is a small yet charming village that was once only reachable by a staircase containing 1500 steps.
A road was then introduced that links Montepertuso to Positano and the rest of the Amalfi Coast, and you can get off in Montepertuso's square on a bus from Positano. Nowadays, this lovely village is a popular destination for numerous hiking lovers and those who like exploring less crowded and authentic places. However, Montepertuso still has enough things to do and breathtaking sights to see, even though it is a very small village. Here are all the things to do in Montepertuso: 
Visit an authentic restaurant in Montepertuso
There are very few people who visit Italy without one thing in particular on their minds to enjoy upon arrival. Well, that is food. Italy, the land of pizza, pasta, and gelato, is known for having a delicious cuisine that boasts some of the world's most recognizable dishes. And the Amalfi Coast is no different. Montepertuso is small, but it is home to a few restaurants with terraces offering panoramic views of this stunning part of the world. 
Besides, restaurants there offer authentic food, usually made from locally sourced ingredients which is a very rare thing in the nowadays modern world. Il Ritrovo, Ristorante La Tagliata, and Donna Rosa are those restaurants based in Montepertuso that are really worth visiting because of their tasty dishes and delicious wines. Therefore, check them out and have a unique culinary experience with a breathtaking view.
Read more about the best restaurants in Montepertuso
Take a private boat tour
The Amalfi Coast is one of Italy's most beloved areas. And for a good reason. Not only does it give visitors access to the deep turquoise Mediterranean, but it is also full of picturesque towns and villages that are well worth visiting. If you are staying in Montepertuso for a few days, consider taking a private boat tour.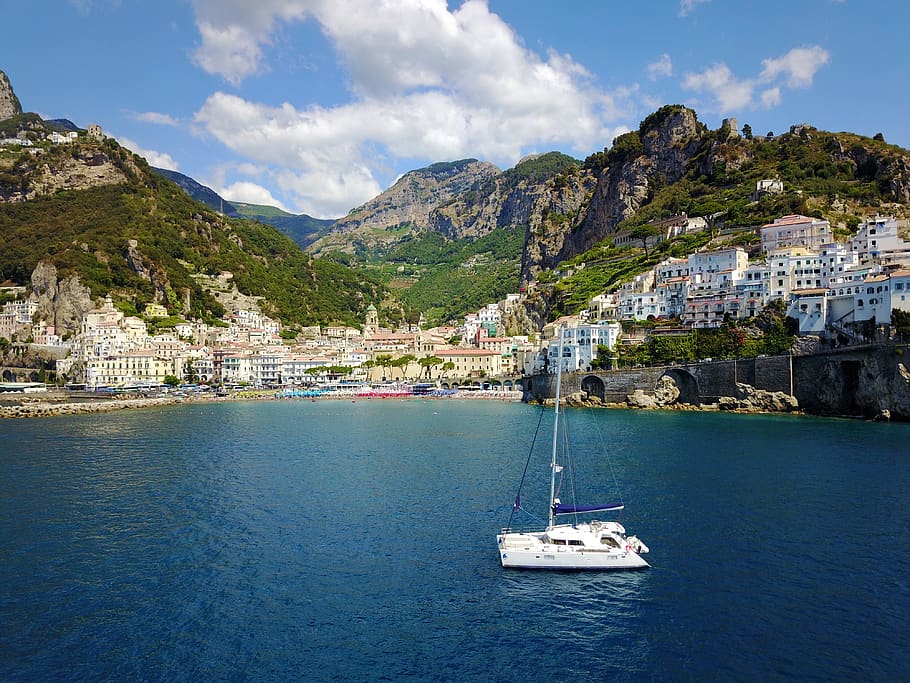 You can travel down the coast to get a feel for the different areas with a knowledgeable tour guide to give you insights into the Amalfi Coast and its inhabitants. It is a great way to visit multiple coastal towns in one day and have a fun time on the boat. If you love boat tours but don't want to spend a fortune, consider booking group boat tours as a cheaper option.
Walk around the village
Montepertuso is certainly a picturesque spot and the best way to get to know any small community like this one is simply by walking around it. This village is perched high on a hill, so a walk around this small destination either at night or during the day can reveal panoramic views of the surrounding Amalfi Coast. Plus, it's a great way to help all that pasta digest!
If you are visiting Amalfi Coast in summer, Montepertuso is a great place to go if you want a break from the summer heat. Because of its position, there is always a pleasant wind breeze, even on the warmest days. So, pack your backpack and go explore all the parts of this authentic little place.
View the hole in the mountain
Montepertuso's name literally means "pierced rock", which might sound strange, but this small village is actually home to a huge rock with a hole in it! The famous legend behind this hole is that Montepertuso was the location of a fight between Good and Evil, personified by the Virgin Mary (the Madonna) vs the Devil, with the Devil being in the vessel of a snake.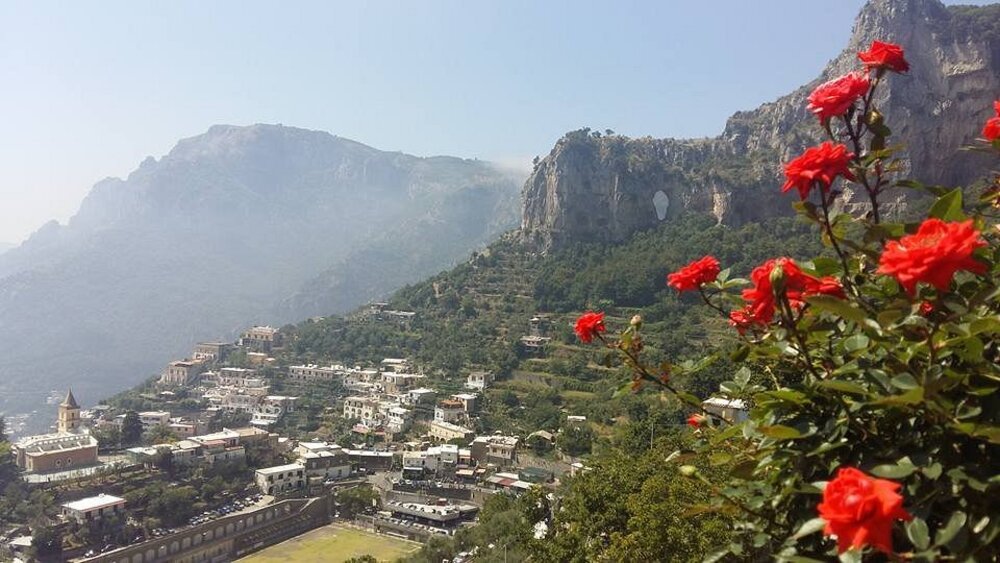 The hole in the rock is supposedly the result of Good overcoming Evil and the sign of the everlasting presence of the Madonna. Whether you believe the legend or not, it is a great bit of natural history to learn more about! You can even come to the huge rock to take a closer look at this giant hole. The path goes from Montepertuso through beautiful nature all the way to the rock and beyond.
Go to one of Positano's beaches
If the sun, sea, and sand are your thing, don't hesitate to spend a day at one of Positano's beaches. Despite some being more pebbles than sand, you are guaranteed a relaxing time soaking up the sun and enjoying the family-friendly atmosphere of this popular town. Spiaggia Grande is probably the best-known beach area, but there are others in and around Positano if you are seeking somewhere a little quieter.
Arienzo Beach Club provides extremely comfortable sunbeds and is a super stylish destination to enjoy sunbathing with a cocktail in hand. Fornillo is just a 10-minute walk from Positano's main beach, and it is the go-to destination for visitors seeking fewer crowds, ships, and tourists. If you are visiting beaches during the summer months, don't forget to take sun cream and, of course, a swimming suit.
Visit the Roman Archeological Museum
Food and beautiful scenery aside, there is another common reason why people visit Italy. The history. Italy was home to one of the great ancient civilizations, and the country is filled with many museums and ancient artifacts that give us an insight into how these ancient civilizations lived. The Roman Archeological Museum is no exception.
Located in Positano, right near Montepertuso, the museum is the result of years of excavations and restorations that revealed never-before-seen wonders of the Roman world. Structures that were destroyed in 79AD have been recovered, giving visitors a glimpse into how the Romans used to live. You don't have to be a history buff to enjoy it. Even a passing interest in ancient civilizations will give you enough to work with when you visit this popular museum. 
Take a hike to the neighboring hamlets
The Amalfi Coast has tons of small, quaint towns and villages like Montepertuso dotted around the area. If you are into hiking, you can strap on your boots and take on the routes to nearby villages and towns, enjoying the views along the way. From Montepertuso, you can easily access the popular "Path of the Gods" hike, which runs between Positano, Nocelle, and Bomerano.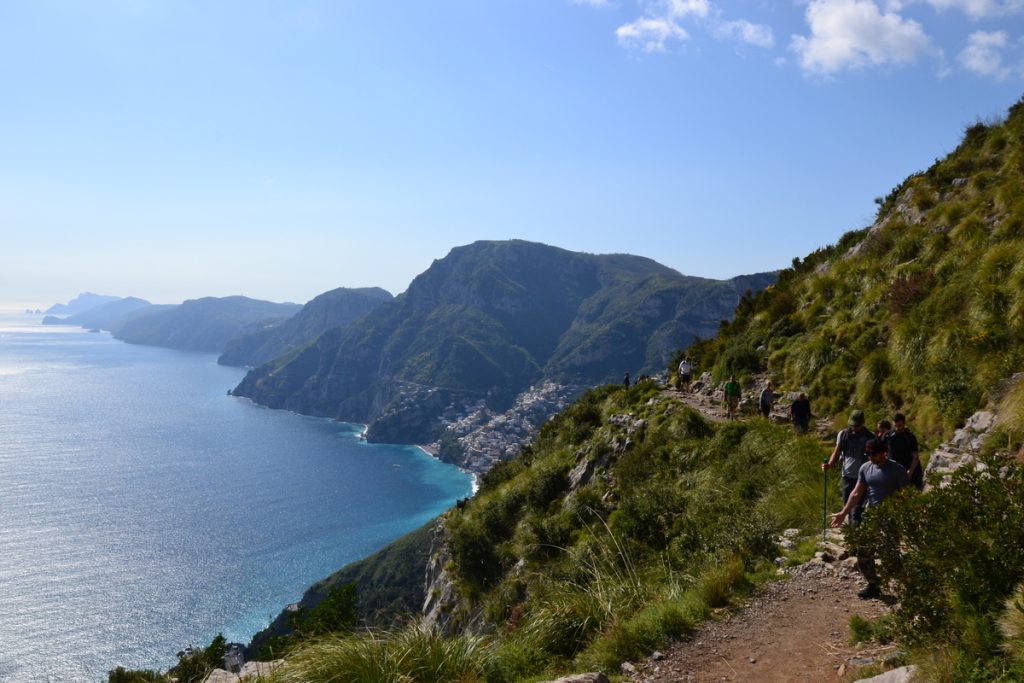 If you decide on such activities, we recommend starting your hike early in the morning and going most of the hike before the hotter afternoon temperatures. Also, the sun is behind you in the morning, which makes the lighting perfect for photos, while In the afternoon, you will be hiking toward the sun.
Take beautiful photos
While not a must-visit sight, there is something you should definitely prioritize when you take a trip to this much-loved Amalfi Coast village. Taking photos, of course! There are so many picturesque views overlooking not just Positano but the coastline, too, that it is well worth prioritizing some photography while you are there. 
If you don't have a professional camera, your smartphone will do the job. As long as you capture the picturesque sights of Montepertuso to look back on, you will be happy. All in all, there are plenty of things to do in not just Montepertuso, but the surrounding area, too. Make sure to see historical sights, go for a walk, and take in the beauty of this amazing part of the world. 
Things to do in Montepertuso in one day
If you are visiting Montepertuso on a day trip you won't have time to do all of these things from the list. How many things you can do in a day depends on how early you will come to Montepertuso and how long you will stay. If you come to this village in the morning, there will be enough time to hike to the famous hole in the mountain and back as it will take you around 3 hours to do so.
And of course, there will be enough time to try something authentic in one of a few Montepertuso's restaurants, explore every corner of the village, and take amazing photos.
Check out more articles about Montepertuso:
Hey there! Some links on this page are affiliate links which means that, if you choose to make a purchase, we may earn a small commission at no extra cost to you. We greatly appreciate your support!