The mountainous hamlet of Montepertuso is a small village located just above the popular and picturesque tourist town of Positano in Southern Italy. Located on the beautiful Amalfi Coast, it is a haven for travelers looking for a quiet getaway filled with many outdoor activities and traditional Italian culture. Known as the pierced rock because of the strange hole found in the mountain, Montepertuso sits snugly nestled in the Lattari Mountains and possesses some of the best views in all of Amalfi.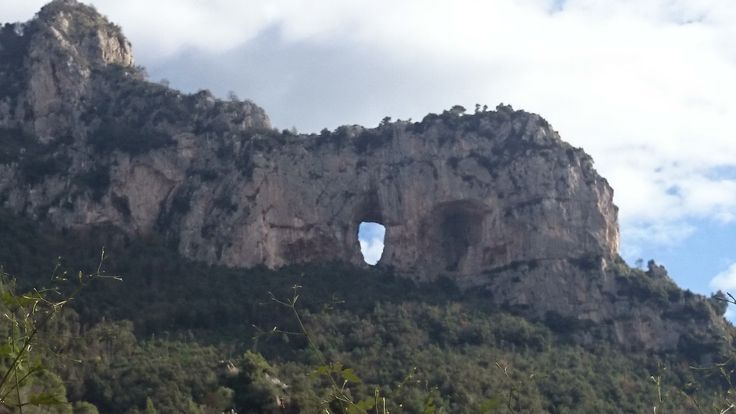 The legend of the mountain is a tale of an epic battle of good triumphing over evil, and both this charming hilltop village and its mountain are like something. Montepertuso and the surrounding area have a rich and colorful history to explore. Just like any authentic Italian village resort, Montepertuso is renowned for its fantastic food just as much as it's known for its stunning scenery and storied past. Here are the best restaurants in Montepertuso:
(This article contains 3 restaurants in Montepertuso, which are best in our subjective opinion. The order of the restaurants is not related to the quality they offer. Every restaurant has its pros and cons, so choose the one based on your personal preferences.)
La Tagliata
If you are looking for a trusted and beloved restaurant that provides homegrown, handmade, original Italian dishes that also deliver breathtaking views, a memorable experience, and much more, then La Tagliata is the perfect place for you. A family-run restaurant with its own vegetable garden, a wine and cheese cellar, and a farm, La Tagliata is on the shortlist of restaurants that can say it is truly "from farm to table".
Another thing La Tagliata can boast about is being a real-life Mamma and Poppa-run kitchen. It offers a set menu of the freshest and finest Italian dishes, from mouthwatering meat and pasta dishes, to the very best cured meats and cheeses, not to mention an extensive wine list to match, and the view from the mezzanine is simply spectacular.
The restaurant also offers a wide variety of other amenities, including a wonderful walk around the grounds, wedding parties, cooking classes, and even a couple of small apartments to rent. It should be noted that to book an apartment, you will have to do so weeks/months in advance. La Tagliata does provide a small pick-up service from Positano, and taxis are cheap enough, so getting to the restaurant's grounds shouldn't be a problem.
La Tagliata is located at Via Tagliata in Montepertuso, so to get there, use the Via Monsignor Saverio Cinque road until you reach Via Monsignor Vito Talamo road. From Positano, it is around 6 kilometers (3.7 miles), 15 minutes drive, and less than 1 kilometer (0.6 miles) from the center of Montepertuso. Opening hours are from 10:30 AM (10:30 hours) to 11:30 PM (23:30 hours) all week long. However, keep in mind that La Tagliata is the type of place that you will want to book days in advance.
Distance: 750 meters (0.4 miles) from Montepertuso's center
Phone: +39 089 875 872
Il Ritrovo
Located at Piazza Cappella in the heart of the Montepertuso hills, Il Ritrovo is one of the top restaurants in the region when it comes to sensational food and unforgettable scenery. Il Ritrovo received a TripAdvisor's travelers choice award in 2022 and regularly appears on the top 10 lists for the best restaurants in Positano.
With such a strong reputation in the region, it comes at a cost, so booking a table ahead of time is always a good idea, even at lunchtime. Speaking of cost, Il Ritrovo is rather reasonably priced, considering the standard of the dishes and the quality of the view. As far as the menu goes, this restaurant offers various authentic food, ranging from classic Italian favorites to Mediterranean mix and Neapolitan favorites, as well as some broader European dishes to keep the whole family happy.
The truffle ravioli and grilled octopus are two of the most highly praised dishes by online reviewers, as are the fresh clam pasta and the homemade cookies. Depending on your seat, you can watch the chef's cook, and the décor throughout is bright, modern, and airy.
The doors of Il Ritrovo open from 12:00 PM (12:00 hours) to 11:00 PM (23:00 hours) seven days a week, providing a lunch, dinner, and drinks service. Like La Tagliata, Il Ritrovo also includes a free hotel pick-up service and has a truly incredible view of the surrounding hills and the coast to go alongside the authentic Italian ambiance and cuisine.
Distance: 150 meters (0.1 miles) from Montepertuso's center
Phone: +39 089 875 453
Donna Rosa
Donna Rosa is the typical Italian restaurant in terms of both appearance and menu. From the moment you pass through its romantic canopied doorway, you are greeted with an incredible amount of class and style. From the rich ornaments and lavish candelabras, ornate decorations, and classic Italian white tablecloth tables, you will feel like you are in a storybook whenever you sit down for a meal.
Like the other two restaurants on the list and a particular selling point of Montepertuso in general, the views from Donna Rosa's outdoor patio area are something worth paying for whether you are coming for lunch or dinner. The outdoor area is a smaller one than the other restaurants mentioned, so you will definitely want to call ahead if you want to reserve a table with the best views.
The menu is comprised of mostly locally inspired dishes with a subtle Mediterranean influence. The most popular choice is pasta which is one of the best eating experiences you will have in all of the Amalfi Coast. You probably wonder why. Well, the cooks at Donna Rosa have even been known to make its fresh pasta live for the entertainment of the guests, and that pasta is so yummy. For seafood lovers, there is seabass which is a must-try while delicious desserts will leave you wanting to come back for more.
Donna Rosa is located at Via Gradoni in the center of town. Donna Rosa's doors are open seven days a week, with lunch starting from 11:00 AM (11:00 hours) to 2:30 PM (14:30 hours) and then re-opening for dinner service in the evening from 6:00 PM (18:00 hours) to 11:00 PM (23:00 hours). Like the other restaurants mentioned, it is a family-run restaurant, the food is affordable and they also offer a free shuttle service and have their own cellar with high-quality wines.
Distance: 100 meters (0.1 miles) from Montepertuso's center
Phone: +39 089 811 806
Where to find the best restaurants in Montepertuso?
Montepertuso is a small village above the very popular Positano, so there are not many restaurants to choose from. However, all restaurants in Montepertuso are excellent, and there is a good reason for that. Most tourists come to this little village because of the breathtaking view and many hiking routes that go through gorgeous nature. If there is no remarkable gastronomic offer here, all of them would go to Positano to have lunch or dinner. That is why restaurants in Montepertuso are so good that even tourists from Positano come here just because of a meal.
Check out more related articles from our blog:
Hey there! Some links on this page are affiliate links which means that, if you choose to make a purchase, we may earn a small commission at no extra cost to you. We greatly appreciate your support!