The town of Volterra in Tuscany is a perfect destination for day trips from San Gimignano, Pisa or Siena and a romantic weekend with breathtaking landscapes and excellent wine. It is one of the oldest towns in Italy, dating back to the 8th century BC, so it offers a unique chance to step back in time. Much of its architecture reflects these earlier periods, while the whole town is surrounded by 13th-century walls, so history lovers will enjoy exploring around.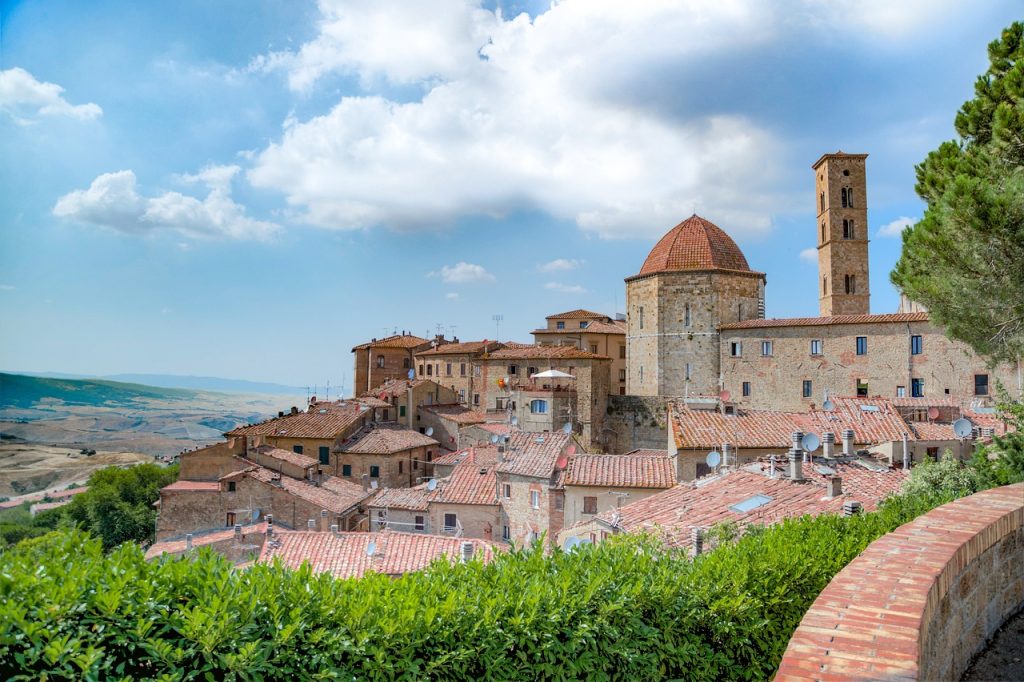 There is plenty to see and do in Volterra, so if you plan to explore most attractions, consider getting the Volterra Card. It provides access to main tourist sites for 72 hours at a price of 16 euros, so with this card, you will save a lot. You will discover ancient gates, massive walls, historic buildings, archaeological remains, and much, much more. Here are the top things to do in Volterra:
Soak up the sun in Piazza dei Priori
Piazzas are perfect sun traps, welcoming in blue skies and plenty of sunshine. Piazza dei Priori is the main and one of the most beautiful Italian medieval squares. Because of its location, just in the middle of Volterra, the square is an ideal place to start your journey in this town. Furthermore, it is surrounded by some interesting stone buildings, among which the Palazzo dei Priori is worth visiting.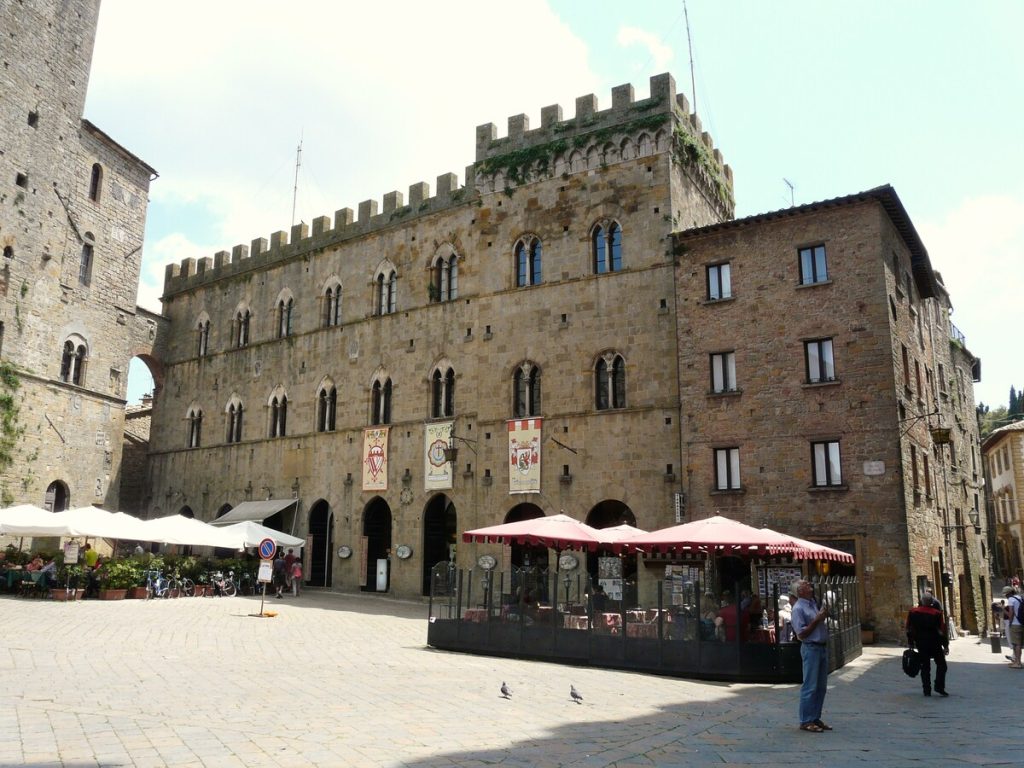 If you are having a sunny day in Volterra, Piazza dei Priori is the perfect open area to soak up the sun. Also, the square is a popular meeting point for both tourists and locals, so there are many cafes and restaurants where you can hang out with your friends or family.
Do not miss a visit to the Palazzo dei Priori
When you reach the main square in Volterra, the most beautiful building you will see is Palazzo dei Priori. It is the oldest town hall in Tuscany (it was built in the year 1208) and is built entirely of stone. This magnificent place was first used as a house for elders, but nowadays, it serves as a town hall with municipal offices.
The palace is partially open to the public, so you can visit it with a single ticket or with a Volterra Card. Once inside, you can admire the Sala del Consiglio and the Sala della Giunta and climb up to the Bell Tower, from which you can enjoy a breathtaking view of the whole village and the surrounding landscape. The rooms, their frescoes, and the exhibits are all pretty nice. But it's the climb to the tower and the look around the wonderful walled town that make this truly worth it.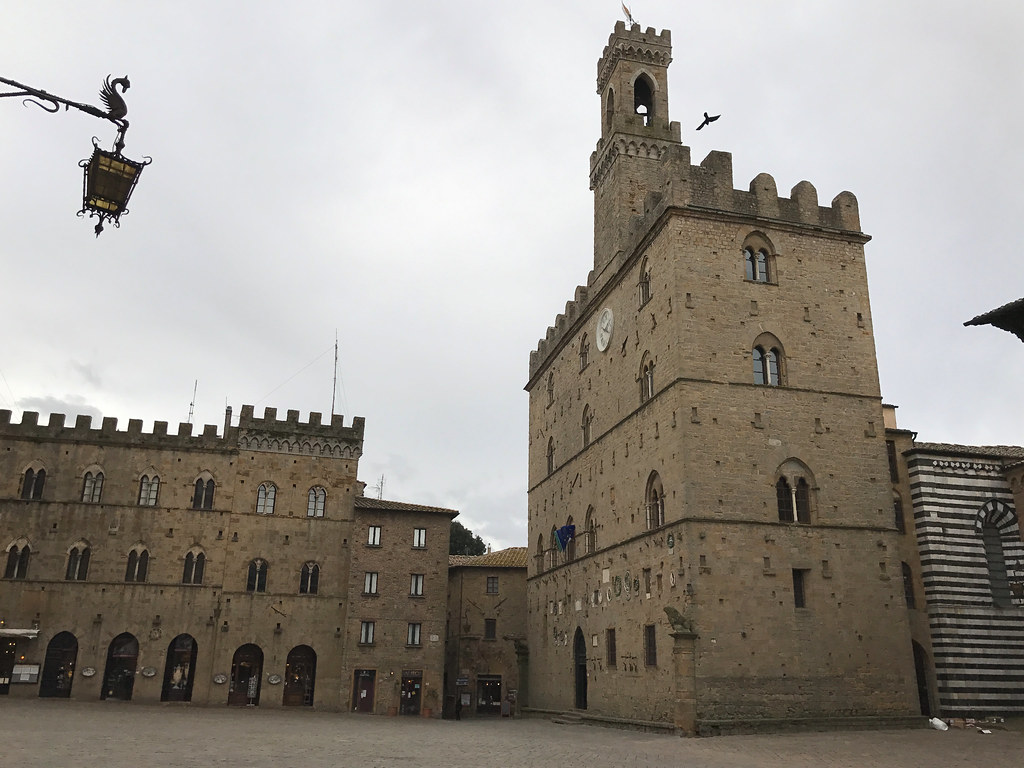 The palace's architectural style closely resembles the Palazzo Vecchio in Florence, but it has a history and personality of its own. Palazzo dei Priori is even mentioned in the second book of the Twilight series and was the set for some scenes of the film, so it is no wonder that many fans visit this lovely palace.
Check out Palazzo Viti
So often, tourists visit palaces or castles but not the actual residences or typical Italian homes. Palazzo Viti actually shows the home in Volterra of a man who was once a wealthy merchant. Even though this palace is not a "must-see" attraction for everyone, it is certainly worth the time, especially if you like art and history. The palace was built at the end of the 16th century by the nobleman of Volterra Attilio Incontri.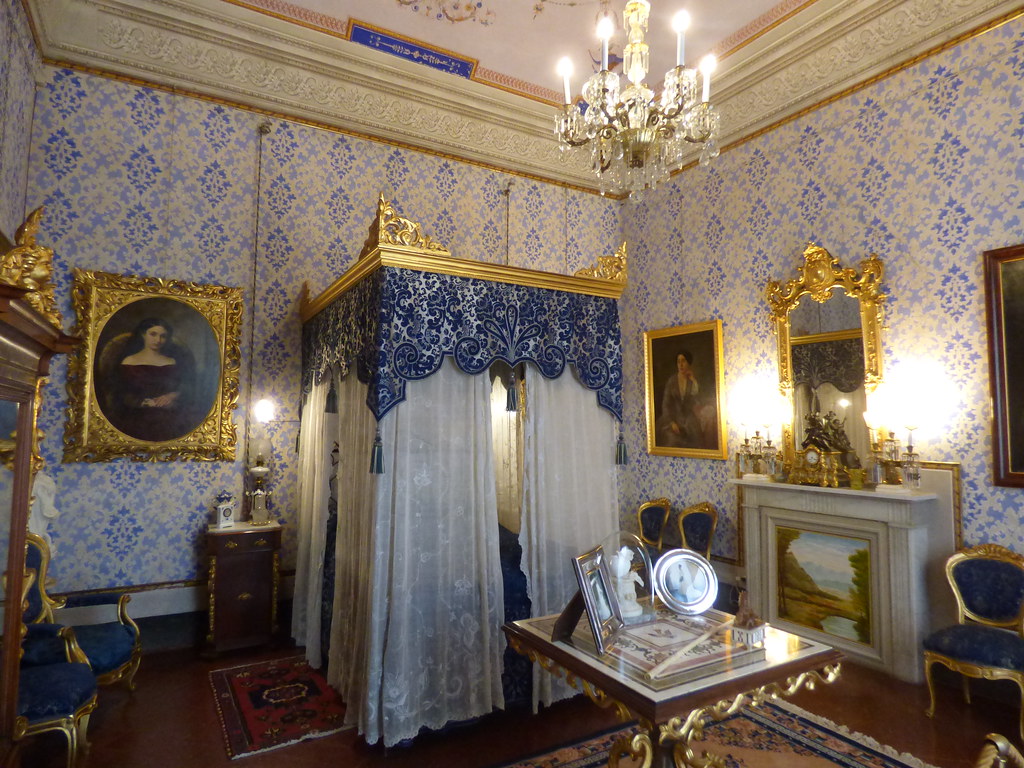 Purchased in 1850 by Giuseppe Viti, an alabaster merchant and traveler, the building was restored from top to bottom. Nowadays. It is a house museum that still preserves the original furnishings, alabaster works, beautiful paintings, and various objects that Viti brought home on his return from his travels in America, India, and Nepal. During the years, everything has remained intact, so during a visit to the 12 rooms of Palazzo Viti, you can admire the objects that have been present in these rooms since the year 1500.
Admire the Cathedral of Santa Maria Assunta
The Cathedral of Santa Maria Assunta is the main church in Volterra, built around 1120 on the remains of a pre-existing church. It is an excellent example of the Romanesque and Baroque style located in Piazza San Giovanni, the old town of Volterra. Although the cathedral is not as spectacular as some in other Tuscan cities, it is worth checking out its gorgeous exterior.
If you want to explore the church's interior, you should know that there is a separate ticket for the Cathedral of Volterra, the Baptistery, and the Museum, which is not covered by the Volterra card. Much of what can be admired inside dates back to a big restoration that took place in the mid-19th century, including walls with white and gray bands, the presbytery, and the floor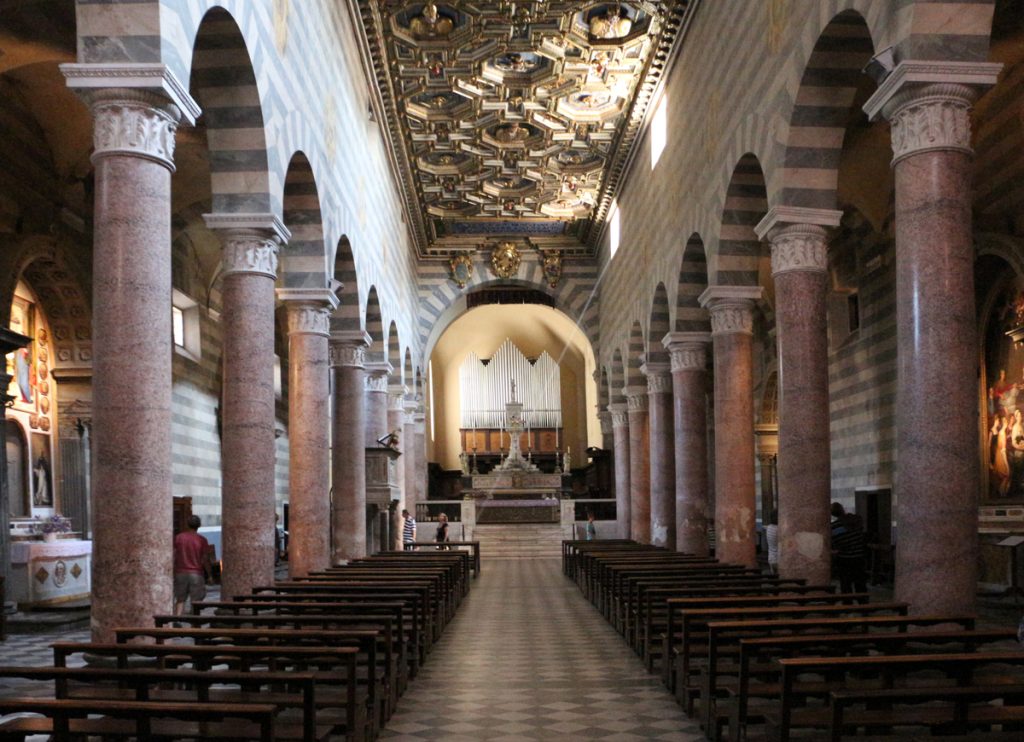 Once inside, don't forget to look up and admire the splendid coffered ceiling with geometric and decorative motifs. Furthermore, check out 6 chapels, which house artworks by numerous painters from the end of the 16th century. The oldest work is the sculptural group of the Deposition, dating back to the thirteenth century and created by local craftsmen. It shows Jesus Christ being taken down from the cross by the Madonna, Saint John the Evangelist, Joseph of Arimathea, and Nicodemus.
Take a photo of Volterra from Medici Fortress
Medici Fortress is another well-known attraction of this hilltop town that should not be missed. It was built on top of a hill for defensive purposes, and it is made up of two towers connected by walls. The first one is called Rocca Vecchia from the year 1342, and the other one, Rocca Nuova, or the Maschio, from the year 1472. Nowadays, the fortress is used as the local prison, but it is possible to visit the Maschio Tower.
However, it is not open all the time, so it is advisable to check this website. The tower is definitely worth visiting because of the great photos and views over the town. Don't worry, you will have wonderful photos even if the window grates spoil them a little! Don't be put off by the fact that you have to walk past the entrance to the prison to reach this tower.
Learn about the pre-Romans at the Etruscan Museum
On the east side of Volterra sits a two-story museum called Museo Entrusco "Mario Guarnacci." It has been around since 1761 but has artifacts dating back much further. The museum is one of the most important Etruscan museums in Italy and one of the oldest public museums in Europe. It is centered around ancient archaeological items such as elegant pottery and well-crafted sculptures. Many tourists who visit Italy know of the Ancient Romans.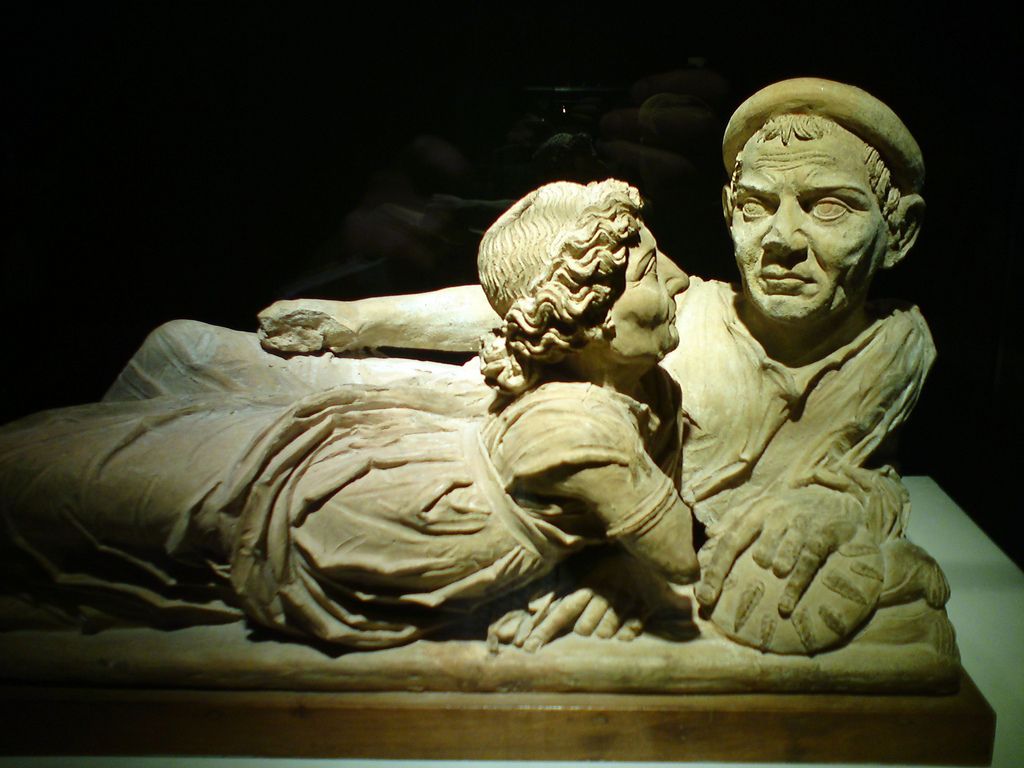 They were the first to harness solar energy, mine for precious materials, and build bridges. But what do people know of those who called Italy home before the Ancient Romans? Here at the Etruscan Museum, you will find out about the pre-Roman period and discover just how advanced these civilizations were. This educational opportunity is great for the whole family, and visitors should plan to spend at least an hour or two here.
Dare to enter the Museum of Torture
Not for the faint-hearted, the Museum of Torture in Volterra is a harrowing but fascinating place to visit. Despite the evil instruments of torture on display here, the museum has a clear mission that should be applauded. They want to exhibit these items to create strong negative reactions in visitors and to build a network of allies against torture.
Volterra's Museum of Torture is open every day and, despite its disturbing subject matter, is a fitting museum for this medieval town. We advise washing down this disturbing experience with a glass of Italian white wine in a bar afterward!
Explore the Pinacoteca and the Civic Museum
If you love art, one of the best things to see in Volterra is the wonderful Pinacoteca and Civic Museum of Volterra, housed inside the Palazzo Minucci. Opened in 1982, this museum was born thanks to the artworks collected from the churches of Volterra at the beginning of the 20th century by Corrado Ricci. Initially opened in the Palazzo dei Priori, the art gallery has gorgeous paintings from the 12th to the 18th century that follow the Florentine, Sienese, and Pisan artistic currents.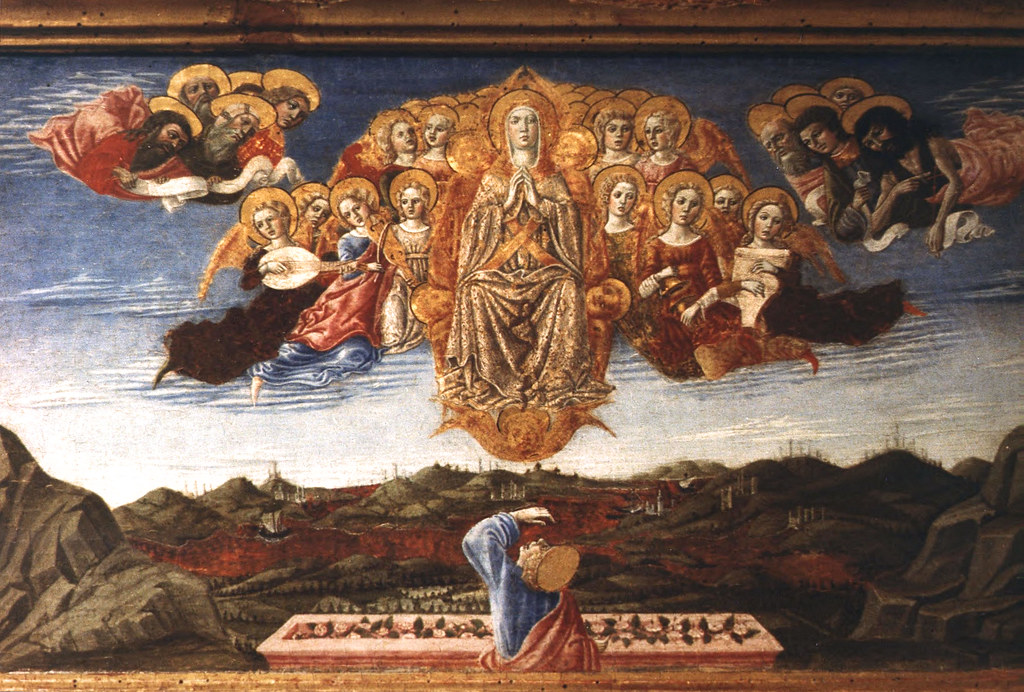 One of the main paintings is the Deposition by Rosso Fiorentino, the masterpiece of Florentine Mannerism, made in 1521. Besides, you can see various wooden statues and medieval ceramics. Worth mentioning is that the museum is a bit confusing to navigate. There are many small rooms that do not connect well, so don't be in a rush because you can easily miss some of the rooms.
Take a peak inside the Alabaster Ecomuseum
If you have paid for the Volterra Card, or you have a ticket for the Pinacoteca and the Civic Museum, it is worth passing through the Alabaster Ecomuseum located in the tower of Palazzo Minucci. It is a unique museum of its kind where you can see how alabaster has been worked and marketed since Etruscan times, all the way to the present day. This stone, as beautiful as marble, transparent like glass, and colored like other semi-precious stones, is a very fragile material to work with and requires craftsmanship that has been handed down in Volterra since the Etruscans.
In this museum, you can admire two alabaster urns from the Etruscan era, two capitals that represent the only examples of alabaster craftsmanship in the Middle Ages, a collection of valuable sculptures from the eighteenth and nineteenth centuries, a selection of alabaster medallions by Albino Funaioli and some works by the local artist Raffaello Consortini.
Do as the ancient Romans did at the Roman Theater
Buried beneath the ground for more than half a dozen centuries, the Roman Theater is one of the top attractions in Volterra that should not to be missed. It wasn't discovered until the 1950s, and so is, ironically, a relatively new site to visit in the town. Stone pillars and seats are distinctly Roman and invite guests to imagine what life was like back then. The remains of the ancient structure show that the Theatre could accommodate up to 1700 people, but enough for a town of the size of Volterra.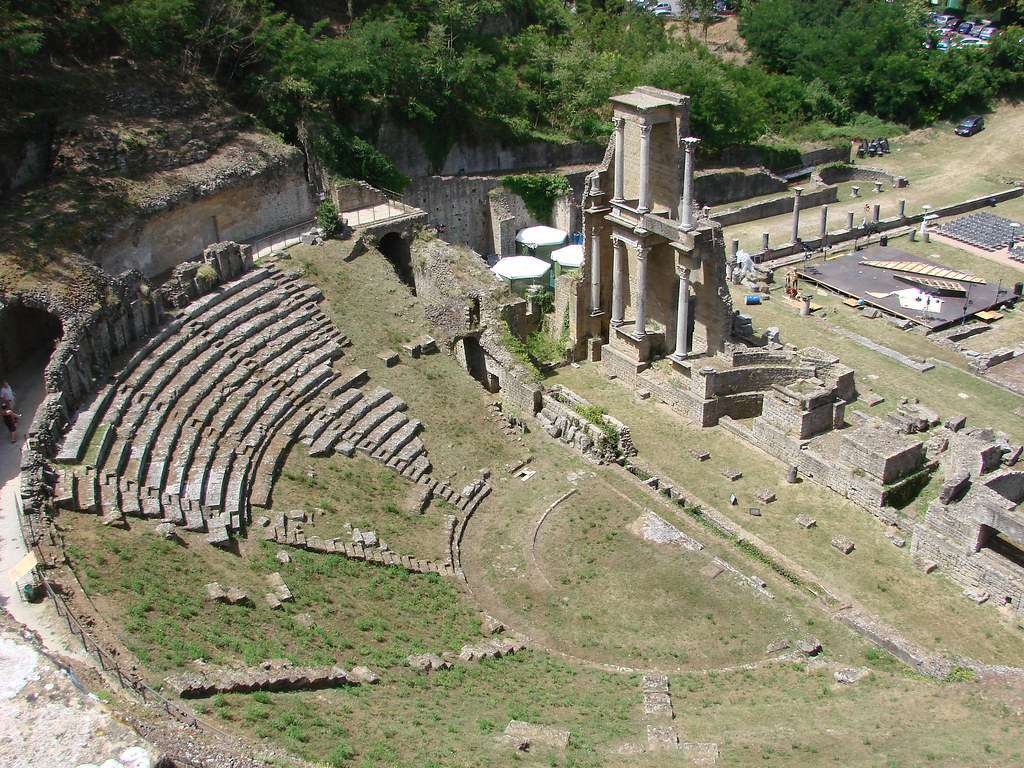 During the excavations, several seats were found engraved with the names of the wealthy families of Volterra and the authorities of the time. One would have expected to attend the Theatre for tragedies and comedies. Today, the Theatre is open to sightseers as well as hosting the International Festival, a popular event founded by actor and director Simone Migliorini.
Sample rotolini at Osteria La Pace
Osteria La Pace on Via Don Giovanni Minzoni is a fantastic eatery you would be foolish to miss. Seated within the ancient stonework of the town, you are invited to indulge in a multi-course meal of fresh ingredients and creative dishes. We recommend the pici al cinghiale (fresh pasta with wild boar ragout) for your primi course, followed by a delicious rotolini (pork roll with cabbage, cheese, and bacon). For dessert, we think you will love the cantuccini e vin santo (biscuits with holy wine).
After this tasty dessert, you will be feeling truly blessed. The prices here will surprise you, with the whole three courses clocking in at only 34.00 euros. What's not to love? The staff who work at Osteria La Pace are very friendly and will be on hand throughout your meal with recommendations, including their favorite wines and beers. This is five-star service at its very best.
Treat someone you love at Artemis Fiori E Piante
This woman-owned flower shop in Volterra has a beautiful range of bouquets and other miscellaneous items you are sure to love. You can order a custom bouquet in advance that is available to collect the same day or pop into the store to pick up a pre-made bunch. Selling flowers in every color imaginable, it's a great place to buy a gift for someone you love.
Enhance the holiday of your partner, parent, or friend, and let them know how much they mean to you with the gift of scented flowers. The bunches available to purchase here are affordably priced, and the shopkeeper is happy to help customers find the perfect flowers for their perfect someone.
Marvel at the San Guisto Church
Sticking out above the landscape of Volterra, you will find San Guisto church. It was built in 1628 and is dedicated to local patron saints. The first thing that will catch your eye is a medieval exterior that is truly majestic, especially when visiting during dusk. The interior is not very exciting. Still, there are two artworks worth checking out, a fresco by Baldassarre Franceschini and a painting by Cosimo Daddi.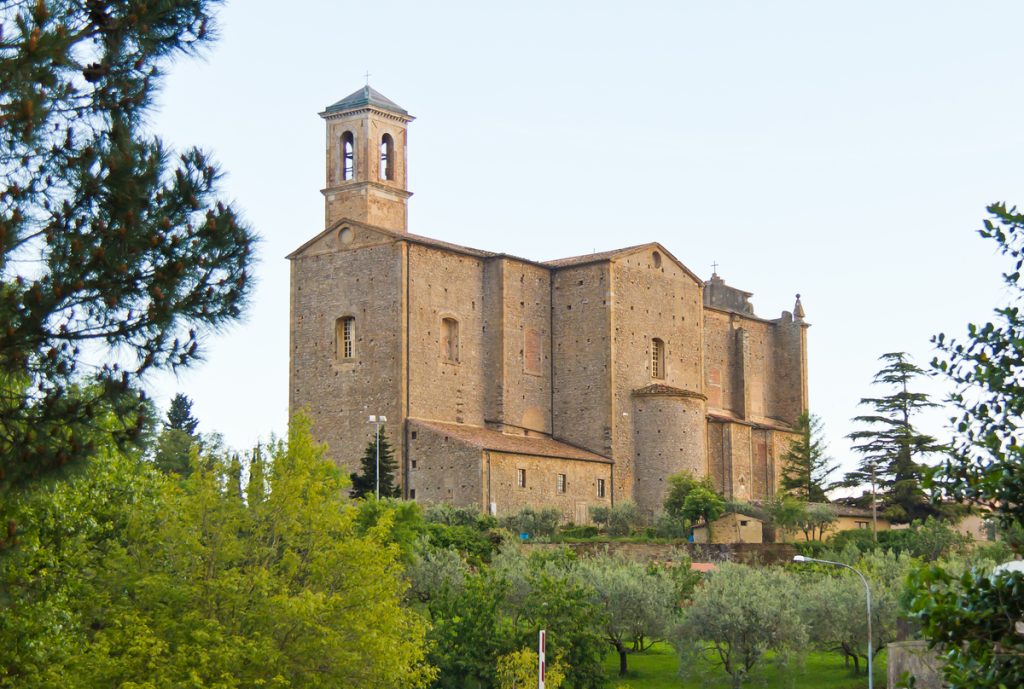 The location of this church is very beautiful, on top of the hill that hides an Etruscan necropolis. Whether you are religious or not, you should visit the church if only for the view. Depending on when you visit the San Guisto church, you may even have the opportunity to attend a church service. Keep in mind that the church is a couple of kilometers away from the historic center of Volterra.
Take in the views at Mura Etrusche Presso Le Balze near Volterra
Perched on the very edge of the Volterra boundary is Mura Etrusche Presso Le Balze, a tall historical landmark that can be reached on foot. While seeing the tall stone walls of this vintage building is a must, it is not the main reason to visit it. The best part of making the journey up here are the best views of the countryside around Volterra. You will be able to look down from a high vantage point at the Tuscan landscape, taking in the rows of trees, rolling green fields, and blue skies.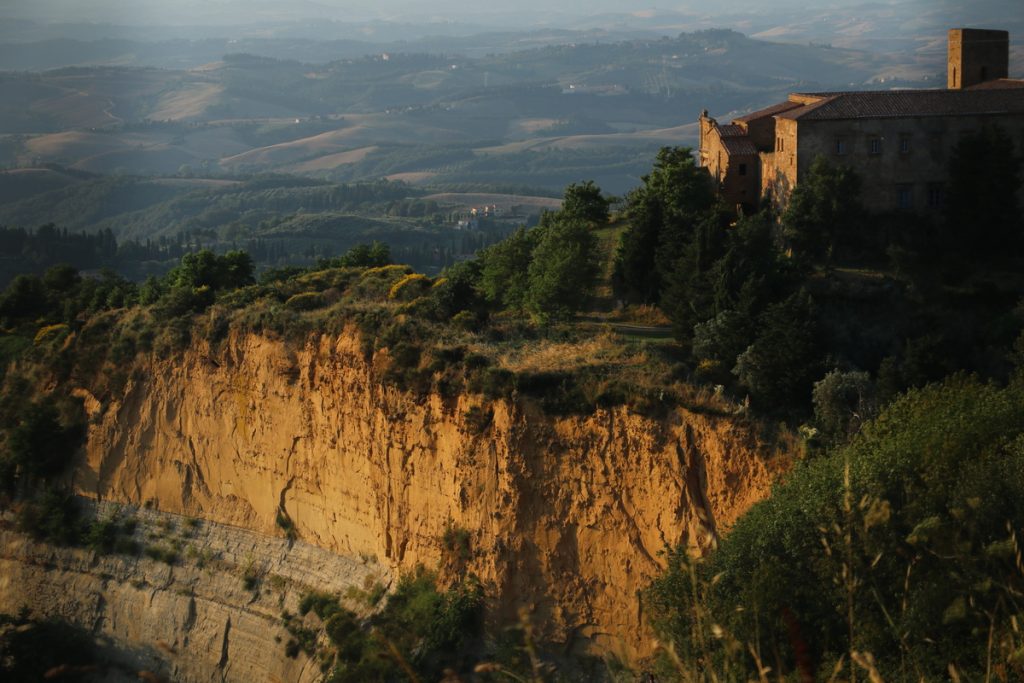 Mura Etusche Presso Le Balze is slightly off the beaten track, so it is only recommended for seasoned walkers and professional hikers. There is a road nearby called Strada Provinciale Volterrana, but none leading directly to this landmark on the hill. Get your walking boots on!
Grab Groceries at Coop.fi
While holidays provide an opportunity to get away from most of your normal chores, grocery shopping may still be required. Especially if you are not interested in eating out three times a day each day. Enter Coop.fi, the best grocery store in all of Volterra. Here, you will be able to pick up fresh fish, fruit and vegetables, canned goods, wines, cheeses, and much more.
There is plenty of parking, and the prices are cheap when compared to other stores in this region of Italy. It is the one-stop shop in Volterra for all your grocery needs. We recommend picking up some focaccia and mixing olive oil and balsamic vinegar for dipping. You won't regret it, it is a taste sensation.
Enjoy a Beer at Brasseria del Grifone
At Brasseria del Grifone, you will have the chance to sample their locally-brewed craft beers. Not available anywhere outside the region, these beers are unique in flavor and mouthfeel. There are a few different ones to choose from, so you can definitely justify spending a long afternoon or evening here.
There is also a great food selection, including meats and cheeses, burgers and chips, and salads. If you like trying flavourful beers you can't get anywhere else, be sure to add this to your Volterra bucket list.
Buy a book or three from Mondadori Bookstore
Selling hundreds of books, the Mondadori Bookstore is a popular place for bookworms to find their next reading fix. You will find books, board games, comics, vinyls, stationery, and much more in this quaint store that offers a diverse range of products and helpful customer service.
Don't worry if you don't speak a word of Italian, there is an English range of books on offer here. Staff at Mondadori Bookstore are well-versed when it comes to the latest and greatest books, so don't be shy. Just ask them for their recommendations. You may just find your new favorite book on the shelves.
Other things to do in Volterra
If you love exploring churches or just have some free time, you can check out various other churches in Volterra. Some of them we recommend are the Church of Sant'Agostino, Church of San Lino, Church of San Michele Arcangelo, and Church of San Francesco. Also, the town has many medieval town gates known as "Porta" where you can take cool photos. The most popular ones are Posta San Felice, Porta San Francesco, Porta Fiorentina, and Porta di Docciola.
Events in Volterra
If you visit Volterra in April, October or November you have a chance to experience Volterragusto. It is a big market with many local and authentic products from Tuscany such as cheese, hams, olive oil, white truffles, beer, wines and sweets. This event is only held two days, so it is very busy at that time in Volterra. 
Furthermore, every 3rd and 4th Sundays of August, Volterra is home to the medieval festival called Volterra AD 1398. The whole town takes a step back more than 600 years and the streets of Volterra become full of artisan and merchant stalls, parades of commoners and nobles, and juggling shows. Even though the festival lasts only two days, it is worth a visit as a day itinerary. 
Hey there! Some links on this page are affiliate links which means that, if you choose to make a purchase, we may earn a small commission at no extra cost to you. We greatly appreciate your support!