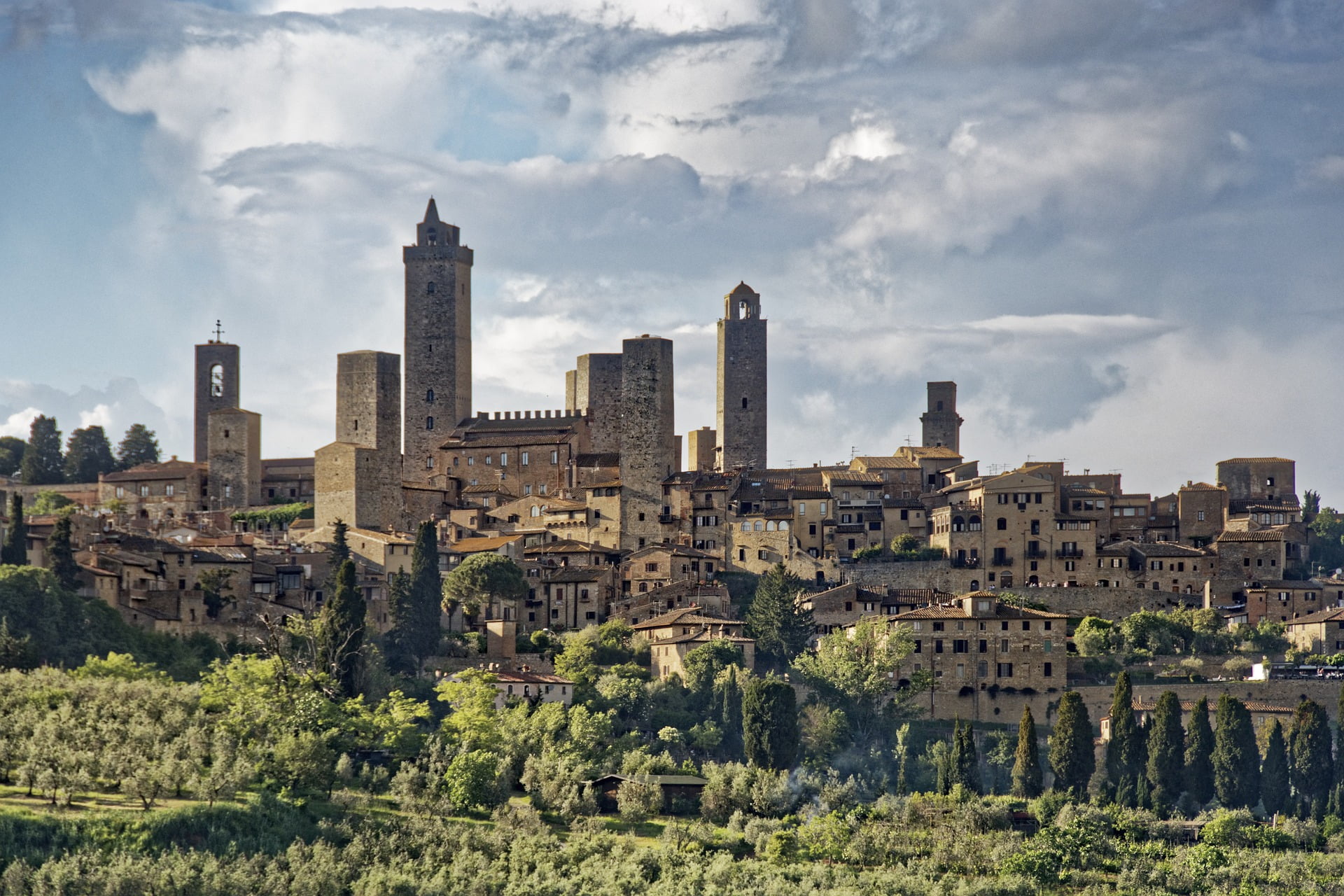 San Gimignano is a small picturesque town in the province of Siena. It is known for its beautiful old town with 13 towers, which is why it is also called "Medieval Manhattan" or the "City of Towers".
San Gimignano received additional attention when it was named a UNESCO World Heritage Site in 1990. Most of the buildings in this tiny place date from the 11th and 12th centuries, which gives this town its special charm. 
In the 16th century, the Grand Duke Cosimo I de 'Medici decided that no new buildings could be built in this town. Therefore, when you enter the San Gimignano through its gates, it is like traveling back in time.
If you want to find out more about San Gimignano, check out this article:

Have a meal with a view
If you want something unique and memorable while in San Gimignano, you should visit one of these restaurants. Besides delicious cuisine, they offer breathtaking views and a romantic atmosphere.
Questions & Answers about San Gimignano
1.

Where is San Gimignano located in Italy?
San Gimignano is a small walled medieval hill town in the province of Siena. This province is in the Tuscany region which is located in central Italy.
2.

Is San Gimignano worth visiting?
San Gimignano has preserved its medieval charm, so walking down the streets will be something unique and special. Furthermore, the nature around San Gimignano is magnificent. Green hills, isolated villas, a lot of wineries, and cycling roads will make your vacation in San Gimignano even better. So you do not have to think twice whether to go or not to go to San Gimignano.
3.

Which airport is nearest to San Gimignano?
The nearest airport to San Gimignano is Florence airport which is around 40 kilometers away.
4.

What is San Gimignano famous for?
San Gimignano is famous for its fascinating medieval architecture and 13 towers. The historic center of San Gimignano is UNESCO World Heritage since 1990. Also, San Gimignano is famous for a bunch of small shops with local products such as cheeses, wines, pasta, hams, oils, and so on.
5.

Where to get a panoramic view of San Gimignano?
Nearby San Gimignano, there is a street named Via Vecchia. It is the old gravel road that goes to town. Drive up there, and you will have an amazing panorama of San Gimignano.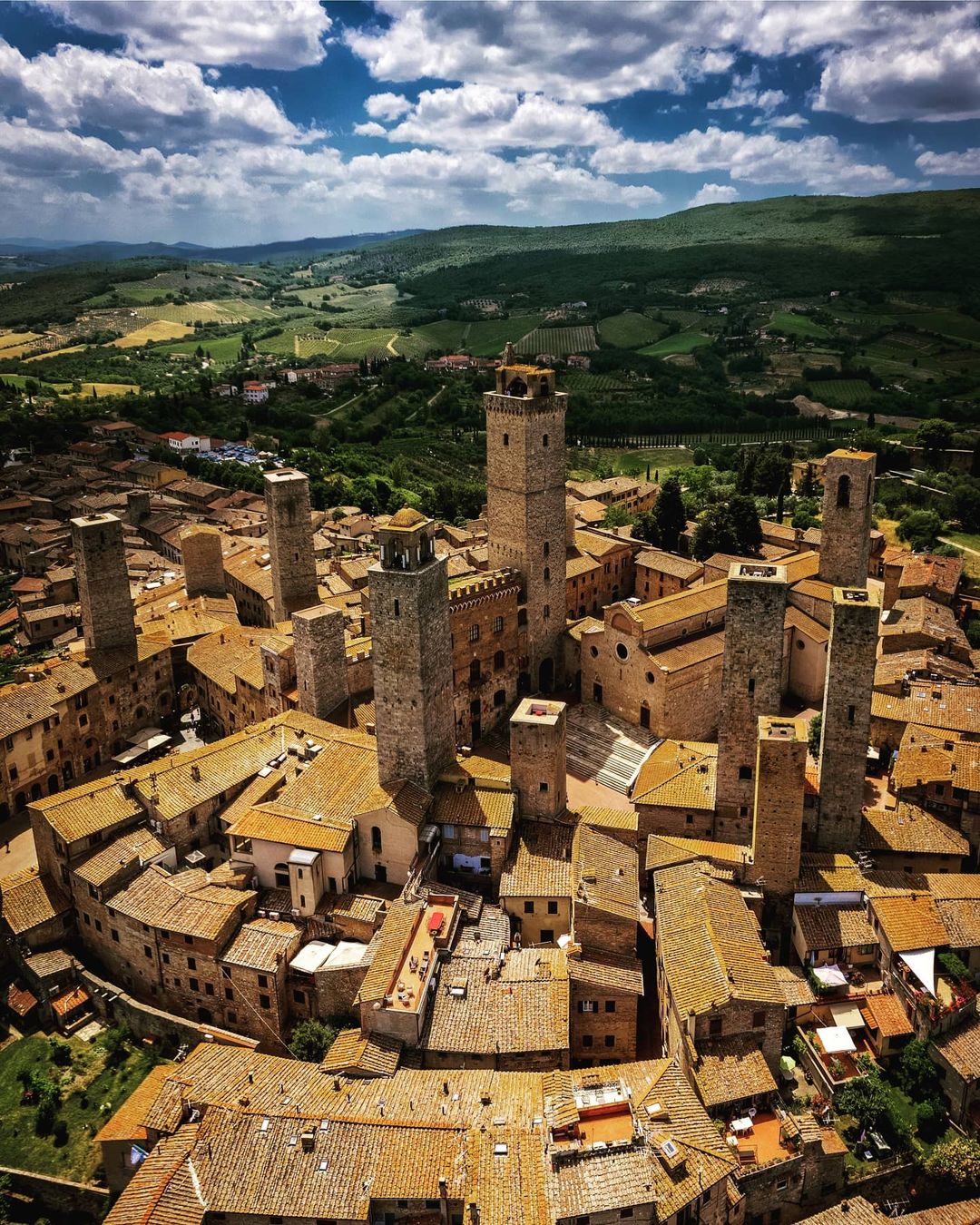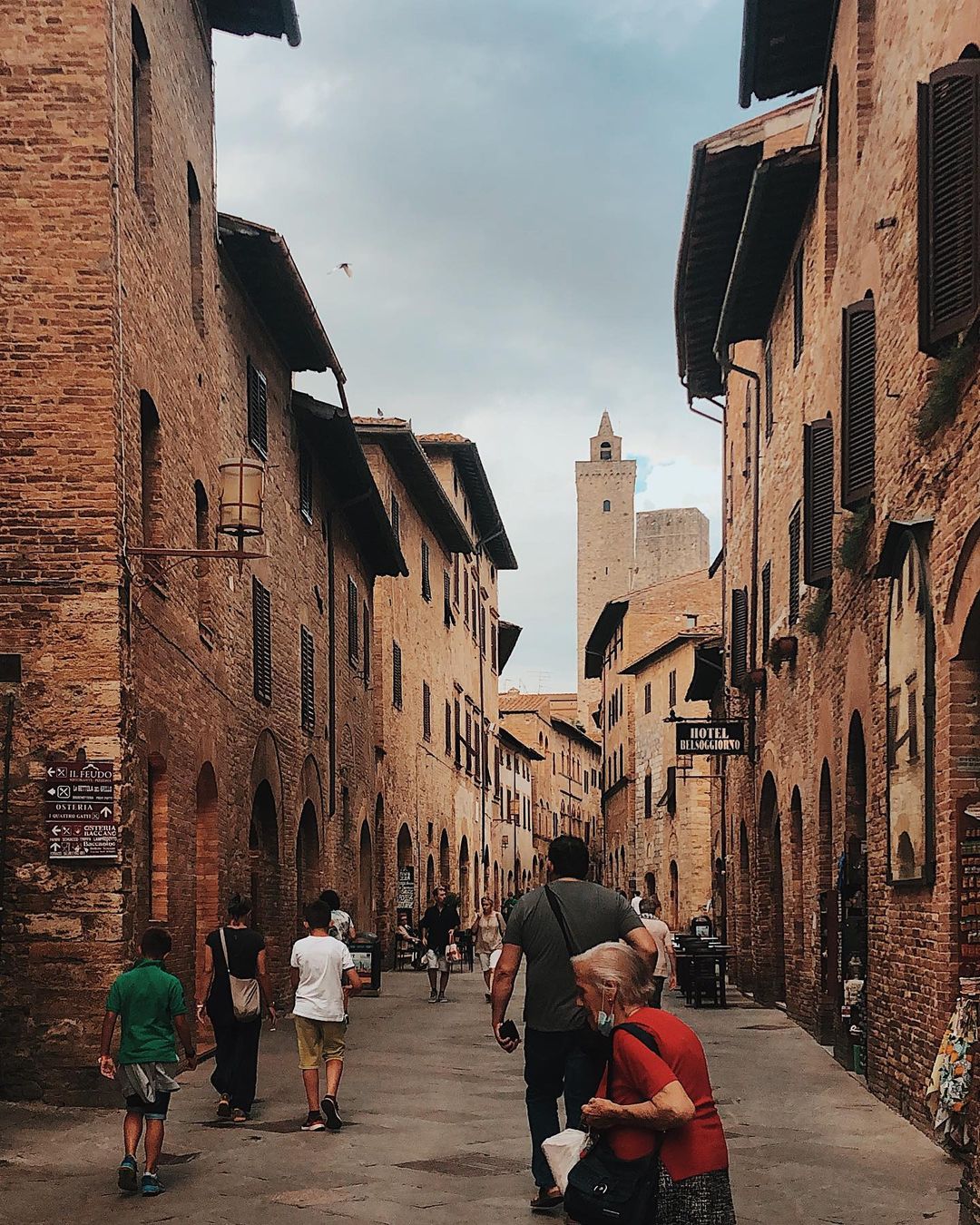 6.

How to get to San Gimignano?
You can get to San Gimignano by car or bus. If you are coming by car, you have to get onto the A1 motorway, exit at "Firenze Impruneta, drive in Siena direction, and exit at Poggibonsi Nord. If you decide to take a bus, you have to take bus 130 from Poggibonsi to San Gimignano.
The local market in San Gimignano is held every Thursday. There you can find fresh local food, leather products, clothes, wines, oils, and other stuff for great prices.
San Gimignano is awesome in the evenings because, by the late afternoon, most day-trippers would be gone. Therefore, you can enjoy yourself on a cozy walk or sit down in a bar for wine. Most restaurants, shops, and bars are open until late at night. 
In San Gimignano, you can choose between four different parking places. The cheapest one is Giubileo parking where you need to pay 1,50 euros per hour. Other parking places will cost you 2,50 euros per hour.
10.

What are must-see towns and villages near San Gimignano?
If you want to visit some other beautiful towns in Tuscany, you should not miss Siena. It has great shops, trattorias, squares, sights, and events. Some other lovely places are Monteriggioni, Orvieto, and Volterra.