Buon viaggio, you are in Milan! You have a long day ahead of you, exploring all the beautiful art and intricate architecture that Milan has to offer. For sure, you are going to need to fuel up for breakfast, for lunch, and then again for dinner. Seeing as you are in Europe, you may also want to do as the locals do, in which case you might quite possibly require a late-night meal or a nightcap before you turn in for the evening.
Because when in Rome do as the Romans do, I mean Milan! Have no fear. There are plenty of great dining options for you, day and night, while in the Brera neighborhood in Milan. What is better than indulging in some of the best food in the world in one of the most amazing places in the world? We can't think of anything else that we would rather be doing. Shopping maybe? But shopping is hard work too, and there is so much outstanding fashion in Milan.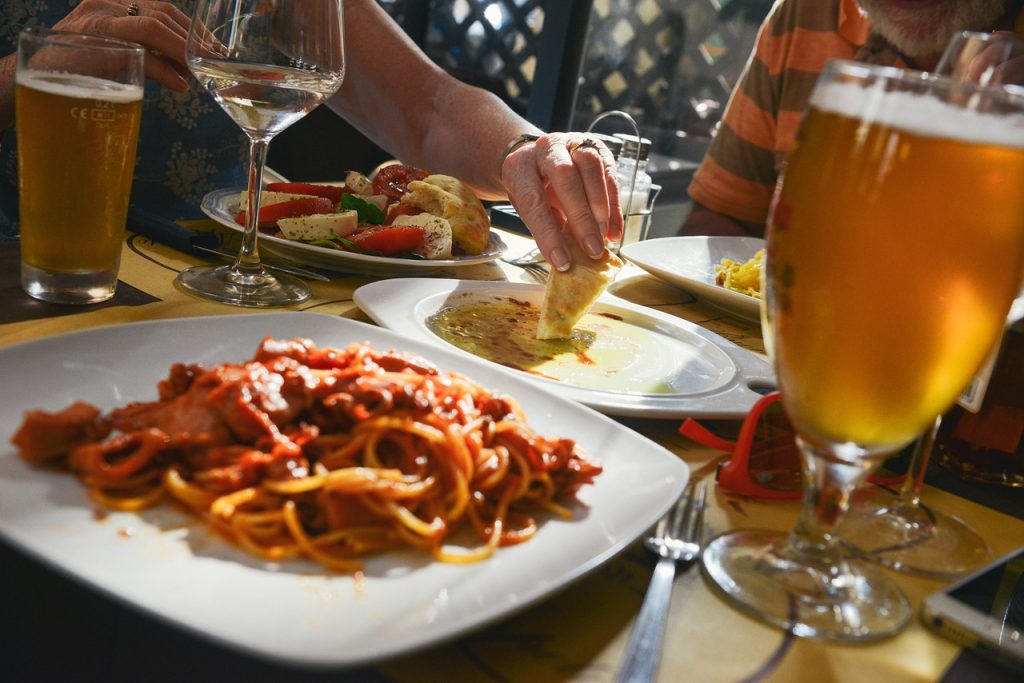 Whether you are on the hunt for some stylish threads for your personal closet collection or you need to fill your time because you are the support staff for the retail lovers in your life, what better way is there to clock some hours than at a restaurant? The best days are long days that are packed with all the good things in life, and of course, that includes food. We take food seriously here and want you to put all your efforts into the adventures of your travels and the important parts like shopping and sightseeing during your trip to Italy.
So, our experts here have been hard at work to bring something special to you. We have done the heavy lifting on the restaurant search and have compiled a list of the top five not-to-miss eateries while you are in this lovely neighborhood. Here are the best restaurants in Brera neighborhood in Milan:
(This article contains 5 restaurants in Brera, which are best in our subjective opinion. The order of the restaurants is not related to the quality they offer. Every restaurant has its pros and cons, so choose the one based on your personal preferences.)
Brera 29 Cucina & Cocktails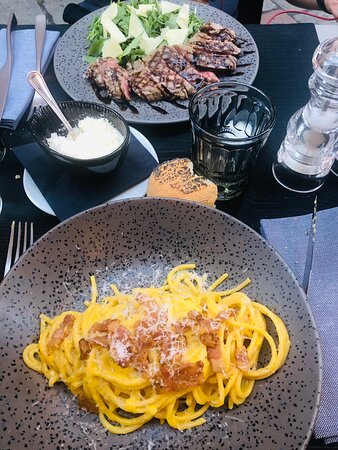 Did someone say cocktails? Brera 29 is where you want to be if you are in the mood for a mixed drink. This hip spot offers an extensive bar selection, boasting over 200 liqueurs on their list. You can find all the classic cocktails as well as their signature made house specialties. The mixology game is strong, and there is a little something for everyone on their list, all the way from aperitivo to digestivo. You can enjoy a perfectly paired drink throughout your entire meal. This all-Italian restaurant's concept is both exclusive and true to the character of a typical Milanian neighborhood.
The professional staff will help elevate your experience while dining in this warm, flavorful restaurant that is built around the tradition of Italian cuisine with an innovative touch. The restaurant is located right in the heart of Brera, so it is an easy stop-off between museums for a quick lunch. Don't worry if lunch is not in the cards. They are open late, so you can catch them at dinner time or late for a nightcap.
Brera 29 Cucina and Cocktails is where you want to go for an experience, a food journey that could help you redefine what good food tastes like. If you like to stick to wine, you won't be disappointed, their wine cellar offers a varied selection as well as a great Italian catalog. This lovely restaurant is open Tuesday to Thursday from 12:00 PM (12:00 hours) to 1:00 AM (1:00 hours), Friday and Saturday from 12:00 PM (12:00 hours) to 2:00 AM (2:00 hours), and on Sunday from 12:00 PM (12:00 hours) to 11:30 PM (23:30 hours). Keep in mind that Brera 29 Cucina & Cocktails is closed on Monday.
Distance: 1.3 kilometers (0.8 miles) from Piazza del Duomo in Milan
Phone: +39 02 4953 4949
Il Carminio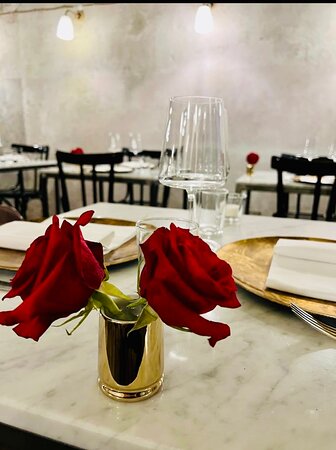 Chef Giovanni Costantino has created a menu of wonderful dishes. There is a little something for everyone here, no matter if you are a meat lover, a vegetarian, gluten-free, or a pescatarian. Self-care and well-being are some of the core themes of this restaurant. Dining here makes you feel at home and in good company. This eatery is elegant without being too formal, but more importantly, it is delicious. Located in the heart of Milan, Il Carminio serves up some of the highest quality ingredients in an atmosphere that is both stylish and elegant.
It is an intimate setting just down a little alley behind the historical Piazza del Carmine and not on the main strip, but this tucked-away little gem is worth the hunt. You can expect top-tier service here, lovely food, and hospitality to match. Come rediscover flavors, and let them surprise you. They want to. You can visit Il Carminio on the weekdays for lunch from 12:30 PM (12:30 hours) to 2:30 PM (14:30 hours) and dinner from 7:30 PM (19:30 hours) to 10:30 PM (22:30 hours), while on Saturday, the restaurant is just open for dinner.
Distance: 1 kilometer (0.6 miles) from Piazza del Duomo in Milan
Phone: +39 333 263 9619
Sette Cucina Urbana
Sette Cucina Urana is the winner of Trip Advisor's 2023 Traveler's Choice Award. This restaurant was created with the idea in mind that diners could stop in at many different times. If you find yourself in the mood for brunch, lunch, and dinner, you have flexibility at Sette Cucina Urbana. They also have vegetarian and gluten-free items on their menu as well. This restaurant is in one of the best locations in Milan, with a clean minimalist design.
Great for many different occasions, from business lunches to romantic dinners. The attentive staff is top-notch. Try the duck breast and the risotto! The restaurant is open Monday to Friday from 7:30 AM (7:30 hours) to 3:30 PM (15:30 hours) and from 7:00 PM (19:00 hours) to 11:00 PM (23:00 hours). On Saturday, you can visit it anytime from 11:00 AM (11:00 hours) to 4:00 PM (16:00 hours) for lunch and 7:00 PM (19:00 hours) to 11:00 PM (23:00 hours) for dinner. On Sunday, it is open only for lunch.
Distance: 850 meters (0.5 miles) from Piazza del Duomo in Milan
Phone: +39 02 8909 2660
Tartufotto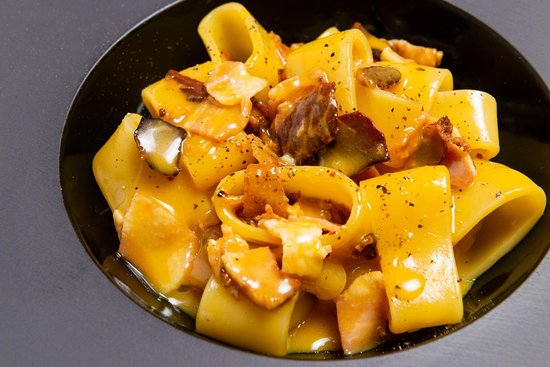 Did someone say truffles? If you like truffles, you want to sit down here for a meal. You don't have to if you don't want to, but you can choose to add truffles to your dish, and you even get a choice on the type of truffle. How fancy! Why aren't more places doing this? The menu is broken down into three price structures for your dish: without truffles, with black truffles, or with white truffles.
If you have never had the chance to try truffles with a dish, here it is! It is a unique experience that everyone should try at least once. If you are in the mood for truffles, go big and order the truffle experience menu. One thing is for sure: you can expect all of your senses to be heightened from the moment you walk in the door at Tartufotto. Aside from all the truffles, the menu offers a wide variety of deliciousness from the starters all the way through the main course.
How about some Polenta Tartufutto to start, followed by il tagliolini, and then Polpo (grilled octopus), and finish the meal off with an exceptional tiramisu? Open for lunch and dinner for dine-in service only. They have a short dinner service and an even faster lunch service, so if you want to try Tartufotto, plan ahead; it will be worth it! Come and see if you are a truffle fan. The restaurant is open every day from 12:00 PM (12:00 hours) to 2:00 PM (14:00 hours) and from 7:00 PM (19:00 hours) to 10:30 PM (22:30 hours).
Hours are daily from 12 pm to 2 pm and from 7 pm to 10:30 pm.
Distance: 900 meters (0.5 miles) from Piazza del Duomo in Milan
Phone: +39 02 8909 4396
Ristorante Orientale Hong Kong Crossover
As the name suggests, you can expect a little bit of East meets West in this chef-owned and operated spot. Chef Ken has created a restaurant with the flavors of Asia in the heart of Milan. So, if you are in the mood for some Eastern dishes and need a break from all the pasta and pizza, then this restaurant is the one for you. The menu has some mouth-watering plates you will not want to miss.
The menu offers an extensive selection, so it will be hard to choose. Maybe it is best to bring the entire family or the group of friends that you have made along the way. That way, you can try a little of everything on this mouth-watering menu. Chef Ken's menu includes some of the classic East Asian dishes you would expect to see, like mixed vegetable tempura, edamame, wonton soup, and fried chicken.
There are also some more adventurous items for you to indulge in if you are feeling up to it, like the squid ball skewers, shumai with foie gras, steamed black fish in a Cantonese sauce, and Cantonese Duck. I know I'm hungry just thinking about it. The restaurant is open Monday to Saturday for lunch from 12:00 PM (12:00 hours) to 2:30 PM (14:30 hours) and for dinner from 7:00 PM (19:00 hours) to 11:00 PM (23:00 hours). Keep in mind that it is closed on Sunday.
Distance: 1 kilometer (0.6 miles) from Piazza del Duomo in Milan
Phone: +39 02 8901 0313
Where to find the best restaurants in Brera neighborhood in Milan?
Brera neighborhood is one of the most popular parts of Milan among tourists. Therefore, there are many different eateries to choose from. You can find literally everything, from luxurious fine dining establishments to street food. Worth mentioning is that restaurants here are better than those located closer to the center of Milan, so having lunch or dinner in Brera is actually a good idea.
Furthermore, keep in mind that Brera is quite an exquisite location, which means that the prices are a little bit higher than in other neighborhoods in the city. Still, having a meal in the Brera district is an experience on its own, so why not spend a little more to get an unforgettable memory from your trip?
Check out more articles about Milan:
Hey there! Some links on this page are affiliate links which means that, if you choose to make a purchase, we may earn a small commission at no extra cost to you. We greatly appreciate your support!