Italian food is regarded by most people as the number one cuisine in the entire world. However, there is one other country whose food can rival this beloved cuisine when it comes to great taste, incredible flavors, healthy ingredients, and a wide variety of dishes. You have probably guessed it already, the food in question is none other than Chinese food. Just like Italy, China has a number of different regions, all of which have their own signature and specialty dishes and ways of preparing food. When you put them all together, the result is an extensive menu that is hard to beat.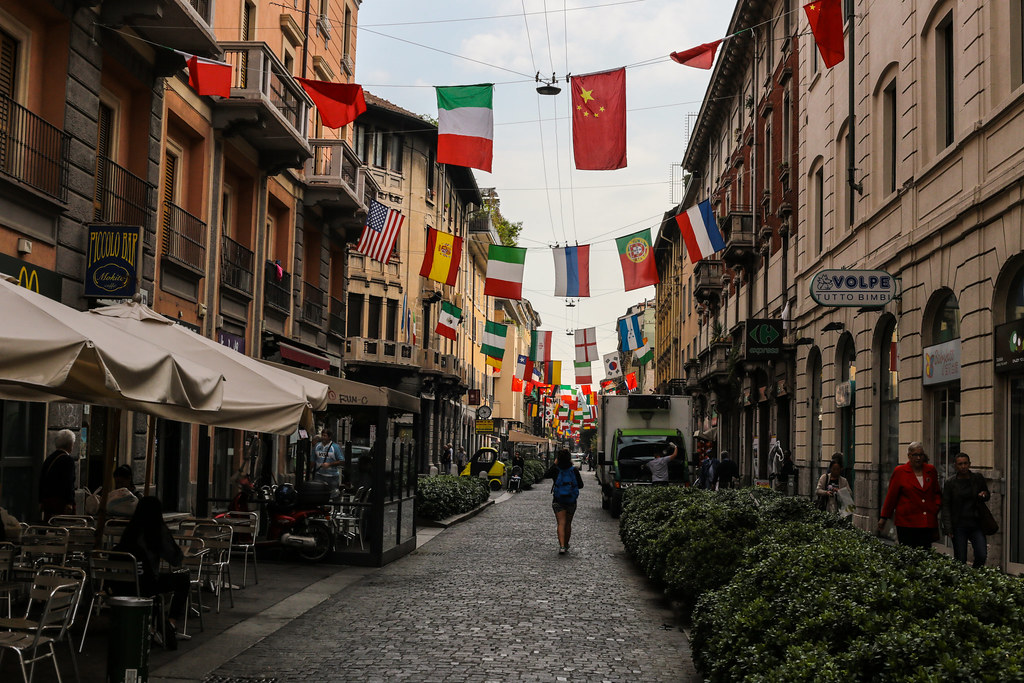 For this reason, as well as the tranquil atmosphere and unique décor found within most Chinese restaurants, it is no surprise why Chinese food regularly appears in the top 3 on many of the "best food" lists online. Although Milan is known for having some of the finest and most classy Italian restaurants, the city also has an abundance of great Chinese restaurants and even has its own Chinatown neighborhood, situated right in the heart of town. Here, you will find the most authentic Chinese food and spirits with many great restaurants, markets, food stands, and tea shops. Here are the best restaurants in Chinatown neighborhood in Milan:
(This article contains 5 restaurants in Chinatown in Milan, which are best in our subjective opinion. The order of the restaurants is not related to the quality they offer. Every restaurant has its pros and cons, so choose the one based on your personal preferences.)
Ristorante Santo Bevitore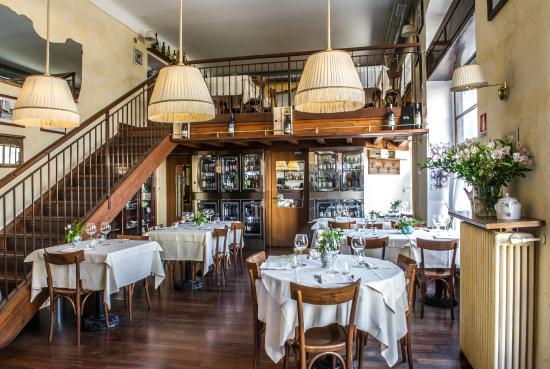 Funnily enough, the first restaurant on the list is not actually a Chinese restaurant. What it is, though, is one of the best and highest-rated restaurants in the Chinatown area regardless of menu, regularly features on lists of the top restaurants in Milan, and has also received a TripAdvisor's Travelers Choice Award in 2023.
Ristorante Santo Bevitore is an eating and drinking restaurant known for its mix of retro and modern design in both its décor and dishes. It has an extensive wine collection, which can be seen on display throughout the restaurant, not to mention 200 more wine labels also available in the restaurant's private seller. In terms of the menu, this restaurant offers a variety of Northern Italian, Lombard, and Mediterranean dishes and prides itself on these historic culinary traditions. The restaurant takes delight in being both creative and innovative with its food, and this comes across in the menu.
Whatever you choose to order, you can rest assured that it will contain the finest Italian ingredients and flavor and be professionally presented in an artistic and picture-worthy manner. Ristorante Santo Bevitore is open from Monday to Saturday for both lunch and dinner service. Lunch runs from 12:00 PM (12:00 hours) to 2:30 PM (14:30 hours), and dinner from 7:00 PM (19:00 hours) to 11:00 PM (23:00 hours). However, on Saturdays, it is closed for lunch and only open for dinner. You can find it on the northern edge of Chinatown, near the top of the Via Aleardo Aleardi road.
Distance: 1.6 kilometers (1 mile) from Sforzesco castle in Milan
Phone: +39 02 331 3350
Ravioleria Sarpi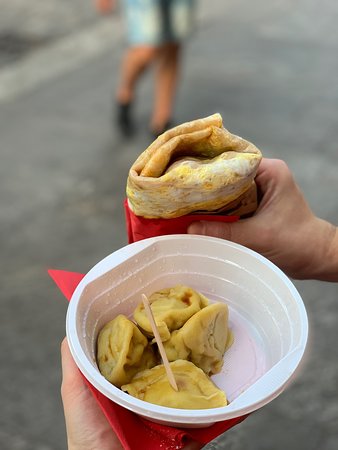 The next spot on the list is Ravioleria Sarpi. This street food establishment is known throughout Milan for its Chinese dumplings filled with beef, pork, or veg, but it also offers so much more. It is just as well known for its Chinese pancakes, its warps, its Baozi, and its tempura shrimp. Ravioleria Sarpi also has some of the best ravioli in all of Milan, according to online reviewers. Another aspect of the food that has been very much praised by customers online is the price.
You can try anything on the menu or mix and match for just a couple of euros. The restaurant even offers some cooking courses if you are looking to learn how to make these delicious dumpling dishes for yourself. In terms of seating, there are a couple of tables, but Ravioleria Sarpi is the kind of street food place you go for a few quick bites on the move or simply to grab on the go.
It is located pretty much in the center of Via Paolo Sarpi Street, right around the corner from the oriental mall on Via Antonio Rosmini Street. The restaurant is open 7 days a week from 10:00 AM (10:00 hours) to 3:00 PM (15:00 hours) and then again from 4:00 PM (16:00 hours) to 9:30 PM (21:30 hours).
Distance: 1.4 kilometers (0.8 miles) from Sforzesco castle in Milan
Phone: +39 331 887 0596
Ramenamano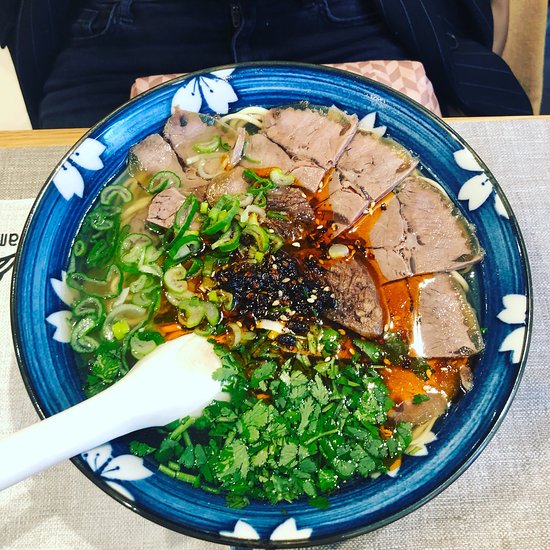 Ramenamano is a classic Japanese-themed restaurant that concentrates on delivering the best quality traditional soup, noodles, and fried meat dishes. It is the first and only Ramen restaurant in Milan and brings the original Lanzhou Lamian recipe to the city.
The noodles are kneaded and rolled by hand using organic flour for the best taste possible. The ramen dishes have been perfected over centuries in China and, in some cases, contain over 15 different spices and beef that has beef broths that are cooked for over 4 hours. 
As well as traditional bowls of ramen, Ramenamano also provides a variation of other items, such as dumplings, fried chicken, egg rolls, and many more. You can expect all of these to be of excellent quality, including the dessert bar, which acts as the perfect palette cleanser after your meal. The restaurant can be found right across the street from the post office at the intersection between the Via Giovanni Battista Bertini and the Via Paolo Lomazzo roads.
It is closed on Tuesdays but opens every other day from 12:00 PM (12:00 hours) to 2:30 PM (14:30 hours) and again for dinner from 7:00 PM (19:00 hours) to 10:30 PM (22:30 hours), with it opening until 11:00 PM (23:00 hours) on Fridays and Saturdays. The restaurant is popular and often busy, but the service is quick, so you won't be waiting too long for a table.
Distance: 1.6 kilometers (1 mile) from Sforzesco castle in Milan
Phone: +39 02 3653 6559
Ristorante Yuebinlou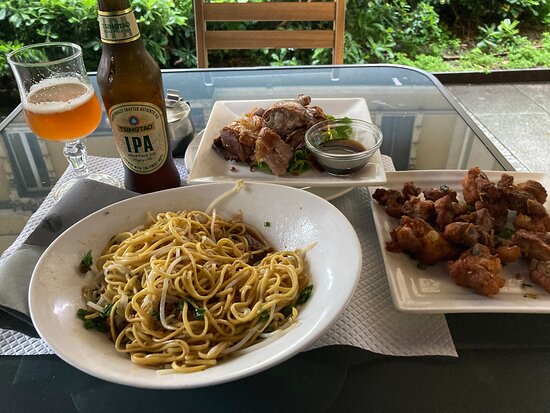 Ristorante Yuebin, or simply Yuebinlou as it is also known, is the lovely traditional Chinese restaurant in Milan. Like any good Chinese restaurant, Yuebinlou has an extensively large menu consisting of appetizers, soups, main courses with the meat of your choice, as well as fusion dishes such as Szechuan pancetta and Hong Kong spaghetti.
This restaurant has been widely complimented online by reviewers on several factors, such as portion sizes, reasonable prices, incredibly delicious food, quality of choice, and friendly service. The décor is clean, modern, and subtle but is perhaps lacking a little bit of character if you were hoping to see some traditional and authentic Chinese decoration and ornaments. It is located just down the street from the Ravioleria Sarpi dumpling shop on the corner between the Via Paolo Sarpi and the Via Antonio Rosmini interaction.
Yuebinlou is closed on Wednesdays but is open every other day from 12:00 PM (12:00 hours) to 12:00 AM (00:00 hours). Keep in mind that service is sometimes slow, especially if you are looking to dine during the busiest hours and days of the week. Therefore, if you are really hungry or in a hurry, some other restaurants with takeaway are better options.
Location: Via Paolo Sarpi 42
Website: no website
Distance: 1.4 kilometers (0.8 miles) from Sforzesco castle in Milan
Phone: +39 02 3650 4611
Pizzium – Via Procaccini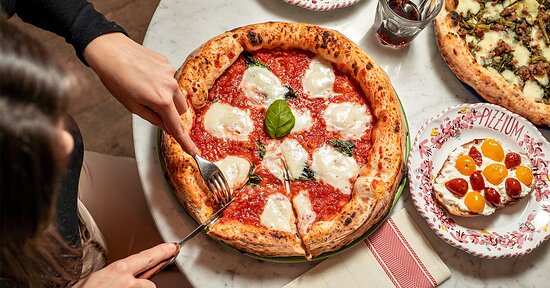 It wouldn't be fair to have a list of restaurants in Milan, Chinese-themed or otherwise, and not mention somewhere where you can grab some great pizza. Pizzium Via – Procaccini is one of the best and only pizza restaurants you will find anywhere around the Chinatown area.
It has received countless 5-star reviews online, as well as a TripAdvisor's Travelers Choice Award for 2023. There are many good reasons why Pizzium has received such positive reviews. For starters, you only need to take one look at their pizzas, and you will no doubt want to try one for yourself. By primarily focusing on pizzas, this allows Pizzium to deliver the best product possible in terms of taste, variety, and value.
More than just this, Pizzium also supplies a selection of salads, desserts, some appetizers, and some gluten-free options too. The affordable prices are another element that has received much applause online from reviewers. The décor and atmosphere are warm and rustic, with an authentic Italian archway and brickwork present throughout. The furnishings, lampshades, and trinkets help add to the cozy mood, and there are also some tables situated outside.
There are plenty of great Chinese restaurants throughout the area but if you are looking for some authentic Italian pizza in Chinatown neighborhood, then there is only one place to go, and that place is Pizzium – Via Procaccini. It is located just a few minutes up from Ramenamano along the Via Paolo Lomazzo road, and you can find it next to the Via Procaccini Via Lomazzo tram stop.
The opening hours for the pizzeria are 12:30 PM (12:30 hours) to 2:30 PM (14:30 hours) and 7:00 PM (19:00 hours) to 11:00 PM (23:00 hours) Monday to Thursday. From Friday to Sunday, it is open from 12:30 PM (12:30 hours) to 3:00 PM (15:00 hours) and 7:00 PM (19:00 hours) to 11:30 PM (23:30 hours).
Location: Via Giulio Cesare Procaccini 30
Website: Pizzium.com
Distance: 1.8 kilometers (1.1 miles) from Sforzesco castle in Milan
Phone: +39 02 3360 7623
Where to find the best restaurants in Chinatown neighborhood?
Chinatown neighborhood in Milan is full of restaurants and street food establishments. Therefore, if you are staying in Chinatown or hunger catches you while being there, you have plenty of dining options. Well, most of these restaurants serve Chinese or Asian food, but there are still some classic Italian restaurants.
Most restaurants are located on the Via Paolo Sarpi, which is the main street in this lovely neighborhood. Usually, these restaurants don't require booking in advance because Chinatown is not a crowded neighborhood. Therefore, just pick the restaurant that suits you well, and there is a big chance that you will find an available table.
Check out more of our articles about Milan:
Hey there! Some links on this page are affiliate links which means that, if you choose to make a purchase, we may earn a small commission at no extra cost to you. We greatly appreciate your support!