Camping has been getting more and more popular in recent years, especially at Lake Garda. It is a perfect way to spend holidays for those who love nature, the open air, and a quiet environment. Riva del Garda is a beautiful town with around 17,000 inhabitants located on the lake's northern edge.
It is a pretty urban place that offers visitors many cultural sights and sports activities. High mountains surround Riva del Garda, so the landscape around the town is breathtaking.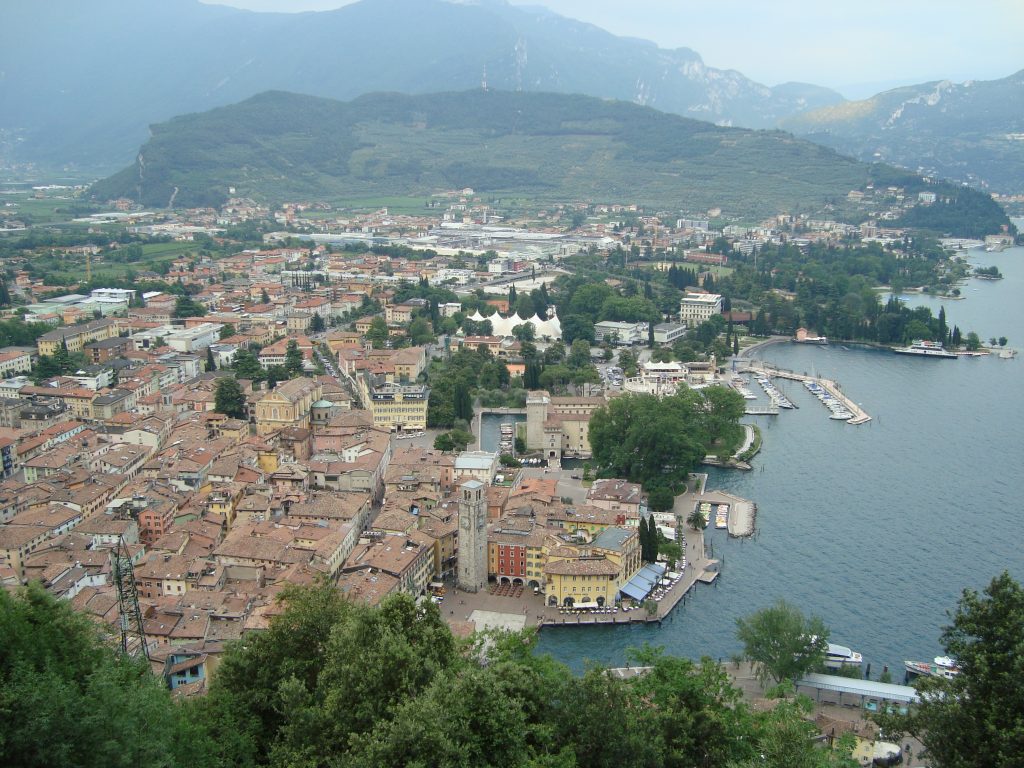 You can always feel the fresh but not uncomfortable wind that will cool you on hot summer days from these mountains. Because of the wind, this part of Lake Garda is popular with windsurfers, kitesurfers, and sailors all year round.
Furthermore, near Riva, you can find small neighboring towns with nature just as beautiful as in Riva. In this whole area, there are several campsites that are pretty good and very well booked, especially in the summer months. Here are the best campsites near Riva del Garda:
(This article contains 4 campsites near Riva del Garda, which are best in our subjective opinion. The order of the campsites is not related to the quality they offer. Every campsite has its pros and cons, so choose the one based on your personal preferences.)
Camping Brione
Camping Brione is a very comfortable and quiet campsite with huge pitches, super clean facilities, and a great location. The campsite is a little off the main road, on a side street, about 500 meters (0.3 miles) from the port, and directly connected to the lakeside cycle path between Riva del Garda and Arco.
Because of this wonderful location, you will have a gorgeous view with mountains on one side and olive trees on the other. Also, you will not be bothered by all the crowds and the many cars, which is pretty rare in Riva del Garda, especially in the summer.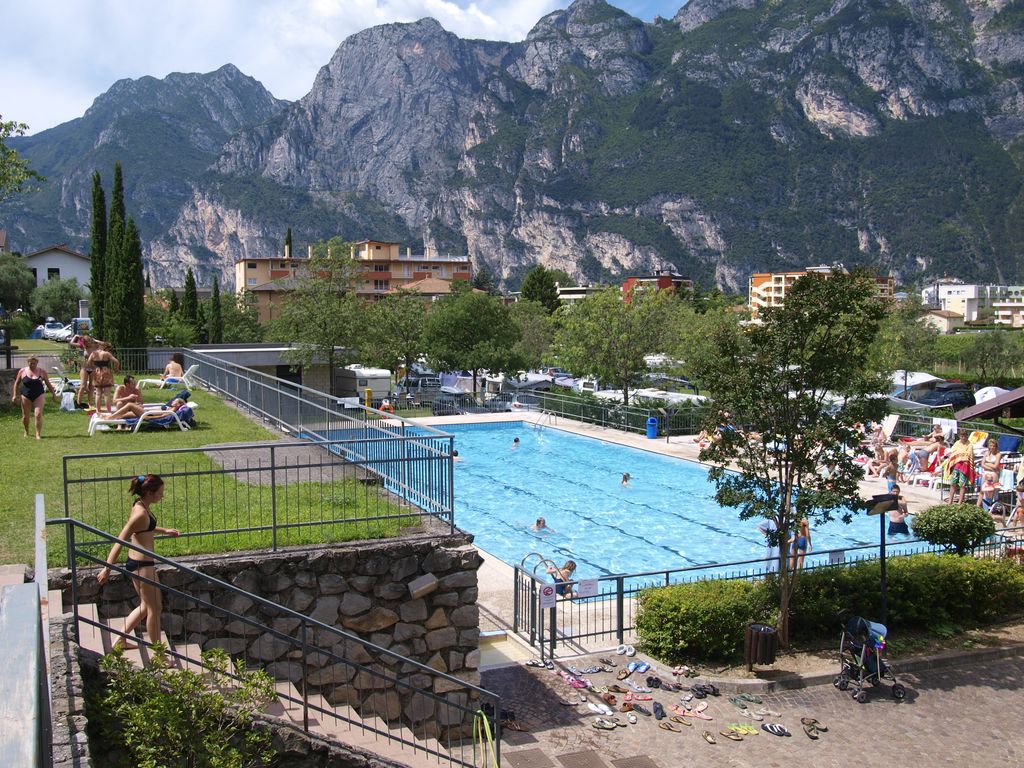 Camping Brione offers well-spaced pitches, places for tents and bungalows. Bungalows have free air conditioning in each bedroom and everything you need for a comfortable vacation. Furthermore, each bungalow has a private mini garden and a small shaded outdoor canopy with tables and chairs.
There is plenty of shade inside this lovely camping area, so it is no wonder that many families with children come here every year. Also, you can find a bar with a mini-market, free table tennis, minigolf, a lovely swimming pool, a children's play area, and a children's reading room.
Camping Brione is also suitable for those who are bringing their pets to Riva del Garda. The only drawback of this campsite is paid WiFi and no electricity for campers. This campsite is located in Via Brione 32, so it is ideal for visiting Riva and Torbole. The nearest beach, shops, and pizzerias are only 500 meters (0.3 miles), while the nearest supermarket is 1 kilometer (0.6 miles) away from the campsite.
Address: Via Brione 32, Riva del Garda
Phone: +39 0464 520885
Average price: 44 euros
Website: CampingBrione.com
Distance: 2.2 kilometers (1.3 miles) far from Riva del Garda center
Camping Bavaria
Camping Bavaria is a very simple and small campsite without a lot of fancy frills. It is located in an excellent position, right in front of Lake Garda. The bike path is just behind the lakeside, and the bus stop is across the street.
Furthermore, a shopping center is only 100 meters (0.1 miles) away, while bars, restaurants, and pizzerias are also very close. This campsite has free WiFi, clean bathrooms and showers, a separate place for washing dishes, and very friendly service.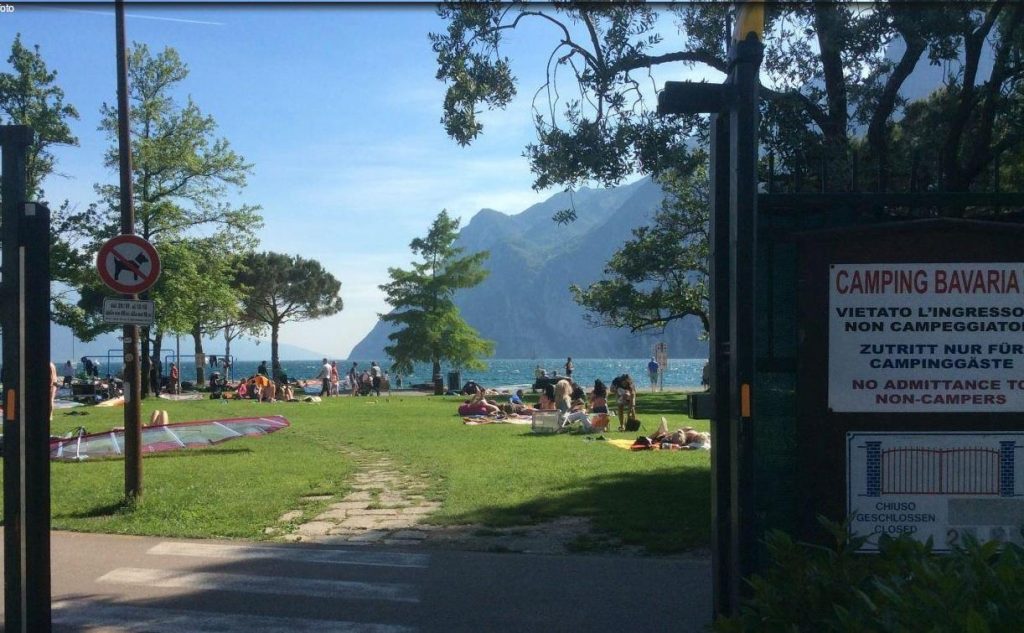 The only drawbacks are very tight both camper spaces and pitches, but they are still enough for the average camper. The good thing is that most of them are in the shadow of the large plane trees. Camping Bavaria is located in Viale Rovereto 100, which is around 1.5 kilometers (1 mile) far from the center of Riva del Garda. Keep in mind that it is the closest campsite to Riva del Garda, so if a location is essential for you, this lovely place is your best shot.
Address: Viale Rovereto 100, Riva del Garda
Phone: +39 0464 552524
Average price: 28 euros
Camping Maroadi
Camping Maroadi is a well-kept and popular campsite near Riva del Garda. It offers large, comfortable, and well-shaded pitches as well as bungalows with spacious and clean rooms, a new modern kitchen, and beautifully tiled paths. Pitches have electricity, fresh water, and sewage, while the toilets are always very clean, and showers have free hot water.
Next to this campsite is a small well-stocked shop, but the prices are above average. Furthermore, you can find a restaurant with good pizza nearby and a supermarket with much better prices. Those who love sport will be delighted that there is a free football pitch and table tennis.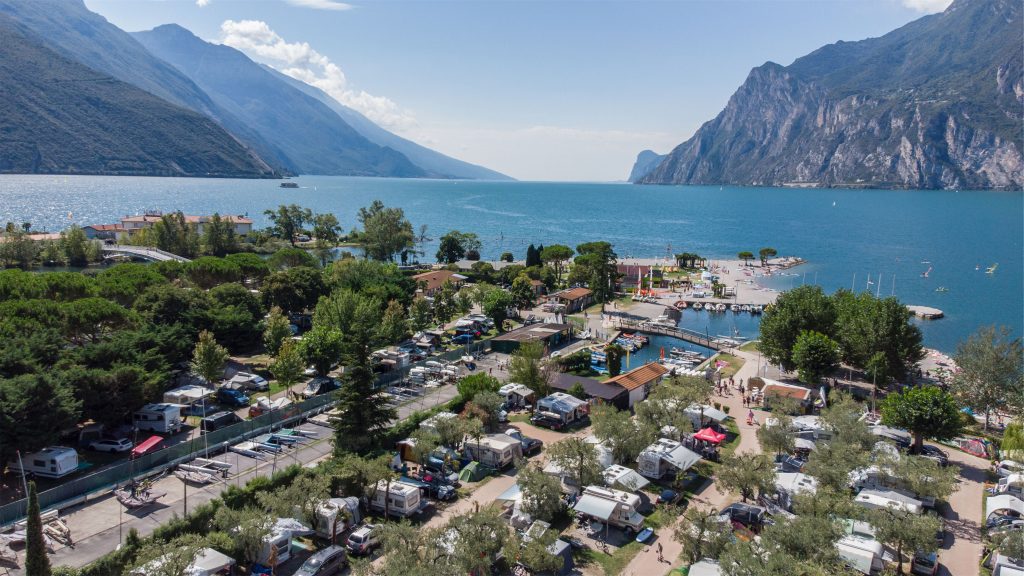 Drawbacks of this campsite are paid WiFi and paid washing machine that costs 4.50 euros which is a little bit overpriced in our opinion. Camping Maroadi is located in Via Gardesana 13 in Nago-Torbole, with direct access to the lake and a free beach right there in front.
Its location is excellent for those who plan to make great excursions in this area, from the Varone waterfalls to Malcesine, Arco, Tenno, or Valle di Ledro, all locations within a few kilometers.
Address: Via Gardesana 13, Nago-Torbole
Phone: +39 0464 505175
Average price: 44 euros
Website: CampingMaroadi.it
Distance: 3.2 kilometers (2 miles) far from Riva del Garda center
Camping Arco Lido
Camping Arco Lido is a small, simple, and pet-friendly campsite in a beautiful location with direct access to Lake Garda. Even though this campsite doesn't have luxury features, it has very clean toilets with good showers, quite large lockable refrigerators, bicycle storage, windsurf board and sails stall, a children's playground, the washing area, and a mini market. The only drawback is small pitches, but most of them are well shaded.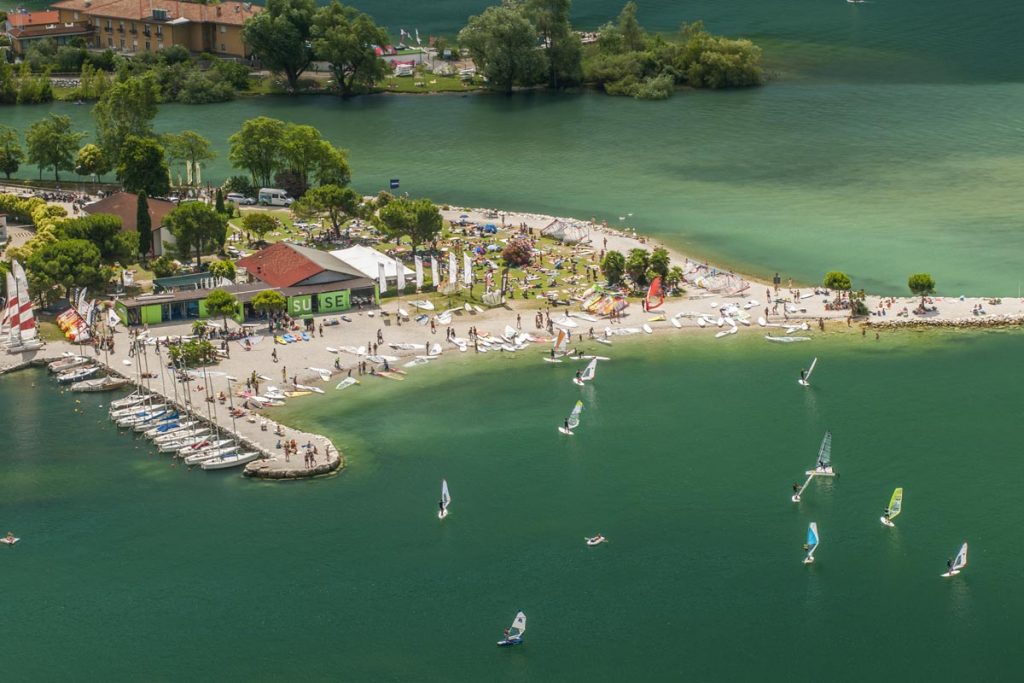 Camping Arco Lido is located on Via Lungo Sarca 30, in a great location between Torbole and Riva del Garda. Riva can be reached by a 30-minute walk or a 5-minute ride. Furthermore, this campsite is perfect for surfers and water sports enthusiasts. Only 50 meters (0.1 miles) away from Camping Arco Lido, there is a surf school, where you can rent surf equipment, take courses, but also find equipment for other sports such as cycling.
Address: Via Lungo Sarca 30, Arco
Phone: +39 0464 505077
Average price: 39 euros
Website: ArcoTuristica.com
Distance: 3.5 kilometers (2.1 miles) far from Riva del Garda center
Why is camping in Riva del Garda a great idea?
Camping in Riva del Garda is something every camping lover should experience at least once. This whole area offers so much for everyone. On the one hand, Riva del Garda offers many fantastic tourist attractions for both adults and the youngest ones. Also, this lovely town has a good variety of gastronomic specialties for those who love to try local dishes.
On the other hand, there are many sports activities around Riva. You can try windsurfing, riding pedal boats, cycling, or hiking in nearby mountains. Furthermore, most campsites have children's playgrounds, pools, and other facilities for fun such as minigolf and table tennis. Therefore, whatever you like, we bet you will have a lot of fun while camping in Riva del Garda.
Read more articles about Riva del Garda:
Hey there! Some links on this page are affiliate links which means that, if you choose to make a purchase, we may earn a small commission at no extra cost to you. We greatly appreciate your support!