Riva del Garda is a beautiful town located on Lake Garda's northern edge, popular with many windsurfers, kitesurfers, and sailors. It has around 17,000 inhabitants, so this place is pretty busy, especially in the high season. Even though there are many parking spots in this lovely town, it is still not so easy to find an available one.
The center of Riva del Garda is the limited traffic zone (ZTL), which means that cars are not allowed there if you do not have special permission, usually given to residents. Do not break this rule because this whole area is covered with cameras, and you can quickly get an expensive parking ticket.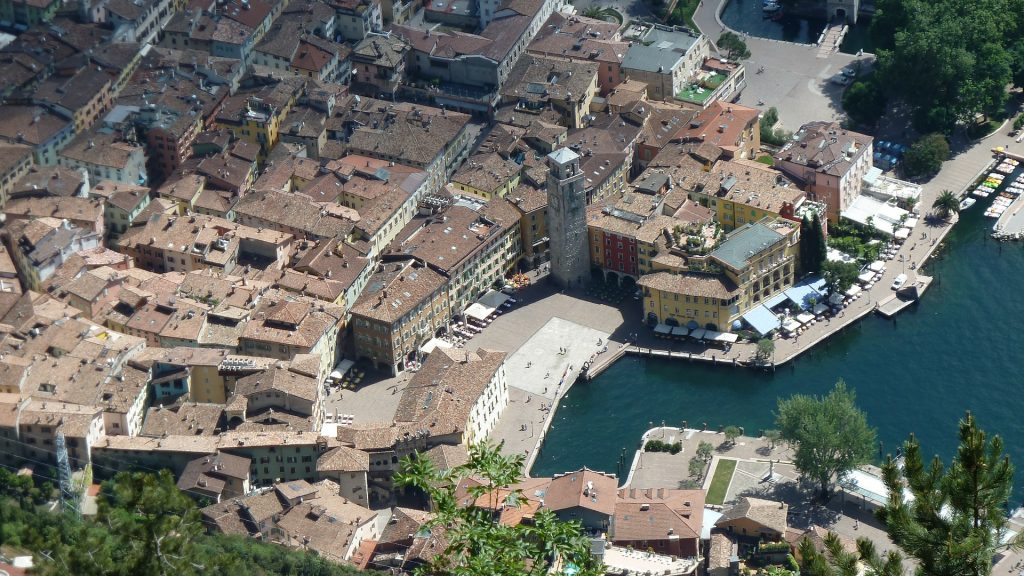 Paid parking spaces on the street in Riva del Garda are marked with blue lines, while the free ones are marked with white lines. Prices depend on parking location and the period of the year. In the high season, especially in the summer months, demand for parking is very high, and therefore, prices are higher than in the winter when tourists are gone.
However, Riva del Garda is a pretty big town compared to other towns on Lake Garda, so with little knowledge, parking in Riva del Garda should not be as big problem as it can be somewhere else on this lovely lake.
Parking in Riva del Garda
There are many parking spaces on various streets, as well as parking garages, so in this article, you will find only those that are close to the center. Also, we will mention where you can find free parking spaces for those who want to save some bucks.
Parking Terme Romane
This convenient multi-story underground parking is an excellent choice to leave your car if you want to visit the center of Riva del Garda. It is located just next to the limited traffic zone and only 10 minutes walking distance from various tourist attractions like the Apponale Tower, Rocca di Riva del Garda, and the lakefront. Furthermore, you will likely find available parking spaces because there are even 205 parking spots.
Also, it is pretty well equipped with a toilet near the entrance, a lift for pedestrian access, and automatic payment machines that allow coins or cards. Keep in mind that parking spots are very tight so it is not advisable to come with bigger cars. Parking is open 24 hours daily, and the price is 2 euros per hour.
Parking Riva Centro
Parking Riva Centro is also very close to Riva del Garda center. It is located on the east side, near the lake, and has 182 parking spaces. This parking is usually very crowded even though it is open 24 hours a day. The price is 2 euros per hour.
Parking Supermercato Poli
Whether you want to go shopping or explore the historical streets of Riva del Garda, you can leave your car in the parking below supermarket Poli. It has 218 parking spaces, and the price is 2 euros per hour, while you will pay 10 euros for the whole day. This parking is open from 7:00 AM (7:00 hours) until 2:00 AM (2:00 hours) every day.
Parking Monte Oro
Monte Oro is another parking located very close to the center of the town. It has several floors, offers 400 parking spaces, a good connection with lifts, and an underpass to the city center. Keep in mind that there is no possibility to pay by credit card or debit card, prices are 2 euros per hour and 15 euros per day, and the parking is open 24 hours daily.
Free parking in Riva del Garda
If you want to save some money and you are not bothered if you have to walk a little bit more to reach the center of Riva del Garda, then free parking spaces are perfect for you. Here is some popular free parking in Riva del Garda:
Parking Ex Ospedale
Parking Ex Ospedale is free parking that is not too far from the town center. It is always very crowded, and it isn't easy to find free spaces, but this is understandable. This parking is also open 24 hours daily.
Parking Via Galas
This car park with 160 spots is pretty large and only a few minutes walk from the old town of Riva del Garda. However, you will have to walk around 10-12 minutes to reach the beach lying on Lake Garda. In high season it is tough to find available parking space, but the parking is open 24 hours, so you may get lucky.
Parking Pubblico Garda
Pubblico Garda parking is another free parking in Riva del Garda. Although it is large enough, this parking also fills up quickly. Keep in mind that parking is made of gravel and not asphalted, so there are many holes, and the cars, inevitably, get heavily dirty. The good thing is that several parking spaces remain shaded by trees and surrounding walls while most free car parks are entirely in the sun.
Read more articles about Riva del Garda:
Hey there! Some links on this page are affiliate links which means that, if you choose to make a purchase, we may earn a small commission at no extra cost to you. We greatly appreciate your support!