Riva del Garda is a charming town on the narrow northern edge of Lake Garda. It is the main center of the Garda Trentino region, surrounded by steep cliffs and high mountains. With its 17 000 inhabitants, Riva del Garda has a more "urban" atmosphere compared to the small neighboring towns. The town is also known as a perfect place for sports enthusiasts.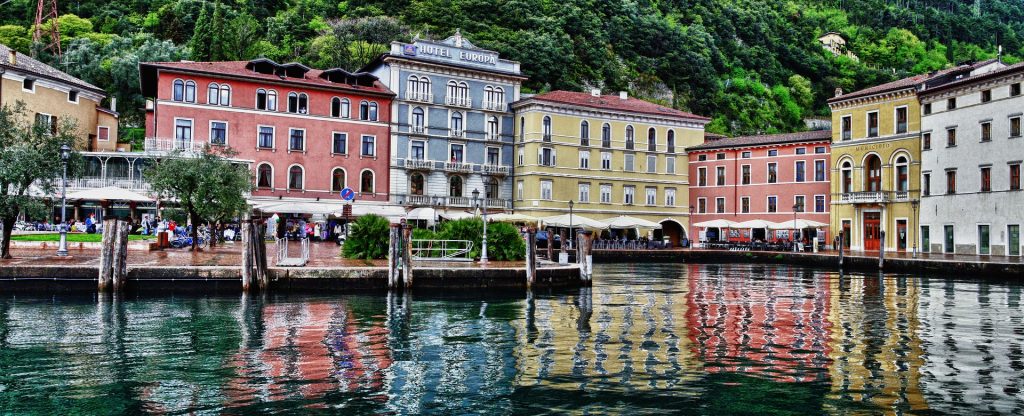 You will see many windsurfers, kitesurfers, and sailors near the town, and if you explore nearby Monte Rocchetta and Monte Baldo mountains, you will meet mountain bikers and hikers. For those who want a more relaxing and peaceful vacation, there are many cultural sights in Riva del Garda. Here are the things you can do in Riva del Garda:
Piazza 3 Novembre
The Piazza 3 Novembre, overlooking the lake, is the heart of Riva del Garda. This large square, surrounded by colorful Venetian-Lombard houses, used to be the town's economic center. Its name represents a peace sign between Italy and Austro-Hungarian Empire, which was signed on November 3rd, 1918, and ended the fighting on the Italian front during World War I.
At the corner of the square, there is the Apponale tower, the 35-meters-high clock tower from 1220. There are some nice shops, cafes, and restaurants on the piazza between the tower and the harbor where you can spend a relaxing day and watch the people passing by.
Apponale Tower
The Apponale Tower, on the east side of Piazza 3 Novembre, was built in 1220 by the Bonvicini, a noble family from Riva del Garda. It was originally used as a watchtower for enemies approaching from the seafront. Today, this 35-meters-high tower is one of the most popular tourist attractions in the town.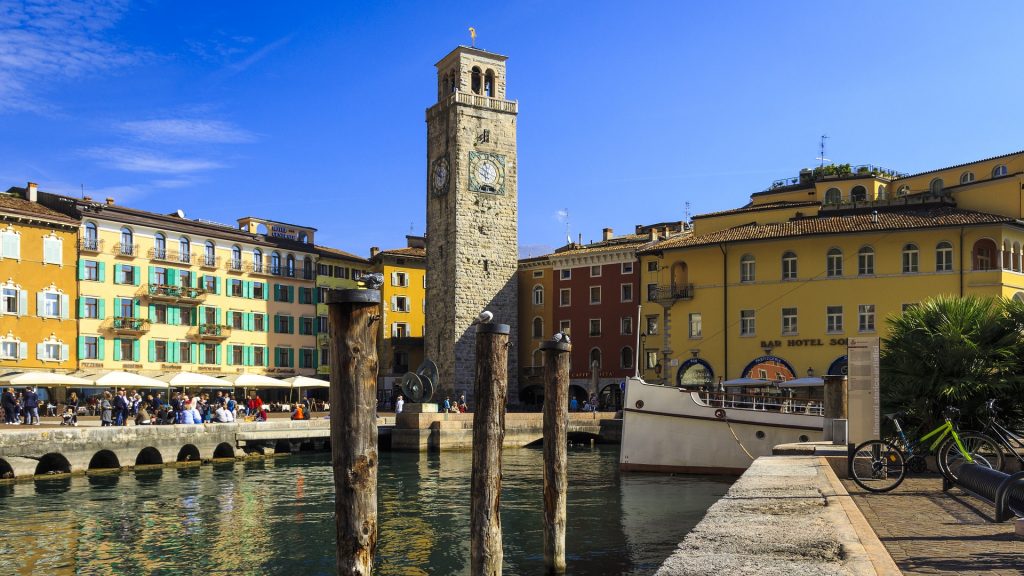 The top of the tower can be visited every day, and from there, you will have a gorgeous 360-degree view of the town, the lake, and the surrounding mountains. But, keep in mind that you will have to climb 165 steps, so it is not accessible for those with mobility problems. You can even take your dog with you, but you have to carry it in your arms.
Little Morocco
Behind the Piazza 3 Novembre, you will find the maze of alleys with colorful, small angled houses line up one after the other. This part of the town, which the oldest in whole Riva del Garda, is called "Little Morocco." After a walk through the narrow little street, you will come across a larger square with a fountain called the Piazza Morocco.
This square was first mentioned in the 15th century and was originally the part where the old castle ruins of the town were located. From the piazza, you can also see the medieval walls that can often be found in the vegetable gardens of the houses.
The Bastion of Riva del Garda
The Bastion of Riva del Garda is another historical symbol and a great place to admire beautiful views of the lake. It was built in the 16th century on a hill about 200 meters above the town and was destroyed in 1703 by French troops. Today, tourists can admire the massive exterior structure and what remains of the interior.
The bastion is quite easy to reach with a 20-minutes hike from via Monte Oro along a beautiful road through the greenery. For those who do not prefer walking, there is a panoramic funicular. Near the Bastion, you can relax in a bar that is open in Spring and summer.
Rocca di Riva del Garda
The Rocca di Riva del Garda is a castle surrounded by waters and gardens near the town center. The castle, which dates from the 12th century, was originally used to defend and control the town's port. Over time it lost that function, and now it is home to the Mag Alto Garda Museum.
The museum exhibits numerous paintings and archaeological finds from the Copper Age, such as the menhir statues. Furthermore, Mag Alto Museum is one of the best things to see in Riva del Garda with children because there are whole sections dedicated to the little ones.
Church of the Inviolata
The Chiesa Inviolata is one of the most important baroque churches in the Garda Trentino region. It was built in 1603 and is located a little bit outside the Riva del Garda center. Even though the church does not seem so interesting from the outside, the church's interior is worth visiting.
The church has an octagonal interior full of beautiful frescoes, marble floors, and black and gold stucco decorations. There are 5 altars, and behind the main one, you will find a gorgeous painting that shows the miraculous Madonna. There is also a beautiful cloister and a fountain.
Riva del Garda Promenade
Walking along the promenade of Riva del Garda is a great way to spend an afternoon. You can start from the city center and walk until you reach Forte San Niccolò at the foot of Monte Brione in about half an hour or even reach Torbole. There are several benches and shaded areas on the promenade for those who want to sit and rest. A promenade is also a great place for catching amazing sunset photos.
Reptiland
Reptiland is a natural science museum dedicated to snakes, arachnids, and insects. This attraction opened in 1989, is located in the Riva del Garda center, and is the perfect destination for rainy days. The most interesting sights in Reptiland are beautiful rare snakes, green mamba, and tiger python.
Besides, there are also animals such as giant scorpions, geckos, spiders, a collection of butterflies, and beetles. Next to the animal cage, you will find a table with historical background, scientific knowledge, and some other information about that animal.
Beaches in Riva del Garda
Those visiting Riva del Garda in the summer will be happy to know that it is possible to swim in the lake. There are three beaches in Riva del Garda that are relatively crowded depending on the season. Nevertheless, they are among the most beautiful beaches on Lake Garda. The best time to swim or spend time on the Riva del Garda beach is definitely in the morning, as it is generally less windy. In the afternoon, in fact, the famous Ora wind begins to blow from south to north.
Sabbioni Beach
Sabbioni beach is one of the largest beaches on Lake Garda, located a short walk from the center of Riva del Garda. The beach has a mixture of pebbles and lawn and is a nice place to enjoy the view of beautiful nature. There you will find sunbeds with umbrellas for rent, a snack bar, and public showers.
There is also a floating platform with a swimming pool and slide, basketball court, playground with trampoline, and sandpit for the little ones. For active visitors, there is a rowing club where you can rent a canoe.
Pini Beach
Pini beach, also called Porfina beach, is a very popular beach for surfers and young people. The beach consists of small stones, gravel, and lawn. There are also sunbeds with umbrellas for rent, cafes, public showers, as well as a small playground with a sandpit.
Miralago Beach
Miralago beach is a pebble beach with a lot of greenery that is not so popular. Therefore it is a perfect place for those who want to avoid crowds and have a peaceful sunbathing.
The old Ponale road
The old Ponale road is the most famous hiking and cycling route in the Garda Trentino. It was carved into the rock near Riva del Garda in the 19th century on the lake's northwestern shore. The road is around 5,5 kilometers long and connects Riva del Garda to Ledro Valley.
Even though the Ponale road is quite long, it is not a difficult path for walking, so it is perfect for beginners, families with children, or travelers who want to have a nice relaxing afternoon trip. You will have amazing views of Lake Garda and come through eight tunnels built at different times along the road.
Attractions near Riva del Garda
If you have some extra time, you should definitely explore Riva del Garda's surroundings. Whenever you want to spend an active or relaxing day, there is something for everyone.
The Varone Waterfall
The Varone waterfall is located just 3 kilometers away from Riva del Garda in the municipality of Tenno. The waterfall with its two caves was formed by the cascading waters of Lake Tenno over 20,000 years ago and is absolutely impressive. There are two observation points, one at the base, where you can see the flow of the waterfall, and another upstream, from which you can feel the full force of the water between each spray.
The waterfall is embedded in a picturesque garden of palm trees, colorful flowers, lemons, orchids, cacti, and herbs. There is also a small botanical garden at the entrance and information panels explaining this strange geological phenomenon. If you want to go to the waterfall by car, take road 421 towards Tenno and then turn off before Tenno towards Varone.
Lake Tenno
Lake Tenno is a small swimming alpine lake that is 14 kilometers far from Riva del Garda with beautiful turquoise water. The lake is perfect for a walk in nature and has a big paid parking lot if you are coming by car. To get down the lake, you have to pass a staircase with 120 steps.
On top of the staircase, there is a nice panoramic point from where you can take amazing photos. Around Lake Tenno, there is a lovely road with benches and picnic tables that you can complete in an hour.
Canale di Tenno
A short distance from Lake Tenno, there is Canale di Tenno, one of the most beautiful villages in Italy. Canale di Tenno is a perfectly preserved medieval village with rustic architecture and scenic alleys. You can reach the village on foot from Lake Tenno in about half an hour or by car.
Canale di Tenno hosts one of the most beautiful Christmas markets in Trentino, with the lights that create a magical atmosphere. One of the village's main attractions is the Casa Degli Artisti, dedicated to the painter Giacomo Vittone. It usually hosts exhibitions and conferences in collaboration with universities and art institutes.
Torbole
Torbole is a lovely village located only 4 kilometers far from Riva del Garda, and you can easily reach it by walking or cycling along the lake. It is known as the windiest village on Lake Garda, and therefore you will find several windsurfing schools and many windsurfers there.
But, Torbole offers a lot more for its visitors. This fishing village has interesting sights like the small port in Venetian style, The Casa del Dazio, and the Goethe square. Those who love nature combined with amazing panorama views should explore the Busatte Tempesta route.
Shopping in Riva del Garda
Riva del Garda has many small shops and boutiques that sell the latest trends in clothing and shoes. Women love spending time in Italian shops because of the countries good reputation for shoes, handbags, and clothes. The most popular products in Riva del Garda are leather goods, delicious wines, oils, and fresh olives. If you prefer bigger shopping centers, you should visit Blue Garden Shopping Center.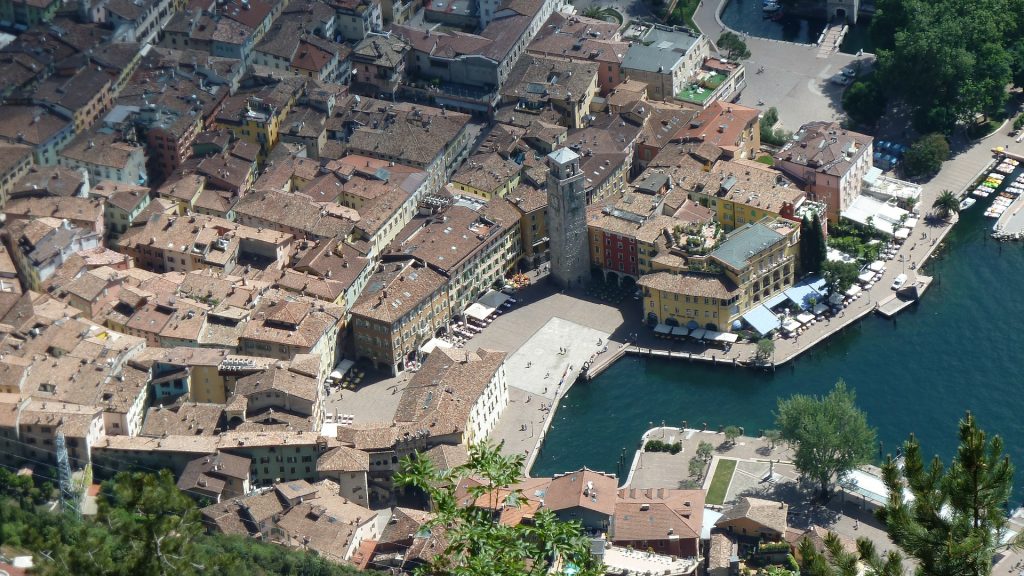 It is located in the heart of the town and has 40 shops, bars, restaurants, and a panoramic terrace with views of Lake Garda and the mountains. There is also a local market that takes place twice a month in Riva del Garda. It is held every second and fourth Wednesday of the month, and you can find local products, fruits, vegetables, and even clothes for excellent prices.
Restaurants in Riva del Garda
In Riva del Garda, there are many local restaurants that sell traditional Italian pasta dishes and delicious pizza. The pizzas are extremely tasty and also very economical if you are traveling on a very tight budget. For dessert, you can enjoy a big scoop of Gelato, famous Italian ice cream.
Where is the best ice cream in Riva del Garda?
If you stroll through the old town of Riva del Garda, you will pass numerous ice cream parlors. And all of them will look very tempting. But if you are looking for the best one, almost any local will tell you that you should visit Gelateria Eta Beta.
There is a large selection of delicious creamy gelato for fair prices. The ice cream is homemade, not too sweet, and has strong flavors. The only small drawback is that there are no seats outside or inside the gelateria, but there are benches a hundred meters away.
How to get to Riva Del Garda
Riva del Garda by bus
The best way to travel to Riva del Garda from the bigger towns is by bus. The buses are generally very clean and comfortable. While driving, you can look out the window and see a lot along the way! Keep in mind that you should get to the bus stops early in the summer months because buses fill up quickly.
Riva del Garda by car
The other way to get to Riva del Garda is by car. The closest motorway to Riva del Garda is the A22 Brennero, which connects Modena and Verona to Austria and Germany. There are also two roads along the shore with amazing views, state road 249 called eastern Gardesana, and state road 45 called western Gardesana.
Riva del Garda by train
There is no train station in Riva del Garda. The closest station is in Rovereto, located on Verona's railway line to Trento and Bolzano.
Closest airport near Riva del Garda
There is no airport in Riva del Garda, but you have a few airports nearby. The closest one is in Verona, which is around an hour's drive away. The other two are Bergamo and Venice airports, around two hours drive away from Riva del Garda.
Parking in Riva del Garda
Riva del Garda is not as crowded with tourists as Malcesine or Sirmione, so it is easier to find good parking spaces everywhere in town. There are few large and paid car parks, but it is also possible to find available parking spaces on various streets.
Things to do in Riva del Garda in one day
If you are visiting Riva del Garda as part of your day trip, it won't be possible to explore all attractions from the list above. However, spending a day in this town is still enough to see the main tourist attractions. You should definitely explore Little Morroco, have a drink or two on Piazza 3 Novembre, climb on top of the Torre Apponale, check out the Bastion and the Rocca castle, and stroll along the beautiful promenade.
Check out more posts about Riva del Garda:
Hey there! Some links on this page are affiliate links which means that, if you choose to make a purchase, we may earn a small commission at no extra cost to you. We greatly appreciate your support!