If you spend any time in the Northern Italian region of Tuscany, there's no doubt you will hear about San Gimignano. The scenic fortress town is located right between Florence and Siena and makes a great day trip from either one. Built on a hilltop, the center features tall, thick walls and towers dating back to the 13th century, which affords incredible views of the surrounding region.
The town is no doubt a must-see when visiting the region, but there's one thing about an Italian vacation that's just as important as the sights: the food. Tuscany, like most regions in the country, has a distinct cuisine with many dishes they make better than anywhere else. Many of the components are similar to the rest of Italian cuisines, such as pasta, cheese, and fresh vegetables.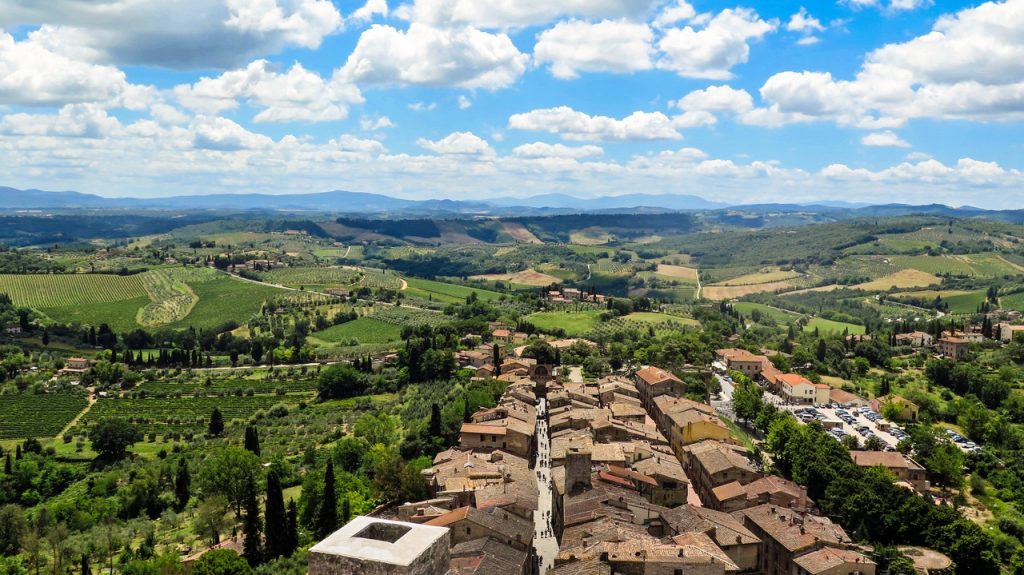 However, it's one of the many centers of Cucina Povera (Peasant Cuisine), which features delicious, hearty dishes made by the countryside dwellers who made up the bulk of Tuscany's population for centuries. When visiting San Gimignano, try some of these regional specialties!
There's a variety of restaurants ranging from quaint little eateries to fine dining. If you are only in town for a couple of hours, you will want to soak in the local atmosphere as much as possible. Consider visiting a restaurant with a good view of the city. Read our guide to the best restaurants in San Gimignano with a view!
(This article contains 3 restaurants in San Gimignano with a view, which are best in our subjective opinion. The order of the restaurants is not related to the quality they offer. Every restaurant has its pros and cons, so choose the one based on your personal preferences.)
Ristorante Bel Soggiorno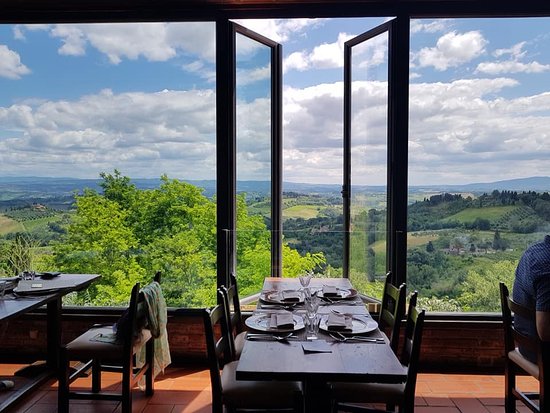 Dine atop San Gimignano! Ristorante Bel Soggiorno has both a killer view and great food. It's located on the southern tip of the historic old town on the main road, and from its windows, you can see the city on one side and the vast expanse of lush, green countryside on the other.
A family business and local institution, the restaurant has been proudly serving Tuscan cuisine to the area for five generations.
They craft their menu to recreate the flavors and aromas of the region's culinary past. To produce their homely dishes, they use only the best, locally-sourced ingredients. Their big menu reflects regional flavors as well as seasonal availability. Sample one of their many antipasti– they have platters of Tuscan cured meats and cheeses, which are known across Italy.
To spice things up, get the spinach and leek pudding on pecorino cheese fondue. Their first courses include a couple of pasta dishes plus some other rotating options, all with a big flavor. Their pasta dishes are far from basic. You can try fresh pappardelle with wild boar sauce or cappellacci with fossa cheese, speck, and pistachio cream sauce.
When it's time for the meaty main courses, they are sure to leave an impression as lasting as the view. Go with some Tuscan classics like stewed boar with polenta or suckling pig with roasted potatoes. When you go, ask for the plate of the day. They often have several available each day, and they are sure to blow you away! The restaurant is open every day except Wednesday from 12:30 PM (12:30 hours) to 3:00 PM (15:00 hours) and from 7:30 PM (19:30 hours) until 10:00 PM (22:00 hours)!
Distance: 250 meters (0.1 miles) from San Gimignano's main square
Phone: +39 0577 943149
Trattoria Rigoletto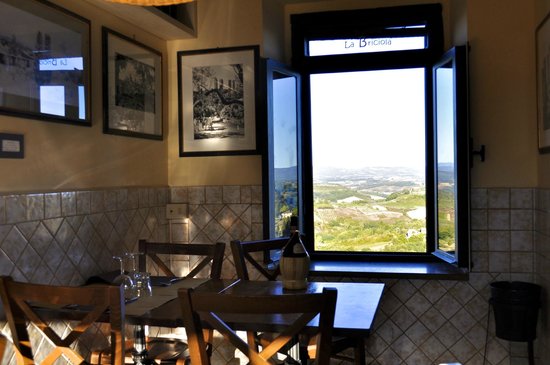 Located on the scenic Piazzale Montemaggio, this restaurant serves up homely Tuscan classics in an inviting atmosphere overlooking the nearby mountains. Nearly every one of Trattoria Rigoletto's online reviews sings praises of the view and says the food is even better!
Come for the view, and stay for the food. They specialize in classics, but they do them right and go all out on the flavor. For the first course, get one of the many quintessential Tuscan dishes featured on their menu. Pappardelle al cinghiale is an excellent start– wide, flat pasta in a simple, delicious tomato ragu. Ribollita is another regional favorite. It's a hearty, bean-based stew that originated as a way of saving leftovers.
The second plates are worth saving room for. Their Cinghiale alla maremmana, wild boar meat in a thick tomato stew, will remind locals of dinners at their grandma's. Feeling more adventurous? Get their beef tartare! It will be unlike any tartare you have had before. It's the richest, top-quality beef from a nearby farm finely minced with red wine, egg, spices, and the twist? A generous helping of truffles is added to the mix.
Come Tuesday through Sunday for some of the best views in San Gimignano. They operate from 11:45 AM (11:45 hours) to 2:45 PM (14:45 hours) for lunch and 6:45 PM (18:45 hours) to 10:15 PM (22:15 hours) for dinner. Going without a reservation during tourist season can be risky, so you should call to reserve your table.
Distance: 450 meters (0.2 miles) from San Gimignano's main square
Phone: +39 0577 940159
Osteria Enoteca Quatro Gatti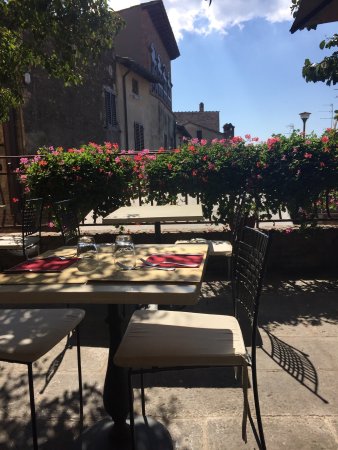 This fun spot is located right in the middle of San Gimignano's historic center. Their name means "The Four Cats' Tavern and Winery." The building was a granary in ancient times and has been renovated and refurbished. From their patio, you will see the tops of houses in the surrounding neighborhoods as well as the Tuscan countryside unfolding into the horizon.
They pride themselves on being able to showcase Tuscan food, flavors, and wine in one of the most unique settings. They respect tradition while incorporating a healthy dose of modern techniques into their work. Many components, like their pasta, are made entirely from scratch.
It's time to indulge in some of the finest regional food. The local way of having lasagna is with a heavy beef ragu in between the layers. Get that for your first course, and you are on your way to eating like a real Tuscan. If you still have space, the second course is time for the godfather of all Tuscan foods: Steak Fiorentina.
For those who don't know, it's one of the most deliciously simple foods to originate out of the area: a steak seasoned only with salt, pepper, rosemary, sage, and olive oil is flash grilled on charcoals and served rare. Osteria Enoteca Quatro Gatti is open Wednesday through Monday, from 12:30 PM (12:30 hours) to 3:00 PM (15:00 hours) for lunch and from 5:30 PM (17:30 hours) to 10:00 PM (22:00 hours) for dinner. To ensure you get seated on weekends or during peak months, you should reserve your table.
Distance: 100 meters (0.1 miles) from San Gimignano's main square
Phone: +39 0577 940941
Where to find the best restaurants in San Gimignano with a view?
San Gimignano is a pretty small medieval town, so you won't need to walk a lot to find the perfect restaurant for you. Restaurants with amazing views of Tuscan hills are located on the outskirts of the town. There are also lovely restaurants on the hills nearby San Gimignano with breathtaking views of the town, but you will have to reach them by car. If that is what you are looking for, we recommend visiting Fattoria Poggio Alloro restaurant.
Check out more articles about San Gimignano:
Hey there! Some links on this page are affiliate links which means that, if you choose to make a purchase, we may earn a small commission at no extra cost to you. We greatly appreciate your support!