If you are staying in San Gimignano or Tuscany for at least a few days, there is something more to do other than just exploring known attractions. Every week you have an opportunity to experience authentic and real Italian life by visiting the weekly market in San Gimignano. It is held every Thursday (Wednesday in case of a holiday) from 8:00 AM (8:00 hours) to 1:30 PM (13:30 hours) in the Piazza della Cisterna, a beautiful square surrounded by medieval towers and buildings.
The market always attracts many locals and tourists, so you have to know that this square will be crowded that morning. However, the San Gimignano market is perfect for those who are looking for unique souvenirs or items. Keep in mind that merchants are not only locals. There are many of them who are coming to San Gimignano from nearby places, so you can find many products that are not typical for this lovely town.
What to buy on the market in San Gimignano?
The market offers a wide range of goods, products, and food. Keep in mind that there is a lot of low-quality stuff, but you can also find hidden gems and good deals. Therefore, it is best to go to the market without expectations only to experience the local culture, meet the friendly locals and see what is offered for sale.
Most stalls are selling clothing, crafts, and souvenirs, but you can also find fresh fruits and vegetables, flowers, homemade cheese, bread, olive oil, and other specialities. The fruits and vegetables are usually grown locally and picked the day before the market so they are at their peak freshness and flavor. They are pretty popular and are sold very fast. Therefore, if fresh fruits and vegetables are your targets, come to the market early in the morning.
Furthermore, merchants are often offering samples of their products to attract buyers. Don't hesitate to try a sample of juicy tomatoes, sweet strawberries, succulent melons, and a wide variety of other delicious fruits. The San Gimignano market is also a great place to try some of the local cheeses and cured meats. Don't miss trying the sharp and tangy pecorino cheese made from sheep's milk or the smooth and creamy ricotta.
The cured meat you can find here is the famous prosciutto di San Gimignano, a dry-cured ham widely known for its delicious taste. If you are visiting the market around noon and feeling hungry, there are plenty of street food merchants selling traditional Tuscan dishes such as panini, pizza, and pasta. Besides, there are also delicious desserts like gelato and cannoli.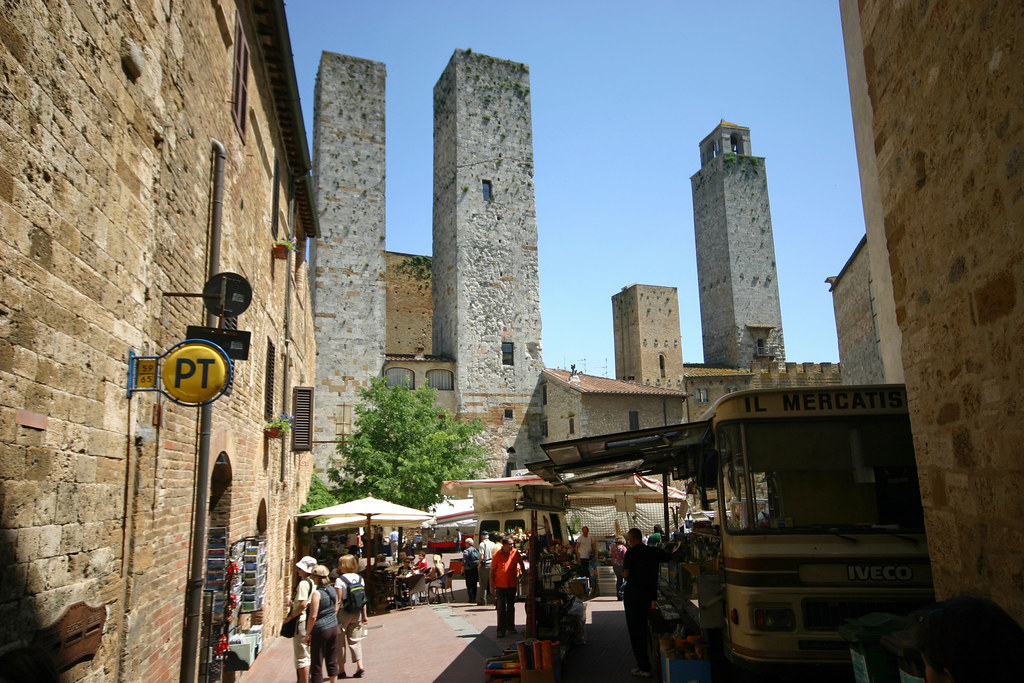 Worth mentioning is that you can also find linens and other items like that much cheaper than in most stores. Also, you can bargain with merchants and lower your price if you are good at negotiating. If you are not fluent in Italian, don't worry. Many of the merchants speak some English, and you can always use gestures to communicate.
Why visit the market in San Gimignano?
Market days in San Gimignano have both pros and cons. The main problem with the market is that there are many stalls that hide the beauty of the Piazza della Cisterna. They actually hide much of the surroundings where the stalls are set up, and they also bring crowds to the town. Therefore, if you are in San Gimignano only for a day and it is the weekly market, you could miss some of the beauty of this small medieval town.
However, there are many pros. Not only you can buy some unique and special things, fresh fruits, and delicious food, but you can experience a local atmosphere that will be etched in your memory. Also, if you buy something at the weekly market in San Gimignano, you will support local families to stay in business. And weekly market is a meeting point for many locals. If you are an extrovert and like to meet new people, there is no better place than this popular market.
Tips and tricks
Even though visiting the market is an exciting experience, you should have a few things on your mind. Firstly, keep an eye on your stuff while being in a crowd. Pickpocketers are rarely in San Gimignano but still be careful. Furthermore, it is advisable to come to the market early, when the selection of goods is the biggest and the best.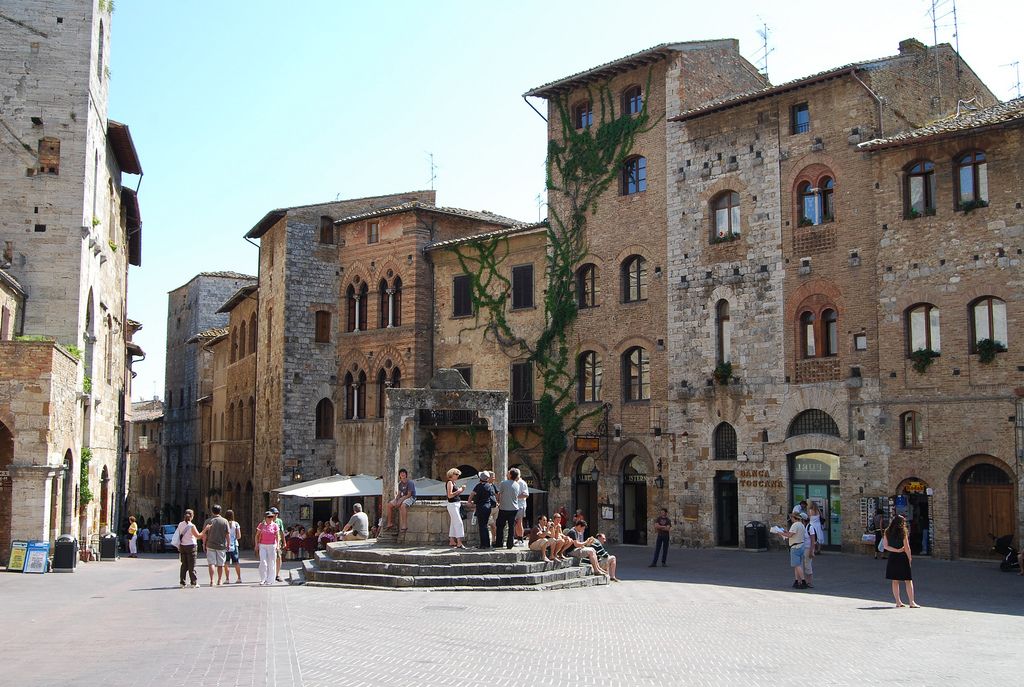 Also, take your time and explore the market slowly first, and then decide whether you will buy something or not. Tourists often buy impulsively and then later find the same or better product for a better price. Always bring cash with you because merchants don't accept cards, and ATMs are pretty busy during the market.
Bring a bag with you so that you can carry your purchases back to your accommodation. Remember to check out the expected weather at the time of the market. Especially in the summer months, it can get hot and sunny, so bring sunscreen, a hat, and lots of water.
Check out more articles about San Gimignano:
Hey there! Some links on this page are affiliate links which means that, if you choose to make a purchase, we may earn a small commission at no extra cost to you. We greatly appreciate your support!