San Gimignano is a small medieval hill town in Tuscany. It is surrounded by 13 towers that remained of the 72 towers of the fourteenth century when almost every family built a tower to show its economic power. The historic center of San Gimignano is recognized as a UNESCO World Heritage Site since 1990. San Gimignano is known for its local products like saffron, its white wine called Vernaccia di San Gimignano and the Golden ham.
The town of San Gimignano has many examples of Romanesque and Gothic architecture, so there is a lot to see, even in such a small town. San Gimignano's foundation dates back to ancient times, but the first relevant settlements date back to the archaic Etruscan period. If you are interested in San Gimignano's history, you can read the whole of San Gimignano's history here.
In this San Gimignano travel guide, we will explain everything you need to know about San Gimignano. We are not paid to advertise any hotel, restaurant, coffee bar, or other services. All reviews are based on our personal experience.
San Gimignano location
San Gimignano is located halfway between Siena and Florence in the Tuscany region. It lies about 20 miles (32 km) northwest of Siena and about 23 miles (37 km) southeast of Florence. Below you will find a link to a map of San Gimignano.
Best time to visit San Gimignano
The best months for visiting San Gimignano for ideal weather are April to July and September to December. San Gimignano's temperatures feel cold for about half of the year and otherwise nice, with a low chance of precipitation most of the year. The warmest time of year is late June when highs are regularly around 95 °F (35 °C) with temperatures rarely dropping below 69.1 °F (20.6 °C) at night.
Spring and Autumn's average temperature is around 73 °F (23 °C), excellent weather for enjoying in the city. The average temperature in Winter is approximately 37 °F (3 °C), while in Summer is around 84 °F (29 °C). The off-season in San Gimignano starts in October and lasts until February when the tourist rush is less and hotels have low fares.
Reasons to visit San Gimignano, Italy
Easy to explore
San Gimignano is a tiny town, but it has many narrow streets and medieval squares with incredible architecture. Everything in the town is within walking distance, so do not be shy about venturing onto the side streets. There you can find some shops and bars that are worth discovering.
Feel medieval times
San Gimignano is preserved so well that it makes you feel like you have stepped through a time machine. While walking down the streets, you will feel like you are trapped in the Middle Ages. This Tuscan town is one of few towns in the world that has managed to retain its medieval charm. So it is no surprise that San Gimignano is a must-see place in Tuscany.
Beautiful views
San Gimignano rises 334 meters high on a hill, and the beautiful Elsa Valley surrounds it. You can climb on a tower or visit a viewpoint and enjoy breathtaking views. The whole San Gimignano is surrounded by vineyard hills and small villas at their top, so you will feel like you are in the movie.
Excellent wine
This little Tuscan town is the home of prize-winning white wine called Vernaccia. Vernaccia is one of the most ancient wines in Italy. Well, it is as old as the San Gimignano itself. For instance, even Dante speaks of it in his Divine Comedy. So if you are lucky enough to visit San Gimignano and you like enjoying wines, you should definitely try this one.
What to do in San Gimignano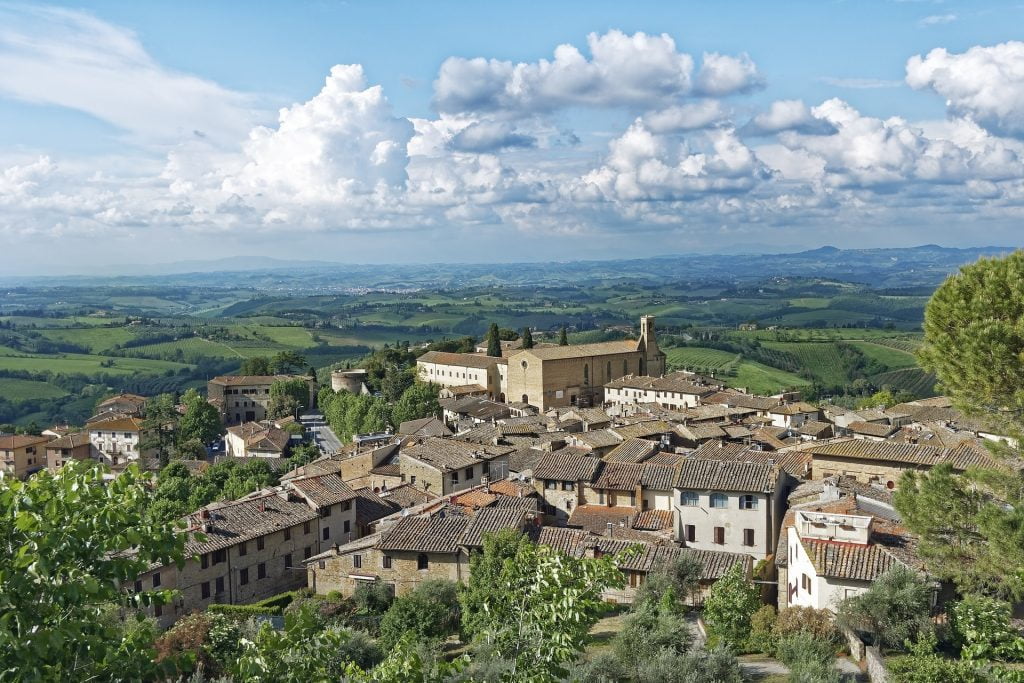 Eat the best gelato in the world
Gelateria Dondoli, the two-times world champion in gelato making, is located in the historic center of San Gimignano. Therefore, it draws a crowd like none other, so when you see a long line of people waiting for ice cream, you know you are in the right place. Besides excellent ice cream, you will find there a huge selection of unique flavors, too.
For example, there are flavors like saffron cream, grapefruit with sparkling wine, berries with ricotta, rose, mint chocolate, etc. The smallest cup of ice cream is 2,50 euros, which is a little bit pricey. However, tasting this ice cream worth every cent, trust me.
Visit wine tasting museum
Inside the town walls at the Rocca building, you can experience a tasting of sixteen local labels of Vernaccia di San Gimignano. The expert sommeliers will also widen your general and local knowledge of wine, and you can enjoy the phenomenal views of the countryside while tasting excellent wine. The wine museum is open every day from 11:00 AM (11:00 hours) to 7:30 PM (19:30 hours).
Visit local winery
San Gimignano is surrounded by a lot of vineyards that local families run. If you would like to visit one local winery, I highly recommend visiting Podere La Marronaia. It is a small family farm involved in the biodynamic method of cultivation of grapes and olives. La Marronaia farm is located in Via Martiri di Citerna 2, which is only 5 minutes drive from San Gimignano center.
There you can enjoy incredible lunch while tasting wines in a beautiful private room overlooking the scenic countryside. Also, you will get a far different experience than visiting large wineries that are less personable. For more information about prices and offers, you can check here.
What to see in San Gimignano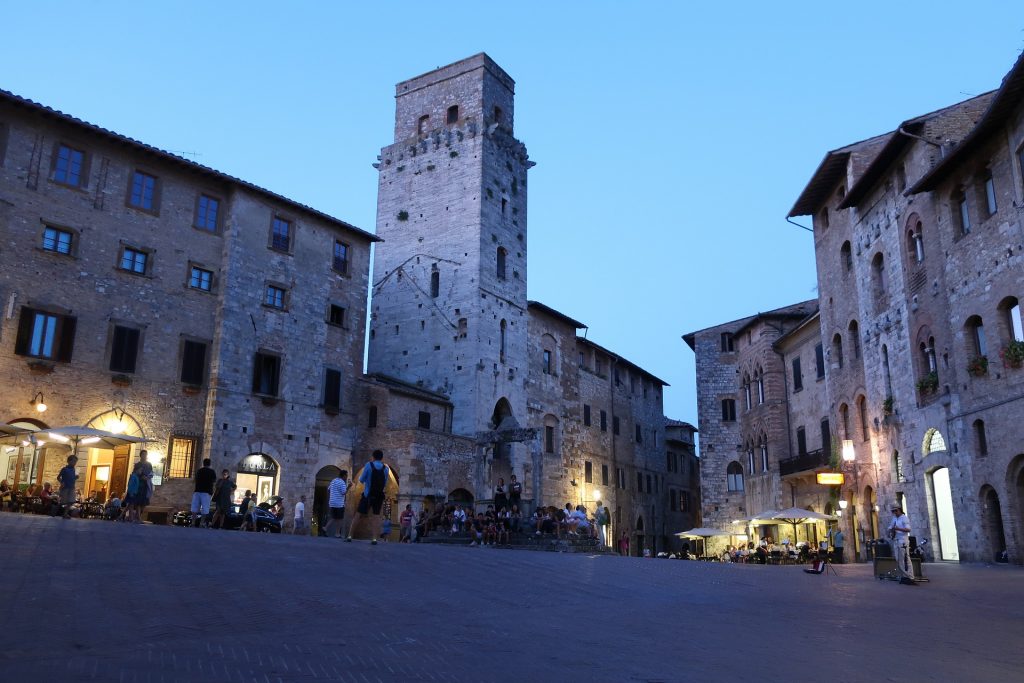 The historic center of San Gimignano
In 1990, the whole historic center was designated a UNESCO World Heritage site. The historic center brings you to a medieval experience, including some towers you can visit and take amazing pictures of. In addition to history, there is so much to do there.
All around the center, there are a lot of shops where you can buy local products like food, gifts, desserts, and wines. Likewise, you can enjoy walking around, visit a restaurant or sit for a cup of excellent coffee.
Torre Grossa
Torre Grossa is the tallest tower in San Gimignano, with 54 meters. It was built in 1310, and it is one of the best known of Tuscany's medieval towers. To get on its top, you have to climb more than 200 stairs, but it totally worth it. The view from the bell tower is really spectacular. The ticket costs 9 euros, which is a little bit pricey, but at least it keeps the crowds out, and it is well maintained.
Duomo di San Gimignano
The cathedral's entry ticket cost 4 euros, but it includes the audio tour, which makes it a great value. This lovely cathedral is covered in frescoes of early Renaissance artwork. Each band of frescoes tells a different story from the Old or New Testament, and on the back wall is a wonderful interpretation of the Final Judgement. To sum up, the cathedral is totally worth a visit.
Campatelli house
The Campatelli house is the former home of the wealthy Campatelli family from the 18th century. It is a typical house-tower structure full of arts and antiquities, showing a very vivid way of living in the house over the years. The visit to this house is like traveling in time, with many interesting details and an excellent video about the city's past and history. The entrance fee per person is 5 euros.
Medieval Torture Museum
The Torture Museum is actually located in two buildings on the main street. So the ticket that costs 10 euros gets you into both buildings. The museum exhibit includes more than 100 instruments produced for causing pain and death. Also, there you have a chance to see rare pieces dated back to the 16th, 17th, and 18th centuries. Everything in the museum is described in multiple languages, so I recommend a visit.
Rocca viewing point
Rocca viewing point is a picturesque ruin where you can enjoy in stunning 360 degrees panorama. It is the highest ground in the town (beside towers). The Rocca is easily accessible from Piazza del Duomo, through Piazza Delle Erbe, on the cathedral's right side. The entrance through the park and Rocca fortress is free.
Sant'Agostino Church
Sant'Agostino church was built around the late 1200s by the monks themselves. The church is a hidden gem because not many people seem to make it here, but it is seriously only a 7 – 10 minute walk away from the main piazza. Inside the church are rich and fine decorations and frescos describing the life of St. Augustino. There is no cost for the entrance, so it is worth a visit.
Food and restaurants in San Gimignano- where to eat in San Gimignano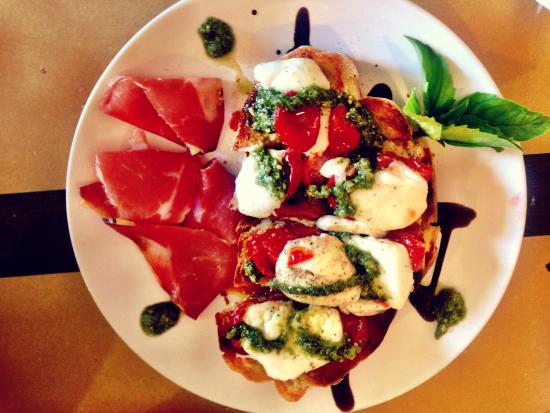 Lunch and dinner
San Gimignano is full of restaurants where you can enjoy excellent and worldwide recognized local cuisine. The most popular local product in this romantic town is saffron. San Gimignano's saffron is delicate and its aroma almost addicting, so it is included in many recipes. Besides saffron, very popular are dishes with truffles, homemade cheese, ham, and oils. Many restaurants in Italy have a cover charge fee (coperto) so take a look at the menu to see how much is cover charge fee per person.
If you are looking for cheap eats, I recommend Echoes restaurant. It is a lovely little eatery with more than 50 types of bruschetta – simple top-quality food with reasonably priced wine. Bruschettas are very large and with excellent taste, so you will walk out of the restaurant full-fed and happy. Also, this restaurant does not have a cover charge fee (coperto), which is a big plus for your wallet.
If you want to visit a mid-range restaurant, I suggest Il Ceppo Toscano restaurant. It is a beautiful and stylish restaurant that serves the best beef and duck in San Gimignano. The service there is impeccable, all the food is beautifully presented and cooked. The price ranges per meal are from 23 euros to 50 euros.
For those who are looking for fine dining restaurants, I recommend Cum Quibus restaurant. It is a charming restaurant with 1 Michelin star that takes fine dining to another level. You can choose between five courses, seven courses, and nine courses menus. The price range for five courses menu is 90 euros and for nine courses menu, 125 euros.
Dessert
The most popular dessert in San Gimignano is ice cream, or in Italian "gelato." As I mentioned above, there is no better place for ice cream in San Gimignano than Gelateria Dondoli. There is a reason they won a worldwide prestigious award twice, and they never disappoint customers.
Accommodation in San Gimignano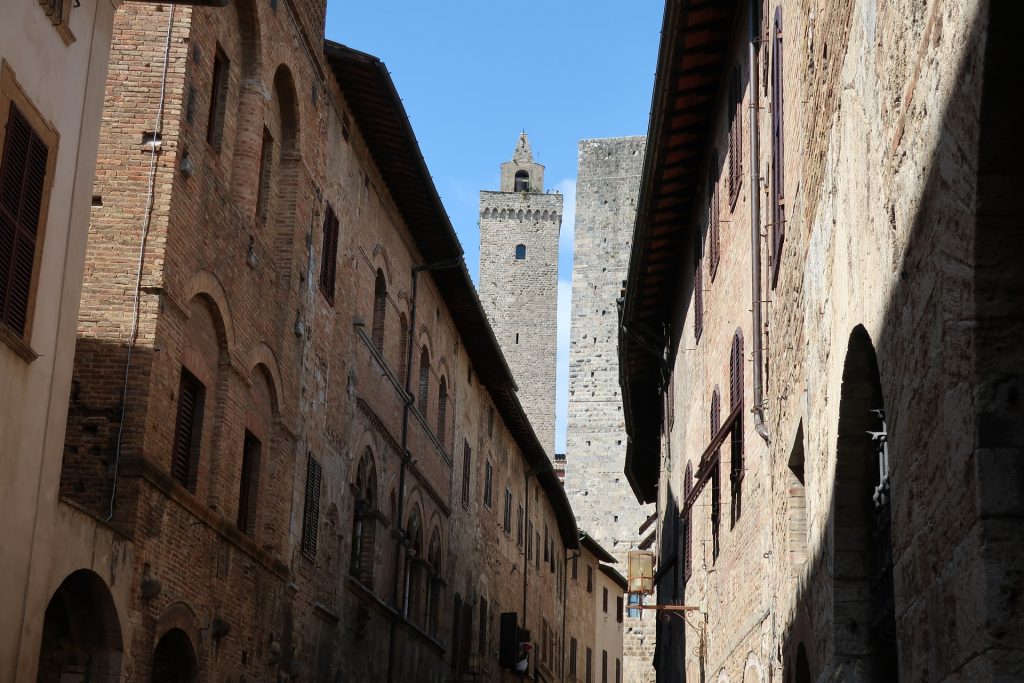 3-star hotels
If you are looking for a 3-star hotel, the best option is Hotel L'Antico Pozzo.
Hotel L'Antico Pozzo is a stylish hotel located in a superbly renovated historic building within the medieval town's ancient walls. The hotel offers free breakfast, free high-speed internet (WiFi), babysitting, and car hire.
The breakfast is served in a lovely tall-ceiling room as a buffet with a good display of fruits, pastries, meats and cheeses, pieces of bread, and a few hot items. The rooms are comfortable, warm, and clean with toiletries, hairdryer, kettle, and fridge. Also, the reception staff is very friendly and helpful.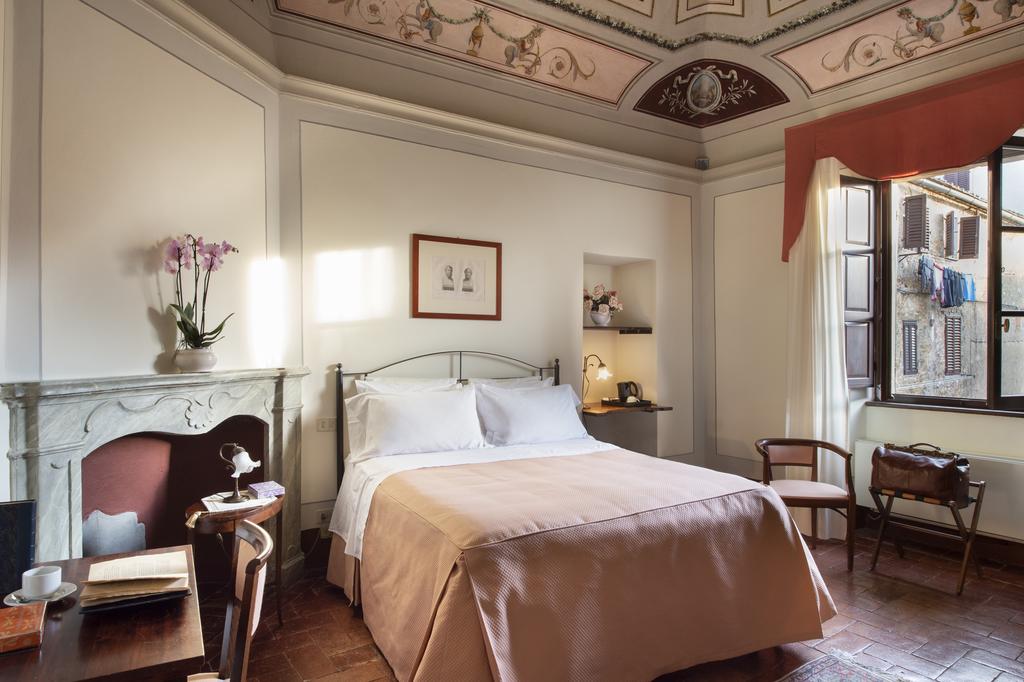 4-star hotels
For those who are looking for a 4-star hotel, I suggest the Villasanpaolo hotel.
Villasanpaolo hotel is a beautiful, charming resort surrounded by a private olive park. It offers free breakfast, free parking, free high-speed internet (WiFi), a pool and spa, a fitness center with a gym, and it is pet-friendly. The breakfast is delicious with plenty of choices. The rooms are large, the beds are comfy, and the bathroom is spacious and clean. The pool has the perfect temperature, and there is lots of space to swim. The towels are also free, and a towel robe is provided to each person in the room. The staff is very professional in overall customer service.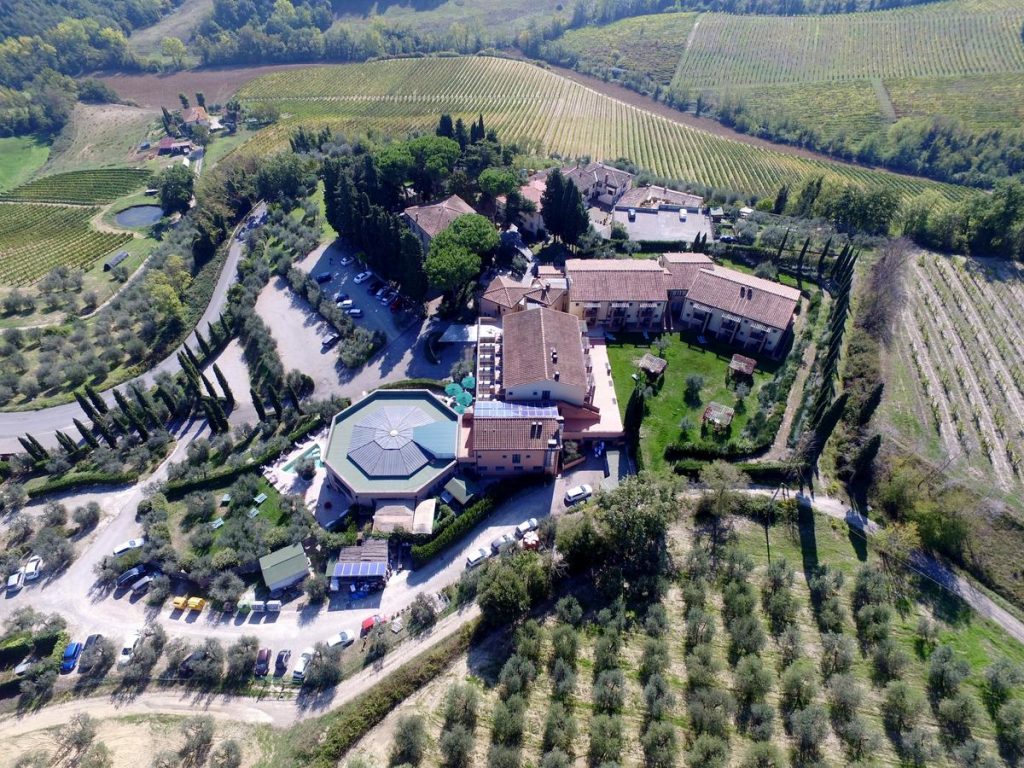 Apartments
If you rather choose apartments over hotels while searching for accommodation, I recommend "Apartment in the heart of San Gimignano (check details here) and Casa Irene (check details here). Both apartments are very clean, spacious, and with beautiful interiors.
Popular events in San Gimignano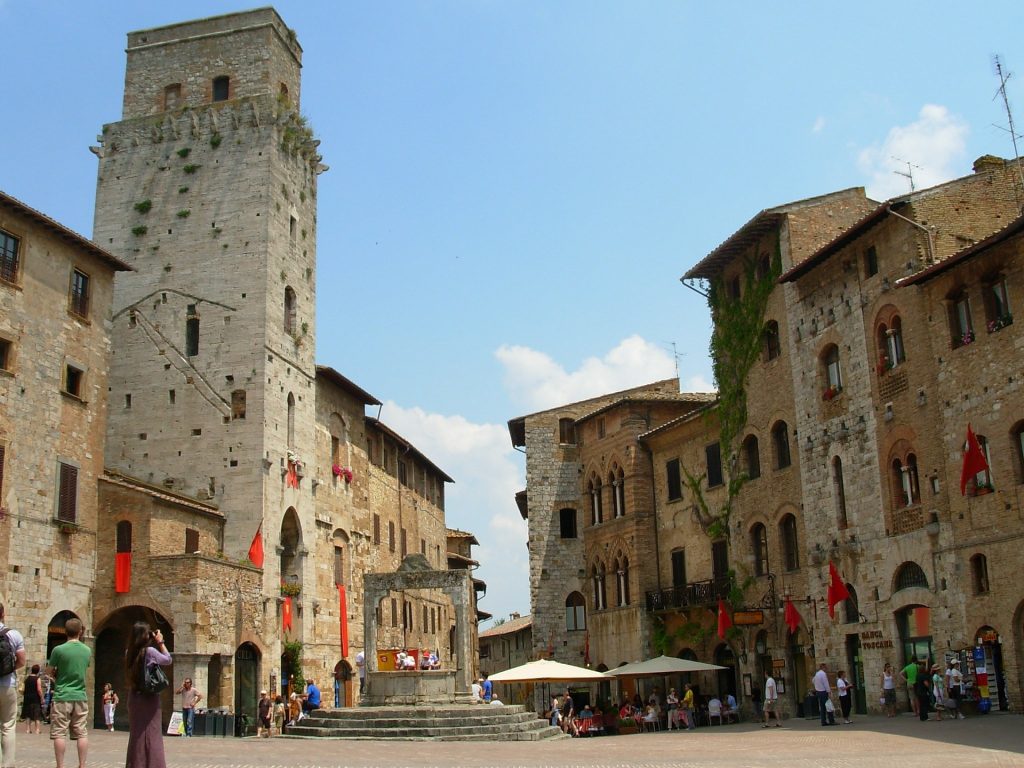 Medieval Harvest Festival
Ferie delle Messi, or Medieval Harvest Festival, is held on the third weekend of June every year in San Gimignano. It is a fertility festival that dates back to 1255, where four neighborhoods of the city compete against each other in traditional games. During the whole weekend, visitors can enjoy a typical medieval atmosphere and walk through the town's streets and squares that are full of markets of medieval arts and crafts. On Sunday afternoon, there is a beautiful historical parade and horse tournament that is free for all visitors.
The white night festival
Dancers, writers, poets, musicians, actors, and artists of all kinds, from Italy and elsewhere, get together last Saturday of June for the annual Nottilucente festival (the white night festival). It is a festival where visitors can enjoy a magical night of theatre, art shows and installations, concerts, and gatherings of various kinds. If you find yourself near San Gimignano at that time, this festival is a must-visit because the entry for all is free.
Saint Lawrence's night
On the night of Saint Lawrence, every August 10th, there is an open-air tasting of local wines with the local wine producers' participation in San Gimignano. Visitors can experience a romantic atmosphere and enjoy a good glass of wine while looking in the sky for falling stars.
How to get to San Gimignano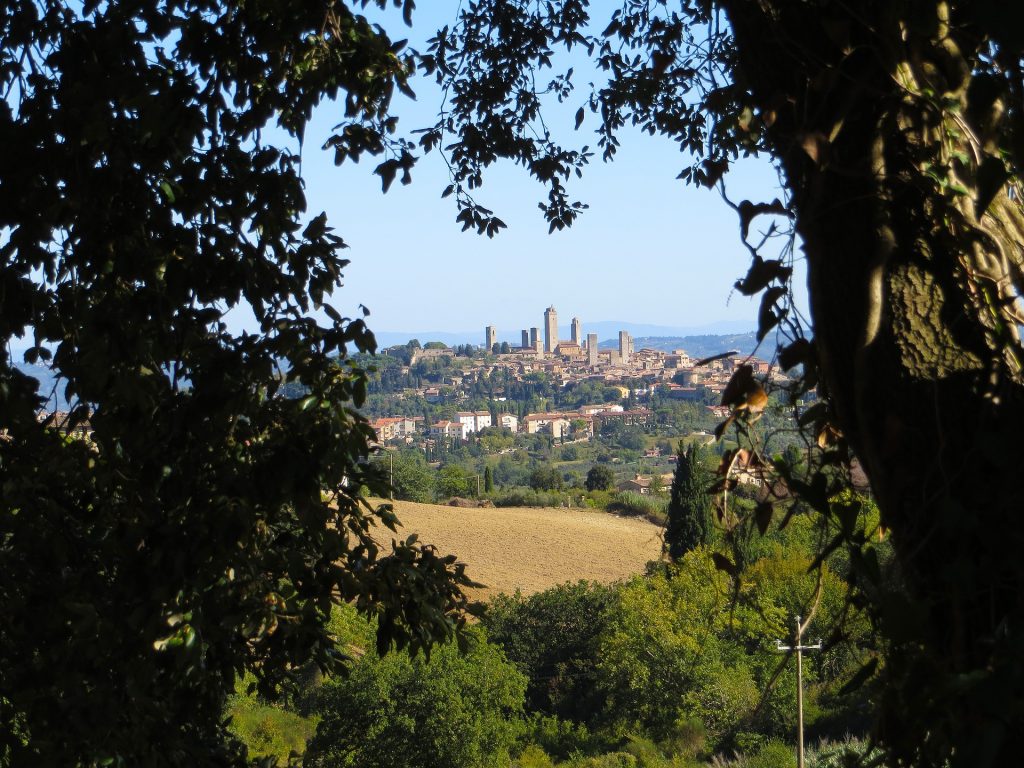 You can come to San Gimignano by car, plane, train or bus.
By car
If you are heading to Sirmione by car from the north (Milan), you need to get onto the A1 motorway, which stretches between Milan and Rome. To reach San Gimignano, you need to exit at Firenze Impruneta, then take the dual carriageway Firenze-Siena and drive in Siena direction, then exit at Poggibonsi Nord and follow the road signs for San Gimignano. San Gimignano is 349 km (217 miles) far from Milan, 211 km (131 miles) from Rome, and 37 km (23 miles) from Florence. Road tolls apply to the A1 motorway. For information about prices, check here.
By plane
When traveling to San Gimignano by air, the closest airport is Florence Airport (Amerigo Vespucci). When you arrive at the airport, you need to go to Florence bus station and take bus line 131 (BusItalia Nord company) heading to Poggibonsi. From there, you catch the local bus #130 (Tiemme company) to San Gimignano.
By train
There is no train station in San Gimignano, so the nearest one is in Poggibonsi. Therefore take the train to Poggibonsi from either Florence or Siena, and then get a local bus #130 or taxi to reach San Gimignano. Check the official Trenitalia website for the train timetable and ticket prices.
By bus
If you are coming from Florence, take bus 131 to Poggibonsi and from there local bus #130 to San Gimignano. If you are coming from Siena, take bus 130/A to Poggibonsi and from there local bus #130 to San Gimignano. The ticket costs 6,80 euros (10 euros if you buy from the driver) from Florence to San Gimignano and 6,20 euros (8 euros if you buy from the driver) from Siena to San Gimignano in one way.
Transport in San Gimignano
Citybus
In San Gimignano, driving a car is not allowed, so there are 2 Citybus lines available. Line 1 bus stops are Le Mosse, Town Center, and Santa Lucia. Line 2 bus stops are Santa Lucia, Parcheggio Giubileo, and Porta San Giovanni. The one-way ticket costs € 1,20 per person and can be paid directly at the automatic boxes when you pay for the parking.
Car rental in San Gimignano
Siena is the closest place to San Gimignano to find a rental car. All the major and reliable car hire companies like Europcar and Hertz have offices near Siena train station.
Parking in San Gimignano
In San Gimignano, there are four parking places available. The cheapest one is Giubileo parking where you need to pay 1,50 euros per hour. Other parking places have 2,50 euros per hour fee. All the parking places and prices you can check here.
ATM
There are only 2 ATMs (Bancomat in Italian) in San Gimignano. One is located in Via S. Giovanni, 3, and the other in Piazza Della Cisterna, 2. Both are open 24 hours. The official currency in Italy is Euro so beware of transaction fees.
If you like my article, please share it on social media. It would not only make my day, but it will make my year.
Have a safe and nice trip to San Gimignano!
Check out more articles about San Gimignano:
Hey there! Some links on this page are affiliate links which means that, if you choose to make a purchase, we may earn a small commission at no extra cost to you. We greatly appreciate your support!