Known for its historic towers, white vine, and saffron, a small town named San Gimignano in the Tuscany region has always been a popular destination for tourists from across the world. This walled hillside town is surrounded by 13 towers that still remain out of 72 that existed in medieval times. This wonderful scenery immediately takes the tourists back to the 14th century when almost every family built a tower to show its wealth.
Despite its popularity as a tourist destination San Gimignano is usually visited only during the day. Therefore, its nightlife has not yet been recognized enough. But, visiting San Gimignano at night is perfect for those who do not like crowds and want an authentic and peaceful vacation.
What to do in San Gimignano at night?
Even though San Gimignano is a very small town, it still has a lot to offer at night. You can try all from sightseeing to lone walks and from spending time with locals to personal dates with your partner. The first thing that everyone should do in San Gimignano at night is to take a slow, calm walk along the medieval streets under the soft, old, and warm street lights.
Even the historical monuments and towers are lit up, making the town truly magnificent. The lights are not strong as they are in some bigger cities. Quite the opposite, streets are lit up with a really soft glow, so the atmosphere is very medieval and authentic.
At the main square in San Gimignano, there are a few bars and restaurants where you will see locals hang out and enjoy their meals or drinks under the stars.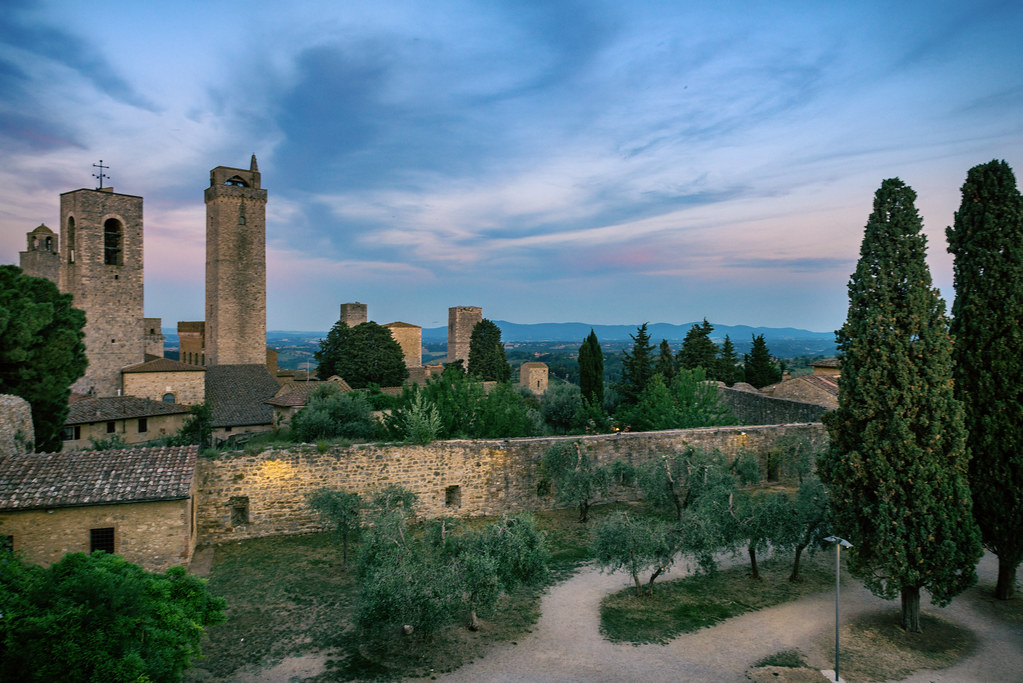 The thing you should not miss in San Gimignano is the sunset. This town offers one of the best sunset experiences in the whole of Tuscany. Just imagine how beautiful the scenery is when the Sun is fading away below the picturesque hills and vineyards.
The whole of San Gimignano is surrounded by vineyard hills and small villas at their top. Therefore, wherever you look, you will have wonderful scenery.
Also, the town rises 334 meters high on a hill, so there are few viewpoints in the town from where you can get the amazing view. Again, you do not have to worry about the crowd because there will not be any of it. The last but not least thing you should do in San Gimignano at night is the observation of the stars.
As the town is not under heavy light, and there are no busy streets around it, the area around the town at night is dark. Therefore, you can go a few hundred meters outside San Gimignano to admire a sky full of stars and breathe fresh scented air.
Safety in San Gimignano
Worth mentioning is that the tourists do not have to worry about safety at night because there is no crime in San Gimignano. Even during the day when the town is crowded, you will feel very safe, while at night you will not see almost anyone on the streets.
Is it worth it to visit San Gimignano at night?
San Gimignano at night turns into this cozy, warm, and ideal place where you can spend hours wandering around the streets while admiring medieval architecture. The town is even in the daytime very romantic, but the peak is definitely during the night when most of the tourists left.
Therefore, if you are a romantic soul who prefers a peaceful vacation, it is totally worth visiting the town during the night. Once you make the most out of the San Gimignano nights, it will have a special place in your heart and soul, and you will be bound to experience it again.
Check out more articles about San Gimignano:
Hey there! Some links on this page are affiliate links which means that, if you choose to make a purchase, we may earn a small commission at no extra cost to you. We greatly appreciate your support!