Lake Garda, a beautiful lake located in the north of Italy, is one of the country's most popular holiday destinations. And for good reason. With its eye-catching lake at the center and plenty of beautiful surrounding towns and villages to stroll around, this picturesque region is a must-visit. If you are planning to visit Lake Garda, you are probably wondering which is the best town or village to stay in during your holiday.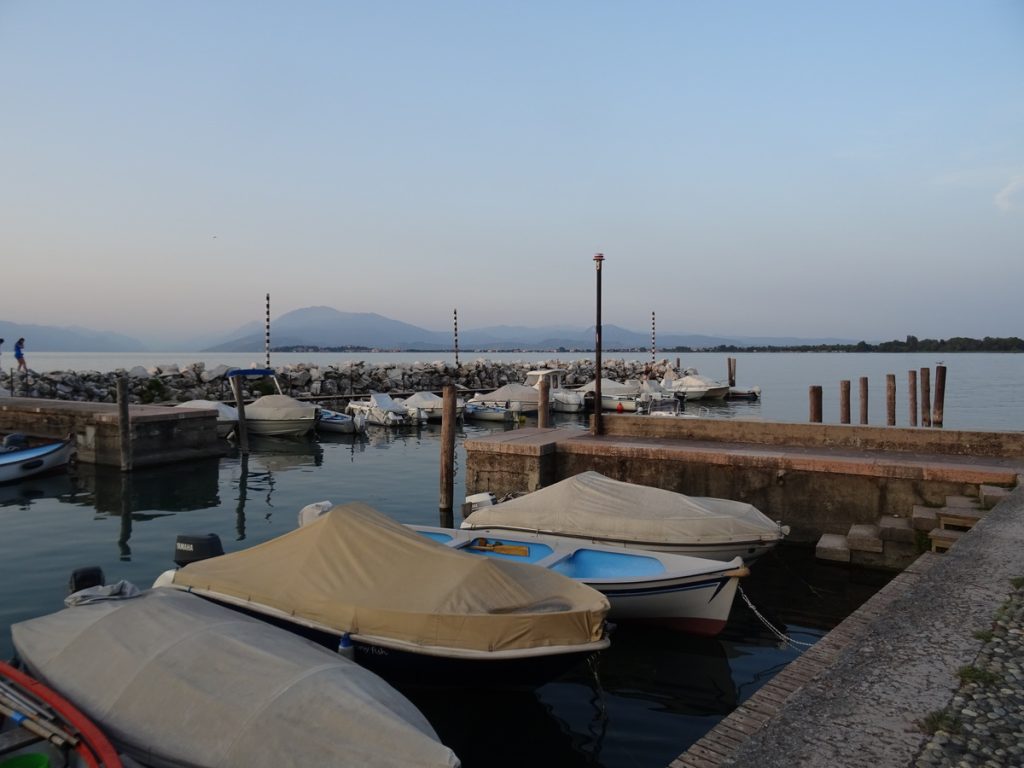 In this article, we will be exploring a small village called Rivoltella del Garda and its top attractions. Rivoltella is actually a small hamlet located in Desenzano del Garda, a town that draws plenty of tourists every year for its beautiful scenery and, of course, delicious local cuisine. Desenzano is obviously a more popular and bigger place, with many shops, bars and great nightlife.
On the other hand, Rivoltella is a peaceful village perfect for those who want to spend their vacation away from noise and crowds. It has an attractive beach, which is ideal for dedicated beach lovers, swimmers, and sunbathers. Here are the main things to see and do during your trip to Rivoltella del Garda: 
Visit Rivoltella Beach (Spiaggia Rivoltella) 
With free access, free parking nearby, and toilets, cabins, and showers available, this quaint pebbles beach is the perfect place to spend a day soaking up the sunshine. You can even rent a sun lounger and beach umbrella to allow you to really kick back and relax. There is a bar and restaurant nearby, too, so if you are looking for a bite to eat or something to drink, you will find it here.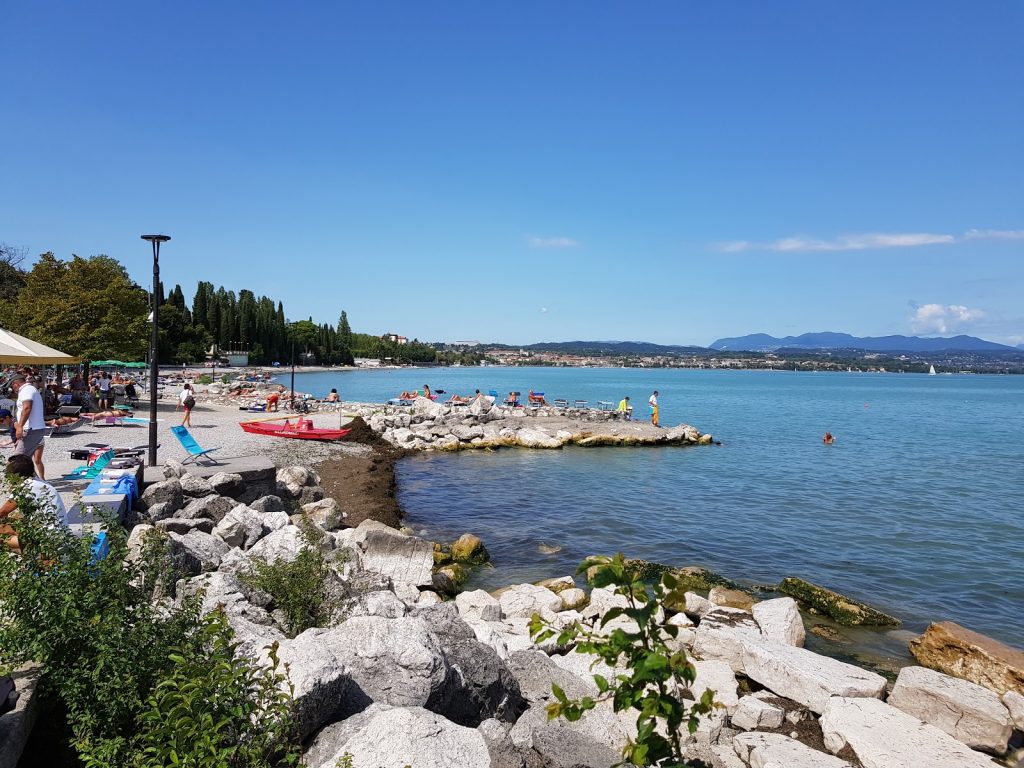 For those who want some activity with friends or family or just want to have some fun, there is a beach volleyball court. In the summer months, the beach hosts various concerts and festivals. To get there, you can take a nice lakeside walk from Desenzano del Garda. Keep in mind that small stones are uncomfortable for your foot, so swimming shoes are a must here.
Try water sports
Rivoltella isn't just a place for relaxing while lying down on the beach. It is actually a great choice to visit if you are looking for an active day out. As well as a volleyball pitch on the beach, you can hire a pedal boat, canoe, kayak, or boat, so if you have always wanted to try water sports, you can do it at Spiaggia Rivoltella. Plus, you will definitely want to swim or at least dip your toes in that clear blue water! 
Go shopping
Rivoltella, Desenzano del Garda, and the surrounding areas are excellent for shoppers. There are plenty of shopping malls and outlets within driving distance of the area, such as Mantova Villa Outlet, Le Vele Shopping Mall, and Leone Shopping Centre. If you haven't rented a car for your visit to Lake Garda, you can get a taxi to and from these destinations.
There are plenty of independent shops in Desenzano del Garda itself, too, including beautiful clothes boutiques and specialty stores that stock food and drink from the local area. Sfusi di Vini & Affini is one example. It is a beloved wine shop that specialises in wine from the area as well as local snacks that are typical of Lake Garda. 
Read more: Shopping in Desenzano del Garda
Visit Villa Brunati
This villa was originally built as a holiday resort in the 1500s before being home to Victor Emmanuel II and his general staff in the 1800s. Today, it houses the municipal library, and the lake's park overlooks a popular beach. This library includes many rooms, each of which contains books of different age groups and different topics.
There is also a large reading room where you can study or do your homework. This room has a view worthy of a 5-star hotel, so don't miss it. Furthermore, you can enter many halls where you can admire the beautiful historical frescoes. This historical building has been around for centuries, so it is well worth a visit if you are staying in the local area. 
Stroll along Lungolago di Desenzano
The nearby Desenzano del Garda has a beautiful lakefront that offers views of Sirmione, Bardolino, Lazise, and Peschiera del Garda. It is not a long walk, making it ideal for even people with low levels of fitness, but it is perfect for enjoying bright colors and greenery. You can walk, run, or relax while having a breathtaking view of the lake and the mountains.
Don't forget to take a photo or two. You will also see fishing enthusiasts sitting on the stones, waiting for some fish to bite. The best part? The lakefront promenade is home to several bars and restaurants where you can stop and enjoy the view with an espresso. 
Enjoy a coffee in Piazza Malvezzi
No Italian town is complete without a beautiful piazza, and this area is no exception. Piazza Malvezzi is located near Rivoltella in the scenic town of Desenzano del Garda and it dates back to the 16th century. In the square, you will find some iconic monuments, including a statue dedicated to the town's patron saint, Santa Angela Merici.
As well as being beautiful in its own right, the piazza is a popular meeting point for tourists and locals. Here, you will find plenty of businesses such as shops, restaurants, bars, and cafes. If you wanted to, you could probably spend a whole afternoon just exploring the piazza!
See Castello di Desenzano
Once in Desenzano, you will find an amazing medieval castle, which was built in stages between the 11th and 15th centuries. Not only is it worth a visit to check out its impressive architecture, but it also hosts regular conferences and events, so keep up to date with a guide to what's on there. You can admire the castle walls from the outside or get an entrance ticket to explore the interior.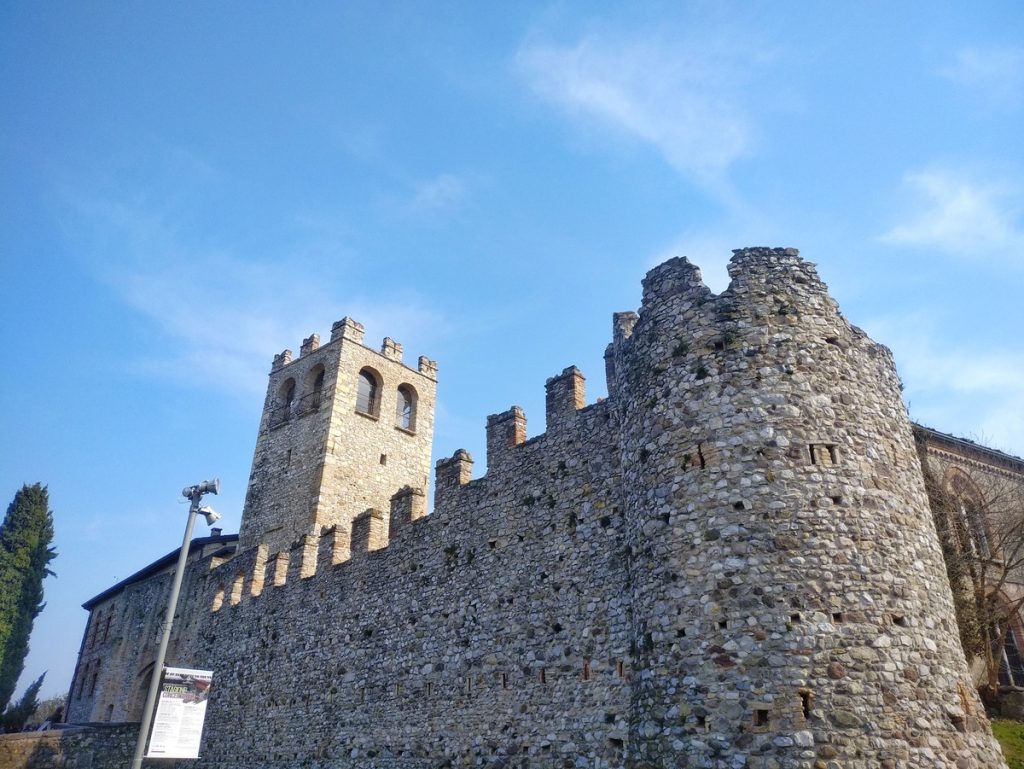 There really is not much to see in the castle besides having a breathtaking view of Desenzano del Garda, Lake Garda, and Sirmione in the distance. However, the ticket price is not too high, so you decide if you want to enter the castle or not.
Attend the weekly Rivoltella market
Taking place every Sunday, this market sells everything you could possibly want on your trip to Rivoltella, from leather goods to vegetables to homemade goods. Whether you are in the market for a piece of jewelry to take home as a souvenir or fruit to enjoy with your breakfast, you will find something at the Rivoltella market. 
You can easily spend a couple of hours here chatting to the local stallholders and looking at all the goods on offer. You can even find high-quality leather jackets and clothing from popular brands. Keep in mind that markets are crowded during the summer season. If markets are your thing, there is also a weekly market in Desenzano del Garda, which is held on Tuesdays. 
Visit the Chiesa di San Zeno
If there is one thing you can be sure of in Italy, it is that you will see beautiful churches during your trip. And Rivoltella is no exception. Chiesa di San Zeno is a small Catholic church located south of the town center that was originally completed in the 16th century and is built on a Roman settlement, probably a villa. 
Once inside, you can admire wonderful altars and memorials lining the outer walls. Therefore, the church is well worth visiting if you are a history lover.  Even if you are not religious, you can simply enjoy the views of this scenic church. 
Visit the Cathedral of Santa Maria Maddalena
Once you have visited the small church of San Zeno, hop over to the Cathedral in Desenzano for some more historical architecture. Built between 1586 and 1611, it is home to a beautiful painting called "Last Supper" by the Venetian talent Gian Battista Tiepolo. 
Whether you are staying in Lake Garda or just looking for a place to enjoy a day trip, Rivoltella and the surrounding Desenzano del Garda offer plenty of shops, bars, restaurants, historical sights, and beautiful piazzas to enjoy. 
Other things to do in Rivoltella del Garda
If you visit Rivoltella during the weekend, you can try one of the most unique tourist attractions on Lake Garda. There is a skating rink that can be used, especially when there are major sporting events. The rink was designed specifically for the use of roller skates, and it is open at all times of the year. The Gardalago sports club manages the facility with dedication and sacrifice to allow hundreds of athletes to be able to train and compete.
Even though the rink is made for competitions, it is open to the public every Sunday afternoon from 3:30 PM (15:30 hours) to 9:00 PM (21:00 hours). You can rent both inline and classic four-wheel skates. While skating, you will listen to good music and meet friendly people. They also organize courses for both adults and children, amateurs and professionals.
Read more of our articles:
Hey there! Some links on this page are affiliate links which means that, if you choose to make a purchase, we may earn a small commission at no extra cost to you. We greatly appreciate your support!