Desenzano del Garda is a charming town in the province of Brescia that overlooks the south shore of the lake. With almost 30 000 inhabitants, it is the largest town on Lake Garda. In the past, Desenzano del Garda was an important trading center during the Venetian era.
Today, this lovely town is perfect for walking, shopping, or sitting in one of the many bars, clubs, and restaurants that are open throughout the year.
Desenzano has a picturesque landscape, mild climate, and numerous culinary delights, so it's no wonder that numerous holidaymakers come to this town every year.
There are many things to do in Desenzano, especially in summer, when this beautiful town comes alive with tourists from all over the world. You can explore ancient Roman remains, visit the castle, stroll on the romantic old port or go to the beach and relax.
Lungolago di Desenzano
Desenzano offers a beautiful lakefront where you can walk with beautiful views of Sirmione, Bardolino, Lazise, and Peschiera del Garda. It is not very long, but it is full of colors and greenery. Along the promenade, there are several bars and restaurants where you can stop and enjoy the view.
How to get there: Less than a minute by walking from Piazza Malvezzi
Open hours: Always accessible
Ticket price: Free
Piazza Malvezzi
Piazza Malvezzi is the main square in Desenzano del Garda. It is dating back to the 16th century. There are some important monuments, including the statue dedicated to the city's patron saint, Santa Angela Merici.
The square is the heart of the historic center and the favorite meeting place for locals and tourists. This place is also popular at night because of the many clubs that are located there.
How to get there: Piazza Malvezzi is in a central position of Desenzano, very close to the lakefront and the old port
Open hours: Always accessible
Ticket price: Free
Castello di Desenzano
Castello di Desenzano is the most popular attraction in the town. It was built around 1400 to defend the territory from the barbarians. Nowadays, this majestic and imposing castle with four towers and the remains of drawbridge attracts many tourists. From the castle's viewpoint, you can enjoy an enchanting panorama, with a breathtaking view of Lake Garda.
How to get there: From Piazza Malvezzi you have to walk through Via Castello, and you will reach your destination in just 3 minutes
Open hours: 9:30 AM (9:30 hours) – 6: 30 PM (18:30 hours) in the winter months and 9:30 AM (9:30 hours) – 7:30 PM (19:30 hours) in the summer
Ticket price: 3 euros full price and 1 euro reduced price for minors, groups, and residents
Cathedral of Santa Maria Maddalena
Before going up to the castle, you can make a small detour and visit the nearby Cathedral of Santa Maria Maddalena. It was built between 1586 and 1611, and inside, it preserves a painting called the "Last Supper" depicted by the Venetian painter Gian Battista Tiepolo. This Baroque cathedral also has a beautiful and imposing external facade, so it is definitely worth visiting.
How to get there: It is located on Piazza Duomo, which is only a few steps away from Piazza Malvezzi
Open hours: Always accessible
Ticket price: Free
Porto Vecchio
Porto Vecchio, or the old port, is a truly picturesque corner located next to the center of Desenzano. It is also dating back to the medieval period when it was used to transport food and goods. Nowadays, the port is a wonderful area that looks like a small lake with numerous small boats.
Of particular note are the Venetian bridge, one of the most photographed buildings in the town, and the houses in typical Venetian style.
How to get there: Piazza Malvezzi is practically overlooking the Porto Vecchio so you can reach the port in a minute
Open hours: Always accessible
Ticket price: Free
Roman Villa
The Roman Villa, built at the end of the 1st century BC, is one of the most significant late antique villas in northern Italy. The villa is located in the historic center immediately after the Castello, and it was found accidentally.
In 1921 excavations for the construction of a house began in Desenzano, but they were soon interrupted when contractors found polychrome mosaics. Today, the Roman villa is popular among archeology enthusiasts who are coming to see polychrome mosaics with hunting scenes, wild animals, running chariots, and harvesting tools.
How to get there: Starting from Piazza Malvezzi, you will have to walk about 3 minutes, crossing Piazza Duomo and then following via Crocefisso
Open hours: 8:30 AM (8:30 hours) – 7:30 PM (19:30 hours) every day except Monday
Ticket price: 4 euros full price and 2 euros reduced one
Archaeological Museum
Another great place to visit in Desenzano del Garda is the "Giovanni Rambotti" Archaeological Civic Museum. You can see numerous artifacts found along the banks south of the Benaco and belonging to the prehistoric era.
The museum focuses on the prehistoric pile dwellings of the lower Garda area of ​​Brescia, or the "houses on the water" where the men of that time lived. However, the museum's highlight is the Lavagnone Plow, which is also the oldest found plow in the world.
How to get there: Archaeological museum is located in Via Agnelli so starting from Piazza Malvezzi and passing the port area, it is possible to reach it on foot in about 6 minutes
Open hours: Tuesday and Thursday 9:30 AM (9:30 hours) – 1:00 PM (13:00 hours), Friday, Saturday and Sunday 9:30 AM (9:30 hours) – 12:30 PM (12:30 hours) and 2:00 PM (14:00 hours) – 7: 00 PM (19:00 hours), closed on Mondays and Wednesdays
Ticket price: 4 euros full price, 2 euros reduced price
Lighthouse of Desenzano
During the walk on the lakefront, you will come across a typically seafaring structure, the lighthouse. It was built at the end of the 1800s and worked thanks to a large oil lamp and the supervision of an employee who lived a few steps from the port. Today, the lighthouse has almost completely lost its role, but it is an incredible testimony of the past.
How to get there: From Piazza Malvezzi, walk towards the lake along via Porto Vecchio. Passing the small port, you will arrive in the modern part of the port where you will find the lighthouse
Open hours: Always accessible
Ticket price: Free
The Pond Park
Another beautiful location you should not miss in Desenzano is The Pond park, especially if you are traveling with children. This small green area is ideal for relaxation while strolling along an adorable artificial lake, but also for having fun.
There are basketball courts, tracks for skateboarding, a playground to entertain the kids, and even a bar for the parents. It is not uncommon to see many athletes and families who enjoy a picnic on the lawn on weekends.
How to get there: The park is located in Via Michelangelo, which is around 25 minutes walking distance from the center. If you want to travel by public transport, take bus 1 or 2 from Piazza Malvezzi
Open hours: Every day from 8:00 AM (8:00 hours) – 8:00 PM (22:00 hours)
Ticket price: Free
Desenzanino Beach
It would be a sin to come to Desenzano del Garda and not visiting one of the beaches. There is nothing better than enjoying the sun and swimming with friends or family on a hot summer day. You can choose between Desenzanino beach, Feltrinelli beach, Rivoltella beach, and Golden beach. Desenzanino beach is the most popular among the locals because it provides the best service and has a lot of different activities.
Overlooking the beach, you will find many bars and restaurants, while a large paid parking lot nearby will allow you to leave your car near the beach.
How to get there: Walk along the lakefront for around 10 minutes or take bus 3 from Piazza Malvezzi
Open hours: Always accessible
Ticket price: Free
Visit Sirmione
Right next to Desenzano del Garda, there is a beautiful picturesque town Sirmione. With around 8 000 inhabitants, it is much smaller than Desenzano. The town is situated on a peninsula, and at the entrance, you will see the magnificent Scaliger Castle from the 13th century. Also worth visiting is "Grotte di Catullo" or Roman villa and thermal baths. You can come to Sirmione either by ferry, bus or taxi.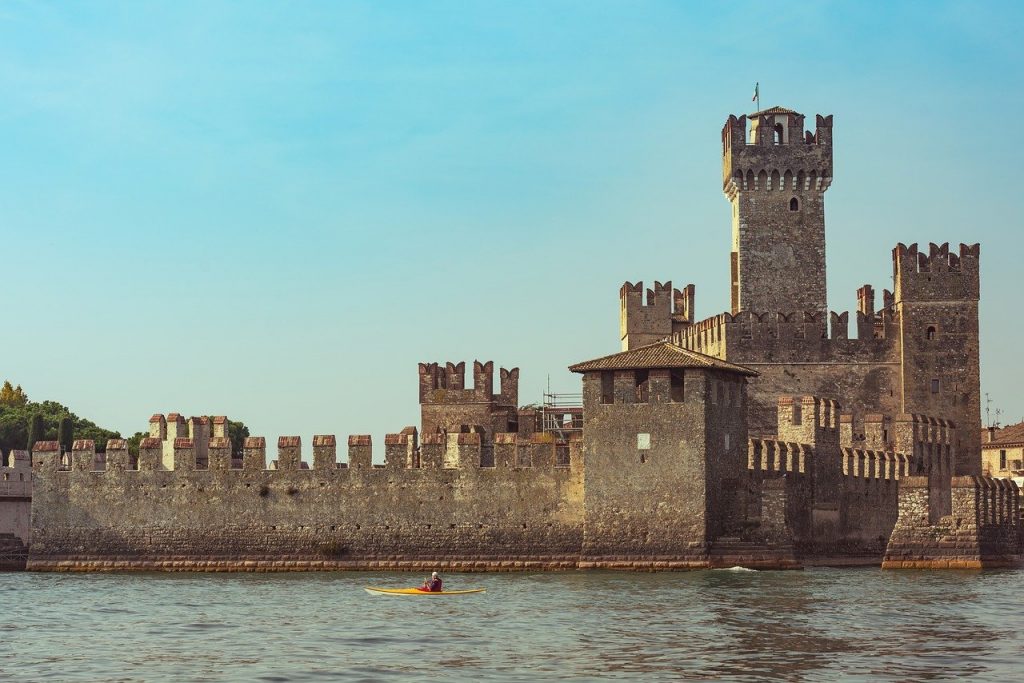 Read more: Sirmione Travel Guide
Shopping in Desenzano del Garda
Every Tuesday in Desenzano, there is one of the largest markets on Lake Garda. You will find numerous stands that offer various clothes, shoes, bags, housewares, vegetables, fruit, music, fish, Italian specialties, and much more along the picturesque promenade. The great thing about this market is that you can try your bargaining skills and catch some really good deals.
For fashion lovers, there are many small boutiques with elegant clothes in the center or nearby. Those who are hunting for cheaper deals should visit shopping outlets where you can find Italian designer names at discount prices. Some of them are Outlet Mantova, Outlet Franciacorta, Leone Shopping Center, and Le Vele Shopping Center.
Nightlife in Desenzano del Garda
Desenzano is not only popular for historical attractions and beautiful nature. The town is alive at night and offers various alternatives for young people and anyone who wants to spend a fun evening with their friends. The best area for that is around the center, where you will find many trendy bars with delicious cocktails and live music.
For live performances, you should check Bianca Caffè, located in Via Nazario Sauro, and Mariky Terrace, located on the lakefront. Those who want to go wild until late at night should go to Art Club Disco, which is very popular among young people.
How to get to Desenzano del Garda
Desenzano is easily reachable by car along the A4 Milan-Venice motorway (Desenzano exit). It is also possible to reach Desenzano by train. From Milan, it takes around 50 minutes with Frecciarossa or Italotreno, and from Venice an hour and a half.
If you travel from Verona or some other town on Lake Garda, you can travel by bus too. Furthermore, some towns on Lake Garda have a ferry transportation service to Desenzano del Garda, like Moniga del Garda, for example.
Parking in Desenzano del Garda
Especially in summer, it is very hard to find available parking spaces in Desenzano. The best option is probably the parking lot at the intersection of Via Vighenzi and Dolarici. It is located a bit outside the center but can be reached easily with a comfortable 15-minute walk.
Check out more articles about Desenzano del Garda:
Hey there! Some links on this page are affiliate links which means that, if you choose to make a purchase, we may earn a small commission at no extra cost to you. We greatly appreciate your support!